I say this tongue in cheek, but there were some "normal" aspects to my past week. Even though our state is opening things up, we're still VERY careful with what we do. So, maybe we were rebels yesterday when we decided to visit the grandkids. But I don't really care.
Before I touch on that, however, I thought I'd mention a few other somewhat normal things I've done.
A haircut
A week ago today, I got my hair cut after 12 weeks without one. Keep in mind, I normally get my hair cut every 5 weeks. It really didn't look that bad, but it did feel long. Here is the before and after.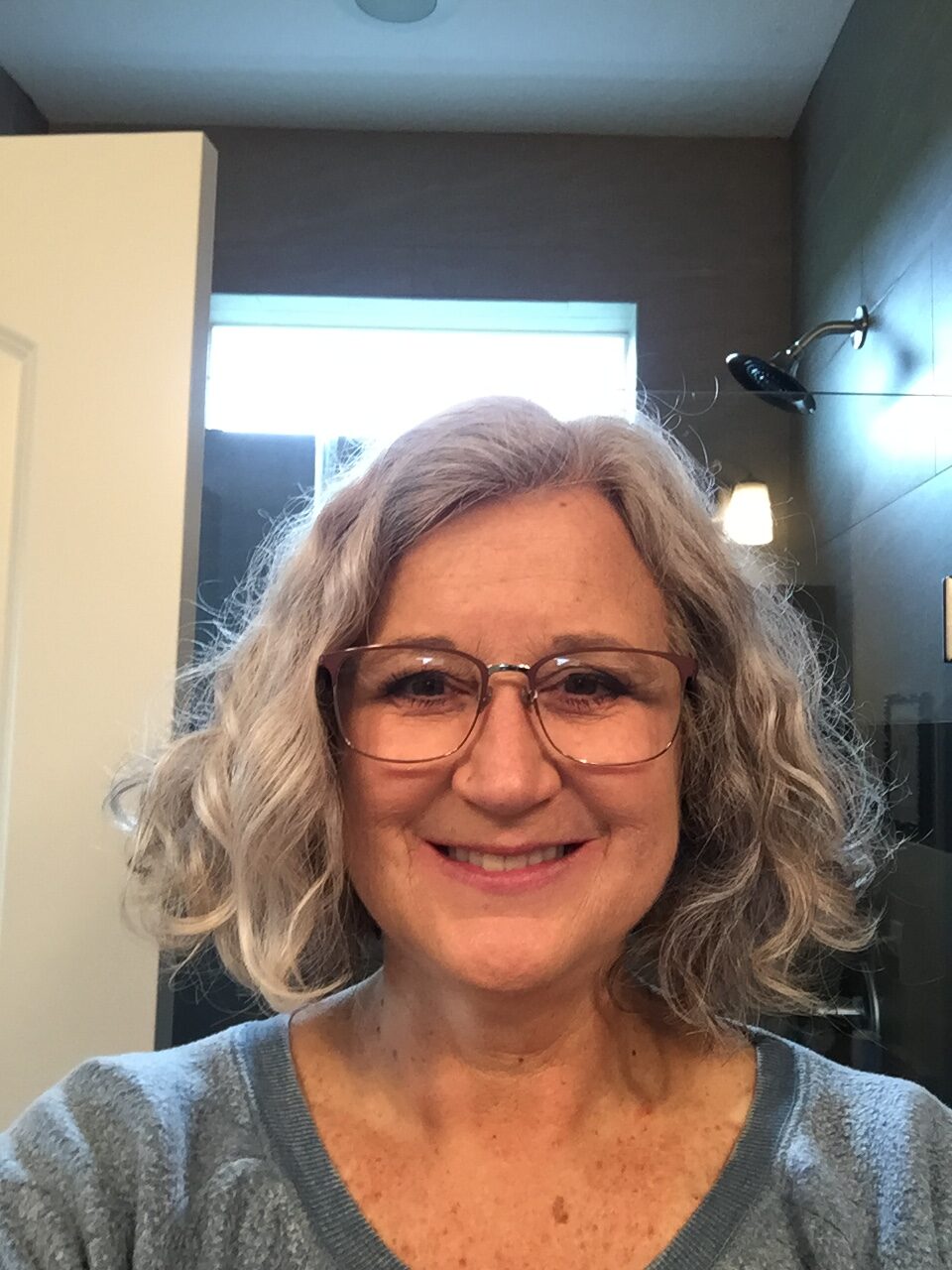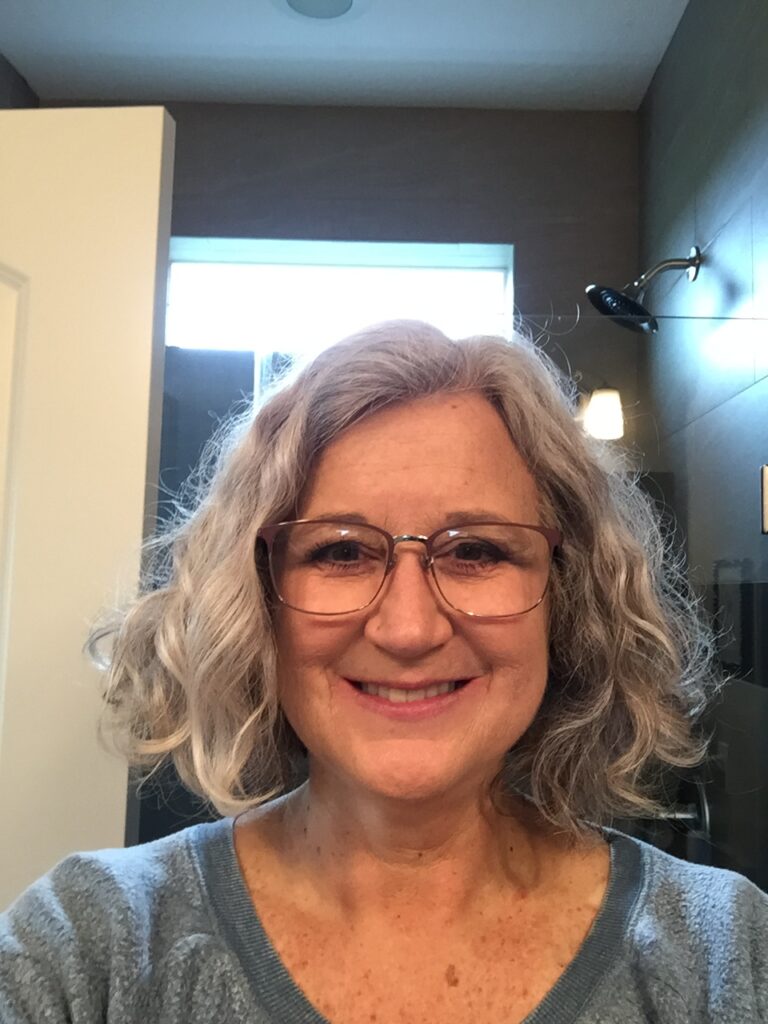 I had to text my stylist when I got there and stayed in my car until she texted me back that I could come in. She works in a place with suites, so it was just her and me in a room. I did wear my mask going in and coming out, but did not need to wear it during my haircut. Not sure how that would work with my hair!!
Tim also got his hair cut, so we're both back to our stylish selves!!
Cemetery visits
With it being Memorial weekend, we did our normal afternoon of visiting family grave sites in three cemeteries throughout Polk County. We chose Saturday afternoon, because the weather forecast was particularly bad for Sunday and Monday. Lots of rain expected. (Not surprising, we could have gone any day of the three.)
We always pick up fresh-cut flowers, this time roses, and place two on each grave. We know they won't last long and we have learned to use large staples to make sure they at least won't blow away as soon as we leave. (It seems like it's always windy when we do this.) We like adding fresh flowers.
We do this for several graves, but here are the stones for my two sets of grandparents.
Time with friends
Tuesday was a big Zoom day. I met with my childhood girlfriends at 4:00 and my book club at 7:00. This seems to be a part of our new normal. And especially with my childhood friends, I expect this could become a regular thing. We'll have our monthly book club meeting through Zoom at least one more month. It's nice to meet but I do miss the eating part!!
You kind of wonder why my friends and I hadn't been doing it all along. But before all of this, had you even heard of Zoom? I hadn't. In my working days, we had video conferences a lot, but never with Zoom. And I thought Skype was the big thing for personal use. When did Zoom even enter the online chatting arena?
Evidently, it's been around for nine years but was released to the world in January of 2013. Some say it's better than Skype. Fortunately, someone in both of my groups has access to a paid Zoom license, so we aren't limited to the 40 minutes. Good thing because both meetings lasted more than 90 minutes!!
And finally, a day with the grandkids
Tim recently learned that he was released from his doctor to return to work on June1. (It's actually June 2 for him, as Mondays are his day off.) Well, last week I told him I thought we should go spend a day with the grandkids before he goes back to work. We've become so used to him not working, it's easy to forget how much flexibility we will lose.
We thought we should go on a weekday, because Tim's daughter and son-in-law are also trying to work from home and we wanted to help distract the kids for a while so they could work in peace. We worked around our busy schedules, which really isn't a joke in this case. Trying to balance my meetings with friends and his physical therapy meant Wednesday was the first day we could go.
They were so excited to see us. When we got there, Carly was a bit hesitant. I think she was told not to hug. But as soon as I asked for one, she came running. She told me she picked out her dress for the day because it had cats on it and she knows how much I miss our cats.
She wanted to do EVERYTHING. We flitted back and forth between nail polishing, painting, Barbies, swimming, hair styling, and finally cooking. It's tough to fit all that into one afternoon. Whew!!
My featured image is what my nails look like today. The glitter is starting to come off but you can still see it. I had gold on one hand and silver on the other. 😍
We also decided that we'd celebrate Brady's June 8th birthday because it's not likely he'll have his usual party. Lucky guy. He'll get to have multiple parties this year!! We took an Oreo ice cream cake, which was interesting when we had a 2 hour, 45 minute drive!! But we packed it up well, it survived and was enjoyed by all.
We even got to watch Carly's Zoom dance class and see her in her recital outfit. It was our own personal recital. The song is "Walking on Sunshine" so her yellow dress was perfect!
What now?
Well, today is pretty quiet. I've made a few phone calls and scheduled appointments, although I still have a couple more calls to make. We need to make a stop at our insurance agency to drop off papers and then pick up some bills, etc. from my dad, since I'm paying all their bills. I'm hoping we can get this one paid automatically in the future or have the bill sent to me.
My dad's birthday is next Tuesday and my plan is to make his favorite birthday cake – angel food with whipped cream and strawberries. I've found an excellent gluten free angel food cake recipe so he gets to enjoy something he had to give up for a while.
Other than that, it's a day at a time, and getting used to our new normal.