We recently decided to give Discovery+ a try. I hate the thought of subscribing to yet another streaming service, but we like a lot of the shows on HGTV and Food Network, plus it includes the new Magnolia Network. We were curious. And, we bought the no ads subscription, which is wonderful. For $2 more a month, it's definitely worth it.
We have explored a lot of what's available on the Magnolia Network and one thing we found was a series called The Lost Kitchen. It's about a woman who grew up in Freedom, Maine, determined to leave and never come back. But after a few life changes, back she came and she opened a restaurant called the Lost Kitchen. Her story is very interesting and inspiring. It didn't take us long to make it through all ten episodes of the first season. We're eagerly awaiting season 2.
One especially interesting thing about this restaurant is the way they take reservations, and you must have a reservation to eat there. If you want to go, you send them a postcard. Then they choose from all the postcards they get and decide who will be coming to each meal. I've never figured out if they're open every night or only certain nights each week. I don't know how much notice they give you, but you need to be ready to go when your postcard is chosen. And, they determine the menu for each night, so you don't even know what you'll be served.
Tim decided we needed her cookbook, so he ordered one. We've only made one recipe so far and he said I had to share it. Yes, it's another meatloaf recipe, and I'm sure I'll hear about it from my cousin Rick. But it's really good. I wouldn't normally recommend two different recipes for the same food, but I think they're both different enough from each other it doesn't matter.
This recipe makes two loaves so I cut it in half when I made it for us. It was good for 1+ meals. It's definitely on the "do over and over again" list. (Tim just told me we're about due to have it again.) Plus, we got to have the extra sourdough bread too, which I love!!
One thing about Discovery+. We are enjoying it. However, we're a little disappointed with the Magnolia Network so far. They have some great shows, but unfortunately, most only have one episode. We keep checking, hoping to find a few of our favorites have added shows. Maybe COVID has affected their ability to create more.
I did some checking and they're talking about the launch of Magnolia Network on July 15. So, maybe what we're seeing is just enough to pique our interest. There are definitely shows worth watching. I signed up for updates and am now following them on Facebook, so hopefully I'll catch the rollout of these new episodes.
In the meantime, enjoy this recipe. I know, it's just meatloaf, but who doesn't love a good meatloaf???? Except Rick.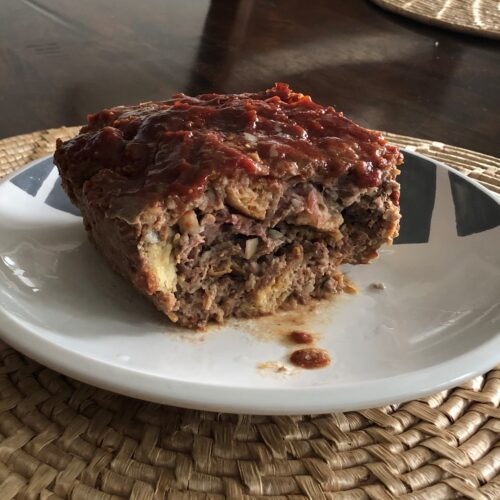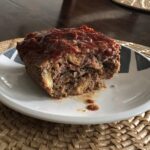 Lost Kitchen – Dad's Meatloaf
This is pure comfort food. Not your typical meatloaf, it contains carrots and sourdough bread.
Total Time
1
hour
15
minutes
Ingredients
Meatloaf
1.5

lbs.

ground beef

1.5

lbs.

ground pork

3/4

c.

shredded carrot

1/2

c.

chopped shallots

1/2

c.

shredded pecorino

(or other cheese, if you prefer)

2

c.

1/2 inch bread cubes

(use sourdough)

2

T.

fresh thyme leaves

2

large

eggs

1/2

c.

whole milk

2

t.

salt

6-8

twists

black pepper
Glaze
1/2

c.

packed light brown sugar

3/4

c.

ketchup

1

T.

Dijon mustard
Instructions
Combine all the meatloaf ingredients in a large bowl and using your hands, mix until just evenly combined. Do not overmix.

Divide the mixture between two 9×5 inch loaf pans.

In a medium bowl, stir together all the glaze ingredients.

Brush the top of each meatloaf with a thick coat of the glaze.

Transfer to the oven and bake until a thermometer reads 150F, about 45 minutes.

Let the meatloaf rest for 10-15 minutes.

Unmold and cut into slices.
Recipe Notes
This recipe is from The Lost Kitchen, Recipes and a Good Life Found in Freedom, Maine, a cookbook by Erin French.
www.retiredintrovert.com