I know we have bigger things on our minds right now, but since we are all eating at home more, I thought maybe you'd like something new to try. I promised a recipe and here it is.
My most popular recipe, by far, is Pioneer Woman Rice Pilaf. Don't ask me why because I have no idea. Maybe it's the Pioneer Woman title? Check it out. It goes great with this meatloaf.
As I've mentioned before, I love a lot of her recipes. I think I've also mentioned they typically serve a lot of people. The first time I made this I cut the recipe in half. If you're making it for a small group, you might consider that.
I don't know if it's the bacon or what that makes this so good. It really doesn't have much in it. I thought, no onion? No sage? How can that be? But I followed the recipe and you don't miss it.
It seems when I typically make meatloaf and the recipe says, bake for one hour, it's never done. Well, this one is done in an hour. I also like that about it.
I also grate my own Parmesan and don't use the stuff in the green can. I suppose you can try that. 🤮
I don't usually eat the bacon once the meatloaf is done, but Tim does. I love bacon but I prefer mine nice and crisp. This never reaches a crispness level.
It also makes great leftovers. I eat it as is, reheated. Tim likes it cold in a sandwich.
So, if you're sitting at home, bored with eating the same old things, give this a try. I don't think any of these ingredients are being hoarded right now!!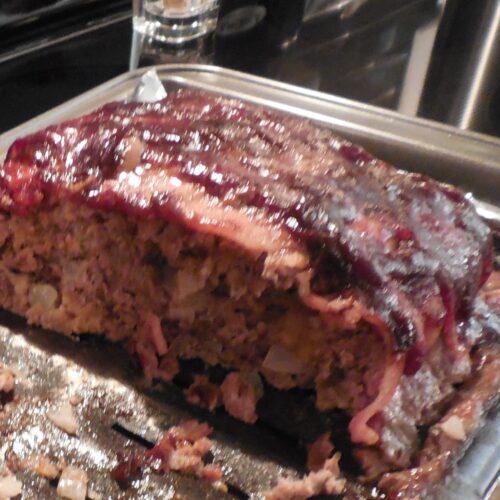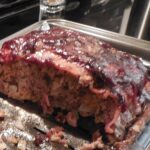 Pioneer Woman Meatloaf
Looking for an amazing meatloaf? This is so moist and full of flavor. Also easy to make.
Ingredients
1

c.

milk

6

slices

bread

(or use 1 1/2 c. dried bread crumbs)

2

lb.

ground beef

1

c.

grated Paremsan cheese

1

t.

salt

1/4

t.

seasoned salt

ground pepper

1/4

c.

minced flat leaf parsley

(I also use dried parsley and wing it)

4

eggs

(beaten)

8-12

slices

bacon

(we like center cut)

barbeque sauce

(we use KC Masterpiece Original)
Instructions
In a large bowl, pour the milk over the bread (or the crumbs) and soak for several minutes.

Combine the ground beef with the soaked bread, Paremesan cheese, salt, seasoned salt, black pepper and parsley.

With your hands (clean, of course) mix the ingredients until well combined.

Form the mixture into a loaf shape and place it on a broiler pan, which allows the meat to drain. Line the bottom of the pan with foil to catch the drippings.

Lay bacon slices over the top, tucking them in underneath the loaf.

Make the sauce, if not using barbeque sauce (see Notes below).

Pour some of the sauce over the top of the meatloaf. (You'll know what looks right.)

Bake for 45 minutes, then pour more sauce over the meatloaf.

Bake for an additional 15 minutes.

Serve with additional sauce on the side, if you'd like.
Recipe Notes
Note:  If you'd prefer not to use barbeque sauce, you can make your own sauce for topping.  Combine the following:
1 1/2 c. ketchup
6 T. brown sugar
1 t. dry mustard
dash or two of hot sauce
Original recipe found at www.barbarabakes.com
www.retiredintrovert.com