Since Tim got me a Pioneer Woman cookbook for Valentine's Day in 2018, we've been trying out some of the recipes.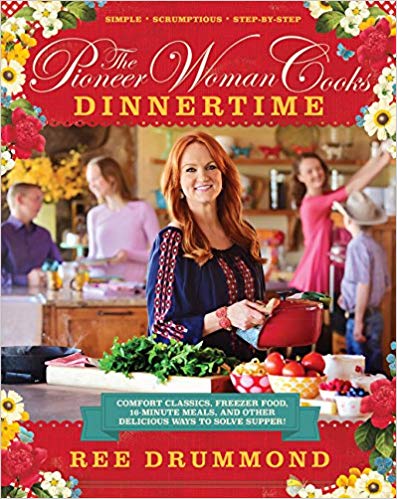 I know I've mentioned before that I like her recipes because they're usually just basic food. We don't want or need anything fancy. The only problem is, I have to cut the recipes down as they feed too many!!
Finding good side dishes
It's easy to come up with a meat option for dinner. But what goes with it? I get tired of the same old thing. I've already shared one of my favorites with you – Cheesy Broccoli Orzo. This is another great find.
I was a little hesitant at first because all I could picture was the kind of rice pilaf I've had in restaurants. In most cases, I end up not eating it. It just seems boring. I guess it depends on which restaurant?
Well, I decided to try this to see if we might like it. What did I have to lose?
Note: I don't usually like celery in things but this doesn't have a strong celery flavor to it.
It's great!! You should give it a try.
And if you like this, check out Pioneer Woman Meatloaf. It's great as well. 😋
Making some changes
As with a lot of recipes I use, I made some changes. First, what I'm giving you is half of her recipe. You'll have more than enough for two people and I usually have leftovers for a couple more days. In the recipe below, I indicate this makes four servings but it could be closer to five.
I don't always have wine on hand these days, so I tend to use broth instead. I think it comes out just fine. I do use wine if I have it.
I also added a recipe note about using less broth (when it calls for 2 cups). I think it's more than the rice needs to cook and you can always add more if it starts looking dry. Otherwise, your rice ends up kind of soupy and you don't want that. Just watch it while it's cooking.
Lastly, we're trying to eat more healthy so I didn't want to use white rice. I used a wild rice garden blend which is delicious in this. Being a blend, it also includes some dehydrated vegetables, which adds more flavor.
Use whatever rice you like. I couldn't find my rice blend at the store this week, so I may be looking for a new option myself!!
We had the rice pilaf with crispy baked cod and steamed broccoli. It was just what we needed to round out the meal.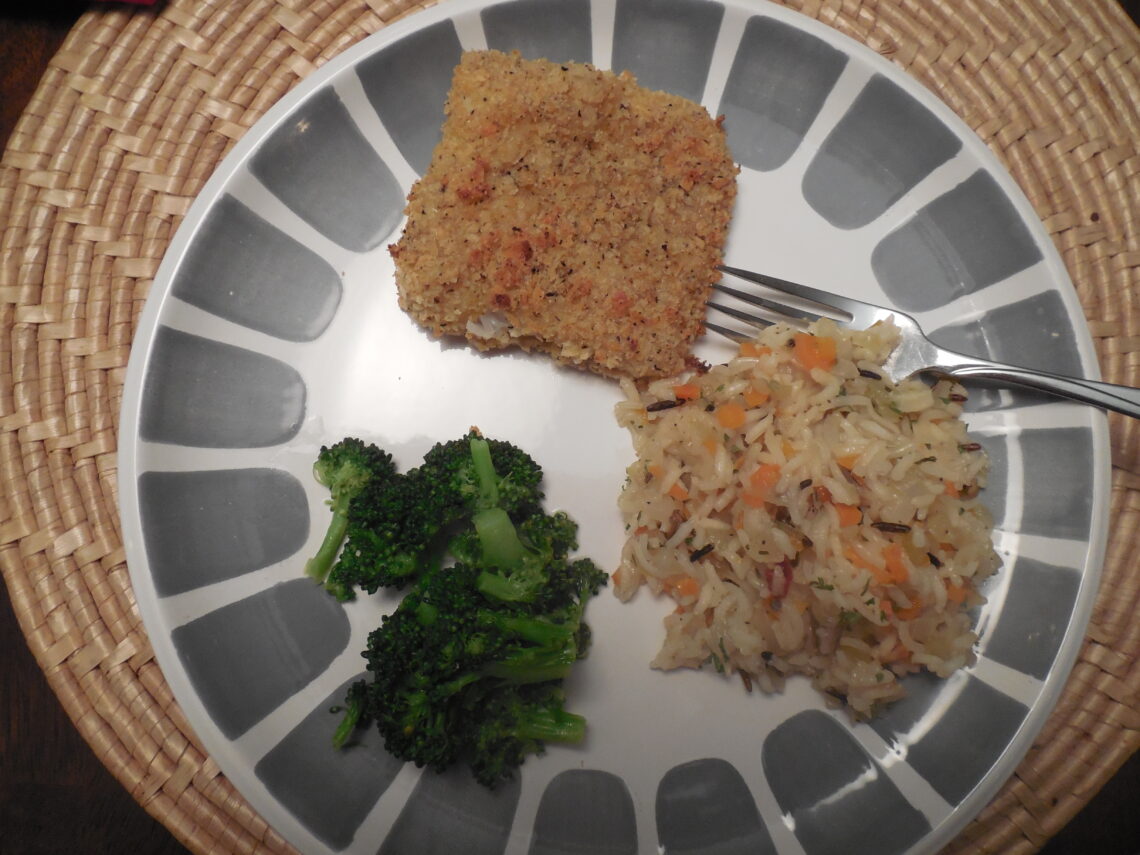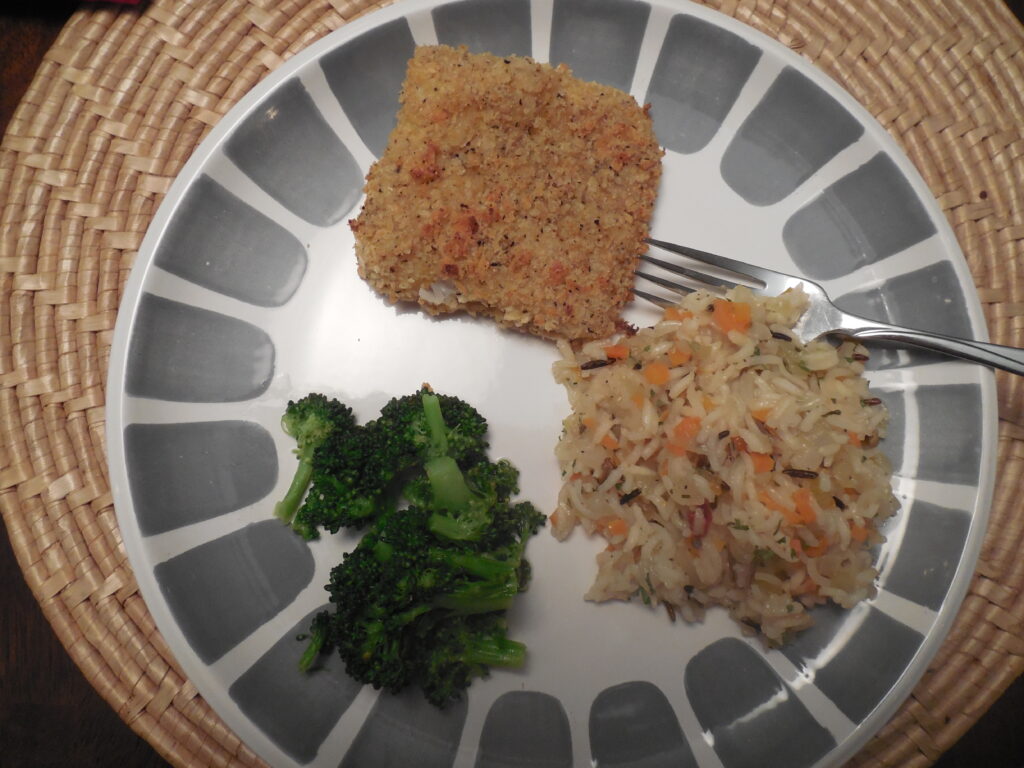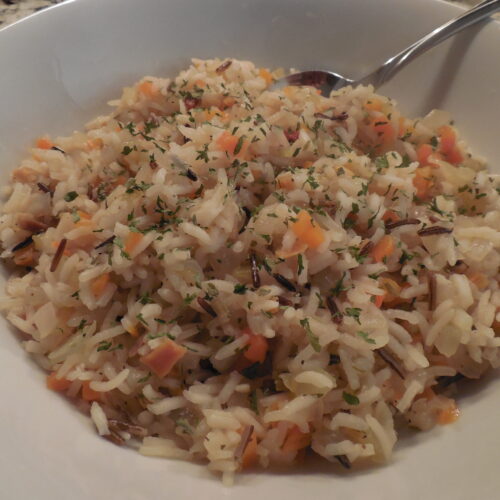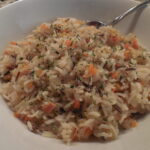 Pioneer Woman Rice Pilaf
Simple, yet tastier than plain rice. Great option when you're looking for a side dish.
Ingredients
1

T.

butter

1/2

medium

onion

finely diced

1

stalk

celery

finely diced

1

carrot

finely diced

1/4

c.

dry white wine

(can sub chicken or vegetable broth)

1

bay leaf

1

c.

uncooked long-grain white rice

(or the type of rice you prefer)

2

c.

low sodium chicken or vegetable broth
Instructions
Melt butter in a large skillet over medium heat.

Add the onion, celery and carrots and saute until they start to soften, about 4 minutes.

Add the wine (or broth), stir and cook until the liquid has reduced by about half.

Add the bay leaf, the rice, the broth and salt and pepper to taste.

Reduce the heat to low, cover the pot and let the rice simmer for 18-20 minutes, until the liquid has absorbed and the rice is perfectly cooked.

Turn off the heat and with a fork, lightly fluff the rice. Remove the bay leaf.

Sprinkle with minced fresh parsley, if desired, and serve.
Recipe Notes
You may want to use less broth.  Start out with less than the 2 cups called for and add more if needed.  Otherwise, the rice will be cooked but there will be too much liquid.
Also, I don't use white rice when I make this.  I've been using Gourmet House Wild Rice Garden Blend, which adds a few more vegetables.  I couldn't find this at the grocery store recently, so I may have to try some other wild rice/brown rice blend.
Original recipe from Pioneer Woman Cooks Dinnertime cookbook
www.retiredintrovert.com