Do you struggle to come up with a good side dish? Do you get tired of the same old potato and veggie? Or maybe skip the side dish altogether because it's too much work? Well, that was me. And then I found this simple yet tasty option.
There are several reasons you'll want to try this. First, it's easy. Only six ingredients.
Second, it's quick. Orzo and broccoli cook incredibly fast, so you'll want to have your other ingredients all ready to go once you start boiling.
Third, it tastes great. And it's not like any other side dish I've ever had.
Prepping
I have always used fresh broccoli but you could just as easily use frozen, if that's what you have on hand. Just make sure you include enough because you want this to be more than orzo and cheese.
I never thought I liked Parmesan cheese until I realized it doesn't have to come from a green container!! 😝 So, make sure you use fresh Parmesan and it's best if you shred/grate it yourself. It takes no time at all.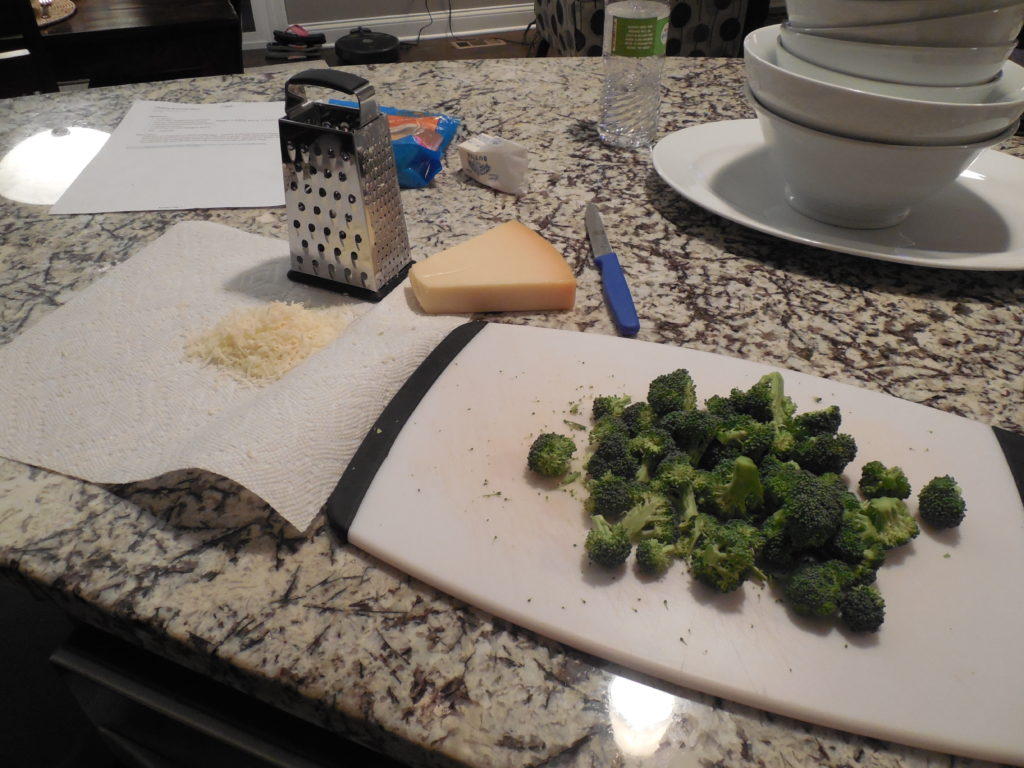 The recipe actually calls for 2% milk (which I did not indicate in the recipe below) but I always use skim milk and it still turns out perfect. I start with less than 1/4 cup, because while I like it creamy, I don't want it too runny.
I do, however, typically add more cheese than called for. After all, cheesy is the first word in its name!! And 1/4 c. of cheddar simply isn't enough. Just use your judgment and include what works for you.
Oh, don't forget the salt. Even with the salted water and all that cheese, it will need a little more salt.
I put in the recipe that it makes six servings. That's a complete guess as it depends on how much each person wants to eat. We always have leftovers and typically eat larger than average servings, which is why I settled on six. You could get more or fewer.
See how easy that was? Try it out tonight and see if your family doesn't thank you for something new and different!!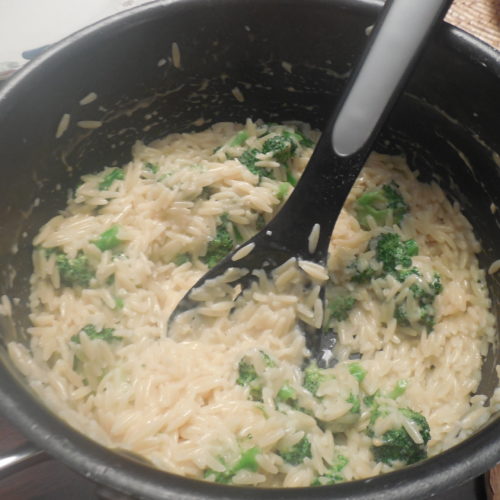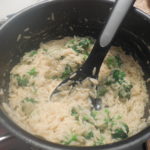 Cheesy Broccoli Orzo
Looking for a quick and easy side dish? This provides you with a veggie, a starch, and some dairy. It goes great with any type of meat.
Ingredients
1

c.

orzo pasta

1 1/2

c.

chopped broccoli florets

1/4

c.

cheddar cheese

shredded

2

T.

parmesan cheese

grated

1

T.

butter

1/4-1/2

c.

milk

salt
Instructions
Add orzo to a large pot of boiling salted water.

Cook for 3 minutes then add chopped broccoli.

Cook for 2 more minutes or until orzo is tender.

Drain well then return to the pot.

Add cheeses, butter and 1/4 c. milk.

Stir well and add more milk, if needed. (I usually use less milk, so go easy at first.)

Season with salt to taste.
Recipe Notes
Recipe from www.recipage.com
www.retiredintrovert.com