Some of you might know that my dad was diagnosed with celiac disease 29 years ago. At that time, finding gluten-free items was challenging. We had to stick with very basic food and read labels extremely closely. You'd be surprised what foods contain gluten.
Over the years, we've become much more comfortable creating gluten-free foods, especially baked goods. There are so many ingredients, mixes, and prepared foods that make it SO much easier.
Since my dad has been staying with us, we've been following a menu we all can eat. Our plan was to have chicken and noodles one night, but we knew he wouldn't be able to eat what I normally make.
Of course, I checked Pinterest and not surprisingly, it took me to Iowa Girl Eats. I get lots of recipes from her, because not only are her recipes gluten-free but most often dairy-free as well. She also provides basic types of food, including cream soups that can be used in making casseroles.
I adapted her recipe a little but it's mostly as she posted it. These are the things I changed:
She used dark meat chicken; I used white meat.
She cooked the chicken in the broth mixture, simmering for 30 minutes and then removing and shredding the chicken. I used some chicken I'd already cooked, cut up and stored in the freezer.
She used almond milk; I used regular, skim milk.
I made half of her recipe, but adjusted the noodles part to achieve the right consistency.
I was very happy with the results. Our gauge is always, does it taste as good as it would if it weren't gluten-free? The answer is definitely a "yes" for this one. In fact, you could make it using regular flour and I bet it's just as good.
Don't think making noodles from scratch is difficult. This was super easy and took no time at all. I added plenty of flour to them when I stored them and almost think I could forego the thickening. They'd be good either way.
Tim also likes his over mashed potatoes so you might want to consider that for serving.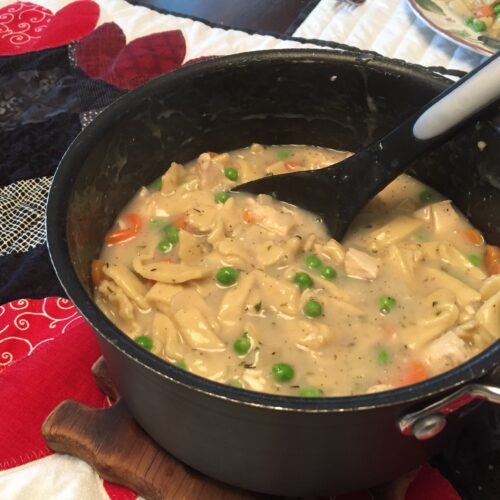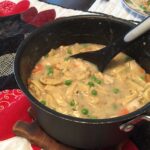 Gluten-Free Chicken and Noodles
If you eat gluten-free, one thing you may miss is noodles. This ultimate comfort food makes eating gluten-free tasty. You won't be able to tell the difference between this and your regular recipe.
Ingredients
Noodles
1

c.

gluten free flour blend

(I use Bob's Red Mill 1-for-1)

1/2

t.

salt

2

large

eggs

1

large

egg yolk

1

T.

water
Chicken and Noodles
1

c.

cooked chicken

(shredded or diced)

3

c.

chicken broth

(make sure it's gluten free and I like reduced sodium)

1/2

c.

chopped carrots

1/2

c.

chopped celery

(optional)

1/2

small

onion

(or shallot)

1/4

t.

dried thyme

1/4

t.

dried parsley

1

bay leaf

1

clove

garlic

(minced)

1/2

c.

frozen peas

salt and pepper
Thickening
1/2

c.

milk

1

T.

gluten free flour
Instructions
Making the Noodles
Whisk together eggs, extra egg yolk, salt and water in a small bowl.

Add flour to a large bowl and make a well in the center.

Pour egg mixture into the well and with a fork, whisk around the edges to gradually add flour to the egg mixture.

MIx until a stiff dough has formed. (You may need more water, but play it by ear.)

Place dough onto a heavily floured surface, then knead until the dough is smooth.

Cut dough ball in half and roll each half until very thin, sprinkling with flour and flipping/rotating the dough sheet occasionally to avoid sticking.

Cut dough into 2 1/2" by 1/2" strips. Toss with extra flour to avoid sticking and place in a bowl until ready to use.
Making Chicken and Noodles
In a soup pot, add chicken broth, carrot, celery, onion or shallot, thyme, parsley, bay leaf, garlic, salt and pepper.

Bring to a boil and add the noodles.

Cover the pot and cook for 13-15 minutes until the noodles are plump and tender, stirring often to avoid sticking. If too thick, add more broth.

Add frozen peas and cooked chicken to the pot.

If you want your chicken and noodles to be creamier and thicker, make the thickening. Combine the milk and flour in a bowl and whisk until smooth. Add this to the pot, cover and cook about 5 more minutes.

Taste and add salt and pepper, if needed.

Let chicken and noodles sit off the heat about 10 minutes to further thicken.
Recipe Notes
This was adapted from a recipe shared by www.iowagirleats.com.
www.retiredintrovert.com