For the next couple of months, my posts will focus mainly on recipes.  Isn't eating what the holidays are about?  Sorry to any of you that aren't into the recipes.  Don't worry; I'll sprinkle in a few non-food posts, so be patient.
I'm going to share my old favorites as well as a few new things I'm trying this year.  While the old standbys are good, it's nice to find a new favorite every once in a while, isn't it?
This first recipe is for kringla.  I am not Norwegian so there's no family history with this.  Last year, I learned how much my sister loves kringla, and she was buying it!!  😮  I knew I could make it for her instead.  And because the last two years she's had to wait a while for her birthday present from us, I've included a batch of kringla as interest.
The recipe I found is called Iowa Kringla.  Not sure what is special about Iowa kringla but it caught my eye.  Never having made it before, I was looking for anything that would steer me to a good recipe.  And I definitely lucked out.  This kringla is good!!  My sister loves it and so does her dog, who evidently is a kringla connoisseur.  However, after a health scare last summer, he's now limited to a low-fat diet so he can no longer eat it.  😢
Don't let it intimidate you.  It's very simple to make.   Just make sure you allow enough time, since the dough has to chill.
And don't make the mistake I made this last time.  Thinking I'd save a bowl, I put the baking soda directly in the buttermilk container and shook it to mix it up.  Soon afterwards, I noticed the buttermilk was oozing out of the top of the container!!  So, be smarter than I am and put your buttermilk in a bowl before you add the baking soda.  😁  (Science wasn't my forte.)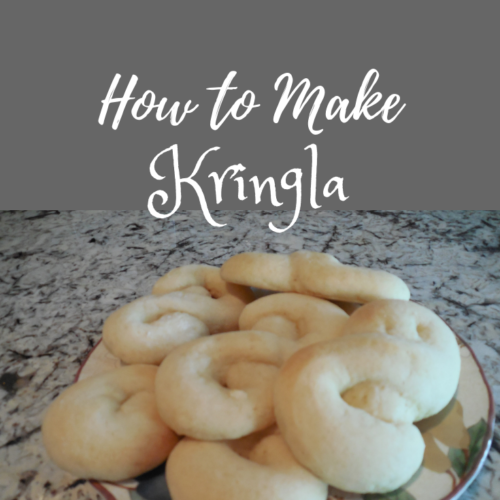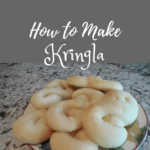 Kringla
This recipe makes light and airy kringla that melts in your mouth. It can be eaten plain or with butter, as a snack or for breakfast. They're yummy any time of day!!
Ingredients
1 1/4

c.

sugar

1/2

c.

butter

1

large

egg

1

c.

buttermilk

3 1/2

c.

flour

1

t.

baking powder

1

t.

baking soda

(dissolve in the buttermilk)

1/4

t.

salt

1

t.

vanilla
Instructions
Cream together the sugar and butter. Mix in the eggs and vanilla.

In another bowl, whisk together the dry ingredients - flour, baking powder and salt.

Add the dry ingredients alternately with the buttermilk (that contains the baking soda).

Chill the dough. The longer the better. At least a couple of hours, but overnight is the best.

Preheat the oven to 450º.

Roll small pieces of dough into a pencil shape. (My dough is usually a little sticky, so I've found I need to use flour to roll out the dough.)

Form each pencil shape into a figure 8 and place it on a parchment paper lined baking sheet. (Don't worry if they're not perfect figure 8s. Mine usually look more like an ampersand. 😉)

Bake until light brown, about 5-7 minutes. Check them at 5. You can always bake them longer if they need more time.
Recipe Notes
These freeze very well.  Put them in a freezer bag and when you're ready for one (or two or ...), pop them in the microwave for 15-20 seconds.  They taste like they're fresh from the oven.
www.retiredintrovert.com