You've heard of Cheeseburger in Paradise, right?  Maybe you don't listen to Jimmy Buffett.  Well, I have something else straight from Paradise that I know you'll love.  Carrot muffins!!  Not carrot cake muffins, but simple carrot muffins.  They are so yummy.
Paradise
For several years in a row, a friend and I took a ten-day trip to Hawaii, specifically Kauai.  If you've never been there, you have to go.  Although, I had a local tell me "if you like Kauai, tell your friends to go to Maui".  They prefer to keep the island less commercial and less congested, which wasn't necessarily happening then.  I don't know what it's like today.  I'm afraid too many people like Kauai as much as I do.
In October, it will have been ten years since I was there.  It does and doesn't seem like a long time ago.  I have such wonderful memories of my time there.  Any description I would offer would not do it justice.  You simply have to go there!!  (But remember, don't tell your friends. 😉 )
We stayed on the Poipu side of the island, specifically at Kiahuna Plantation.  I highly recommend it.  It has its own beach and a huge area that we called the beach lawn.  The condos are nestled between the tropical plants and for the most part, they're very quiet and peaceful.  (You can't always predict when there might be a crying baby close by.)
There is no air conditioning, but the breeze is just enough to keep you cool.  There are condos close to the water and those that are farther back.  While it's nice being able to see the ocean, I can't complain about any of the condos we stayed in that didn't have the ocean view.  You might also be awakened by chickens in the morning, as they're running wild all over the island.  But that's the fun of it!!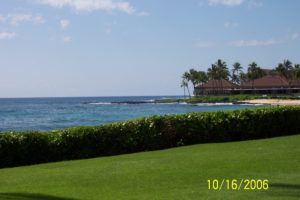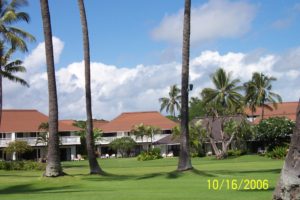 Eating in Paradise
There are several outstanding restaurants on the island, and one just happened to be across the street from where we stayed.  We learned this restaurant is part of a group of restaurants, some on Kauai and more on Maui.  If you've been to Hawaii, I bet you've been to at least one of them.  And we visited four others, three on Maui and another on Kauai.  (There are also some in California.)
The place we visited most frequently is Keoki's Paradise.  Not only because we could walk there, but because it had a wonderful Hawaiian atmosphere and the most delicious fish.  Any fish that starts with an "o" is fabulous.  It's pretty impossible to find these Hawaiian fish anywhere else, so we took full advantage. You can have your fish prepared in one of four ways.  I always chose the panko and mac nut crusted preparation.  Mmmm.  (I've tried to recreate it at home and I just can't quite get it right.)
When you're at Keoki's, you'd never know there was a busy road just outside.  And you have to remember, restaurants in Hawaii are mostly open air, so it's not like you are shut inside.  It's very tropical, with trees, water, and tiki torches.  I'm missing it as I write about it.  🙁
Anyway, one of the things they served with every meal was carrot muffins.  We gobbled them up and even took some back to the condo for breakfast the next day.  After going there for several years, we finally got the nerve to ask if they shared the recipe.  And what do you know – they do!!  They even had it all typed up, so they must get lots of requests.
Side Note:  I told you in my last post that I watch Pioneer Woman and sometimes catch the end of the show on before hers.  I did that today and it was Trisha Yearwood and she and her guests were making Hawaiian dishes.  After seeing that, I knew this had to be today's post!!!
The recipe
I'm now sharing this recipe with you because I know you'll like these muffins.  I had a craving for them last week, so I had to make them.  (For some reason, Tim isn't crazy about them, but don't let that influence you.)
If you don't have a kitchen scale, you might want to get one.  I've attempted to determine equivalents, but I have to admit, I don't always get the same answer.  So, to be sure these come out just right, use a scale.
It also requires a lot of grated carrots.  You can grate them yourself, but I typically buy shredded carrots and run them through a food processor or my little chopper to get them finer.  (It takes longer with the chopper, since it doesn't hold that much, but it's easier to clean.  🙂 )
My muffins don't come out as dark as they did at Keoki's, but they taste just as good.  Not sure what they do that's different.  Maybe they don't share all their secrets!!
As with all my muffins, they freeze great.  I love being able to open the freezer and taste a little bit of paradise.  You know what?  I'm going to have one right now!!!   A little paradise is just what I need.  Yummmm.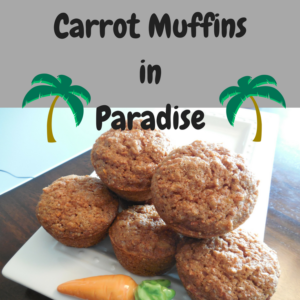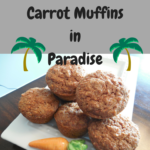 Carrot Muffins in Paradise
These carrot muffins come from a restaurant in Kauai, Hawaii and are delicious. You'll taste a little bit of paradise each time you bite into one.
Ingredients
9.6

oz.

whole wheat flour

(this equals anywhere from 1.75 cups to a little over 2 cups)

8

oz.

raw sugar

(this equals anywhere from 1 cup to 1.25 cups)

2

t.

baking powder

1 1/2

t.

baking soda

1

t.

cinnamon

1/2

t.

salt

4

eggs

7

oz.

vegetable oil

(I use canola oil)

4

oz.

crushed pineapple

(be sure to weigh this - it isn't half of an 8 oz. can)

14 1/2

oz.

shredded carrots

(I start with 2 bags of shredded carrots and chop them further)
Instructions
Preheat oven to 350°.

In a mixing bowl, mix well the first six ingredients (through salt).

Add oil and eggs, mixing slowly for 15 seconds.

Add the carrots and pineapple and mix another 15 seconds. Do not overmix.

Add 3 oz. (about 1/3 c.) for each muffin to a greased muffin pan and bake for 15-20 minutes (mine usually take 20, but check at 15) or until fully risen and a dark brown (mine never quite get that dark brown color, so make sure you don't overbake trying to achieve that).

Cool a short time in the pan and then move to a rack to cool completely. (Or eat one warm!!)
Recipe Notes
Recipe from Keoki's Paradise, a member of T. S. Restaurants of Hawaii and California
www.retiredintrovert.com