The first week of Wimbledon is almost over. Are any of you watching it? I sure am. Every day. It's on as soon as I get up and usually lasts until about 3:00, depending on the weather and the matches.
I had originally planned to post about tennis in general this week, but the other day, as I was watching Wimbledon on ESPN, I noticed a few things I thought might be interesting. Of course, this all depends on how much you already know about Wimbledon.
Basic Wimbledon information
First, how many of you thought it was pronounced Wimbleton? Well, it's not. If you haven't noticed by now, please take note that it's spelled with a "d" and not a "t". You should also note that in England, it's simply referred to as The Championships.
Second, it's the third Major tennis tournament of the year, or also referred to as a Grand Slam. The Australian Open in Melbourne was in January, when it's summer down under. The French Open, or Roland Garros, took place the end of May in Paris. Three weeks later (and this actually used to be shorter) is Wimbledon in London. And the fourth Grand Slam of the year is the US Open, which starts the end of August and goes into September in New York City.
Neither the French Open nor Wimbledon have lights on their courts so play must also be suspended when it gets dark. This means some matches must carry into the next day. Centre Court is now enclosed, so they can play when it rains. They plan to put a roof over Court 1 before next year's tournament.
And because of the time difference, I can watch tennis all during the day and it's over mid-afternoon. Unlike the US Open, which begins at 10:00 AM and can last into the wee hours of the morning. But I guess that's what makes it exciting.
Why do the players wear all white? (Source: Time article)
Have you noticed that unlike other tournaments, the players must wear all white at Wimbledon? That doesn't leave much room for self-expression, does it? And over the years, some players have tried to bend the rules a little bit.
In 2013, Roger Federer (one of my faves) was chastised after he wore a pair of shoes with orange soles. Even as far back as 1949, women's player Gussie Moran wore lace-trimmed bloomers under her skirt. The All England Tennis Club accused her of "bringing vulgarity and sin into tennis". 😲
These rules date back to standards set in the Victorian era (the 1870s), when players wore white because it was believed to show less sweat and it was all about being "incredibly proper". What's ridiculous about that is women wore full-length dresses with sleeves down to their ankles, while men wore long pants. How would you not sweat in those things?
As the years have gone on, the rules have become tighter as players have tried to challenge the tradition. In 2010 and 2012, Serena Williams wore colored undershorts. If you watch much tennis, you know that tennis dresses are very short, so undershorts are quite visible.
And even the men have tried to wear colored undershorts. In 2017, an Australian player wore blue undershorts and Wimbledon actually gave him a white pair to wear instead!!
Did you know Andre Agassi wouldn't even play at Wimbledon from 1988 to 1990 because he preferred to wear brightly colored clothes? He did eventually give in and won his first Grand Slam title there in 1992.
If you happen to be watching today, you'll notice all the sportscasters are wearing white. That's the first time I've seen that!!
Behind the scenes at Wimbledon (Source: BBC)
There's a head gardener, as well as seven full-time gardeners, to manage the 19,000 plants brought in for the Championships. They also maintain the ivy outside Centre Court, which requires climbing 64 feet to keep this high maintenance greenery under control. It grows 6-8 inches a week!! That ivy's been there since the building was built in 1922.
The gardeners keep the grounds looking like an English country garden, which is pretty straightforward until the local nursery stops growing the "right" shade of Wimbledon purple petunias. It turned out OK; the head gardener thinks he's the only one who can tell the difference.
A player can order anything he/she wants to eat; there's no set menu. The strangest request the executive chef ever received was pasta with honey. Most players are more conventional. Pasta is definitely the most popular with lots of protein. It's normally pasta pre-match and rice, shushi or stir fry after a match. There are two player restaurants at Wimbledon, serving 900 player meals a day in the first week.
Do you ever wonder who those line judges are? There are dentists, doctors, plumbers and lawyers making those line calls. They are paid for working at Wimbledon but get nothing for tournaments they work the rest of the year. (In a future post, I'll tell you more about line judges and chair umpires.)
There are 250 ball boys and girls. They go through a rigorous six-month program with 2.5 hours of training on weekends at the All England Club with matches played by club players. They practice all types of scenarios, such as what to do when they hear "new balls please" and when the trainer is called.
They are selected from 32 local schools and only about one in three applicants is successful. They work in teams with each one assigned a different court position. The taller ones are behind the baselines and shorter ones are near the net.
Before going on court, they discuss player preferences, such as who likes their towels folded and who wants theirs scrunched up, how they like their water bottles lined up, and which corner of the court they like their balls to come from.
There's a ball distribution manager who orders 57,600 balls and expects to use around 54,000 during the entire Championships. He keeps them in two storerooms at a temperature of 68F and monitors the scores on court to determine how many extra balls may be needed.
He can tell how many games a ball has been used just by looking at it!! This comes in handy when a ball is hit out of court and must be replaced (there needs to be six balls on court at all times). Rain delays are challenging because when matches resume they require warm up balls all at the same time.
My Wimbledon experience
I have actually been to Wimbledon, the location, not the tennis tournament. I was in London in late August in 1999 and had to visit even though it was way past the Championships.
It's very easy to get to on the underground. Take the District (green) line to either the Southfields or Wimbledon stops. At this point, the underground is no longer below ground. From there, it's a very short, and charming, walk with lots of row houses along the street.
The only way to see Centre Court was to look through a window. We could get no closer. It may be different now since this was almost 19 years ago. (I apologize for the quality of the pictures. This was before I had a digital camera.)
We were able to visit the Wimbledon Lawn Tennis Museum. I can't remember how long we were there, but there were lots of things to check out. And of course, they had a gift shop. I bought a fleece jacket, dark green with a small Wimbledon logo on the front. I still have it!!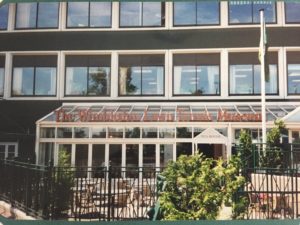 Well, I hope you found this interesting. I tried to keep it shorter since evidently, my last post was too long. 😘
There are no matches tomorrow (the middle Sunday) but everyone plays on Monday, so you should try to catch it.
This is one of my favorite things about retirement. I can watch tennis all day for almost two weeks straight!! 🎾🎾
PS – please vote in my Netflix poll. I REALLY need your recommendations!!