A few weeks ago, I asked you to tell me what social media platforms you consistently use. There were 17 voters with 44 votes. I'd always like more voters, but that's not a bad sample.
Here is the result: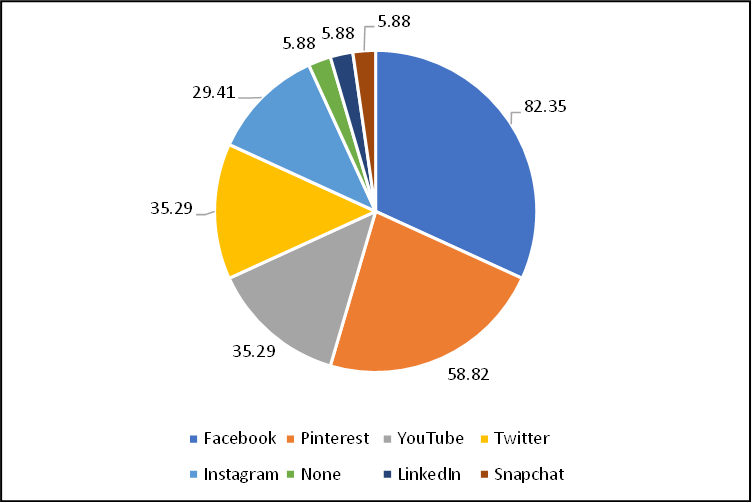 Not surprisingly, Facebook was number one with 82.35% of the votes, followed closely by Pinterest, YouTube, Twitter, and Instagram.
Facebook has provided me with so much exposure to what my friends (and even family) are doing, some of whom I haven't seen in years. It's been a great way to reconnect and keep up with what's going on in their lives. I recognize that we probably only see the good stuff that happens to people, but there definitely are times when you hear about people's struggles too.
One reason I asked this question was to determine if I might get more exposure for my blog site through other social media outlets. Plus, I was just curious as to what all of you do in terms of social media.
I currently have a page on Facebook and an account on Instagram.  I also pin regularly, including my own blog posts, on Pinterest.  I have 68 followers on Facebook, 40 on Instagram, and 62 on Pinterest.  Not a lot compared to most people. (Note: my Instagram account was hacked in 2021 and I had to create a new account, so my followers and posts are much lower than they were.)
I've hesitated to make my Pinterest account a business account because I use it for more than promoting my blog. However, it does represent me well in terms of the things I typically blog about. And they tell me with a business account, I could then have access to analytics that would help me understand what people are paying attention to.
I suppose I could set up another Pinterest account, making it for "business", but I feel funny calling my blog a business!! However, those analytics certainly sound tempting, says the data queen!!!
Social media usage worldwide
Below is a diagram of the most popular social media platforms as of July 2018, so very current. I didn't realize so many people use YouTube for social media. I never really think about using it. But my poll had 6 votes for it, so it must be used a lot. Diagram Source
I'm not familiar with many of these. Some I've heard of but know virtually nothing about, while others are completely foreign to me. I imagine some are more popular with those a lot younger than I am, and you know what? I'm OK with that!!
According to a new report from GlobalWebIndex, the average person now has 7.6 active social media accounts, with 98% of people having at least one social network account. The tech company polled 89,029 people aged 16-64 across 40 countries. Wow.
According to my little poll, the average voter has 2.5 social media accounts. The most anyone has is 6 and one person has 0. Facebook is by far the most popular, consistent with the rest of the world.
According to this article from Marketing Tech, the amount of time people spend on social networks continues to be significant. According to survey results, the average amount of time spent on social media each day is two hours and 15 minutes. Facebook continues to dominate the social landscape, with 90% of those surveyed using at least one of its four main services. Facebook Messenger and WhatsApp are used by over 50% of internet users. In terms of sheer visitor numbers, however, YouTube remains the undisputed king.
Do you spend more or less than two hours and 15 minutes per day? I actually think I spend less, on average, but there may be some days when I spend more. For some reason, my Pinterest time has tapered off. I can't explain why; I just don't browse it every day like I used to.
Did you think about including Messenger in your voting? I sure didn't; to me, it's merely an extension of Facebook.
This article also discusses how the trend is moving downward due to more people using only a phone. Mobile only users, especially in the Middle East and Africa, tend to have significantly fewer active social media accounts than their multi-device peers, with an average of 5.7.
Have you heard of Quora?
Just a couple of days ago, I had a notification telling me someone I know was following me on Quora. I have no idea what Quora is!! How could anyone follow me there? Kind of scary, you know? It didn't even make the above list. Does that mean it isn't social media?
Of course, I couldn't pass up this opportunity to educate myself and you about this. So, here's what I found out when I googled Quora. Source: Wikipedia (what else? 😉)
Quora is a question-and-answer site where questions are asked, answered, edited, and organized by its community of users. Its publisher, Quora Inc., is based in Mountain View, California. The company was founded in June 2009, and the website was made available to the public on June 21, 2010. Users can collaborate by editing questions and suggesting edits to answers that have been submitted by other users. Quora was co-founded by former Facebook employees Adam D'Angelo and Charlie Cheever in June 2009.
When I went to quora.com, it knew who I was. 😮 I saw my Facebook profile picture in the upper righthand corner, and I had a notification. When I clicked to see the notification, it told me I had questions waiting for me. These are my questions:
How do you make a Subway salad?
What is the last movie or TV show that made you cry?
How can I tell if my food is cooked to the correct temperature?
What is the main goal of an essay?
Why does Roger Federer get so much hate on the internet? (he does??)
How profitable is an ice cream franchise?
Do you make your own homemade meatballs?
I assume these questions are based somewhat on my internet activity but these are weird questions, don't you think? Are these questions that can't be answered through Google? Why else would someone post them on Quora? And why would anyone care about the last movie I watched that made me cry?
It looks like you can answer questions now or later, skip them, or even follow them. I assume if you follow, you'll be notified when someone answers the question. You can also check out the answers submitted by others. By the way, I did view the three answers to the Roger Federer question and they agreed with me. He doesn't get that much hate. 🤗
I can also submit up to five topics for which I consider myself knowledgeable, meaning I would get a customized feed of questions. Who has time for this? This is probably my one and only time to be on Quora. However, I am still just a little bit curious and may check it out from time to time.
Are there any next steps for me?
No, there aren't. I've concluded that the visibility I get through Facebook, Pinterest, and Instagram is enough. Might I pick up a few more readers if I expanded my social media usage? Sure. I've tried Twitter before, but I think all I can effectively focus on are these three. I don't want to spend more time on social media especially if it doesn't really buy me anything. I like knowing what my friends are doing and I like finding good recipes, etc. I don't need to "sell" myself.
Did you know there's a big disagreement as to whether Pinterest is social media? Some say it's just a big search engine. In fact, the Pinterest CEO says "Pinterest is not a social network. The reason: when you're using the popular service to "pin" or save stuff, you're doing it for yourself, not others." So there!!
OK. Go enjoy your 2.5 social media accounts and don't forget to come back here every once in a while. 💖