School lunches got a bad rap when I was a kid.  Maybe you were one of those who didn't like "hot lunch" but I had no problem with it.  Sure, there were a couple of things I didn't like that much.  Like the pizza.  Maybe it's because it was so thick and had so much meat on it.  I prefer a crispy crust, a good sauce, and lots of veggies on mine.
I remember having butter sandwiches every day.  Must have been easier than giving us bread and butter.  But on certain days – chili and goulash – we got to have peanut butter sandwiches!!  Woohoo!!  I don't remember anyone having a peanut allergy back then, but I might have just been oblivious to it.
One of my very favorite things for lunch was the apple crisp. I was so excited on the days it was served. And I spent years trying to replicate it. I finally found one and I've been making it ever since.
Church cookbook
Is there anything better than a church cookbook? I have two. My apple crisp recipe came from one of them.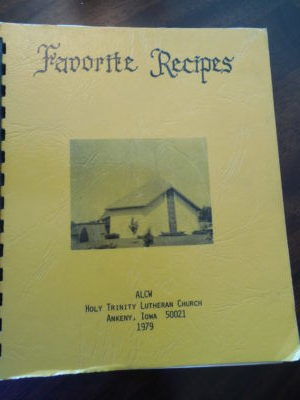 What made school lunch apple crisp so good? The topping!! It was crunchy and sweet and tasted so yummy with the soft apples. Apple crisp is so much better than apple pie.
The recipe I found had exactly the topping I was looking for. I've even used this same topping for peach crisp, despite what other recipes call for.
The topping
One thing I like about this topping is instead of cutting cold butter into the flour, etc. mixture, you melt it and then add it. This allows the flour, the oatmeal, and the brown sugar to form chunks of goodness. I use my hands to add the topping to make sure I get those yummy chunks all over the apples. Then when it bakes, the topping gets brown and crunchy and each bite of the apple crisp has pieces of topping.
Tips for making this apple crisp
There really aren't that many tips but I did want to mention at least a couple of things.
I typically follow the recipe and put the sliced apples in the baking dish before adding the flour and sugar. And I use a little more flour and a little less sugar than the recipe calls for. My goal is not too sweet and not too runny.
This time, however, I decided to try something I've seen with other recipes. I put the sliced apples in a bowl, added the flour and sugar, and then mixed it all together before putting the apples in the baking dish. I honestly could not tell a difference. So, don't waste another bowl for minimal results!!
Apples coated with flour and sugar

Coated apples in baking dish
The other thing is, I like to use my apple corer/slicer. It's not the perfect way to slice the apples, but it goes a lot faster than doing it all by hand. However, for many years, I've sliced all the apples without this tool. You just want to make sure they aren't too thick.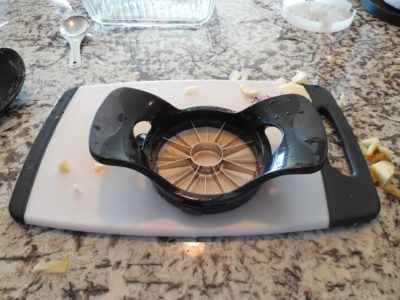 You should smell my house when this is baking. Is there anything better than the smell of warm apples and cinnamon on a cool fall day? (See my post It's That Time of Year Again.)
The finished product

All bubbly and juicy with crisp topping – yum
It's best served warm, so once it cools down (after you've already had that piece fresh from the oven), you'll want to microwave it for a few seconds to warm it up again.
I'm sure some of you would like whipped cream or ice cream on the top, but I like it just as it is. Why mess with a good thing???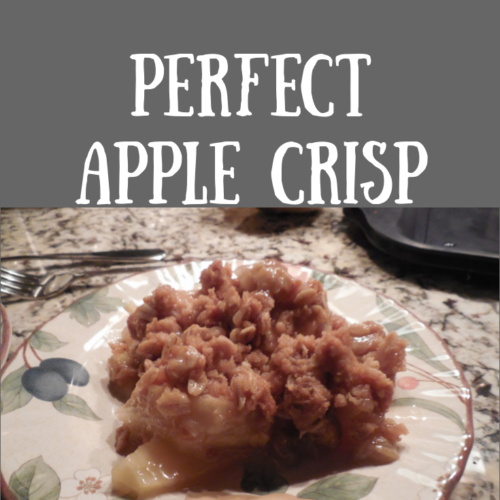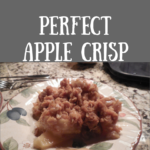 Apple Crisp
The secret to a good apple crisp is the topping and this has the BEST topping. This may just be the recipe you've been searching for!!
Ingredients
Topping
3/4

c.

oatmeal

(I've used both instant and regular, but prefer instant)

3/4

c.

flour

3/4

c.

brown sugar

1/4

t.

baking powder

1/2

t.

ground cinnamon

1/2

c.

melted butter
Apples
3

lb.

apples

(any good baking apple works)

1

T.

flour

(I use at least 2 heaping tablespoons, even though the recipe calls for one)

1/2 - 1

c.

sugar

(depends on sweetness level you want - I use 1/2 cup)
Instructions
Stir dry topping ingredients together in a bowl.

Add melted butter and mix until combined.

Peel the apples and slice them, putting them into a 9X9 pan (I use a glass baking dish. The apples usually fill it right to the top.)

Sprinkle the flour and sugar over the sliced apples.

Put the topping mixture over the apples.

Bake at 350 for 35-45 minutes. (I like to bake it long enough that the juices are bubbling and the topping is crisp and slightly browned. I stick a toothpick in several spots to ensure the apples are done/soft.)