My husband Tim likes to find recipes for us (me) to try. He usually does a good job of finding things we like, including today's recipe. However, it required me to combine two recipes to come up with this one I'm sharing.
Note: If you don't like turkey meatballs, let me know and I'll send you the recipe for regular meatballs. Or if you have a meatball recipe you already like, use it instead.
The meatballs
The originator of the recipe says the key to moist turkey meatballs is the paste you create from mashing the bread and milk. So, make sure you follow that instruction in the recipe.
I chose to bake the meatballs on a baking pan but if you want fewer dishes to wash, you can bake them in the skillet or pan you'll be using later in the recipe. However, you'll still want to use foil to line the skillet or pan when you bake the meatballs in the first phase.
I think to truly make the turkey meatballs healthier, I should have used poultry ground sausage. I didn't feel like searching for it so I grabbed a mild breakfast sausage. I am not a sausage fan but I like these meatballs.
I also used Parmesan cheese instead of Romano, which is what the recipe called for before I combined it with the other one. After all, this is a Parmesan bake!!
Parmesan bake
Once your meatballs have baked for the first 25 minutes, you'll begin this phase of the recipe. I chose to use one of my Le Creuset skillets. I love these skillets and they're especially great in the oven. They're just very heavy!!
And if you're in the Des Moines area, or close to another outlet mall, you might be able to find these skillets and their other pans for much better prices. All of mine are discontinued colors so I got them for half price. So what if they don't all match???
I typically like to use my spaghetti sauce for these types of things, but I will admit I used sauce from a jar. 🤷‍♀️ I didn't have enough left in my freezer to make this. Guess it's time to make a new batch!!
24-26 meatballs sound like a lot, I know. But this serves 4-6 people. We certainly didn't eat all of them in one meal, just the two of us. I froze what was left and we used them later with spaghetti. The original recipe even suggests using them for sandwiches.
Serve them with a salad and you've got a great meal. And another meal all ready for the future.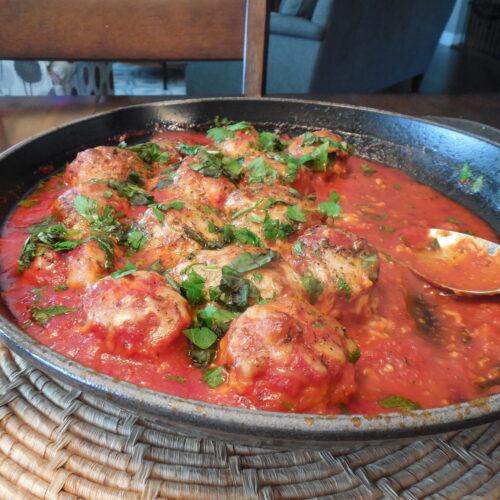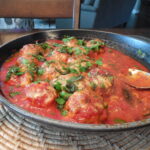 Turkey Meatball Parmesan Bake
This is a combination of two recipes where I substituted turkey meatballs for those made with other meats. The meatballs can be made ahead and frozen and then used later in the bake part of this recipe.
Cook Time
1
hour
5
minutes
Ingredients
Meatballs
1

lb.

ground turkey

(I use ground turkey breast)

1/2

lb.

Italian sausage

(can use poultry Italian sausage)

2

slices

whole wheat bread

1/4

c.

milk

1

large

egg

(beaten)

1

T.

Worcestershire sauce

1/4

c.

seasoned Italian breadcrumbs

1/4

c.

grated Romano cheese

(can substitute Parmesan)

1

t.

garlic powder

1

t.

onion powder

1/2

t.

salt

1/2

t.

pepper

1/4

t.

crushed red pepper
Parmesan Bake
32

oz.

Marinara sauce

1 – 1 1/2

c.

shredded Italian blend cheese

(or shredded Mozzarella)

Olive oil

(for drizzling)

1/2

t.

Italian seasoning

Fresh basil and parsley

(minced, for garnish)
Instructions
Meatballs
In a large bowl, mash together the milk and bread until it forms a paste. Add more milk if needed.

Add the rest of the ingredients and mix together, just until everything is evenly distributed.

On a large baking sheet, sprayed with cooking spray, roll out 24-26 meatballs.

Bake the meatballs for 25 minutes.

If using now, place meatballs on a plate. If saving for later, refrigerate or freeze.
Parmesan Bake
In either an ovenproof skillet or baking pan, spread about 1/2 cup marinara sauce in the bottom.

Place the meatballs in the skillet or pan in a single layer.

Pour remaining marinara sauce over the top of the meatballs, then sprinkle shredded Italian cheeses on top, so they are covered in cheese.

Drizzle a little bit of olive oil over the top of the cheese, then sprinkle with Italian seasoning.

Cover skillet or pan with foil and bake for 20 minutes.

Remove foil and bake uncovered for another 20 minutes.

Garnish with fresh basil and parsley, if desired.
Recipe Notes
The turkey meatball recipe is from Organize Yourself Skinny.
The Parmesan bake recipe is from The Chunky Chef.
www.retiredintrovert.com