Last October, I posted a picture on Instagram (and Facebook) asking you to guess what I was making.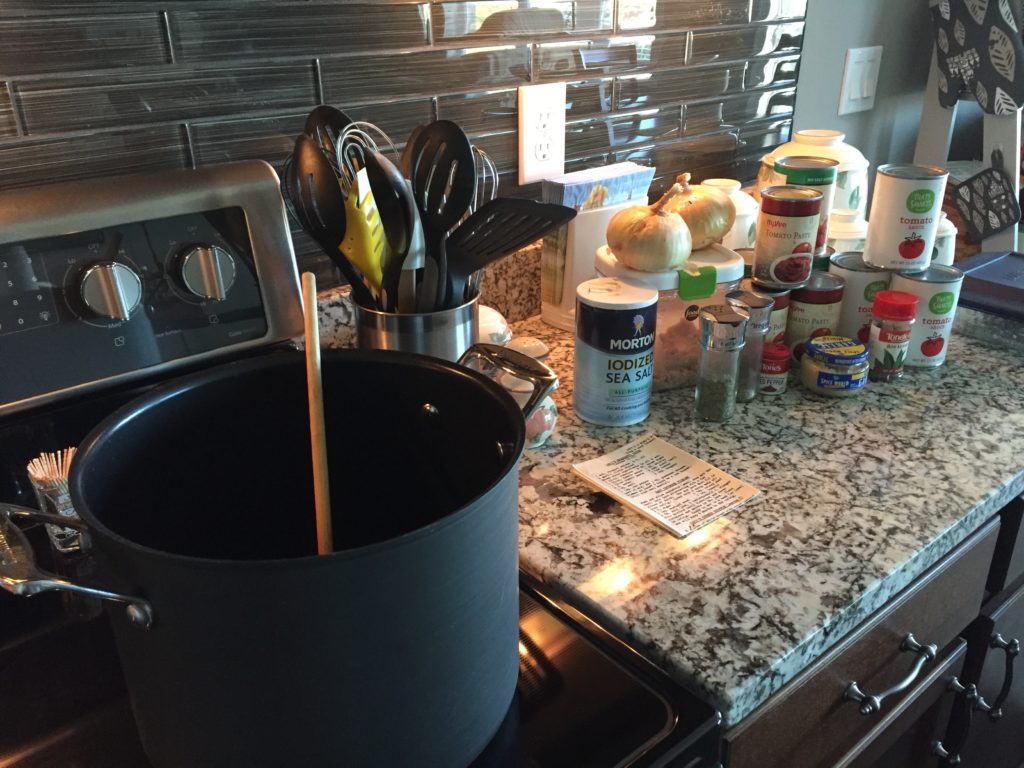 My hint was – it's not chili – as I knew that would be an obvious answer. A few of you got it right, though. It was spaghetti sauce. Or should I call it marinara?
No matter what you call it, it's good. And don't be scared by the fact it serves 12-15 because it freezes so well, you can use it for months. I always have some in my freezer because it's just too handy. And it's SO much better than any jar sauce.
As you can see from the directions, it's quite easy to make. The hardest part is opening all those cans!!
I used to use canned whole tomatoes but I was always cutting them up as the sauce simmered because I don't like big chunks of tomato in my sauce. I decided it made more sense to use diced tomatoes. Perfect!!
I use the biggest pot I own and a long wooden spoon. I start it in the early afternoon and typically use it that evening for our meal. We usually have a little bit left over, which I love for lunch the next day.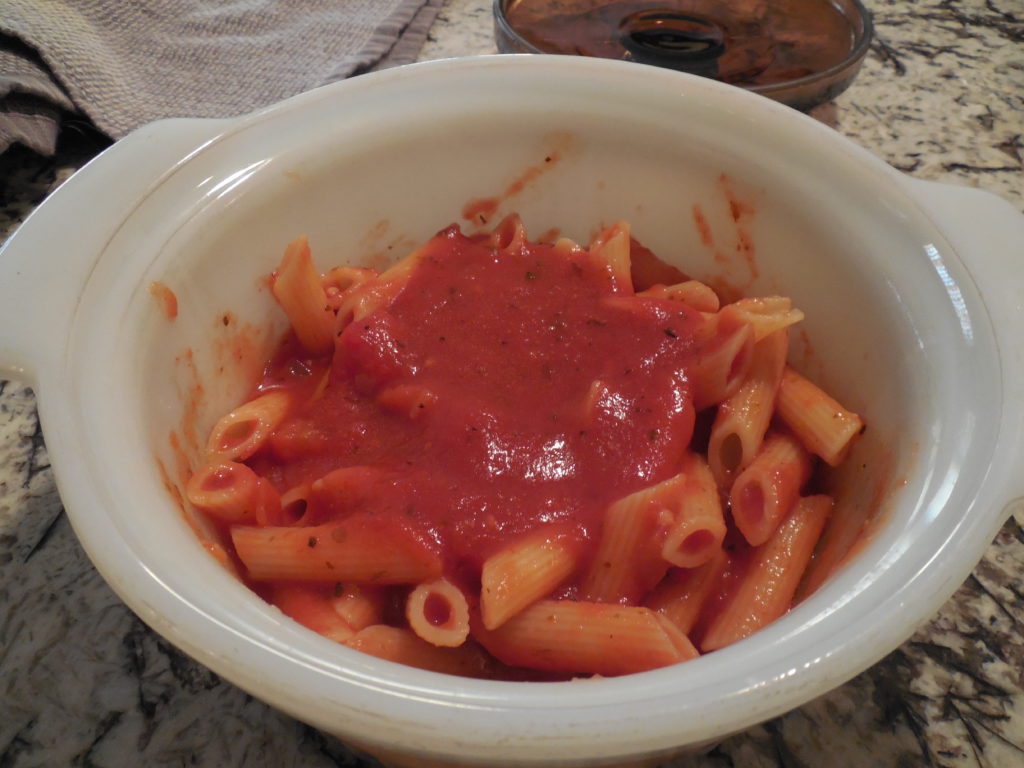 If I can, I simmer longer than the recommended three hours. It just gets better as it cooks.
Lucky you – you'll have more for later
After we use it for our meal, I scoop it up into my favorite Tupperware containers. Anyone remember square rounds? I've had these for years and use them for all my freezing.
The smaller ones are perfect for one meal of pasta and the larger ones work great for dishes like lasagna or stuffed shells (for which I have a great recipe I'll share at some point).
I label them, including the date, and pop them in the freezer. The sauce is good for several months. For one meal of pasta and sauce, I don't thaw it first. It pops right out of the container and I heat it in the microwave.
If I'm using the sauce as an ingredient in something else, I thaw it first so it's easy to incorporate into the recipe.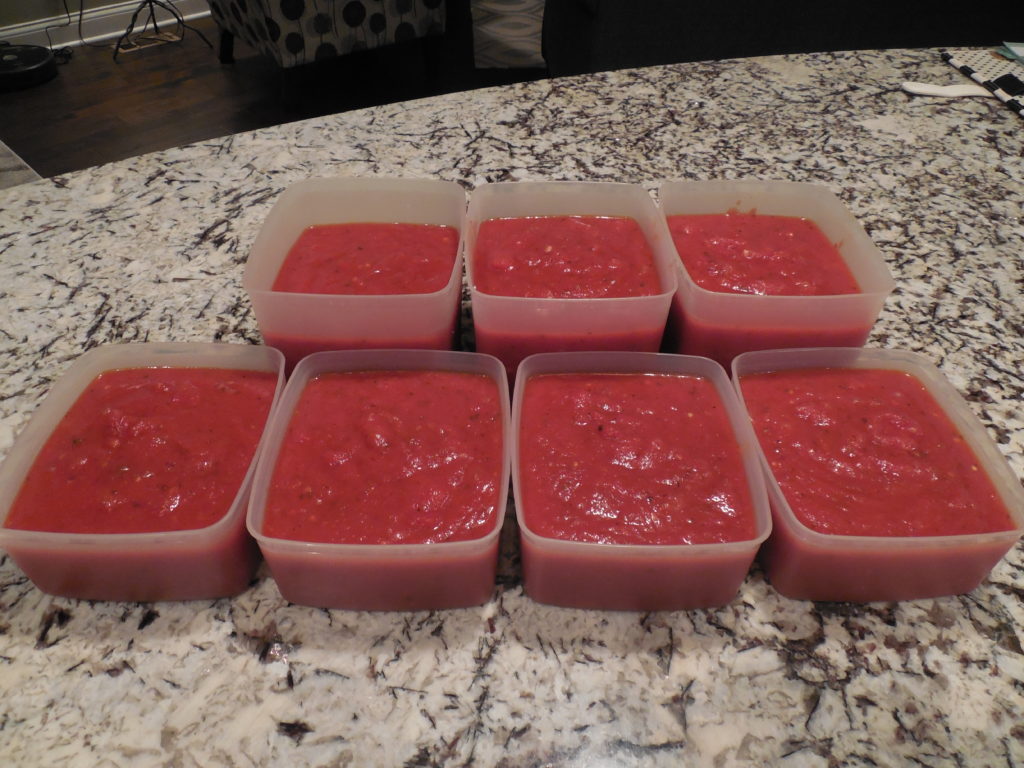 Give it a try. If you're like me, once you try it, it will become a staple in your kitchen.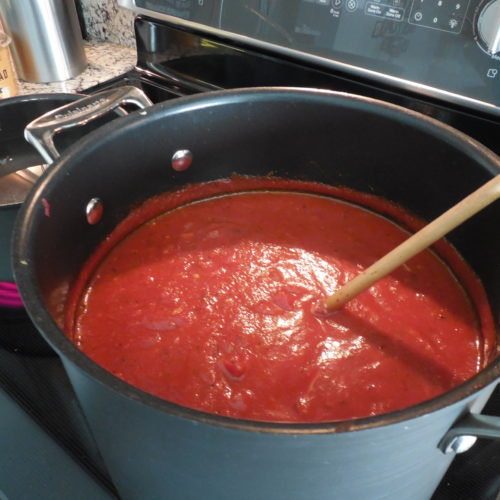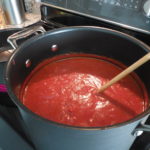 Spaghetti Sauce
This sauce is SO easy to make, freezes very well, and has just enough spice to give it a little zing!!
Ingredients
3

medium

onions, chopped

(about 1.5 cups)

6

garlic cloves, minced

1/2

c.

oil

(I use canola oil)

3

15 oz.

tomatoes

(I like to use diced tomatoes)

3

15 oz.

tomato sauce

3

12 oz.

tomato paste

6

c.

water

1

T.

salt

1

t.

red pepper flakes

2

T.

brown sugar

3

T.

dried parsley

2

t.

dried basil

3

bay leaves

2

t.

oregano

3

T.

parmesan cheese

(shredded)
Instructions
Brown onion and garlic in the oil.

Add the other ingredients except for the parmesan cheese.

Simmer at least 3 hours on a low burner. (Will burn very easily.)

During the last 15 minutes, add the parmesan cheese.
Recipe Notes
Serves 12-15
This recipe is from King and Lucy Schaudt of Slater, Iowa.  I've been using it for many years, so I assume they are no longer with us.  My mom passed along this recipe and it's one of my favorites.
www.retiredintrovert.com