I'm not really sure what my reporting schedule is for this year, but I guess it doesn't really matter. Despite everything going on in my life, I have made progress in my reading and cross-stitching. Both provide a good way to relax and escape.
Reading challenge
Since my last report, I've read 12 more books for a total of 24 so far this year. According to Goodreads, I'm one book ahead of schedule in meeting my goal of 35, so I feel pretty good.
Most of the books I've read have been good ones. And even though my book club hasn't met in person since February, we are continuing to choose new books each month and meet through Zoom. In September, we're going to meet at a park in town, social distancing but still together in person.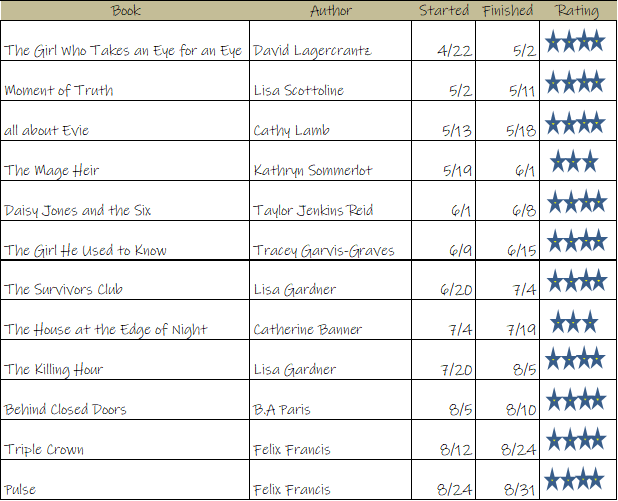 Four of the twelve books were for book club. My pick was "Daisy Jones and the Six". When coming home from Florida in early March, I was choosing books at the airport and this nice young woman recommended it. I thought it sounded like a great book for our group so I picked it up and saved it until it was my turn to pick.
I also read the second book by my niece, "The Mage Heir", just in time for her third book to come out. Don't let my 3 star rating fool you. It was well written but I'm just not into the fantasy genre.
I continue to read from my extensive inventory but I also sprinkle in a few new ones. I'm one who likes to read books in order and many of my favorite authors write series. As I've been reviewing my stash, I've discovered I am missing a few of the earlier books. I've also realized I've read a few out of order. Must have been before I realized there was an order.
One of my favorite authors has always been Dick Francis and his son, Felix, carried on the books after Dick died. I really liked the last one I read – Pulse – maybe because while it was about British horse racing, as usual, it was from a different perspective. I decided to try to catch up a little with the Francis books so I read two in August.
Cross stitch challenge
I feel pretty good about the progress I'm making with this year's ABC challenge. I started out planning to do 14 projects. Of course, new opportunities present themselves and I don't limit myself to the projects already planned. I am now up to 19 projects on my list, with a couple of larger ones in the wings as "optional". I'm also thinking about doing another quick Christmas project. Not all of them are considered part of the ABC Challenge but I have included them in my logs.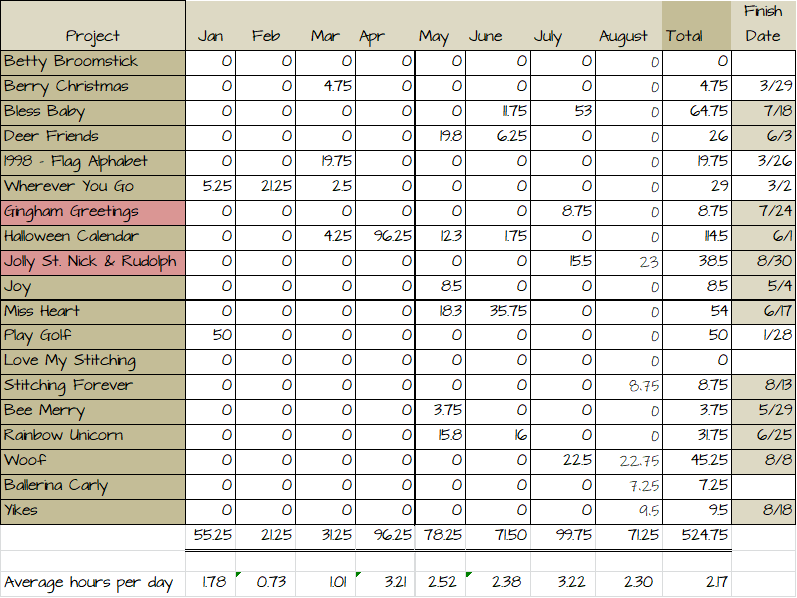 I've completed 12 projects since the end of April. I had another 24 hours of cross stitch in July, which bumped up my numbers. I'm averaging 2.1 hours per day, which is pretty unbelievable. At least I think so. Obviously, the April and July marathon days help with that average!!
The two projects in red above were added for the July marathon. As you can see, I finished a small one during the marathon weekend and made good progress on the other, which I finished in August.
Bless Baby was not planned but I did it for my grandniece, born in May. I'm not usually one for baby announcement projects, but I knew my niece had planned to decorate her room with woodland animals. When I found this pattern, I knew I had to make it.
Miss Heart was a kit and it came with embellishments that I chose not to use. I did, however, replace the kit's sequin hearts with red and pink button hearts from Just Another Button Company. I love their buttons and these worked out perfectly.
Scroll through to see the finished stitching.
I took three of my finishes to the framer a couple of weeks ago and they were ready after about a week. I love that they get them done so quickly!! And I framed one project myself – 1998 Flag Alphabet – just in time for the 4th of July. I'd had a special frame for it probably since I bought the pattern in 1998 and I finally got to use it!!
Scroll through to see my framed projects.
If you look at my original ABC Challenge list of projects, I only have two to go. Stitching is such an escape for me. My favorite time of day is the evening when I sit with Tim and cross-stitch. I only wish we had a local store. I ran out of floss for one of my projects and had to take a break from it while I waited for a delivery. Good thing I had something else to work on. Ha!!
Other progress
If you recall, I also had a baking challenge planned for this year. I've tried a couple of things – cinnamon rolls and ravioli – but neither was a success. I've pretty much concluded this is not the year for baking. My heart just isn't into trying something new, especially if it requires a lot of practice.
I've continued making face masks, when elastic became easier to find, and also made two isolation gowns for my friend's mom's long term care facility. I have plans to make a Christmas apron and already have the fabric for it.
I found the perfect pre-cut elastic for face masks. Two reasons I love it. First, it's so soft, making it easier on the ears. Second, it has a silicone buckle on it that allows you to make it larger or smaller. They have lots of different colors but I chose white to see how I liked it. And you can't beat the price. So check out SilverStarJackets if you're still making masks.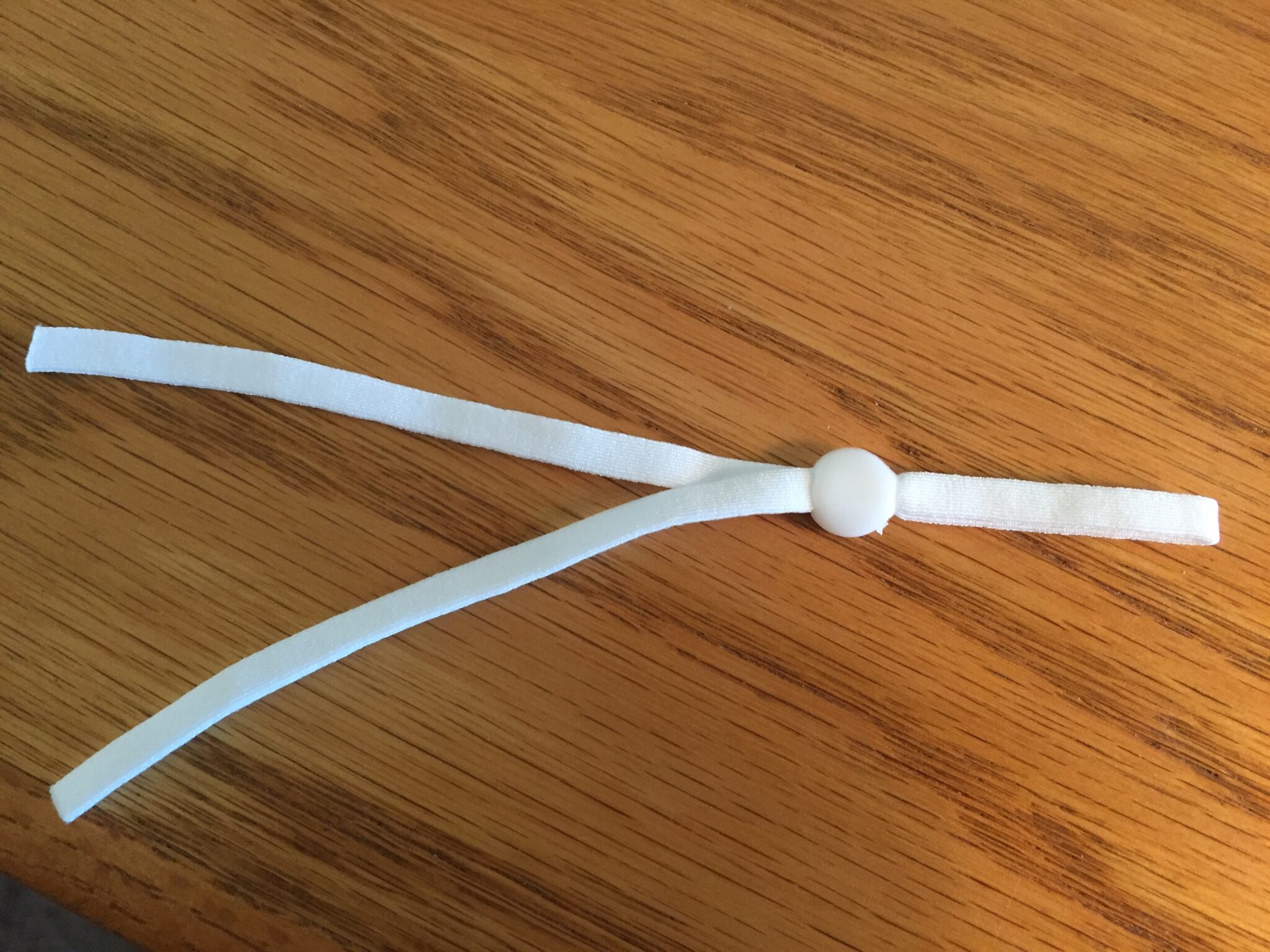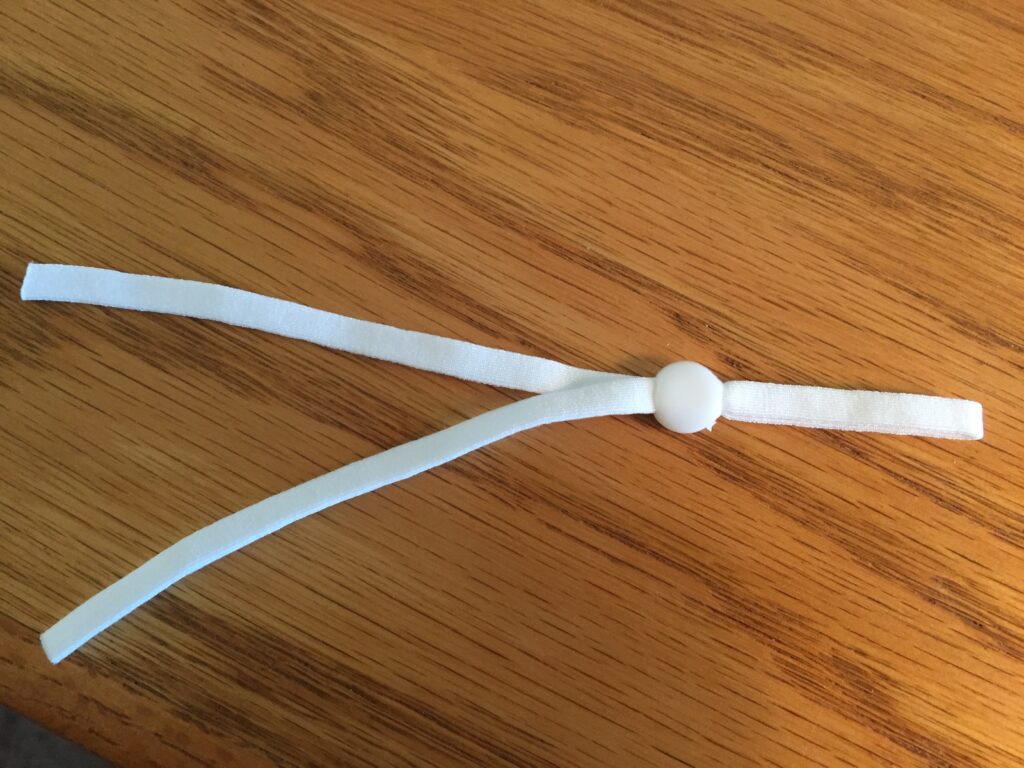 I'd like to get several of my cross stitch projects finally finished and have plans to make some pillows and covered boxes.
I'm deep into card making, but that's a post all by itself. Stay tuned!!
I hope by the end of the year to be able to show you many completely finished projects that I can either give as gifts or enjoy myself. There's a little bit of a bright spot in 2020.