It's peach season and what's better than some sweet peach crisp? I love apple crisp but peach crisp is definitely a favorite as well.
It's been four months since I posted a recipe and as I was making this today, I thought I had to share it.
I combined two recipes to make it just the way I like it. If you've tried my apple crisp recipe, you know there's nothing that can compare with the topping. So, that's what I use here as well.
I've also included in the Recipe Notes, at the end of the recipe, instructions for a slick way to peel your peaches. Just make sure your peaches are good and ripe. I let mine sit on the counter for three days before using them and they were perfect for this method.
The only negative about making this today? I won't be eating any of it. I'm going off sugar for a while so Tim will have this all to himself. Pretty tough to make something that smells and looks so good and not eat any of it. 😢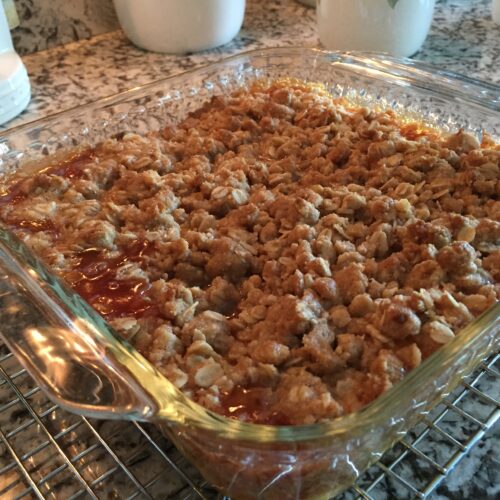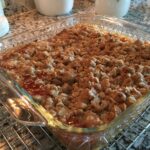 Peach Crisp
I love apple crisp but there's also nothing that compares with peach crisp. Juicy fresh peaches combined with a crunchy and sweet topping. Yum.
Ingredients
Filling
1/3

c.

packed light brown sugar

1

T.

lemon juice

1 1/2

t.

cornstarch

1/4

t.

vanilla extract

1/8

t.

fine salt

2

lbs.

ripe but firm peaches

(about 5 medium sized), halved, pitted and cut into 1/2 inch slices
Topping
3/4

c.

oatmeal

3/4

c.

flour

3/4

c.

brown sugar

1/2

c.

melted butter

1/4

t.

baking powder

1/2

t.

cinnamon
Instructions
Topping
Place the dry ingredients in a bowl and mix together.

Pour the melted butter over the dry ingredients and mix until all combined.
Filling
Combine the brown sugar, lemon juice, cornstarch, vanilla and salt in a large bowl and mix to combine.

Add the sliced peaches and stir until evenly coated.

Transfer the mixture to an 8×8 glass or ceramic baking dish and arrange in an even layer.

Sprinkle the topping evenly over the peaches. (Best to use your fingers for this!!)

Bake until the topping is browned and crisp, about 20-25 minutes. You'll also see the filling bubbling up!!

Once done, place the dish on a wire rack to cool for at least 30 minutes before serving.
Recipe Notes
Guide to peeling peaches:
Boil a big pot of water.
Gently lower each peach into the water with a slotted spoon.
Leave it there for 30 seconds.
Using the slotted spoon, remove the peach from the hot water and plunge it into an ice water bath.
After 10 seconds or so, grab the peach and pinch a piece of skin to get started.  Then simply peel.  The skin will slip off easily
If peaches are not ripe enough, this won't work as well and you'll need to peel them with a knife.
www.retiredintrovert.com