Last year, I wrote quarterly updates on my challenges – reading and cross-stitching. I didn't really want to use that same approach this year and with everything going on, I missed the end of the first quarter anyway. I haven't quite decided yet on how I'll do things this year. I guess it doesn't really matter. Regardless, here's an update on what I've accomplished so far in 2020. See this post for my 2020 Plans.
Reading
My goal for 2020 is to read 35 books. Based on Goodreads, I'm two books ahead of schedule. But I can't say that's because of coronavirus, which you might expect. Actually, I feel like my reading has taken a backseat to other activities during all of this.
Right now, I'm reading before bed and in the middle of the night when I can't sleep which is more often than I care to say. When I might typically read during the day, I'm on my iPad, either playing games or doing a jigsaw puzzle. (If you like to do puzzles, check out the available apps. It's a fun way to do a puzzle.) I'm sitting with my dad while he reads or watches "Blue Bloods" reruns on WGN.
Here's what I've read this year.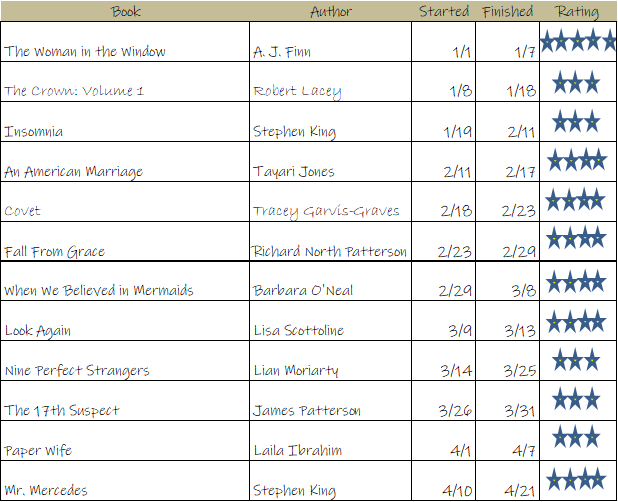 My favorite was "The Woman in the Window". I read this because I'd seen a trailer for the movie of the same name coming out this May. Hmmm. I wonder now when I'll be able to see it. I liked this book a lot with the suspense and twists and I hope we'll get to see the movie soon.
My biggest disappointment? "Nine Perfect Strangers". I picked this up in the airport on the way home from Florida in March, thinking it sounded good and I've liked this author's books before. It was OK, but towards the end, it seemed a little too far fetched.
I did finally read two Stephen King books that I've had for ages. "Mr. Mercedes" was my favorite of the two. It was so different from the typical Stephen King book but I love his writing style and his character development. This book was more of a detective thriller which took me completely by surprise. And it's the first book in a trilogy so I have to read the others now.
I also read a book by a local author – "Covet". A couple of friends in my book club are friends with Tracey Garvis-Graves and she came to one of our book club meetings, shortly after her first book was published. I have another one of her books on my "to read" list this year. You would probably call her books "chick lit" and I like those once in a while. It's listed as Covet #1 so I'll have to watch for #2.
Tim and I watched The Crown on Netflix and liked it so much we also watched a documentary about the house of Windsor. I told Tim that after watching both of these, I was interested in learning more. He got me both volumes of The Crown and while they follow the series, there's also additional information. I've only read Volume 1 so far.
Three of the books were read by my book club – "An American Marriage", "When We Believed in Mermaids", and "Paper Wife". All good reads and very different from each other.
Cross-stitching
I am taking part in what's called the 2020 ABC Challenge, which involves choosing 26 (or fewer) projects and connecting each to a different letter of the alphabet. I had originally identified 14 projects. I added a project in January and have since considered two more optional projects for the year. You know, if I should run out of things to do. Ha!
I spent most of January finishing up a piece started by someone else. She was the partner of a friend of mine and had been battling different types of cancer most of her life. In December, it finally got the best of her. My friend asked me if I'd finish a cross-stitch piece she'd started. I knew it meant a lot to him so I agreed and added it to my challenge list. It was a Sticks design, so it was fun besides.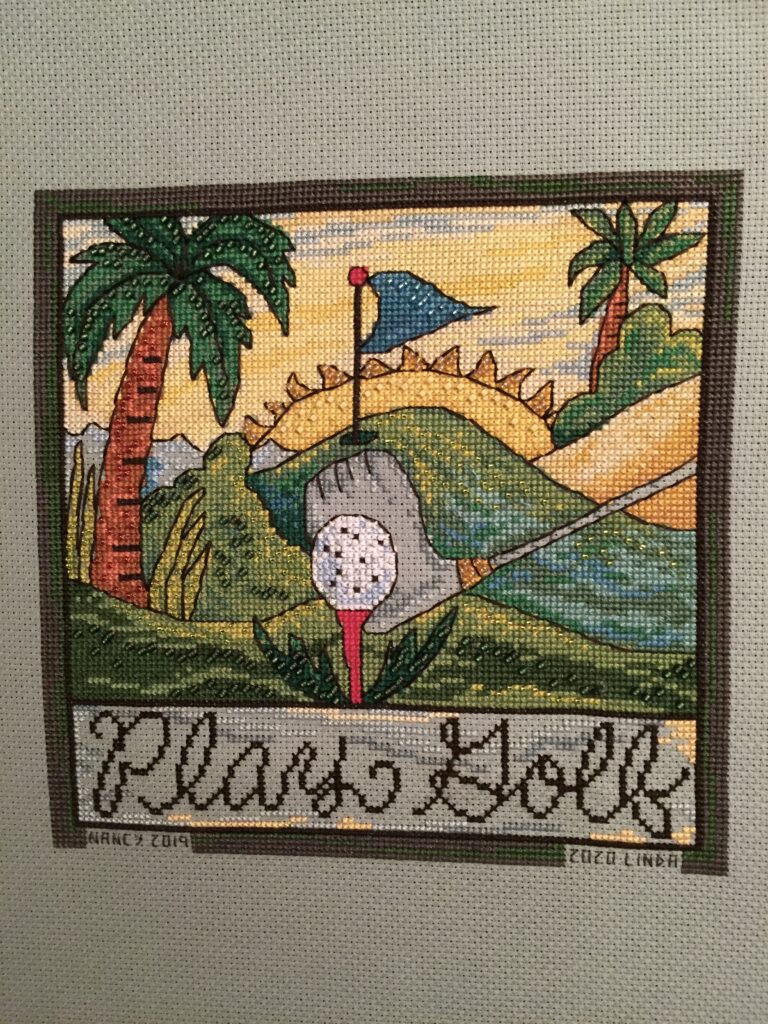 February was slow. This is when my mom had her fall and I spent most of the month either at the hospital or the care center. I can knit when I'm there but cross-stitching is too challenging. I did start a little cute design and finished it in early March.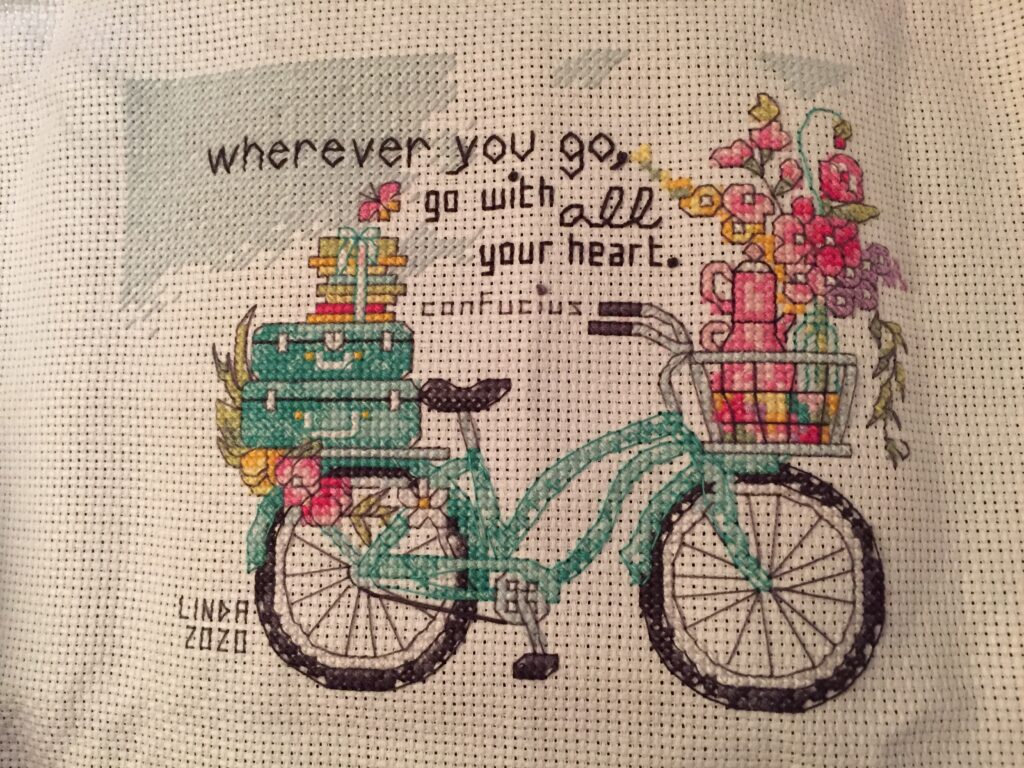 I was able to get back on track in March, once we were limited from visiting my mom and I wasn't so exhausted in the evenings. I started and finished two more projects but I have to admit, one was very small (under 5 hours). And so far in April, I've only worked on one project but have already logged 95.5 hours. Thanks to last weekend's 24 hours of cross-stitch, I was able to devote 26.25 hours over three days.
So far this year, I've completed 4 of my 2020 ABC Challenge projects. Fortunatey, I do have a few quick stitches left to do so hopefully I can pick up the pace!! If you figure I have 17 projects in my plan, then I'm only at about 24% complete.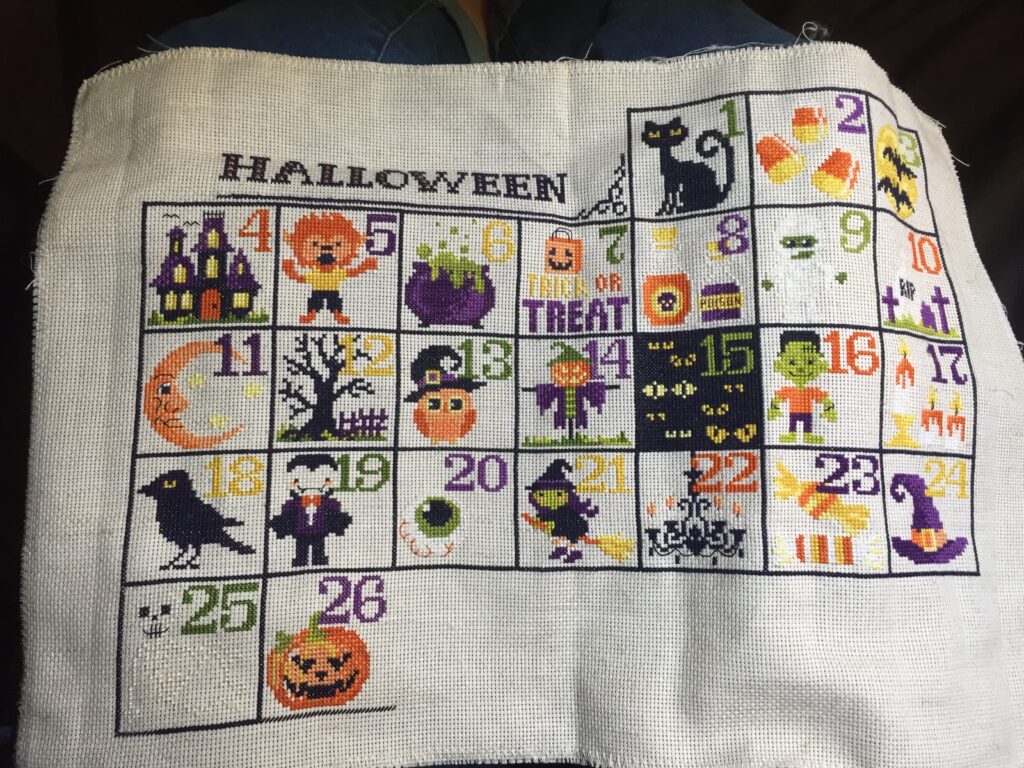 I've started using an app on my iPad called Decision Roulette. I input all of my projects into a wheel and then spin it to determine my next project. I've been using it for all my 2020 ABC Challenge project decisions. It's a great way to choose when you have no preference as to what to do next.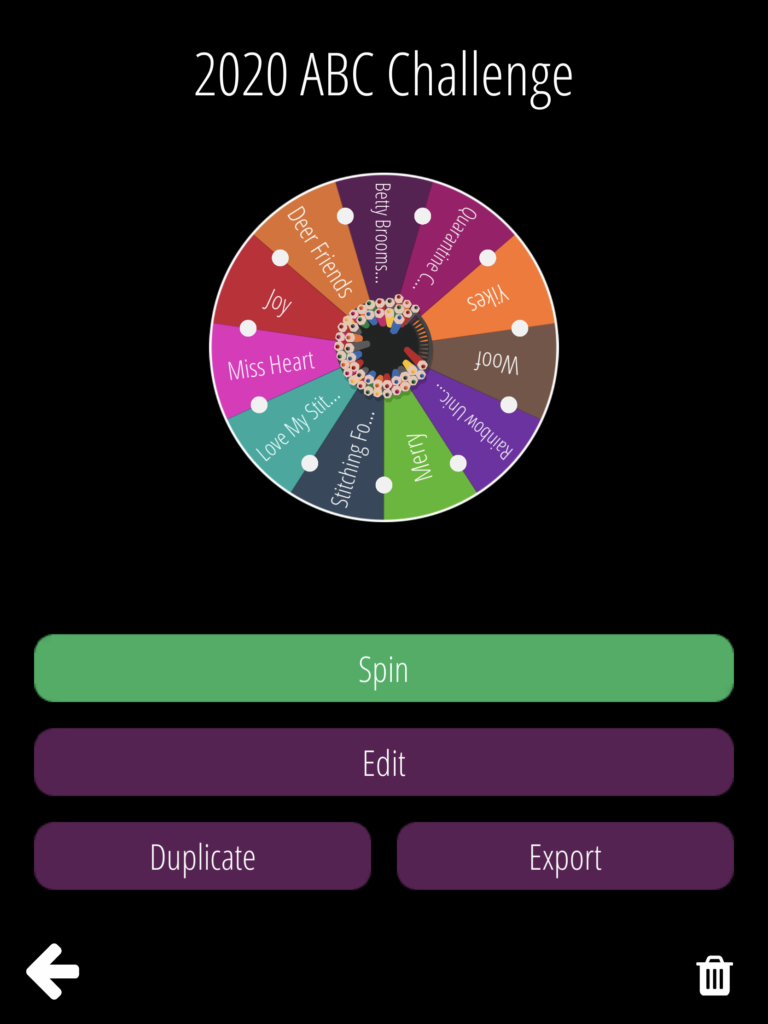 Next up is something called Stitch Maynia which of course, is all about stitching in the month of May. This is my first time participating and I'm going to get out of my comfort zone and start a new project every Friday in May. I typically only work on one project at a time.
I used my decision wheel to pick the 5 projects and I've been working on getting each one ready to go. However, I needed a few supplies, mostly cloth, and I haven't received my order yet!! Everything's so much slower right now.
Other plans
I've done very little knitting in 2020, other than to finish a baby afghan for my niece who's expecting her first baby in just a couple of weeks!!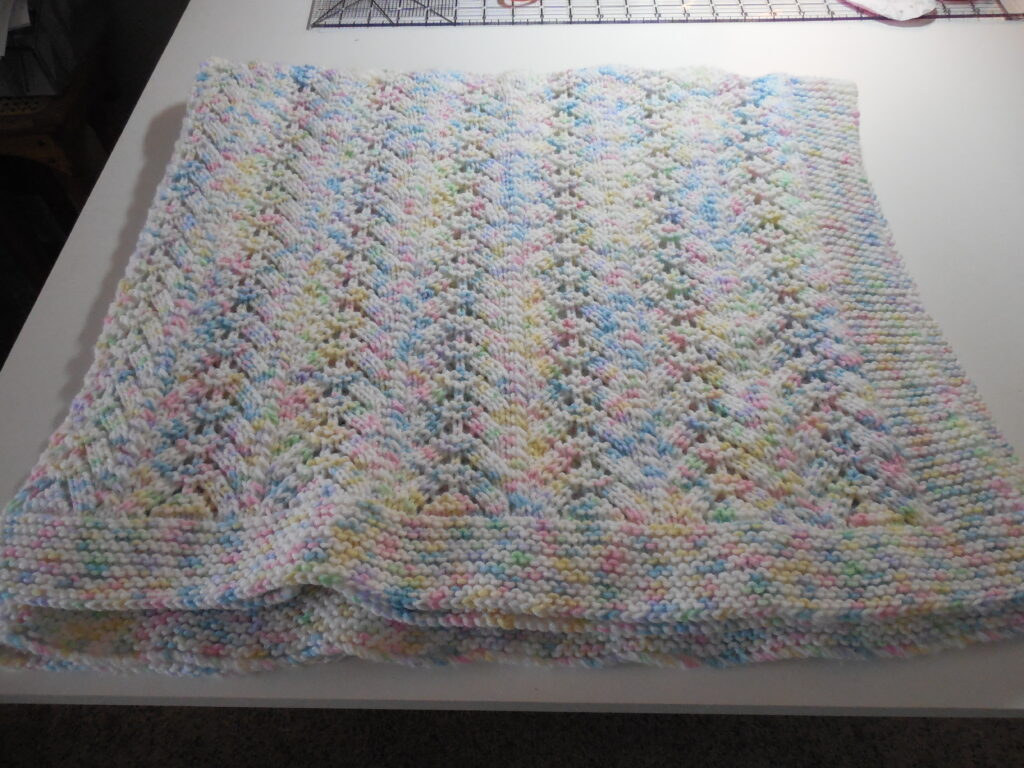 I also made a couple of big blankets using size 50 needles and fat yarn, which I can whip up in a week. Those were for the grandkids, although Brady hasn't gotten his yet since we can't visit.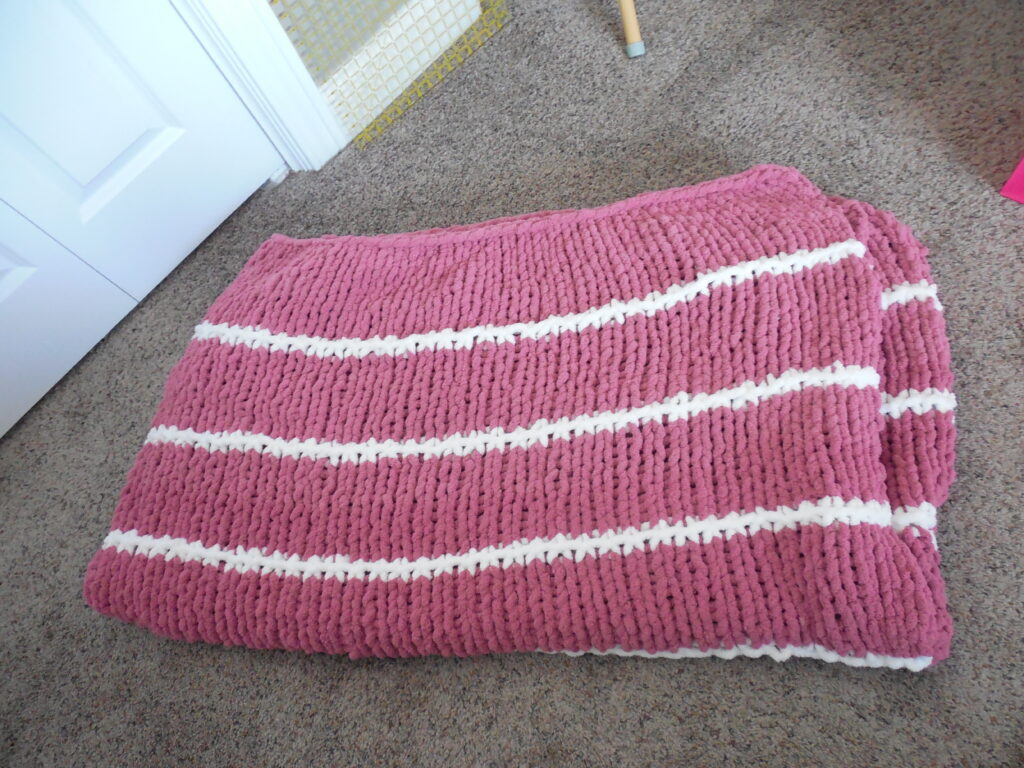 I've done almost no baking, although I did try two cinnamon roll recipes. I wasn't happy with either one, so I'm not ready to share anything. Both tasted good, but they didn't look the way I expected them to. I was going to try a third recipe but Tim suggested I try to perfect one of the two I'd already made. He's not usually so logical.
So, my baking challenge is not going well.
Once things settled down in March, I was able to get back into my sewing. I finally finished four more project bags (which I've been filling up for Stitch Maynia) and I made burp cloths and bibs (in three sizes) also for my niece. We sent the package of goodies last week.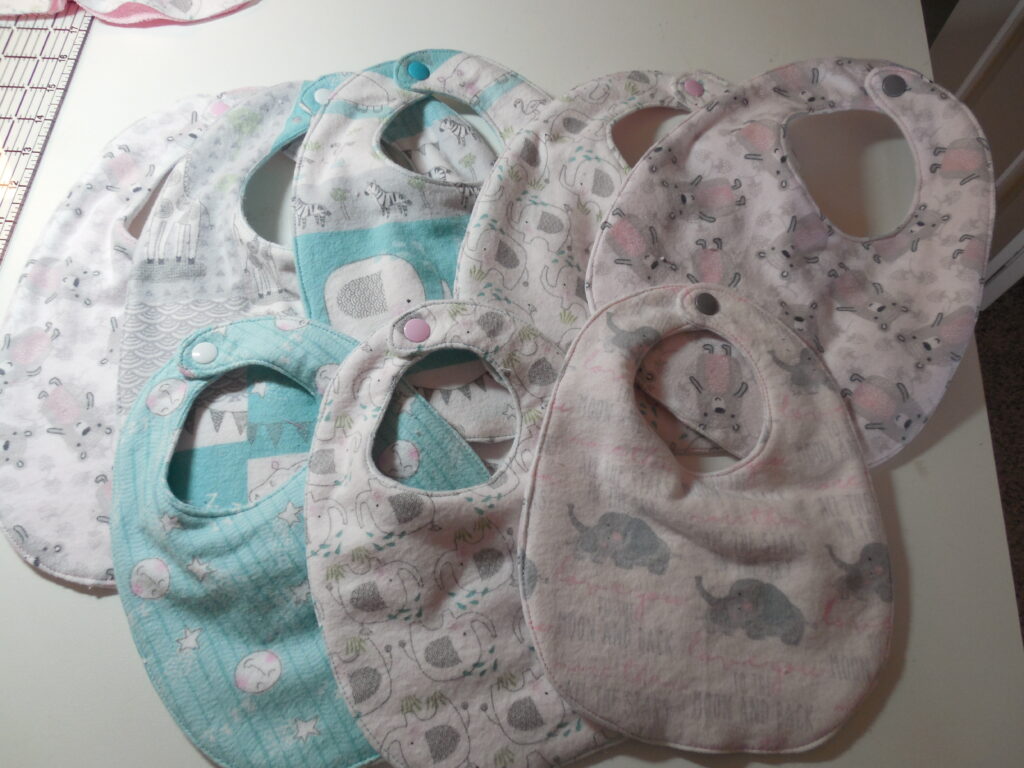 I can't forget that I made 8 masks as well. I'm waiting for more elastic, which is supposed to come this week, and then I'll make three masks for me, Tim and my dad for his moving day on May 7. Besides, Tim should probably be wearing one when he goes out anyway.
While my year has not gone as I had hoped, I've still been able to accomplish a fair amount with my hobbies.
More to come in 2020!!