By popular demand (well, from Tim anyway), I'm posting the recipe for Peanut Butter Cup Brownies.  These are unbelievably good, but so simple to make.
The recipe I have says to use a box brownie mix.  But I already have the best brownie recipe there is, and it's just as easy as a mix to make.  One thing I especially like is not having to use a mixer.  I just get out my favorite wooden spoon and mix things together.
The brownie recipe I love came directly from Ghirardelli, and who should know better than them about chocolate.  You might be able to find small containers of their ground chocolate at your local grocery store, but I found it wasn't consistently stocked, so I order mine now from Amazon.  (The link in the next paragraph takes you to the Ghirardelli site, where you can see what it looks like.)
The recipe used to be available on their ground chocolate container.  There's still a recipe on the can, but it's not the same as the one I have.  Not to worry – I'm including it here.
The only change needed for this peanut butter cup brownie recipe is how you bake the brownies, because your goal is to produce these bite size goodies with chocolate and peanut butter.
In the recipe below, I included pictures at certain points in the process.  Do you like that or would you prefer that I leave those out or put them in the post separate from the recipe?  I know when I print a recipe, I like it to be concise.  But I thought I'd try inserting the pictures and see what you think.
If you want to use this recipe simply to make a batch of brownies, follow these instructions after Step 5 in the Ghirardelli Brownies section of the recipe below:
Spread the batter into a greased 8 or 9 inch square pan (I typically use an 8″ glass pan and spray with PAM baking spray)
Bake 20-30 minutes.  (With my current oven, I bake them 35 minutes, but I always check them after 30.  You might want to experiment with this.)
For extra chewy brownies, use an 8 inch pan and less baking time.
For cake-like brownies, use a 9 inch pan and more baking time.
I just made a batch of the regular brownies today.  You should be here to smell my house!!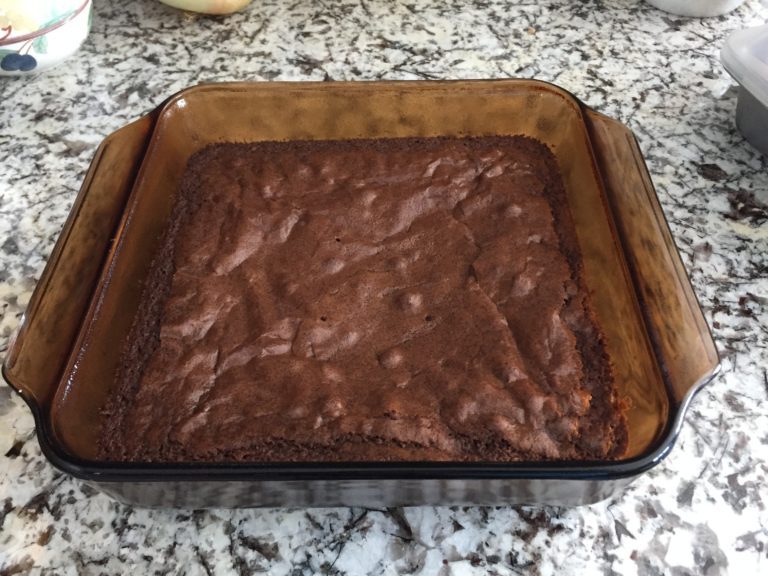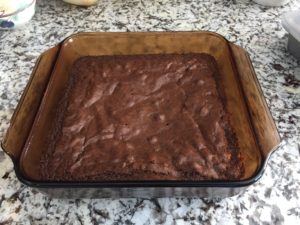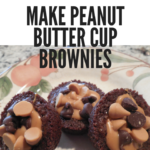 Peanut Butter Cup Brownies
If you like chocolate and peanut butter, you will LOVE these brownies!! The recipe I found for this uses a box mix for brownies, but why would I do that when I have a recipe for the yummiest brownies, that are just as easy to make?
Ingredients
Ghirardelli Brownies
2

eggs

3/4

c.

sugar

1

t.

vanilla

3/4

c.

ground chocolate

(I use Ghirardelli Sweet Ground Chocolate & Cocoa)

1/2

c.

melted butter

2/3

c.

unsifted flour

1/4

t.

baking powder

1/4

t.

salt
Peanut Butter Cup Brownies
1

batch

Brownies

(after they're baked in mini muffin tins)

1/2

c.

peanut butter chips

(use as a guide - you can use more or less)

1/2

c.

semi-sweet chocolate chips

(use as a guide - you can use more or less)

3/4

c.

creamy peanut butter
Instructions
Ghirardelli Brownies
Preheat the oven to 350.

Using a spoon, stir eggs with sugar and vanilla, in a medium size bowl

Add melted butter. Be careful that it's not too hot or you'll scramble your eggs.

In a small bowl, whisk together ground chocolate with flour, baking powder and salt.

Stir the dry ingredients into the egg mixture.

Spray or grease 36 mini muffin cups.

Spoon batter evenly into the muffin cups (about 1 heaping teaspoon).

Bake for 13-15 minutes or until top is set and a toothpick inserted into the center comes out slightly wet.

After the brownies are out of the oven, wait for the centers to fall. This happens with cooling, but if not, make an indentation in the center of each one.

See Peanut Butter Cup Brownies instructions to complete.
Peanut Butter Cup Brownies
Place the peanut butter in a small microwave-safe bowl.

Microwave on high for 45 seconds, then stir.

While brownies are still warm (and in the pan), spoon about half a teaspoon of peanut butter into the center of each one.

Top with semi-sweet chocolate chips and peanut butter chips. I try to have an equal number of each type of chip on each brownie.

Cool completely in the pan. I usually have to run a knife around them to remove them, and then they pop right out.
Recipe Notes
Recipe from www.bakedperfection.com, adapted from Nestle's Very Best Baking
Brownie recipe from Ghirardelli