I said I'd give you an update on my seeds after a couple of weeks.  Earlier this week, I didn't think it would be a positive update but I was taken by surprise this morning.
What happened to my seeds?
I don't know exactly what happened.  My seeds started out fine but then they fizzled.  If you recall from my previous post, I started using a heat mat because I thought the seeds were too cold.  It's been chilly these last two weeks and the location of the seeds makes them susceptible to the cold, even with the mat.
So, our best guess is they were simply too cold.  And they weren't getting much sun either.  Regardless of my best efforts, I had nothing to show for these last two weeks.  I threw them out.  (After I accidentally dumped them all over the floor.  What a klutz!!)
What's next now?
The time between now and planting season has become shorter, but I decided to start over anyway.  New seeds were planted on Wednesday and I'm trying a different location.  They're currently on our dining table, right by the sliding glass doors, facing the south.  I will have to watch my furry friends, but I think they'll be OK.
By putting them there, there's a greater chance they'll stay warm enough.  And, I can keep a better eye on them.  I also suspect I may have overwatered them when I initially planted them, so I was very careful about that this time.  I'm also following a suggestion I read for watering.  I'm spraying/misting them instead of actually watering them.  Hopefully, that will keep me from drowning them!!
Well, guess what?  I just checked my seeds and was very pleasantly surprised.  I must be doing better this time around.  I have several sprouts!!
As you can see in this picture, I have Morning Glory sprouts!!  I didn't get any of those last time around.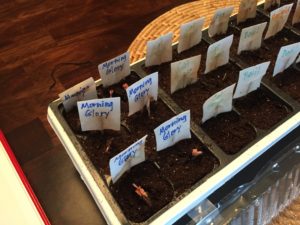 And some of the Zinnias are sprouting too!!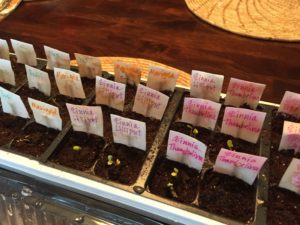 As you can probably tell, my labels are looking a little haggard.  I have to tell you – I found some on eBay that I think are just what I need.  I don't have them yet, but when I do, I'll replace my beat up ones with the new ones that are plastic and waterproof.  And they come in packages of 100, so I'll definitely be set for next year!!!
Outside news
On another positive note:  our clematis plants are starting to poke through the ground.  Every single one.  I was so worried about them.  I had to baby them last summer and wasn't sure what they'd do, especially because the rabbits seem to have gnawed on them this winter.  Now we've sprayed around them to keep the rabbits away.  Let's hope that does the trick!!
Our biggest opponent right now is the weather.  On the news last night, they said we'd have 4 seasons in 3 days (Friday – Sunday).  Not sure we had much of a taste of summer, except for the storm last night.  Wow, did we have wind.  I came upstairs around 9:00 to see what was happening.  I was looking out at the deck, noticing the grill cover was really blowing and wondering if we'd lose that again.  But no, I saw the entire grill blow over.  And the wind had pushed our table and chairs, which are not light, up against the deck railing.  It also damaged one of my spinners and blew over the other one.  Yikes!!
Today it's raining with a little thunder and lightning.  It's supposed to turn to snow tonight.  And then snow tomorrow.  And wind, of course.  I tried to put extra mulch around the clematis and peonies, to protect them from the expected cold.  But I'm sure that all blew away with last night's wind.
This weird Iowa winter (that won't quit)
This is the second weekend in a row we're trying to get to Bettendorf to watch Brady (our 5 year old grandson) play soccer.  They postponed last Sunday's match due to snow.  Now I think tomorrow sounds like it will be even worse!!
Guess I'll bake another batch of chocolate chip cookies today, in anticipation that we're going tomorrow.  It could end up like last Saturday when I made cookies, thinking we'd be heading over on Sunday.  Tim and I ate them all in 3 days!!   We don't need to do that again, even though they were sure good.
Maybe it's a good thing I did start my seeds again.  At this rate, it may be June before I'll be able to plant them outside anyway!!!