I had never heard about Bang Bang Shrimp until we started going to Bonefish Grill. Maybe it's served in other places, but it seems to be their specialty. We had never considered having it as we don't typically eat appetizers but we saw lots of it being delivered to tables which made us curious. One night, they were particularly slow and may have somehow lost our orders, so they offered us a free Bang Bang Shrimp.
If you've never had it, you're really missing out. Oh boy, is it tasty. For me, just the right amount of sweet and spicy. Of course, the sauce is the key. And you'd be surprised how easy it is to replicate.
I got an air fryer for Chrismas. It was on my Amazon wishlist last year and I didn't get it, so I kind of forgot it was even on the list. Initially, we tried the typical things – frozen french fries. But then we thought we should get a little more daring. I made some chicken strips that were pretty good. Then Tim found this recipe for Bang Bang Shrimp and we had to try it.
I've only made it twice now, but I can tell you we will make it many times in the future. And while it's typically an appetizer, we eat it for our meal. It's great with fries or just a veggie.
Honestly, I could eat just the sauce. And it only has three ingredients!! One key might be the sweet chili sauce we use. It's Thai Sweet Chili Sauce. I don't know how many kinds of sweet chilli sauce there are, but this is what Tim picked up and it was a very good choice.
I got better at breading the shrimp the second time around. I started out using the whole little carton of buttermilk (as opposed to just 1/2 cup) and put it in a deeper bowl. A small measuring cup works well too. You need to make sure you can completely dunk it. I also end up using more Panko bread crumbs. I made sure each step was done well and ended up with some pretty good looking shrimp.
I cooked the shrimp in two batches to make sure there was enough air circulating to crunch them up. I also decided to cook them a little longer (6 minutes on each side) and they turned out very crunchy.
Add the sauce and you have a great meal. This recipe says it's for four people but the two of us eat most of it. Maybe because it's our main course? There are usually a few shrimp left and even though they aren't quite as crunchy the next day, they taste great heated up for lunch.
Now I'm feeling really bold and will be trying onion rings in the air fryer later this week. Mmmmm.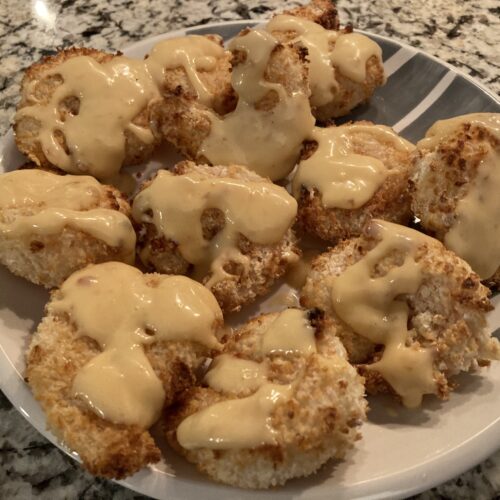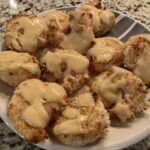 Air Fryer Bang Bang Shrimp
If you've ever had Bang Bang Shrimp, you know how irresistable it is. This is an easy way to get that same sweet, spicy, and crunchy shrimp at home. It's a great appetizer or main course.
Ingredients
Bang Bang Sauce
1/2

c.

mayo

1/2

t.

sriracha sauce or any hot sauce

(more or less to taste)

1/4

c.

sweet chili sauce
Bang Bang Shrimp
1-2

lb.

jumbo shrimp, shelled and deveined

1/2

c.

buttermilk

3/4

c.

cornstarch

1

c.

Panko bread crumbs
Instructions
Combine all the sauce ingredients in a small bowl and whisk until well mixed. Set aside.

Prepare the air fryer and preheat to 400F

Apply cooking spray or avocado oil on the air fryer (I use olive oil spray)

Dip one shrimp into the cornstarch, the buttermilk, then into the bread crumbs, making sure the shrimp is full coated in each step. Place on a plate.

Repeat this process until all shrimp are breaded. Make sure to have plenty of buttermilk and bread crumbs on hand, as I always need more than what the recipe calls for.

Place the shrimp into the preheated air fryer. Cook each side for 5-6 minutes or until done. They won't look like they do when they're deep fried, but you can tell when they're done. You may want to fry them in multiple batches to avoid crowding.

Place cooked shrimp on a clean serving plate and drizzle the bang bang sauce on top.

For garnish, you can sprinkle chopped fresh parsley or cilantro on top.
Recipe Notes
This recipe came from www.skinnyandtasty.com
www.retiredintrovert.com