I want to make sure I get this recipe to you while fall flavors are still something you crave. If you like butternut squash, you'll love this recipe. I've never eaten much, but I definitely like this. So much so, we made it twice in one week!
The reason we made it twice was that we had more than enough ingredients for one night. It only made sense to make it again and not throw out the good stuff.
This uses hardly any chicken broth, so either be prepared to have a lot left over or know you'll have to throw out most of the can.
The hardest part of this recipe is cutting up the butternut squash. I had never cut one before, and I initially thought I could use my potato peeler to remove the skin. You can use a peeler but a different kind than I use for potatoes. I simply cut off the skin when my potato peeler couldn't do the job. Here's a video showing you how to peel and cut butternut squash. I will try this next time.
You may also wonder why you use maple syrup in this recipe, but don't skip it. It adds just enough sweetness to make this truly delicious.
Like a lot of the recipes I use (and share with you), I got this from Iowa Girl Eats. While her recipes are gluten-free (which I use when cooking for my dad), you can make them without going gluten-free. For example, she uses gluten-free gnocchi, which I don't.
You'll also notice this recipe calls for 12 oz. of gnocchi. If you buy regular gnocchi, your package will likely be 16 oz. You can either use it all if you like a lot of gnocchi or save some for later. We used the extra when we made it the second time.
So, if you're looking for a quick and easy recipe to take advantage of the fresh butternut squash available right now, give this a try. I can attest to the fact that the leftovers are also delicious!!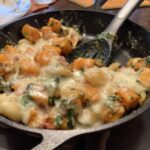 Cheesy Bacon Butternut Squash Gnocchi Skillet
A perfect fall dish. The combination of squash, bacon and cheese makes a delicious meal.
Ingredients
4

strips

bacon

1

small

sweet onion

(sliced into thin slices)

2

c.

1" butternut squash cubes

Seasoned salt and pepper

2

t.

maple syrup

1/4 – 1/2

c.

chicken broth

2

cloves

garlic

(pressed or minced)

2

c.

packed baby spinach

(roughly chopped)

1/4

c.

Parmesan cheese

(shredded)

3/4

c.

Gruyere cheese

(shredded)

2

T.

extra virgin olive oil

12

oz.

gnocchi

seasoned salt
Instructions
Add bacon to a large, oven-proof skillet (preferably cast iron).

Turn the heat to medium and brown.

Scoop cooked bacon onto a paper towel lined plate to drain and set aside.

Reserve 2 T. bacon fat in the skillet.

Add onion to the bacon fat, then saute until they begin to soften, about 3-4 minutes.

Add butternut squash cubes and maple syrup, season with seasoned salt and pepper.

Saute squash until tender, about 15-20 minutes, stirring every so often, adding splashes of chicken broth if the squash is taking a long time to soften and/or is beginning to burn vs. carmelize.

Preheat the broiler on high and place oven rack to the top position.

While the butternut squash is sauteing, heat the 2 T. of extra virgin olive oil in a large skillet over medium-high heat.

Once hot, add gnocchi, arranging them into a single layer.

Saute the gnocchi until the bottoms are golden brown and crispy, 2-3 minutes.

Stir, then season with seasoned salt and continue to saute until the gnocchi are fork tender and golden brown all over. This should take an additional 2-3 minutes of stirring often. Set aside.

Add garlic to the skillet with the onion and butternut squash, then saute until very fragrant.

Add baby spinach then saute until wilted and tender.

Add crispy gnocchi and bacon into the skillet, then stir to combine.

Sprinkle cheeses evenly over the top then broil until melted, 1-2 minutes.
Recipe Notes
This recipe is from iowagirleats.com
RetiredIntrovert.com