For some reason, this has been a challenging post to write.  I think because these people mean so much to me, I don't want it to sound trite.
I need to keep this short.  I know I have a tendency to write a lot (sorry) and I don't want to lose my faithful readers because it takes too long to get through one of my posts.  Please know going into this that I could write about my friends for days.  What I write will never do our friendship justice.  But here I go anyway.
Lifelong friends
Do you ever see quotes that say something like this?  "While I may not see you often, we can still pick up right where we left off."  Or "without skipping a beat"?  I think you understand what I'm saying, right?  Well, these four women are those kinds of friends.
Does any kid realize when they're making a best friend in first grade, that they'll still be the best of friends when they're 62?  I never thought about it but it's true for me.  And while not all of my "old" friends have been in my life quite that long, we did grow up together.  There's something about that shared history that makes these friendships so special.
We've all gone our separate ways.  In fact, none of us live close to each other.  Our lives have taken different paths.  We've supported each other through the good times and the sad times.  If I should need something, I never doubt that these friends would be right there for me.  So, even though we may only see each other once a year, we have a bond like no other.
Summer reunions
A week ago was our 2018 summer weekend together.  We used to spend our weekends at my house because I am centrally located and close to good shopping.  These last two years, we've gone to Lake Okoboji in northwest Iowa, because one in our group has a lake house.  What could be more relaxing than sitting around looking at a lake?  Or spending a couple of hours out on the boat?  I eat way too much but I blame Lori because she always has such yummy stuff around.
We try to do a few things around Okoboji but I think we enjoy just being together and catching up.  (And we're older now, so it feels good to just sit around.)  Sure, we keep updated through Facebook throughout the year, but there's so much more to life than what we see on Facebook.
We talk about what's making us happy as well as the struggles we've dealt with.  At this age, grandkids are a popular topic of discussion.  (I thank Tim for making me a grandma, so I can contribute!!)  And unfortunately, we also talk about our health issues.
There's something every year that absolutely cracks us up and we laugh until we cry.  I guess the last two years, it's been pictures.  Pictures have become a lot more important now that they can be shared publicly.  But sometimes, you have to be cognizant of what's in the picture, or how everyone looks.
No, we can't make ourselves as beautiful as we'd like to be, but we can try to capture the best of each of us.  I'm afraid this year, I may have shared a few questionable pictures.  But no one wanted me to remove them.  We just laughed and laughed.  I'm still laughing as I write this.  Laughing until you cry or almost wet your pants is something we all need in our lives, right?
Here is a good picture of us, taken just a week ago.  (And some kid took it!!)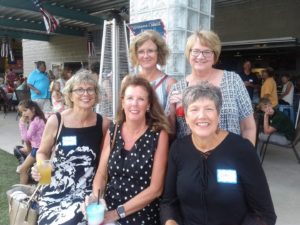 Goddesses
A few years ago, Caroline found cards with a cute picture captioned "Gathering of the Goddesses".  She framed them and gave one to each of us.  At that point, that's what we became.
And this year, I found out I could personalize Goddess Christmas ornaments (but you could really hang them anywhere all year) with our names.  I have mine hanging on the bulletin board in my craft room.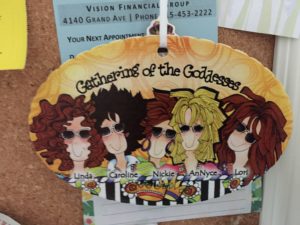 There's never any doubt that we'll do this each summer.  Maybe it will be my turn next summer to be the host.  I don't mind at all.  But I think we've definitely become enamored with the lake life.  And we think Caroline will be retired (right?) by next summer.  She's the last to bite the bullet.
We also have our 45th high school class reunion next summer, so we've talked about combining our Goddess weekend with that.  Not sure if that will work out, but I know we'll find a time regardless.
As I said at the beginning, I'm not doing this topic justice.  I hope you can tell how important these friends are to me.  I love my "new" friends a lot too.  But there's just something about friends who've been with you through those first years of your life that you can't replace.
In closing, here are a couple of quotes about friends.  The first one is my favorite because it's so true!!  🤣😂
It is one of the blessings of old friends that you can afford to be stupid with them.
– Ralph Waldo Emerson
There are things that I can tell my friends that I just can't tell my family, just as far as how I'm feeling about things. My friends know me the best in a certain way. I just think old friends are really, really important.
– Jonathan Levine
I sure hope all of you have friends like this in your lives.