Since we've had so many compassionate responses to the death of our Mickey on December 30, I wanted to write about him one more time. Thanks to all of you who understand how hard it is to lose a pet, knowing they become family members.
A memorial for Mickey
I think I mentioned in A Tribute to Mickey that we were getting his ashes and we'd purchased an urn for keeping them. Tim picked up the ashes on January 3, which was much sooner than we expected, considering the holiday. And the urn was delivered from Amazon on January 4.
The urn looks like a quality piece and we love it. We picked one that provided a slot for a picture of Mickey. And it's just the right size for our little guy.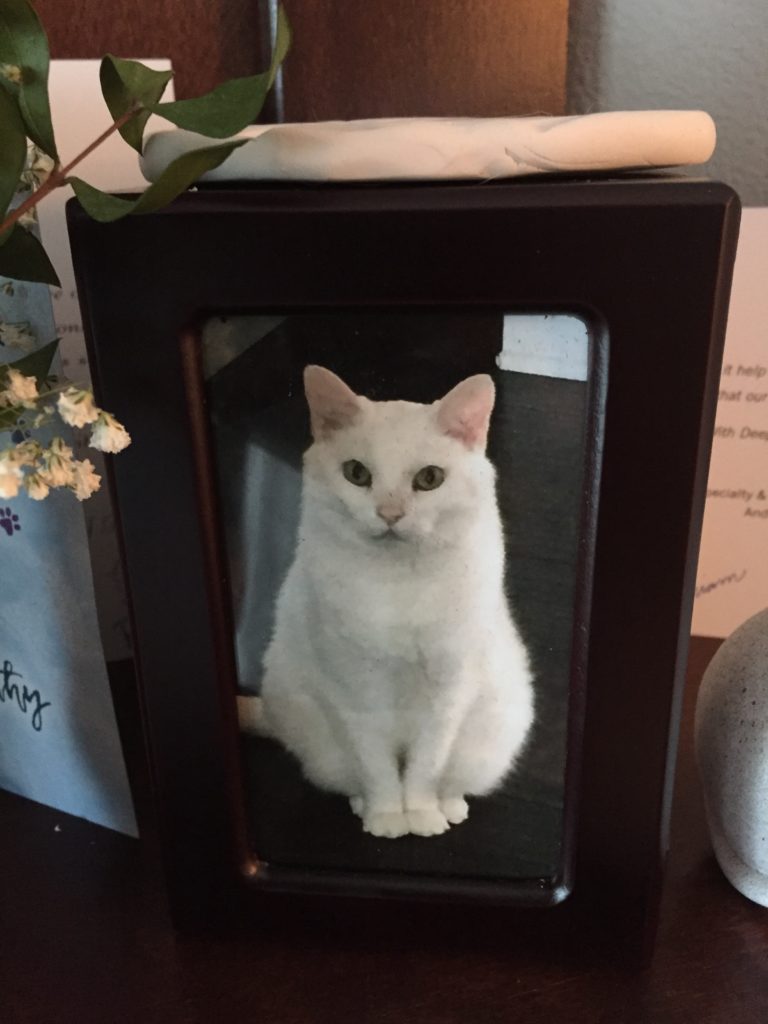 I wish I could say it's just like having him here but it definitely isn't. I do smile when I see his cute little face. (That's a whole lot better than the tears I shed the first week!!)
The crematory also provided us with an imprint of his paws, which I thought was so very kind. I never expected that so it was a sweet surprise. It's currently sitting on top of his urn.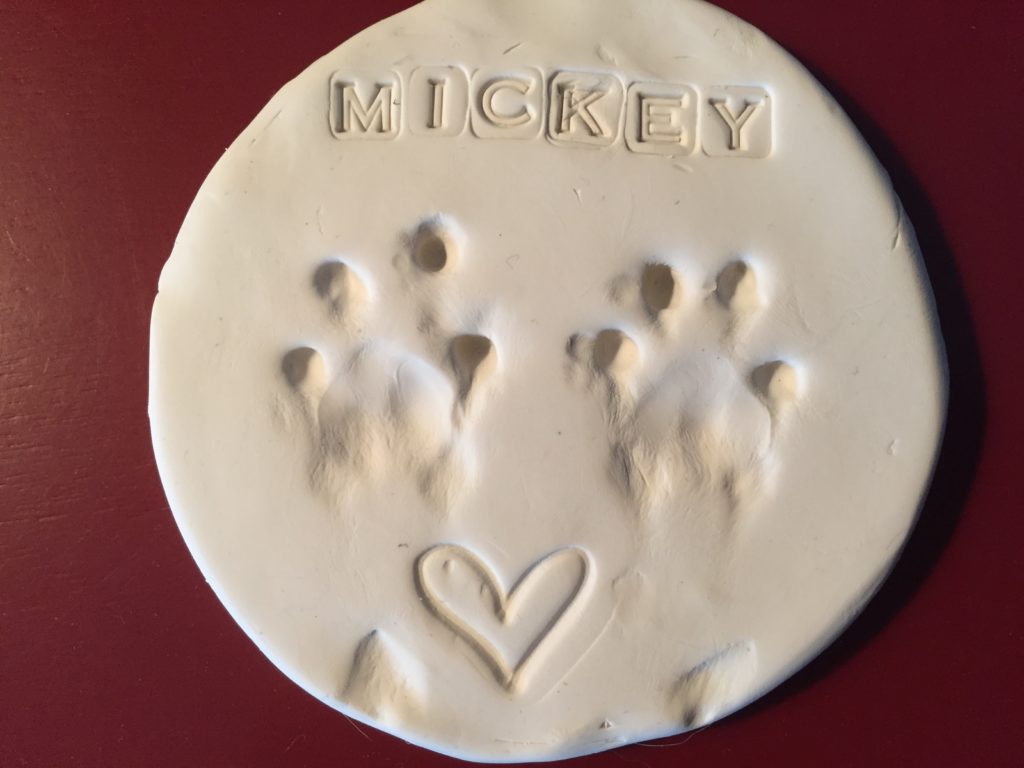 Other memorials
In addition to what we've done in terms of a memorial, we received cards and two lovely sympathy gifts. My sister and brother-in-law sent us a little cat vase with flowers. It's so perfect, because I used to call Mickey my "china kitty" because of the way he always sat. Now we have a real china kitty.
Mickey's china kitty pose

A real china kitty
And our friends Linda and Tom gave us a little cat angel statue with "loved" engraved on its side. You can't see it in the picture, but I love that the cat is wearing a collar with a fish on it. Mickey did like his fish flavored treats. ❤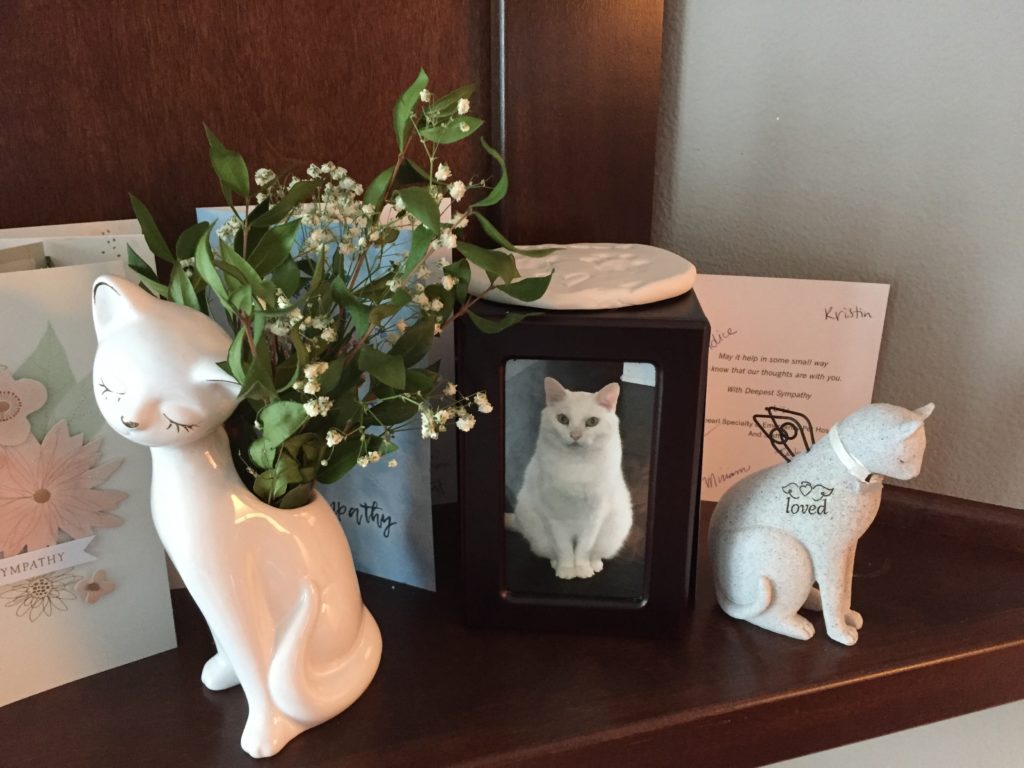 These will always be a part of Mickey's memorial. Right now, he's on the mantle of our fireplace upstairs. But we may move him to the downstairs fireplace, since we spend most of our evenings there.
And Brutus?
We were cautioned that he may be different without Mickey and we needed to make sure he was still eating. Eating has never been and isn't now a problem for Brutus!! He's not the beggar for treats that Mickey was, but he still likes them at times.
He cried at night for the first week. He's always cried a little at night, but this sounded different and I thought, sadder. He still cries but not as much. He cries more during the day though. That's something he always did but again, not as much as now. And he seems more restless at times, as if he's looking for Mickey.
He's Tim's shadow when he's home. And some mornings (only when Tim goes to work), Brutus will want to lay on my lap in my reading chair. Mickey always laid beside me, but Brutus has to be right on top!! I don't care. We need to comfort each other, because mornings are tough.
Brutus snoozing on my lap

Brutus sitting like Mickey did at the end of the chair
It's still tough
While all the tears have been shed, it's not any easier. I miss Mickey when I come home, as he was always there to greet me. Sometimes Brutus doesn't even get up!!
I miss seeing him sitting in the doorway to my office (like right now) when I'm sitting at my desk. I miss him jumping in our chair and waiting for me to sit down so we could cuddle. I miss hearing him beg for treats. I miss seeing him sitting at the top of the stairs at night when it's almost bedtime.
As many of you know, they steal our hearts. So, a little piece of mine is gone now. I'm just lucky to have loved him and for him to have loved me. I will never forget you little Mickey!! ❤❤❤
Now I just hope Brutus can handle all the extra love. 🙀