Do you keep track of the books you read, or want to read, on Goodreads? If you do, you're probably familiar with their Reading Challenge. I've only been using Goodreads since 2017 and last year I decided to try the challenge.
Determining my reading challenge goal
I didn't set my goal scientifically at all. I read 23 books in 2017 and in 2018, I knew I'd read at least 12 books for my book club (A Novel Group). I was pretty sure I could read at least 12 more. To make it a true challenge, I decided to make my goal 30 books in one year.
Needless to say, I did not make the goal.
My progress towards my reading challenge goal
I started and ended strong. I read 8 books in the first quarter of 2018 and 7 in the last quarter. I did well in the last quarter because I read 4 books outside of our book club selections. I think I still thought I had a shot at reading 30 books by the end of the year!!
Third quarter was my worst, having read only 4 books in total. Looking back, I had a lot going on during those three months so I'm not surprised I didn't get much reading done.
So how did I do? I read 24 books. If I'd set my goal based on my calculation without the challenge part, I would have met it. But that would have been too easy, right?
Rating the books we read
Below is a table of the 24 books I read in 2018, with those that were chosen by our book club highlighted. I've listed them in the order I rated them but also included the ratings by our book club, where relevant.
Note: 1) we did not start rating our books until later in the year, so only eight of the twelve are rated, and 2) we changed our scale towards the end of the year from a 3 point to a 5 point one. Three-point simply didn't allow for enough differentiation. Sorry it's kind of confusing. 🤔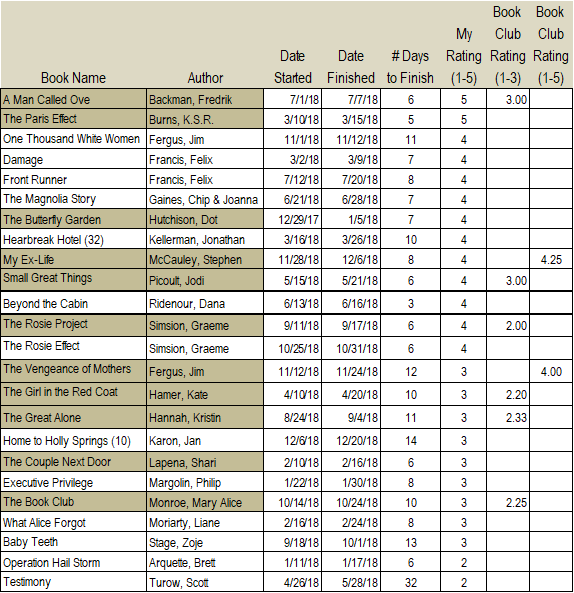 A summary of the books
As you can see, I really liked two books and didn't like two books this year. I wonder if it means anything that I liked books chosen by my book club but not the ones I chose myself? Interesting, huh?
I did read three books by a couple of my favorite authors this past year – Francis and Kellerman. (Watch for a future post about them. It will be a follow up to My Favorite Authors – Part 1.) They didn't disappoint and you'll see them closer to the top of my list.
It doesn't make sense for me to go into a lot of detail in this post, so I'll give you a very short summary. Well, now that I look at it, you might not think it's so short. 😉
See the links for those books I reviewed in more detail earlier in the year.
If you haven't read "A Man Called Ove" you must read it. I wasn't sure what to expect but I loved it. It was funny and heartwarming at the same time.
The Paris Effect was kind of quirky and I'm not so sure my book club agreed with me on this one. Maybe I liked it because I read it on vacation? Maybe because most of it took place in Paris? Or was it her dieting rules? Read my post where I reviewed it in more detail. Also reviewed in this post is "What Alice Forgot", a book by Liane Moriarty so I thought I'd love it. It was OK, definitely not as good as "Big Little Lies", which is unfortunately what I compared it to.
Also reviewed earlier this year was "Beyond the Cabin", a book by an author married to a friend of Tim's. I liked it and plan to read more of her books.
Our book club chose "The Vengeance of Mothers" by Jim Fergus but reviews indicated it would be better if you'd read its prequel. Since I hadn't read it, I decided I would read two books that month. And I actually liked the first one, "One Thousand White Women", better.
In another post, "A Salad and a Book Review", I reviewed the first Graeme Simsion book. I thought it was great, the others in my book club, not so much. I then read the next book in the series "The Rosie Effect" and liked it just as much. And coming later this year is the third and final book in that series, "The Rosie Result", which I definitely plan to read. It already has a 4.48 Goodreads rating from early reviewers!!
I picked three books this year by authors I've read and loved over the years. I was a little disappointed in them. I've read all of the Mitford books by Jan Karon, except for the last three or four, so I thought I'd get going on those again. This one was so-so for me. Too much back and forth and dwelling on Timothy's childhood. It ended better than it began.
Philip Margolin writes legal thrillers, which I definitely enjoy. While it was a pretty quick read, it wasn't one of his best.
And I was very disappointed in Scott Turow (also who writes legal thrillers), who has written some excellent books. I don't recommend "Testimony" to anyone. It's slow and not interesting at all.
Is there a 2019 reading challenge?
You bet there is!! I decided to try for 30 books again this year. I have to admit, however, I'm not off to a great start. I have read one book – this month's book club book – and I've started another.
I need to finish this second one in the next week or so, which will require blocking some time during the day specifically for reading. I guess there's nothing wrong with that, right?
What about you? Do you keep track of the books you read? Do you set reading goals?
I should probably choose a bunch of short, easy reads. But there's no challenge in that!! Wish me luck. 🤞