September was my month to host our book club – A Novel Group.  It's always fun to try new recipes on this group, but I usually try to also include a few things I know are good.
Most of the time, the new ones turn out pretty well, and that was the case this last time.  I made a salad that everyone liked a lot, based on the fact I had nothing left over!!   (I should mention, however, that the recipe did say it made four servings and we had six people.  But I find most salad recipes say things like that and then I end up with way more, so this surprised me.)  Anyway, I thought it was worth sharing.  And, while I'm at it, I thought I'd also talk about the book we read this last month.
First, the salad
The salad recipe is below and it's called Mandarin Pasta Spinach Salad with Teriyaki Dressing.  Kind of a long name, I know.  But don't let that keep you from trying it.  I'm afraid I didn't take my own picture, as I wasn't initially planning to include this in my blog.  Here's the picture from my Pinterest pin.
It tastes as good as it looks.  😋
One thing to note about the recipe – when it called for "oil", I used olive oil.
And now, the book
I usually prefer to review books our book club agrees on, but I decided I should write about this one.  I actually did like it, but most of the others weren't thrilled with it.  So, I'll include this and then you can decide if you'd like to read it, or if you'll pass on it.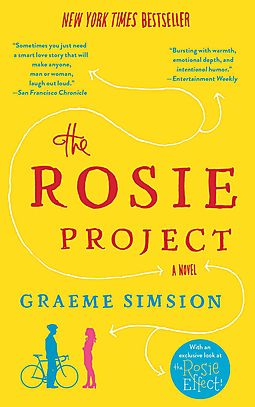 Book Review – The Rosie Project by Graeme Simsion
I'd seen this book in Goodreads and other places, and it had always intrigued me because I actually know who the author is.  He used to be a data consultant and I attended one of his data modeling classes while I was working.   He was very entertaining and made the class fun.  At age 50, he decided to start writing fiction.  He's now a former IT consultant so it appears he's spending all his time writing fiction now.  He lives in Australia and this book takes place there.
It's being made into a movie, currently set to debut in May 2019.  I read that Simsion actually wrote the screenplay first and then "reverse adapted" it into a novel.  Interesting.
Genre: Romance fiction
Publication Date: January 30, 2013
Length: 297 pages in hardcover
Goodreads Rating: 4.01 (as of October 3, 2018)
Synopsis:  This book is about Don Tillman, a university genetics professor looking for a wife.  The challenge is he has very specific standards and is more inclined to search for a wife in a more logical manner and not based on emotions.  This isn't surprising, given Don appears to have Asperger's.  I don't think the book ever really lays it out but based on his actions, you easily come to this conclusion.  He solicits advice from a fellow professor and his wife, but other than that, he has few friends.  Then he meets Rosie.  He spends time with Rosie, even though he's convinced she can't be the one because of how she'd answer his "questionnaire".  They embark on the "father project" together, to find the true identity of Rosie's father, which could be one of 200!!   And Don learns a lot about love and happiness, even though he will always struggle to recognize emotions.
My rating and recommendation:  I enjoyed the book myself.  I thought it was funny and imaginative.  This is a book that kept my attention, mostly due to the antics of Don and Rosie in gathering DNA for the Father Project.  I wanted to keep reading to find out how it ended.  And it didn't disappoint.  I plan to read the sequel to this book "The Rosie Effect" so I can see what they do next!!
Others in my book club did not like it.  They thought it was predictable and too repetitive, with things like his descriptions of others and his actions.  I think that's part of his Asperger's.  So, if that's not something you would enjoy (or couldn't tolerate), I wouldn't recommend the book.
Buying options:
Amazon – Kindle, Kindle Unlimited, Paperback, Hardcover, Audio
Barnes and Noble – Paperback
Half Price Books – Paperback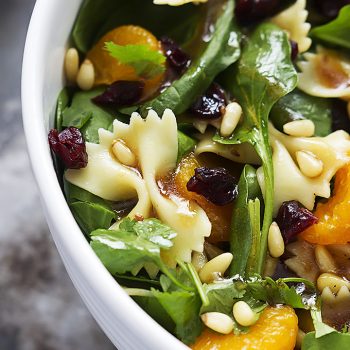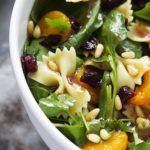 Mandarin Pasta Spinach Salad with Teriyaki Dressing
Quick to make, just a few ingredients, and a yummy dressing. What more could you want?
Ingredients
Salad
8

oz.

bowtie pasta noodles

4

c.

spinach leaves

1/2

c.

dried cranberries

1/3

c.

pine nuts

(or cashews)

1-4 oz.

can

mandarin oranges

drained

1/4

c.

cilantro leaves

roughly chopped
Dressing
1/3

c.

teriyaki sauce

(the thicker the better - recommend Kikkoman)

1/3

c.

rice vinegar

(may sub apple cider vinegar)

1/2

t.

garlic powder

1/2

t.

onion powder

1/4

t.

salt

1/4

t.

black pepper

1

T.

sugar

1/2

c.

oil

(vegetable oil, canola oil, olive oil)
Instructions
Cook pasta according to package instructions, then drain and rinse with cold water. Set aside.

While pasta is boiling, prepare the dressing. In a jar, combine all dressing ingredients. Cover and shake to combine. Chill until ready to use.

In a large bowl, toss together pasta, spinach, dried cranberries, nuts, mandarin oranges and cilantro.

Just before serving, pour dressing over the salad. Toss and serve.
Recipe Notes
Recipe from: lecremedelacrumb.com
www.retiredintrovert.com