My book club – A Novel Group – will celebrate ten years together in September.  We've had a few changes in membership over the years, but not many.  We started with six members and we currently have six.  It's a good number.
A Novel Group – what we're about
A couple friends from work and I decided to start a book club.  We like to read and it was another way to get together on a regular basis.  Each of us invited one other person to join the group, so we'd have six members.
And of course, we had to have a catchy name.  We came up with A Novel Group.
We take turns hosting and picking the books.  The next host picks the next book, so when we meet at her house, we discuss the book she picked.
As is typical with most book clubs (I think, anyway), we eat.  For me, and I think the others, it's become a fun way to try new recipes.  I know I save recipes on Pinterest (this will take you to my Recipe Box board, if you're interested), specifically thinking they'll be good for book club.  It's my turn to host this month, so I need to check my list and decide what I'm making.  I don't always try new things; I have a few favorites that I use too.  And I have to admit, I've made some things that I won't make again.  They weren't bad; they just didn't turn out the way I thought they would.  But nothing ventured, nothing gained, right?  I've also picked up a few new favorites from my book club friends.  I might even share some of those along the way.
We read but talk about more than books at book club
As I mentioned, we also use this as a time to get together.  For some of us, it's the only time we see each other.  So, we talk about more than books.  We are in different stages of life: some retired, some still working – some have kids in college, some have grandkids – some have moved, some are still in the same house – some have parents who've passed away, some are dealing with older parents – some have been recently married, some have been married over 30 years – some have had pets die, some have gained new pets – two have had breast cancer, others are dealing with hot flashes, migraines, and other conditions.
Looking at us, most people probably wouldn't describe our group as very diverse, but I do believe we bring diverse backgrounds and ideas.  Most importantly, we all like each other and accept each other for who we are.
What did our book club read in 2017?
We read 9 books in 2017.  Our scheduled time to meet is the 4th Tuesday of each month.  Given our busy lives and working around holidays, we can't always meet monthly and will reschedule accordingly.  That explains why we only read 9 books last year.
We don't purposely try to select award winning books, and I know anything Oprah recommends has not been well received!!  Many of these books I would have never read if not for my book club.
I have listed them in the order we read them and I've included links to Goodreads if you want more information about any of them.  I'll include my thoughts (and those of the book club members, if I can remember accurately) but I am not a professional reviewer and I don't feel qualified to provide that level of assessment!!
I've included how long it took me to read each book as a guide, but keep in mind – there could be other reasons besides the quality of the book that kept me from reading faster.  It's challenging some days to find time for everything I want to do!!  Poor me, right?
Going forward, I'll provide updates on what we're reading every month. That way, my "review" can be more accurate and I can solicit thoughts from my fellow book club members.  I read so many books that it's sometimes challenging to remember each one and why I liked or disliked them.  In other posts, I'll also talk about the books I'm reading outside of book club.  You'll soon see that I have favorite authors!!
Feel free to recommend books that our book club should read.  We'd love to have input.
We recently set up a private group in Facebook for our club.  I guess we're getting older and we needed a way to keep track of when the meetings are and who's picking the next book!!  At our meeting this week, we took a picture of the group for our page.  I thought it would be nice to share it with you too.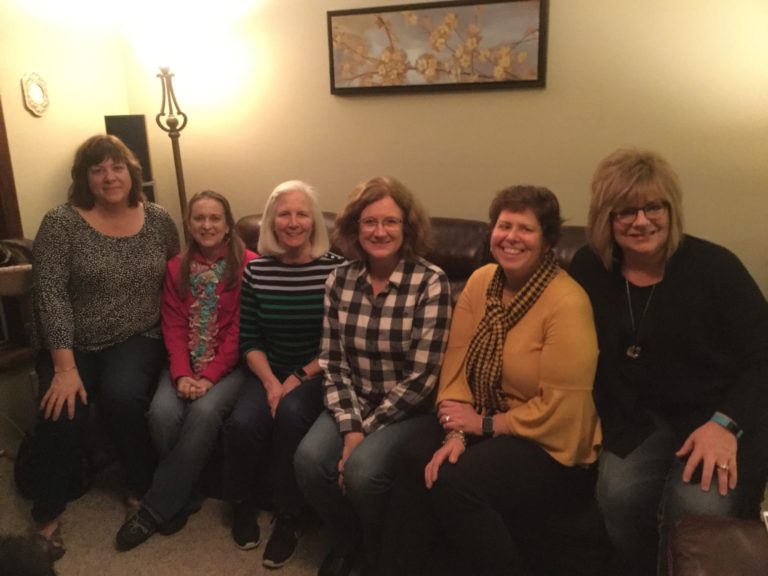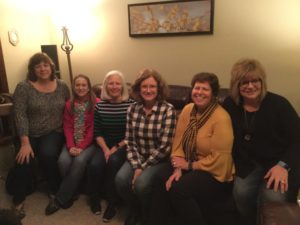 Meet Val, Pam, Mary, me, Louise and Linda – A Novel Group