I'm still technically participating in the Goodreads reading challenge this year, but I've become a little less focused on targets and goals and more on just enjoying my reading. I'll share what I've read and try to give you recommendations, although we all have different tastes so it's not easy. This is not meant to be a book review.
I've read 20 books so far this year, which I feel happy about. That's almost three books a month, which puts me on target for my goal of 36.
I attempted to list them in my order of preference, but it was tough as I started with my usual 1-5 stars ratings and then ranked them. I have so many in the 4 star category, making it challenging to choose one book over another. Check it out and see what you think.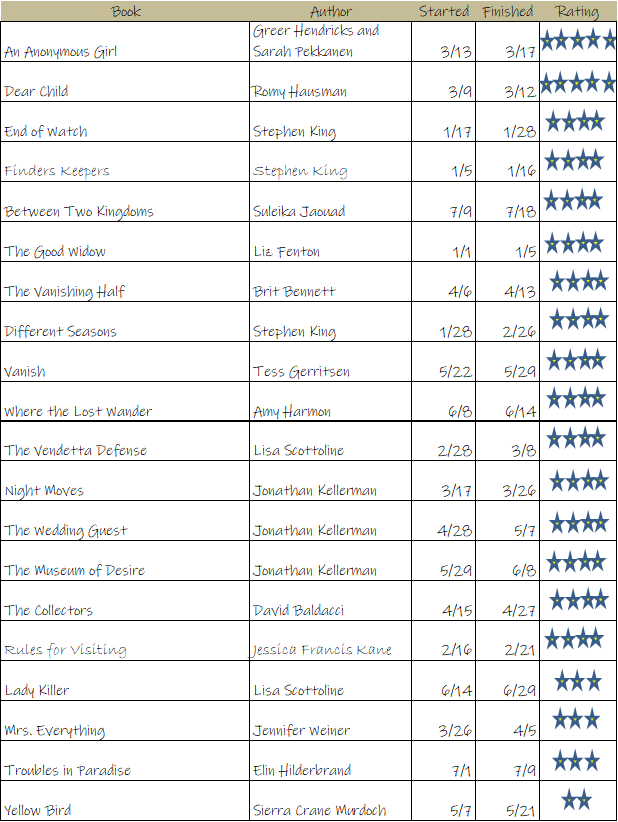 I've read two of what I consider to be 5 star books. One was from my book club and the other was one I chose. I highly recommend both, but I also recognize that my taste in books tends towards the scary, kind of creepy stuff. Have you read either of these?
I focused a lot on some of my favorite authors and again, I'm trying to go through my old inventory. However, that doesn't mean I'm not buying new books!! My favorite authors are putting out new ones and for some, like Jonathan Kellerman, I'd gotten behind. I think I'm all caught up now.
I don't know how I missed the Stephen King trilogy that began with Mr Mercedes (which I read last year). I asked for the two follow up books for Christmas and when I got them, I read them almost right away. I probably mentioned last year that Mr Mercedes didn't seem like a Stephen King book; more of a detective story. The second book (End of Watch) is along those lines as well. But the third one (Finders Keepers)? That's definitely Stephen King!!
I read another King book – Different Seasons. Actually, it was four short stories. It's not at all new, but I had decided I wanted to read the story that the movie Shawshank Redemption was based on. Three of the short stories in this book were made into movies.
I'm not usually a fan of non-fiction, but Between Two Kingdoms reads like a novel. It's fascinating when you realize this is about a real person's experience, and while I've never had cancer myself, I could relate to a lot of what she wrote about, having gone through so much with my mom.
Yellow Bird was a book club choice and while I didn't like it, others did. It's another non-fiction book about what goes on in Native American reservations. What I didn't like about it was the way it was written, jumping back and forth in time and between characters, and it focused on Yellow Bird, a woman who wasn't even directly involved in the various incidents. I didn't see it, but it sounds like this story was on one of the network's true story shows (e.g., Dateline). But it didn't include anything about Yellow Bird.
Have you read any Elin Hilderbrand books? I picked the first one in the Paradise series (there are three books in the series) for my book club a few years ago before I realized it was a series. I read the second one in 2019 and now the final one this year. I wasn't thrilled with the third one; it was just OK. It seems like everything could have been wrapped up in the first two books. Is it just a gimmick to sell more books? (rhetorical question)
While I may be struggling to find blogging time, I am doing pretty well with my reading. I read before bed, with the hope that it will make me sleepy. Some nights it does, other nights it doesn't and I get a lot read!!
In the last part of the year, I'm reading three Kindle books that I got free with my Amazon Prime membership. Brand new authors, so we'll see how that goes. But who can pass up free books? I've already started one and it's not what I expected but I'm intrigued.
Happy Reading!!