I'm in a bit of a writing slump but since I missed last Friday I want to get something posted here today. So, I'm touching a little on a variety of topics. I hope you find at least some of it interesting!!
Oh, and this has nothing to do with pumpkins, although we did buy a bunch yesterday at Earl May. I included them in my feature image only because it's fall and nothing really makes sense for this topic.
Knit-along
I've shared the first two weeks of poncho knitting with you. I've now completed two more weeks. All I can say is, I'm glad I'm not making this for someone else.
I had hoped my "signature" (aka, mistake) in the second week would be the only issue. How wrong I was. Week 3 started off badly and there was no way I could get it completely back on track so I moved on and have accepted that it's a little weird at the beginning of that section. I seem to struggle at first with each new stitch pattern.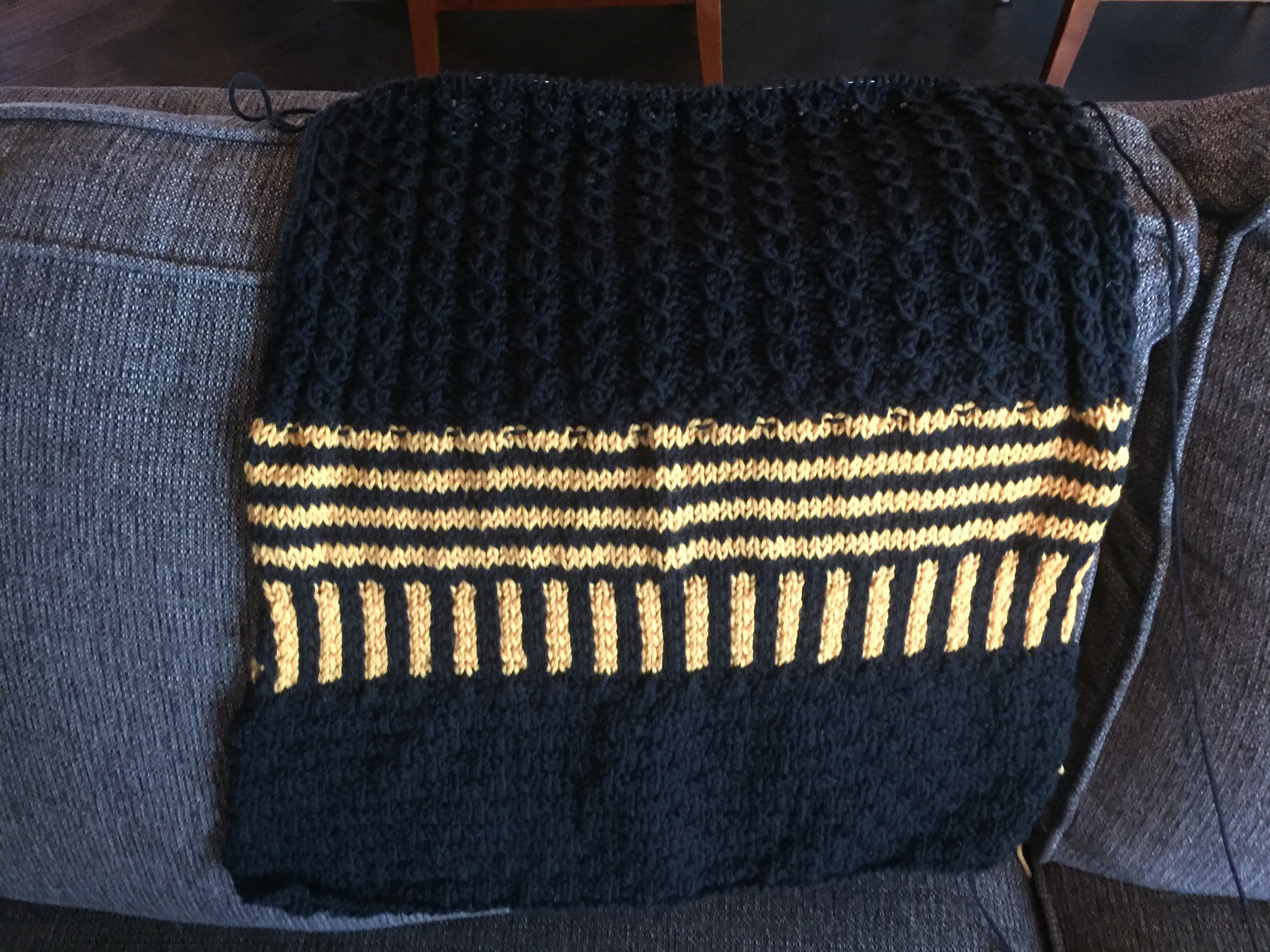 I could blame it on the fact I actually went into the shop on that Friday afternoon. When you're with a bunch of other knitters, it's easy to get distracted. But I'm afraid I can't blame it on that.
I didn't go back last Friday but plan to go again in the future. I just had too much going on. The week I went, I took my dip (as instructed) and they seemed surprised. Yes, I was the only one who'd brought a dip. They managed to scrounge up some tortilla chips to go with it. Only one person (other than me) ate any of it. Pretty sure I won't waste my time with dip next time I go.
Week 4 introduced me to a brand new type of stitch and I thought I was doing great with it until I looked at it after a contrast color row was completed. I'm pretty sure I know what I did wrong in those few places, but the only way to fix it would be to completely undo everything I've done as part of the week 4 pattern.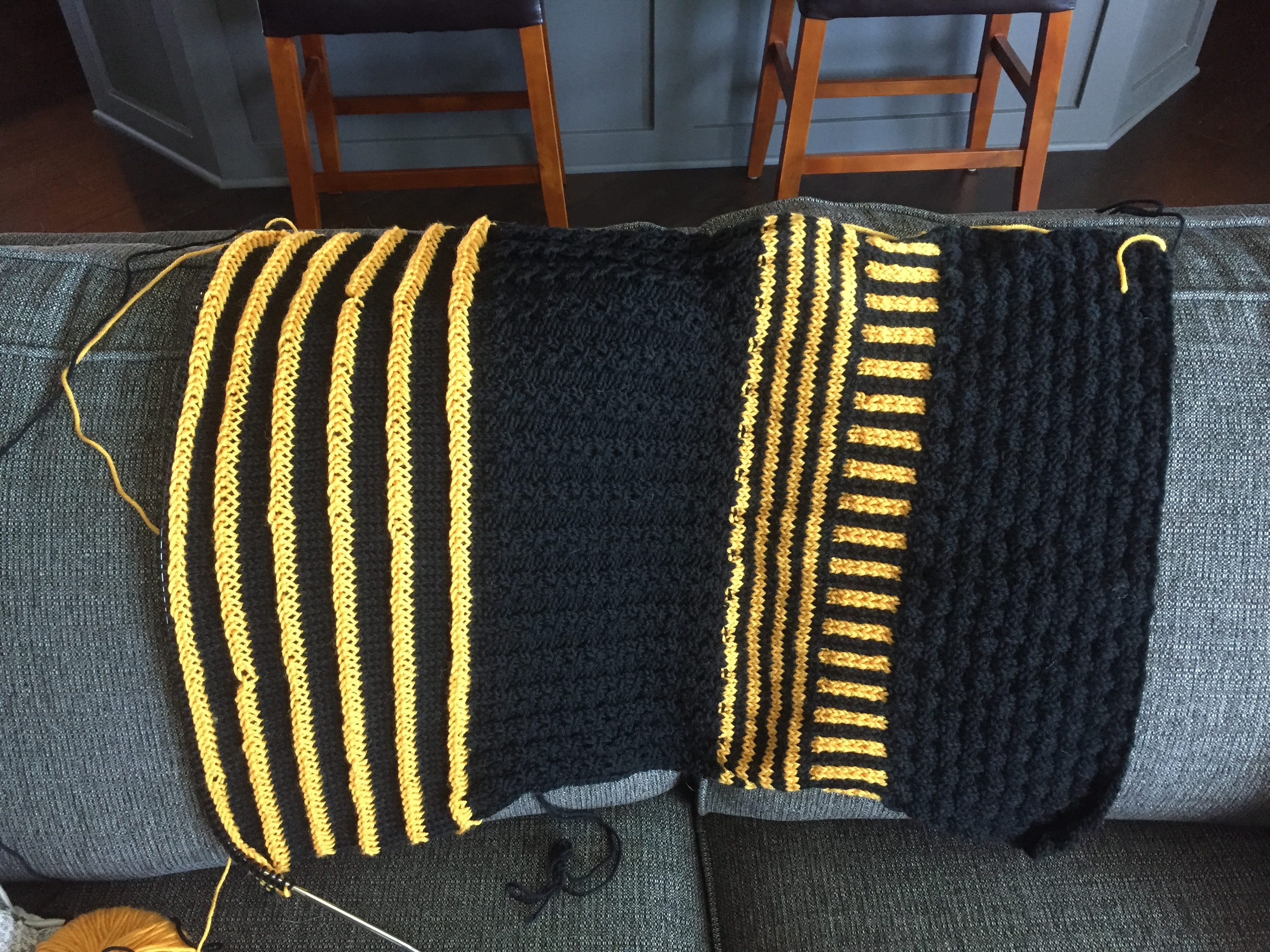 While I don't like how it looks, I am not willing to start over. But maybe I should reconsider. After looking at this picture, I'm embarrassed with how it turned out.
I've been completing each week's assignment on Saturdays while I watch football. I'm really enjoying those days right now. Well, except for the frustrating mistakes!!
Downton Abbey
I'm sure Tim and I are the only ones in the world who haven't watched Downton Abbey. I've had DVDs of the first three seasons for years – bought them when they were cheap – but hadn't watched a minute of it.
With the movie coming out, we decided to start watching it last week. I have to say – we are hooked!! Now I know why it was/is so popular!!
Alas, it's now the new season for all our favorite shows, so we'll have to slow down our viewing. Why didn't we start earlier in the summer? It hasn't even been a week and we're almost done with Season 2. And that's with Tim being gone two nights!!
We'll never be done with all six seasons in time to see the movie in the theater, but I guess we know it's something we'll want to eventually watch. Hope you're all enjoying it!!
Stitch-along
I might have previously mentioned I had purchased a stitch-along (SAL) cross stitch pattern. This particular pattern has four sections to it, with one being issued at the beginning of the months September through December.
I actually got the pattern on August 29 but it took a while for the fabric to get here. I wasn't able to start it until September 15. I'm trying to catch up so I won't be too far behind. But I'm not sure if I'll be done in another week. I'll include a picture of my progress with my 3Q challenges update.
Right now, it's taking me away from my last #stitch9challenge project and I'd really like to get that piece done. It's started and I'll tell you more about it in my 3Q challenge update.
Raygun
I don't know how many of you are familiar with the t-shirt store called Raygun. It started here in Des Moines, but has branched out now to Kansas City and Chicago, in addition to Cedar Rapids and Iowa City in Iowa. They produce hilarious t-shirts (and other items) and we've bought several shirts as gifts. Several are political in nature (and very timely) but they have all types of funny sayings on them.
My niece has ordered so much from them that they gave her free shipping for life!!
We were shopping in the East Village yesterday and when we're there, we always check out Raygun. I told Tim I'd seen a shirt that I thought was perfect for me but I couldn't remember what it said. So, I perused the entire store and finally found it.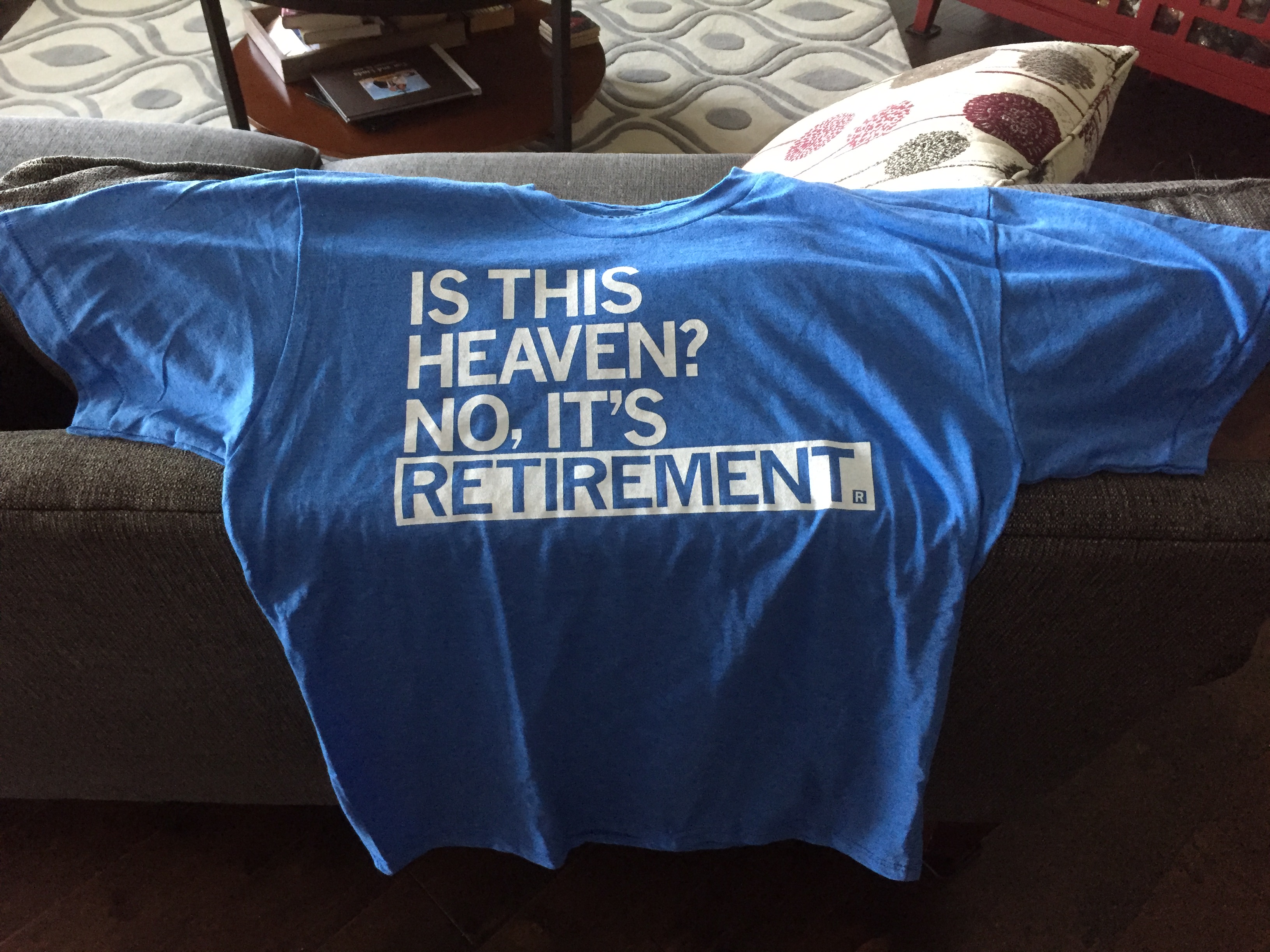 If you've never heard of Raygun or aren't familiar with their products, you must take a peek. Follow the link above to see what they're about.
Older posts
I don't know if you've noticed, but I added something to the right side of my page. It captures which of my posts have been viewed the most within the last 24-48 hours.
I've been pleasantly surprised at how many of my older posts are appearing here. I'll talk more about my increase in traffic soon, but I do believe this is due to that increase. I'm happy to see people are checking out some of my older stuff!!
Coming up
Given the results from my Recipe Poll, I'll be posting a Main Dish recipe on Friday.
The third quarter is almost over so within a week or so, I'll share my reading and cross stitch challenges progress. (I think I've done pretty well. 😉) I don't know what the fourth quarter will bring, so it's good to feel a little bit ahead of the plan by this time.
I mentioned above my increase in blog traffic. I have some blog statistics to share but it's taking me a while to pull them together and summarize what I think you'd find the most interesting. It's amazing what a referral can do!!
Well, this didn't end up to be so short after all. And it's not really sweet either. I hope it was worth the read!!