Do you or anyone in your family have a lactose intolerance?  A soy allergy?  Or are you simply looking for a muffin recipe that's healthier?  Here's the recipe for you!!!
One of the main things I love about this recipe is that you dump all the ingredients together in one bowl and mix.  I am in love with any recipe that doesn't require a mixer!!  It's not that I don't like mixing.  I like having fewer dishes to wash!!
I've made these skinny muffins two ways now:  first, with milk and greek yogurt (so not lactose-free).  Then I made it as called for – with almond milk and dairy-free yogurt.  I will post the dairy-free version but feel free to use regular milk, etc.  It didn't seem to change them at all in terms of consistency.
I haven't yet, but I also intend to make a batch that is gluten-free, simply by replacing the all-purpose flour with a gluten-free flour blend.  (I like Bob's Red Mill 1-to-1 baking flour.  As the name implies, you use the same amount of this as all-purpose flour.)
Even though this recipe says to add all the ingredients to a bowl and mix, I did start with the wet ingredients and stirred them up well before adding the dry ingredients.  I don't know if that made any difference, but I thought it would incorporate the wet and dry ingredients more evenly.
One last thing – the original recipe only made 10 skinny muffins.  Who wants to spend time only making 10 muffins?  So, I doubled it for you here.  But if you only want ten, you can always halve everything!!  (Make 20 anyway and freeze what you don't eat right away.)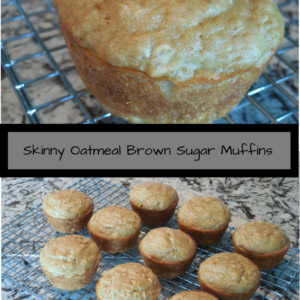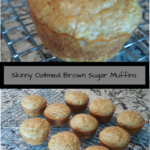 Skinny Oatmeal Brown Sugar Muffins
These skinny muffins are great if you want healthy, dairy and soy free goodness. The maple syrup adds a sweet flavor you'll love.
Ingredients
2

large

eggs

2

c.

all purpose flour

1 1/2

c.

old fashioned rolled oats

(don't use quick oats - batter will be too dry)

1

c.

unsweetened vanilla almond milk

(any kind of milk will do)

1

c.

sugar-free pancake syrup

(I use lite syrup)

1/2

c.

dark brown sugar

(light may be substituted but dark is strongly recommended)

1/2

c.

vanilla dairy free yogurt

(if you want soy free, you need Silk Almondmilk Yogurt Alternative)

2

t.

baking powder

1

t.

baking soda

1/2 to 1

t.

salt
Instructions
Preheat oven to 350°.

Spray 20 muffin cups very well with cooking spray or grease and flour the pan.

To a large bowl, add all the ingredients and stir until smooth and combined, without needlessly overmixing.

Using a large cookie scoop or a 1/4 measuring cup, evenly distribute the batter into the 20 muffin cups, filling each no more than 3/4 full or muffins will overflow when baking.

Bake for 16-20 minutes, or until tops are set, springy to the touch and a toothpick comes out clean or with a few moist crumbs. (When I made these with regular milk products, they were done at 16 minutes. When I made them dairy-free, they took a little longer. Start watching at 16 minutes to avoid overbaking.)

Allow muffins to cool in the pan on a wire rack for about 10 minutes. Remove and place on rack to cool completely. Muffins will keep airtight at room temperature for 1 week or in the freezer for up to 6 months.
Recipe Notes
Recipe from Averie Cooks
www.retiredintrovert.com