The first time I spent the holidays with Tim's kids, I made these sugar cookies.  Little did I know, his son in law is a big lover of sugar cookies.  But they have to be good ones.  And mine passed the test.
There's nothing like a homemade sugar cookie, especially if you make the frosting as well.  And finding the right recipe is the key.  Once I found this one, I stopped looking and I've been making them ever since.
I get requests
It's almost become expected that I'll have these cookies for special occasions.  And, occasionally, I'll get a special request.  One night, I received a video through a text message.  The video was of our grandson, Brady, and all he said was "Linda, send cookies".  I think his dad might have put him up to it, but the whole family has become fans of them.
We even have a "cookie container" that goes back and forth between our house and theirs.  When we get it, it's empty.  When they get it, it's full of cookies.  I try to be careful not to overdo it because I don't want them to get tired of them.  I want my sugar cookies to continue to be special.
I have fun looking for different cookie cutters, too.  Depending on the time of year, I try to use cutters appropriate for the occasion or season.  As a result, I've accumulated quite a variety.  And lots of different types of decorations.  I have a two-tier lazy susan in my pantry that is full of nothing but cookie decorations!!  I have fun trying to make them colorful and special.  But I'm not sure anyone cares; they eat them so fast I don't think they even notice.
Only negative
If there's a negative about these cookies, it's that they do tend to puff up a little.  I'd like them to keep their shape a little better, but they're so good, I haven't let this keep me from making them.
Do you have a favorite sugar cookie recipe?  Should I try yours or keep making this one?  If you've been searching for that special sugar cookie recipe, give this one a try and let me know what you think.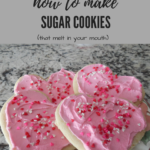 Sugar Cookies
These sugar cookies melt in your mouth. And the frosting is so much better than store-bought.
Servings
40
cookies (half a batch)
Ingredients
Sugar Cookies
6

c.

flour

2

t.

baking soda

1

t.

salt

1

c.

shortening

2

c.

granulated sugar

2

eggs

2

t.

vanilla

1

c.

sour cream
Sugar Cookie Frosting
1/2

c.

shortening

1/2

c.

butter

3/4

t.

vanilla

1/4

t.

almond extract

4

c.

powdered sugar

2

T.

milk
Instructions
Sugar Cookies
Mix all dry ingredients together in a small bowl.

Blend wet ingredients until smooth in a large bowl.

Stir dry ingredients into wet ingredients.

Cover and place in the fridge for a couple of hours.

Roll out cookie dough and cut with your favorite cookie cutters.

Grease your cookie sheet with shortening and place cut cookies on the sheet. (I use air insulated baking sheets for these cookies.)

Bake at 400 for 7-8 minutes.

Let cool on the cookie sheet for a short time and then move to paper towels for final cooling.
Sugar Cookie Frosting
Blend all ingredients together with your mixer.

Color the frosting in your color of choice. (I've started using gel food coloring. The colors come out more intense.)

Once the cookies are cooled, frost away!!
Recipe Notes
Both the cookies and the frosting freeze well.  I sometimes make a double batch of the dough and freeze half for later.  Saves a lot of time the next time I want to make these.  You can also freeze the baked cookies for frosting later.
Since I typically make a half batch at a time, but make a full batch of frosting, it's not unusual for me to have some frosting left over.  When I need it, I take it out of the freezer, let it thaw a little bit, and then stir it well.  Use as it is or add color to it.  Spreads and tastes just like fresh!!
www.retiredintrovert.com