In honor of National Running Day, I thought I'd write about my own experiences with running.  It's not about my running, but instead about my support of long distance runners.  Over the last 25+ years, I've supported two runners, and I thought it might be interesting for you to hear about long distance running from the non-runner's perspective.
I supported my friend Mark from the mid 90s through 2009 and my husband Tim since 2012.
The motivation
I've never felt the rush that long distance runners get, so I can't say if it's as addictive as I've heard.  I do know it can become an obsession.  Running is obviously good exercise.  But at a certain point, it goes beyond that.  I'm not saying this is bad; everyone needs to be passionate about something.  I believe, however, that it can be like any addiction and can sometimes become the most important thing in your life.
Long distance runners want to run wherever they are.  This means on business trips and even on vacation.  Fortunately, I've never had a problem with this.  If I'm there, I don't mind reading a book or finding something else to do.
I also understand the interest in using running as a way to explore a new city.  Who wouldn't want to run around the Eiffel Tower in Paris?  You just have to be careful since you're not familiar with the terrain.  Once, when Mark was in Toronto on a business trip, he fell while running and scraped up his hand and leg pretty bad.
Injuries are traumatic.  When a runner is used to getting out there every day, an injury can sideline him for a while.  Taking days off is not something a runner wants to do, even when he knows it's what his body needs.
Training for a race
I feel a little envious on race day when I see all the runners at the starting line.  I'm envious of their passion as well as their dedication.  And a lot of them have very well toned bodies.  But I have to remember what it took to get there.  I've heard it said, the marathon is the easy part.  It's all the training runs leading up to it that are hard.  And nobody sees that.
I remember when Mark was training for a marathon and I'd meet him at certain points on his long distance runs so he could have a water stop.  Or I'd leave water or Gatorade outside my front door if his route took him by my house.  Runners are out when it's freezing cold as well as blistering hot.  And Tim's even out there after he gets home from walking his 10-mile mail route.  (And I have trouble getting my 2.5 mile walk in every day. 😜)
The races
I've tried to compile a list of all the marathons and half marathons for which I've provided runner support.  I figure I've been to at least:
14 marathons
12 half marathons
Too many Dam to Dams to even count (20K but a half marathon for a few years)
5 BIX runs (7 miles) in Quad Cities
It could be more but I haven't kept records so most of this is based on pictures and my memory.
Most of the time I'm alone, in a city I'm not familiar with.  And when you're there, it's all about the race, so sometimes I only see the parts of the city I can walk, drive or ride to.  With Mark, all the marathons were out of town, so after the marathon was my time – shopping and if we could, we went to the Hard Rock Cafe and had ribs for dinner.  Yum!!
The only marathons I've been to with Tim were in the Quad Cities and Des Moines.  (He ran lots more, even Boston, before we were together.)  If we're in the Quad Cities, we get to see the grandkids.  One time, after the Des Moines Marathon, we went to Minneapolis for a couple of days.  That was a nice treat.
Tim and Brady have a tradition, primarily after the BIX runs.  After Tim's done, he and Brady have a short race.  Maybe someday he'll be out there running with his Grandpa!!
Marathons have also taken me to some fun cities.  In Washington, DC, I was able to take the subway to various points along the course.  I even had time to check out things like the WWII memorial.  And I found a great needlework shop where I bought several cross stitch patterns.
I did a lot of walking in San Diego to get to various points.  Do you know how hilly San Diego is?  It was nicer when the finish was downtown (the race started at Balboa Park) because I didn't have to move around as much.  They moved it to the Naval Training Center, which meant I had to drive to the finish.  Fortunately, these races are on Sundays, making it easier to navigate what's usually a busy city.
The Chicago Marathon was downtown and around Millennium Park.  And it was pretty easy to get around since we stayed in the official race hotel right there.
Challenges for the supporter
Much like training in all conditions, you never know what the weather will be on race day.  I've dealt with rain, freezing cold, blazing heat, and fog.  It's just as challenging for the supporter as it is for the runner to determine what to wear.  I also had to determine if I had opportunities for going inside somewhere.  Not being familiar with a city and/or the route means I can't anticipate where I might be able to go.
The day begins very early, even for the non-runner.  Sometimes, you go with your runner to the start, depending on where it is.  And you typically need to be there quite a while before the race is scheduled to begin, especially with the larger races, because there are so many people to corral.  It's easy when you're staying near the race location because then you don't have to worry about driving and parking.
I've become an expert at pinning bibs on shirts and attaching chips to shoes.  We usually do this the night before, since you don't want to waste a minute on race day.
It's amazing to see the runners waiting in their corrals based on their expected finish time.   At one of the Chicago Marathons, I decided to stay at the starting line to see when the last runner had finally officially started the race.  Did you know that it can take almost 30 minutes for all the runners to just get to the starting line?   And then they have to run 26.2 miles????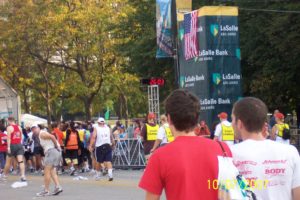 The runners are all shapes and sizes.  I've always been a little surprised to see some of the people that beat Mark and Tim.  They don't look like runners at all!!  So, you can't guess how someone will do based on their body type.  Some look like the running's a breeze, while others look like they could die with the next step.  And you see all kinds of outfits.  Some even wear costumes.  Can you imagine wearing an Elvis costume and running 26.2 miles?
I've always tried to find a good place along the course to see my runner prior to the finish line.  Sometimes, it means he can give me extra clothes that he no longer needs.  Generally, I think it's just nice for a runner to see a friendly face.  Inevitably, during some parts of the race, they will be running where there are very few people, so it's nice if I can find a good spot to cheer him on.
But do you know how difficult it is to find your runner in a swarm of other runners?  I try to estimate when he'll get to my spot and I start watching.  (I'm actually pretty accurate with this.)  It's better when he wears a bright color or if he can try to separate himself from the crowd a little.  I'm always so afraid I'll miss him!!
It helps if he knows where to start watching for me.   And it's a big challenge if I want to take a picture.  It seems most of my pictures are of his back because, by the time I see him, I can't get my camera ready!!
I know it can be challenging to see me along the route as well.  Depending on the race, I may be alone or in a huge crowd.  In the early days, I wore this bright chartreuse jacket – super easy to see.  Tim said in the last race, he found me because he saw my red purse.  (I was also standing alone next to a fence straight in his view. 😉 )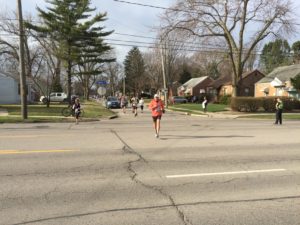 The ability to catch my runner along the course can depend on where the race is.  For instance, I could not do this at the New York City Marathon.  They bus the runners to Staten Island and it would take me too long to get somewhere along the route and still get back to Central Park in time for the finish.  So for that race, I only went to the finish.
I always like to be there when the winner crosses the line, but that isn't always possible either.  And with the big races, it isn't always easy to get a good observation spot at the finish.  I remember times in San Diego when I'd have to stand in the same spot for a long time or risk losing it.  And even then, people like to crowd you out.  It was also a challenge in Chicago, trying to stand in one place for a long time when it was so hot.  That heat was tough for the runners, but also for us!!!  😛
One of my biggest worries at the out of town races is where I can go to the bathroom.  I've used the kybos set up for the runners a few times.  I've searched for eating places, like McDonald's (in Chicago) and Einstein's Bagels (in San Diego), which are typically full of other people like me.  Generally, I try not to eat or drink anything to lessen the chance I'll need a bathroom.  And sometimes I think because I worry about it, I have to go!!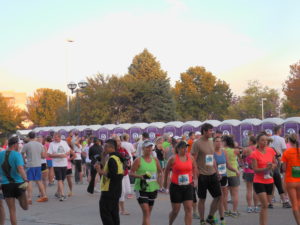 Parking at the finish line isn't always easy.  And being in an unfamiliar place means I'm driving a rental car and have no knowledge of alternate routes.  Even here in town, there are roads closed or traffic is held up due to the race, so it can be tricky navigating and getting to where you want to be.
At the last Drake Relays Half Marathon, the spot I chose along the race route was at a corner on a busy street.  I had to park a block away to ensure once I saw Tim, I could get out of there and avoid the traffic jam.
They always have police officers watching and stopping traffic.  In this case, they should have closed the road for a few hours.  The cars were backing up and the runners just kept on coming.  Some cars turned around, but others were actually honking.  What did they think that would prove?
As an observer/supporter, I've noticed how many of the runners thank the police officers as they run by.  I've seen runners help each other get to the finish line.  I've seen runners with injuries or get sick.  At Chicago, both years had unseasonably hot temps, and I heard sirens throughout the race.  It was eery.  They actually suspended the race the first year because of the heat and because they ran out of water.
I've seen well known runners.  In NYC, I saw Meb Keflezighi, an Olympic runner.  He didn't win but he was an early finisher.
It can be a challenge finding your runner after the race.  That's why they usually have a family meeting area.  The hardest was New York City.  After the finish, the runners must walk blocks before they can exit.  I wasn't sure where I needed to go.  And after the race, don't try to flag a cab to get back to your hotel.  We had to walk multiple blocks, which was OK for me but not great for someone who's just run 26.2 miles!!!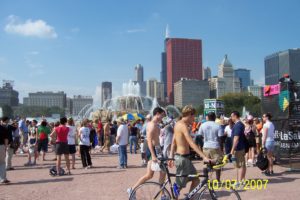 One of the most enjoyable marathons for me was the Quad Cities.  I was there at the start and walked to a spot that was about halfway.  It was a beautiful day and I was mostly alone as I walked through an area I wouldn't otherwise see.  Once I saw Tim, I headed back to the finish.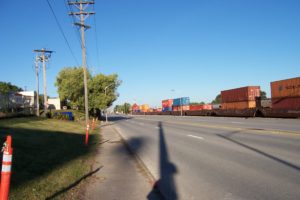 The time went so quickly and I got in a little exercise myself.  I even saw this great sign along the way.  Something the runners didn't get to see.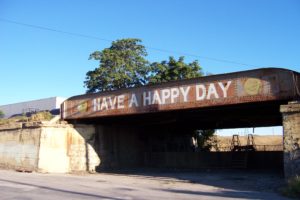 Food is always a big deal after a race.  If I'm lucky, Tim will sneak me a cookie or two!!  🍪 🍪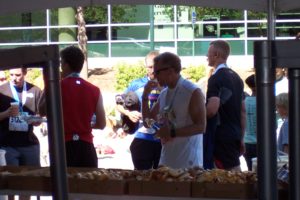 So, in conclusion, I think running long distance races is as tough for the supporter as the runner.  OK, maybe that's a little bit of an exaggeration.  But the runners know exactly what their route is, they have water along the way, they have bathroom opportunities.  As a supporter, I have to figure out how to dodge traffic, find places to park, maneuver through thousands of people, jockey for a spot at the finish, try not to eat or drink anything so I won't have to go to the bathroom and find a way to kill several hours and still be there at the end.
I think I deserve at least one cookie, don't you?