For me, the only thing better than yellow cupcakes with chocolate frosting would be chocolate cupcakes with chocolate frosting.  I am definitely a chocolate lover.  Since others aren't quite at that level of chocolate loving, I frequently make these cupcakes.  The grandkids love any type of cupcake, but I think these are especially good.
Finding a recipe for yellow cake
Have you ever tried to make yellow cupcakes (or yellow cake) from scratch?  I've tried a few recipes and they are never quite right.  They always seem dense and dry.  That's not what I think of when I think of yellow cake.  So, I cheat.
I bet you've made or at least heard of Jiffy mixes.  Did you know these were created in 1930?  And they're still going strong.  For me, there's nothing better than Jiffy's Golden Yellow cake mix.  So, in this instance, save yourself the trouble and use this instead of trying to make a yellow cake from scratch.  Another good thing about the Jiffy mix – it comes in a size that makes just 12 cupcakes.  Perfect!!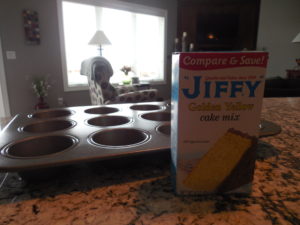 The frosting – mmmm
This is where you can show your stuff and top these yellow cupcakes with the creamiest, yummiest chocolate frosting.  And I have a little secret for making it extra chocolatey.  It's Hershey's Special Dark cocoa.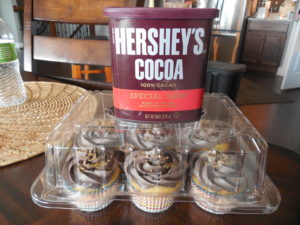 I'm not kidding when I say I can eat this straight from the bowl.  It makes a little more than you need for 12 cupcakes, but don't throw it away.  I've frosted brownies with it.  We've even used it for dipping graham crackers.  You don't want to waste a bite!!
Another secret to this frosting recipe is whipping it.  You really can't whip it too much.  That's what makes it light and fluffy and oh so good.
Since I usually share these with others, I found these perfect disposable cupcake containers on Amazon.  They are extra high so if you want to include a LOT of frosting, there's room.  (That's what you can do with the extra frosting!!)  They each hold six cupcakes and there are twelve to a package.  If you don't want extra high, they come in standard size as well.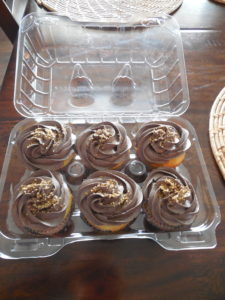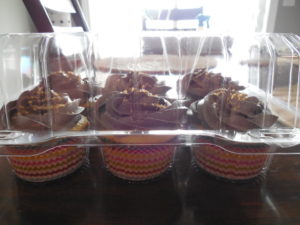 And I forgot to mention – I always like to include some sprinkles on top, to make them extra yummy looking!!
Let me know if you make these or only the frosting.  I want to know if you think it's the best frosting you've ever had!!!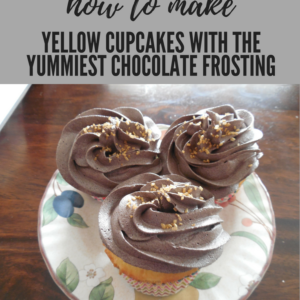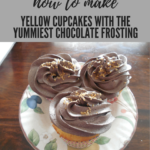 Whipped Chocolate Buttercream Frosting
This is the fluffiest, yummiest chocolate frosting you'll ever make. And if you want it to be extra chocolatey, try my secret (Hershey's Special Dark cocoa powder).
Ingredients
3/4

c.

butter

at room temperature

2

c.

powdered suguar

3/8

c.

cocoa powder

(I use Hershey's Special Dark)

2

T.

heaving whipping cream

1

t.

vanilla extract

1

pinch

salt
Instructions
In the bowl of an electric stand mixer, beat butter and sugar on medium-high speed until very pale and fluffy or about five minutes.

Be sure to stop at least once and scrape the bowl.

With the mixer off, add in cocoa powder, vanilla and salt.

Turn mixer on low and blend for about 30 seconds.

One tablespoon at a time, add in heavy cream.

Once all cream has been added and mixture is mostly combined, turn off the mixer and scrape down the sides of the bowl.

Now turn the mixer onto medium-high to high and mix for 3-5 minutes or until mixture is lighter and fluffier. The frosting will be shiny and seem to have many large air bubbles throughout and this is exactly what we are going for.

Spread or pipe on the cupcakes.
Recipe Notes
www.retiredintrovert.com