I had the opportunity to attend the Big Ten Football Championship game in Indianapolis on December 7. My team was not playing in this game, however. I was there because my husband's favorite team was. I'm pretty sure we wouldn't have been there if it had been the other way around. 😉
But I'm a good sport. Yes, we have a "house divided". My team is the Iowa Hawkeyes while his team is the Ohio State Buckeyes. We cheer for each others' teams, except when they play each other. (I know I cheer for his team. Now I'm wondering how much he actually cheers for mine. Hmmm.)
Going to this game wasn't something I had aspired to, but when we had the chance, I was intrigued. Yes, let's do it!!
Getting there
We live in the middle of Iowa, so the drive to Indianapolis took us about 6 hours or so. Then you have to factor in the time zone change. We were on the road at 7:00 AM, having picked up Tim's son on the way. And grabbing breakfast at McDonald's, of course. Any road trip that starts that early always includes a Mickey D's breakfast.
With a few stops, we made good time and arrived in Brownsburg, which is about 30 minutes west of Indy. This is where we were spending the night. We'd barely checked in and I'd just plugged in my phone, when Tim and Jay were ready to head towards the action. Oh boy.
Tim planned ahead and prepaid for a parking spot in a lot pretty close to the stadium. It made things so easy and less stressful. It was no trouble walking from there to where we wanted to go.
We were there about 2 3/4 hours before game time, so we had a fair amount of time to kill. Er, I mean to soak up all the atmosphere. We went to the convention center to check out FanFest. While I don't think it was specific to Ohio State, the crowd was mostly in scarlet and gray. Except for me. I was wearing my black and gold, of course. Hey, it was the Big Ten football championship, and my team is part of the Big Ten too!!
At about 6:00 (game time was 8:17), the cheerleaders and part of the marching band performed for us. The stands were packed so we had to stand with a bunch of people and try to see whatever we could. We listened for a while, and then realized the gates opened at 6:17, so we took off.
First thing to note
Earlier in the week, I'd read that only two types of bags would be allowed in the stadium. One type was anything clear, no matter what size. The other was a 4.5″ by 6.5″ purse. Do you know how small that is??? I had neither of those bags.
Knowing I had no time to have something delivered, Tim and I went to work to find something that would work. We started our search online, simply because it's easier. I was having no luck. He finally said, "what about The Container Store"? I told him no way would they have a purse at The Container Store. But guess what? They did have a very small cross-body purse that was exactly what I needed. Who would have thought?
It's called a cross-body wallet and it included just the right amount of space for my drivers' license, three credit cards, my phone, and cash. It was also extremely lightweight. I frequently had to check to make sure it was still around my neck. Check it out here. It wasn't even very expensive.
In the meantime, after all the online searching, different ads started appearing on Facebook and Instagram and I found a clear bag that's a little larger. I knew it wouldn't come in time for the trip, but I thought it might be worth having for the future. I was even able to personalize it with a monogram. We go to a lot of concerts and this way I can avoid any security hassles.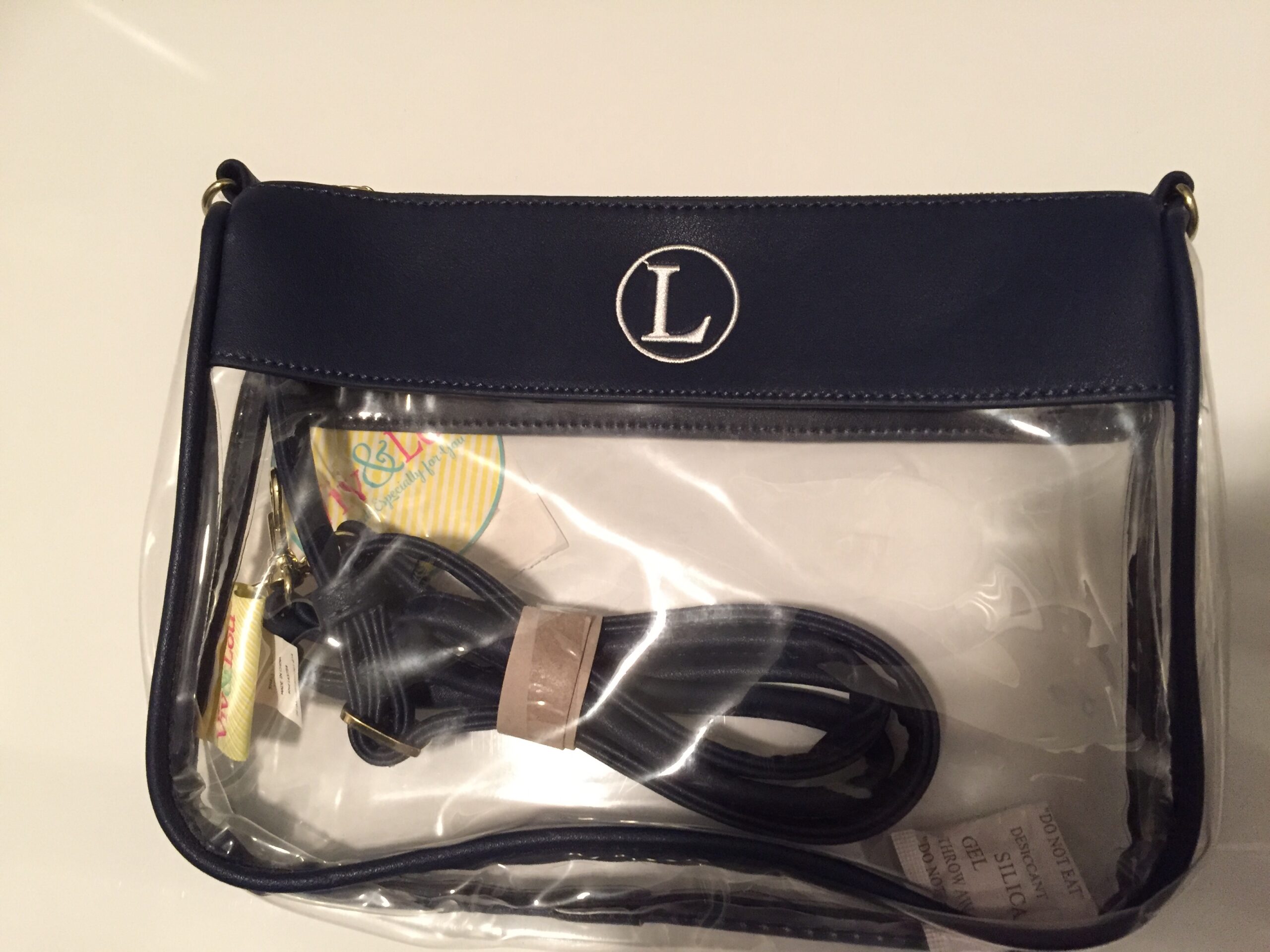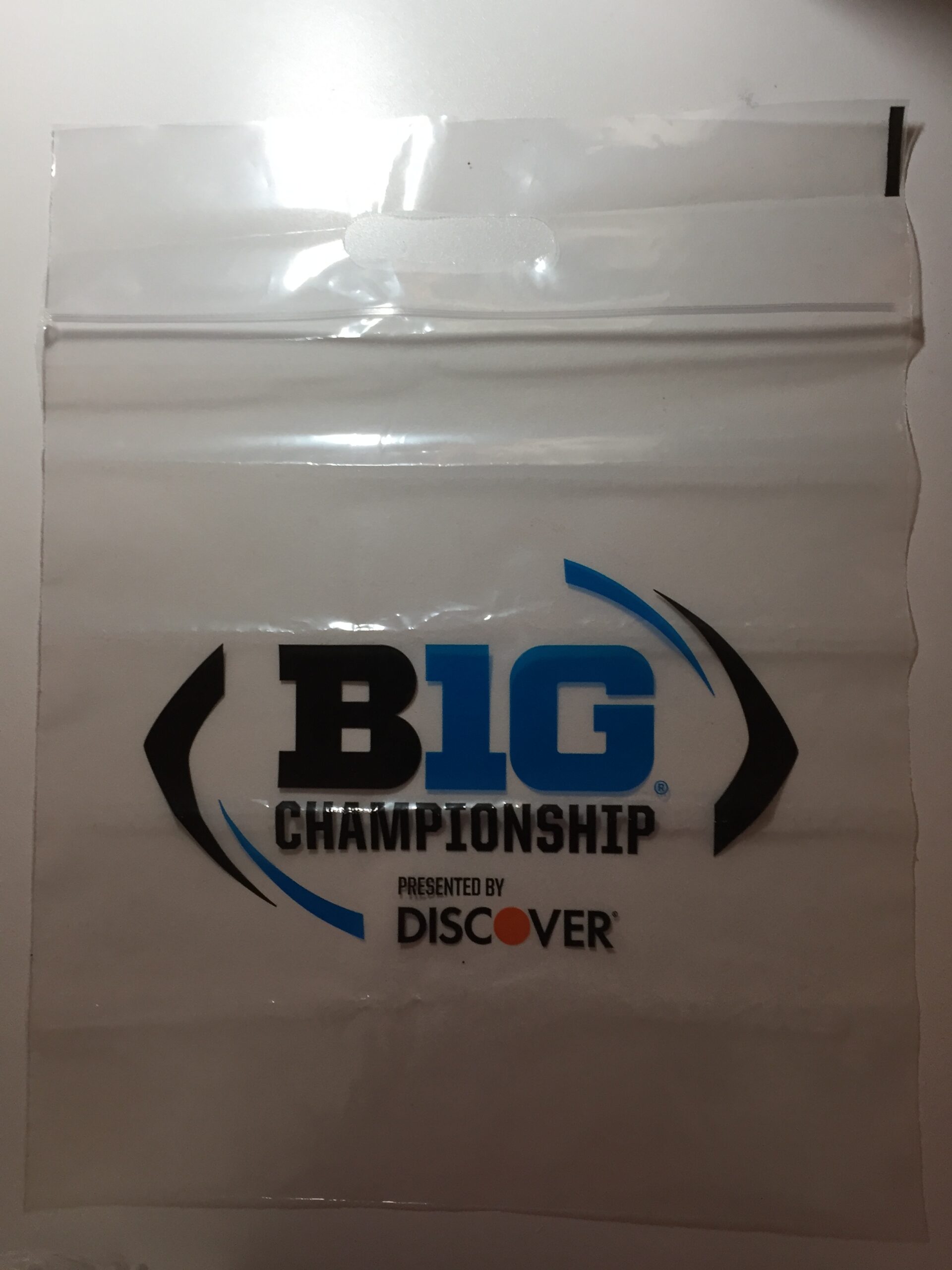 Second thing to note
All tickets were mobile, meaning you had to have a smartphone.
Well, remember when I said I had barely plugged my phone in before we left the hotel? Unfortunately, I was the one with the tickets. Not knowing when I'd need to show them, I had Ticketmaster opened while we stood in line. It was a long line.
Right as we got to the guy who was scanning the tickets, I lost power. I am not exaggerating. It happened right then. So, what can we do?
There was a person there with a tablet who was helping people like us. We had to verify who we were so she could find our tickets. Then she was able to text them to us. Well, my phone was dead, right? Tim wasn't able to get service. Fortunately, Jay was able to and he could receive the tickets. Whew!! We made it into the game.
Two lessons learned here. Make sure your phone is fully charged before you leave. And don't open the app until you absolutely have to. I'd also say, make sure your husband has the Ticketmaster app so he can keep the tickets and not transfer them to you!! Then if anything goes wrong, it isn't your fault. 😊
And finally. . . the game
Once we were in the football stadium, we found our seats. We were in the far corner, five rows from the top. And you know how steep those stairs can be. Once we got up there, I said I wasn't going back down. I had a slight headache and I didn't want to risk any vertigo episodes.
At that point, the scoreboard said 80 minutes until game time. Really? Tim and Jay left and promised to bring me some food. I was starving.
They showed up when there were about 15 minutes to go, maybe even less. I sat there by myself for 75 minutes!! It's a good thing I can handle being alone. I watched the warmups, both marching bands, and all the people coming in.
We were around mostly Ohio State fans, because frankly, they outnumbered the Wisconsin fans by quite a bit. Tim did say during their 75 minute walk around the stadium, they saw one other Hawkeye fan. So, two of us in the whole stadium.
I am always amazed at how some people act at football games, especially some of the women. So much screeching and a lot of bad language. And who says just because some guy stands up and waves his arms that we all have to stand? We were up and down a lot.
At halftime, when Ohio State was behind, I was told if they lost, I wouldn't be able to come to any more games with them. This is because two years ago, we went to the game in Iowa City between the Hawkeyes and the Buckeyes and my team pounded them. If they lost this game, they would be 0-2 when I was there.
Fortunately, the Buckeyes came from behind and played much better in the second half. Now I "get" to go with them next year when Iowa travels to Columbus.
It's a wrap
Once the game ended, of course we had to stay for the trophy ceremony. A lot of other people stayed as well. Even though this is a big football stadium, we were able to exit pretty easily. We even took a picture on our way out.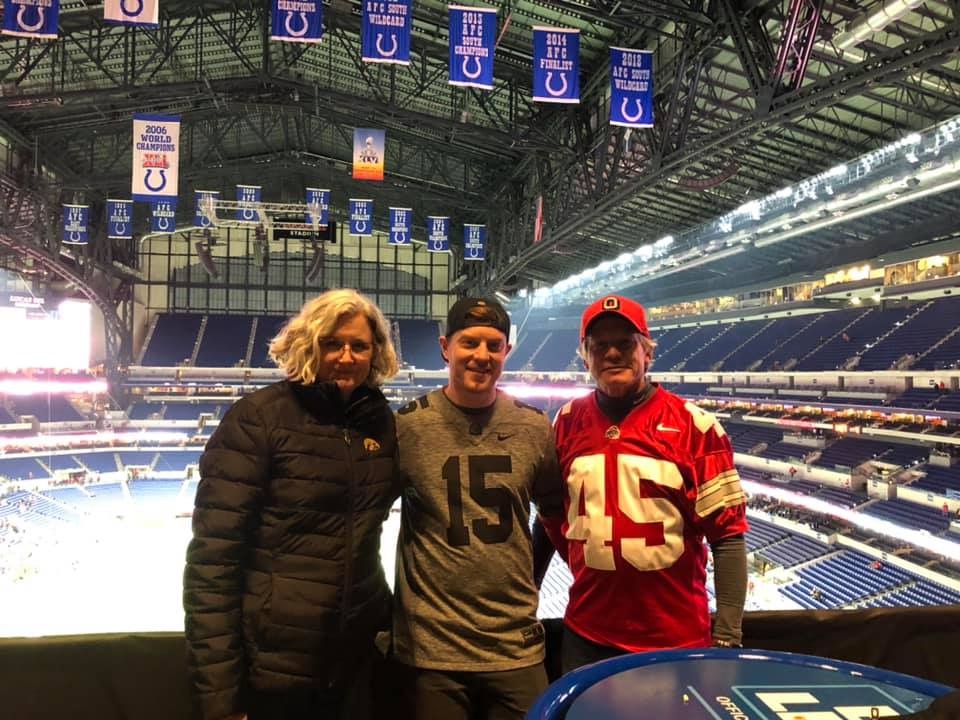 The longest part of the exit was getting out of our parking lot. But once we made it to the interstate, it was smooth sailing. It was close to 1:00 before we got back to our hotel. I was pooped. I guess that made it easier for us to sleep in a double, yes a double, bed. I'm not sure either of us moved all night.
Would I do this again? Probably. While our seats were high, I thought we had a pretty good view of the field. I did, however, find myself watching a lot of the game on the big screen. So maybe I should just stay at home and watch it on TV?
What do you think?