I'm puzzled over the fact that people will not vaccinate their children and spare them from the childhood illnesses that have all but become eradicated. There's a reason we don't see things like measles, mumps, and chickenpox as much these days. But it seems to be changing, due to the number of people no longer being vaccinated. These diseases are coming back.
What's happening today?
Measles is what's making all the news these days. Measles was previously declared eliminated in 2000, three decades after the vaccine was introduced. But in 2019 we've experienced more cases than we have since 1992. Measles is back.
I always thought Rubella was the "bad" kind of measles. I remember getting the 3-day measles when I was a kid, and that was Rubella. These might also be called German measles.
Measles, or rubeola, is the more serious type.
According to this article, no religion has explicit objections to vaccinations. Yet the majority of states allow exemptions for "religious reasons". Objections may be more cultural than religious. Or maybe unwarranted fears?
According to the American Academy of Pediatricians, the majority of doctors said parents refusing or delaying vaccinations for their children do so because they believe the vaccine is unnecessary, taxing on their child's immune system or for fear the shot will cause their child pain.
If you're old enough, like me, you probably have a noticeable scar on your arm. This is from the smallpox vaccine. Smallpox was considered eliminated in 1977.
I remember getting all kinds of vaccines in the 1960s, through the school. I can still see us all standing in line, waiting to take vaccines, some orally. Maybe they were administered that way because most of the vaccines were new?
I don't remember anyone not taking the vaccines, but then I was a kid and I probably wouldn't have noticed. Plus, at that point, people were more interested in avoiding these diseases and not thinking about the possibility of side effects.
Is that why parents today don't see the need? They haven't experienced what it's like to have measles or mumps and think there's no risk of their children getting them? Clearly, that isn't the case, as we see cases pop up everywhere, typically the result of someone not having been vaccinated. Vaccines are doing what they're meant to do.
Adult vaccinations
I wonder if these same people avoid vaccines for themselves. I know the flu vaccine isn't a guarantee against the flu, since there are so many strains. But it can still mean a milder case if you do get the flu.
My doctor gives me a tetanus shot once every 10 years. I wonder if it's the TDAP – tetanus, Diptheria, and pertussis (whooping cough). I've also had a shingles vaccine, only to find out there's a newer, more effective one. The new one is a two-step process.
I recently had the first shingles shot. I was on a waiting list at my pharmacy for over six months. Obviously, people are interested in getting this shot. No one wants to get shingles. I'll get the second one between two and six months after the first one.
People have talked about the side effects of this shot, none of which are terrible or long-lasting. The pharmacist who gave me the shot warned me of a few things. However, the only thing I experienced was a very sore arm later that day. I took Tylenol and had no trouble sleeping. It was a little achy the next day but not a big deal. I may have also been a little tired, but anymore, I can't confidently link tiredness to any one thing!!
At age 65, I assume my doctor will recommend the pneumococcal shot. I believe that's also a two-step vaccine. I see no reason not to take it. Why wouldn't I want to do everything I can to stay healthy?
I found this great infographic at this site. If you're interested in what you need as an adult, this is helpful.
What you think
A few months ago, I had a poll on my site and asked you to weigh in on your feelings regarding childhood vaccines. There were 27 votes and you were overwhelmingly in favor of vaccines for children.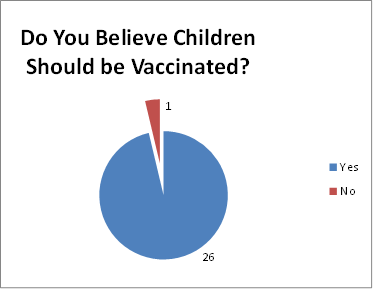 I agree with you. There are enough things to worry about that we don't need our children to suffer through measles, mumps and other diseases that can be easily avoided. And we all know they are rougher if you get them as an adult. Remember how people exposed their kids to chickenpox on purpose so they'd have it as a kid and not have to worry as an adult?
Are you getting your adult vaccinations??? I hope so.