If you've read prior posts, you know we recently lost one of our cats. While we naturally grieve, it's easy to forget that Mickey's best cat friend, Brutus, might also be going through a grieving process.
We have definitely noticed some changes. We were primarily warned to watch his eating habits. But according to Tim (who fills up his bowl every day) he's definitely eating. And he's always been a good drinker. Much better than Mickey ever was. Probably because he likes to play in the water too!!
Changes with Brutus
The two biggest changes we've noticed are these: 1) he's become needier, and 2) he talks a lot. Brutus has always had plenty to say, but he's talking way more than he used to. And even though he always liked sitting in our laps, I think he'd be in a lap every minute of the day if possible.
From things I've read, Brutus could be picking up on our feelings of loss. However, other than the first week, we haven't openly displayed any sadness. Do you think he can pick up on our feelings, even if they don't show?
As I've mentioned, mornings were my special time with Mickey. He would hop in the chair and I'd rub his tummy. Brutus would be somewhere else entirely, not even paying attention to us. And now? Guess who's in my lap every morning? Yes, Brutus. He's not a fan of tummy rubs, however!!
I can actually tell when he needs some lap time so I will spend a few minutes in my chair, letting him get what he needs. He usually stays until I need to get up. He rarely leaves before I'm ready.
He's spending more time with me in my room, I think mostly because Tim set up a little space heater (this room doesn't get above 64 degrees in the winter for some reason) and Brutus lays right in front of it. And I mean, right in front. He's practically touching it. I don't know how he can handle the heat!! We'll see if he still joins me when it's warmer outside.
Brutus in front of the space heater

Brutus laying by the space heater
He's playing with toys, which he never did, at least in our presence. He primarily used his toys to demonstrate when he was unhappy. Now, he visibly plays with them, especially one. This just happens to be the one he got for Christmas from our granddaughter Carly.
She was so proud when she gave it to both Brutus and Mickey, but we didn't have the heart to tell her it wouldn't be used much. How wrong could we be? Not only is he playing with his pink mouse, but he sleeps with it too!!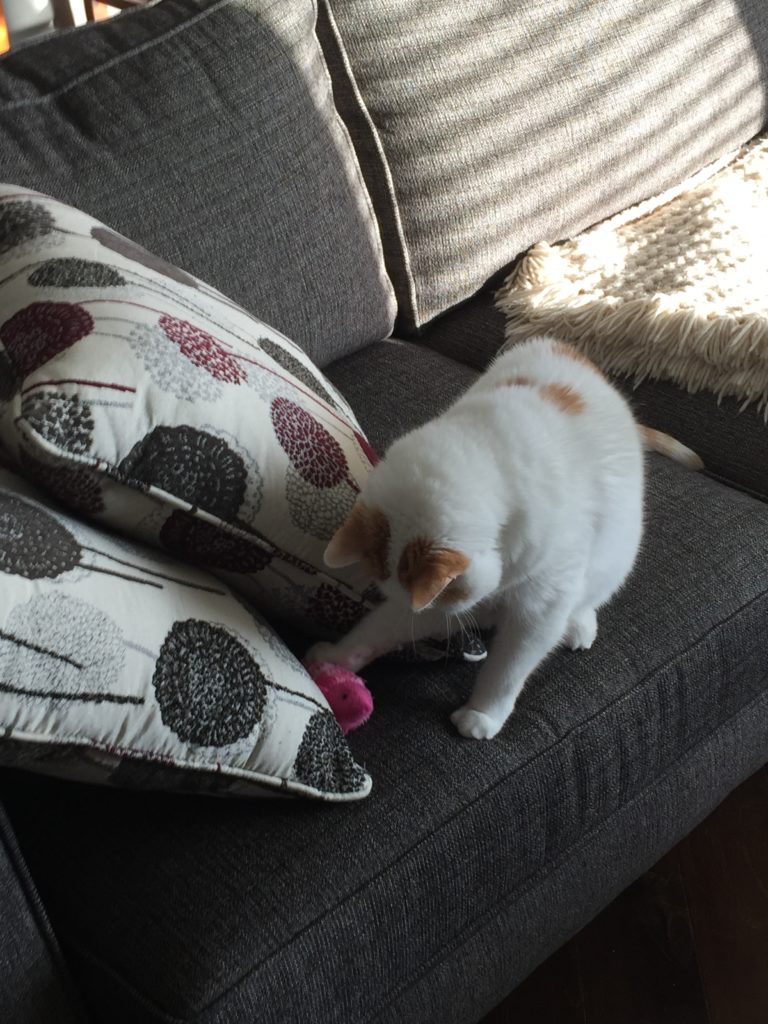 He's at the door when we get home. This isn't necessarily unusual, but he tends to be there more than he used to be. And at the door, he's talking up a storm, almost as if he's bawling us out for leaving him alone.
Is it normal for a cat to grieve?
I wondered if it was typical for a cat to grieve the loss of his cat buddy. From what I've read, it definitely is. And it might take up to six months before he recovers. Wow.
Here is what people recommend:
Don't change his routine. We've done well with that. We did try letting him have the run of the house one night shortly after Mickey died, and that was a disaster. So, he still "goes to his room" every night. This is when he cuddles with his pink mouse, and sometimes another toy.
Give extra support. We are giving him the lap time he's craving. We're petting him and talking to him all the time. I've started letting him lay on our bed some days. I have to put him up there because it's too high for him to jump up, but he'll stay there while I shower or if I go out of the house for a while.
Don't get another cat right away. This isn't really an issue as we've always said we would prefer not to have pets when we go away for the winters. However, that doesn't mean we haven't looked at other cats!! Even if we were thinking of getting another cat, it wouldn't make sense to do it now when we're all still missing Mickey. He can't be replaced.
Brutus likes to look out the window

Brutus telling me to go away!!
Have you had experience with a grieving pet? Did he/she eventually get back to normal? Not that Brutus isn't his normal self; he's just acting a little different right now. We notice it because we know him so well.
I think maybe we all just have to accept the fact we have a new normal now. And we'll be fine. Even Brutus. ❤