Note:  something weird is going on with this post.  I posted it last night on my iPad but today on my laptop it's still in draft form.  I'm going to publish it again, so I apologize if you received two emails for this.
It's snowing again today.  I was out in it this morning (remember, I had Book Buddy today), but I've been home since about 10:30.  So, I get to enjoy most of the day in my house, just watching it come down while I do laundry and especially while I write this post.
It's a wet snow and it could turn into rain later as the temperature rises.  One good thing about a March snow – it shouldn't stay on the ground very long.  And we're not supposed to get much anyway.
Since I spend a lot of time in my house (and I'm not complaining), I thought I'd share what I love about it.  Those that know me well, remember how much I loved my last house and how difficult it was to leave it.  For me, it was my dream house.  To most, it probably didn't look like much.  I remember at times, though, just sitting in my sunroom and looking back at my living room and kitchen and thinking "I sure do love this house".
But you know what?  I love this one too.
Brutus just came in to tell me it's treat time.  That's his favorite thing about the house – me, when he wants something.  🙂
What I Love About My House – #8 – my front porch
When we were looking at these houses, we noticed some of the earlier built ones did not include a front porch.  Someone got smart along the way and decided these would benefit from a front porch.
I've never had one before and I love it.  It faces the north, which means it's great in the summer when it's too hot to sit on the deck.  And I often sit there after taking my morning walk.  I grab a bottle of water and just sit and enjoy my neighborhood.  Our street is U-shaped and we're on one of the curves, so we can see almost every house from the front.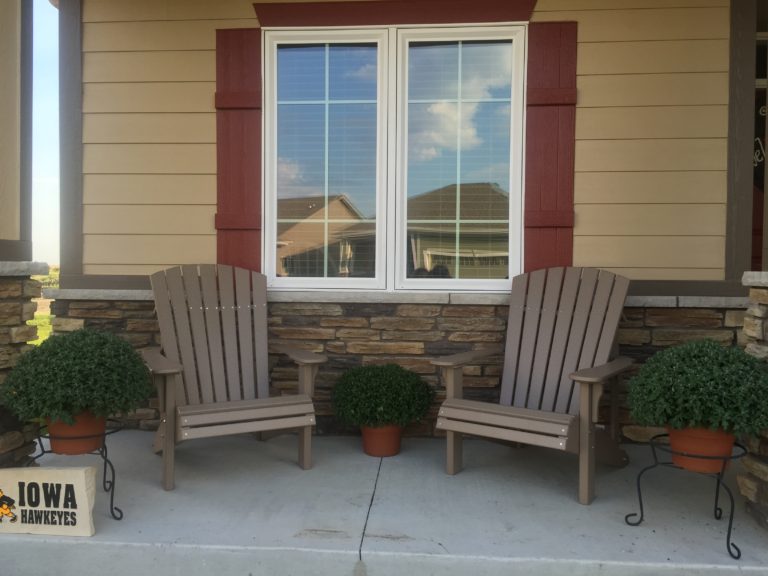 What I Love About My House – #7 – the drop zone
I've never had an official drop zone area in a house, although I have had spaces that out of necessity were used as one.  This one has the bench and the cubbies, and we use it for all of our shoes, gloves, scarves, sweatshirts, etc.  It's so handy and also easy to become a dump zone.  I think we do Ok with that, however.
I love having a place to sit to get my shoes on and off.  I love having my favorite hoodie hanging there to grab when I'm cold.  I love being able to find the gloves I want.  And it's close to our coat closet, so everything is handy.
There's only one negative.  It's a shared space with the laundry room.  That means we don't have much room for doing laundry.
My laundry room does not make this favorite 8 list, but I'll talk more about that later.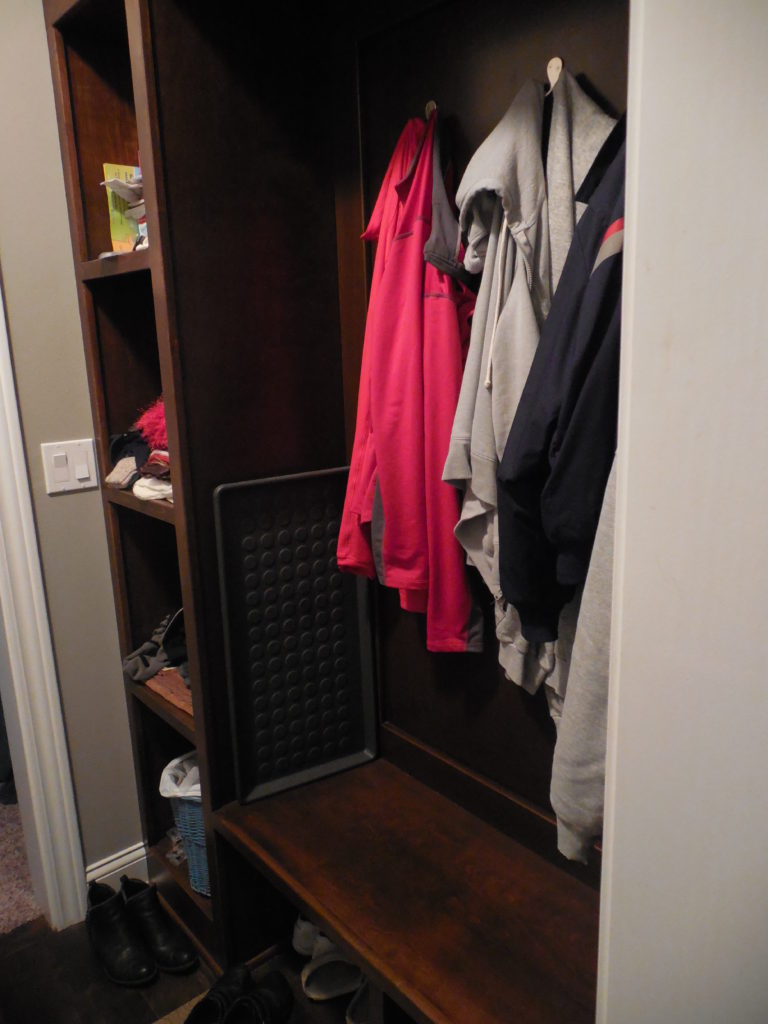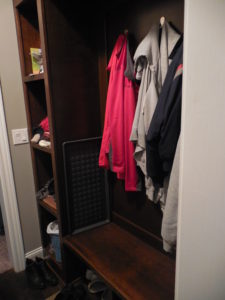 What I Love About My House – #6 – fireplaces
We have the coolest fireplaces!!  That's one of the things that attracted us to this house.  There's one upstairs and one downstairs and I love them both.
I mostly love the stone used.  It's small and uneven and has so much texture.  And the gray color goes nicely with everything.
Upstairs, we have stone on the bottom and wood all the way to the ceiling on top.  It's wired for the TV, so we have one mounted there.  It's great for watching while I'm cooking/baking or while we eat dinner.  It's also a Smart TV, so lots of times I use it to listen to music on Pandora.
Also, both of our fireplaces are electric.  I'm pretty sure we're the only ones out here with this kind of fireplace.  (My guess is, they experimented with our house and decided they were too expensive to use again.)  I'm sure not everyone would like this kind of fireplace, but we love it.
So does Brutus.  There's a heater that sends warm air out of the bottom and downstairs, he lays underneath it.
My picture isn't very good.  I took it while the sun was bright, so it kind of faded it.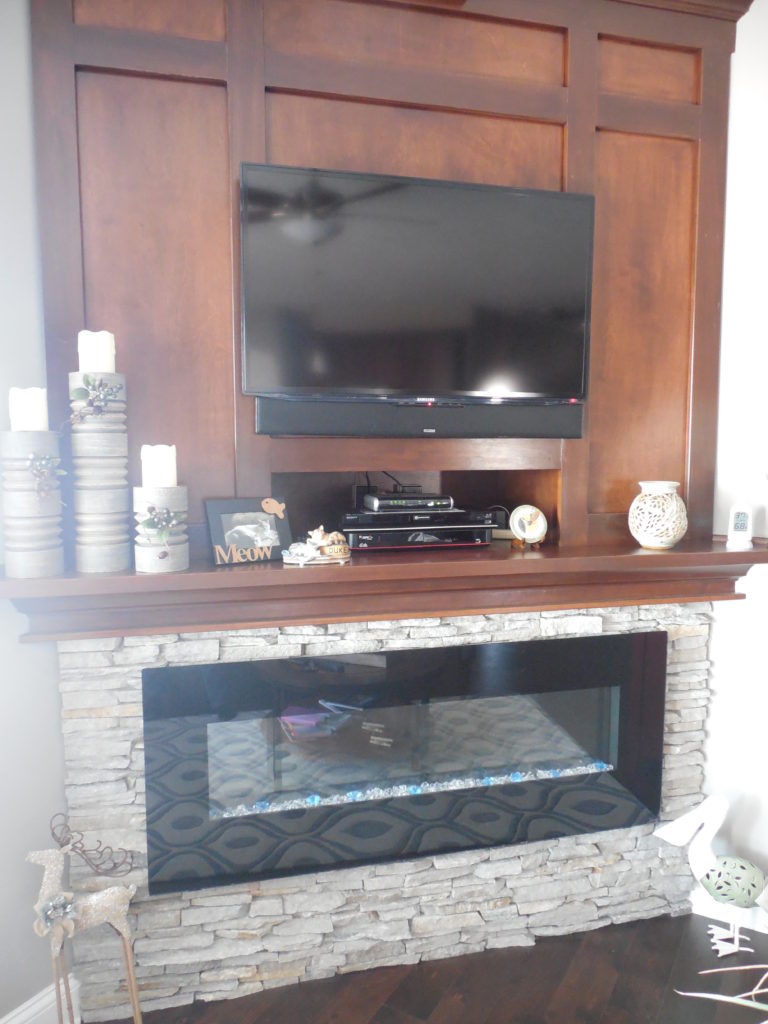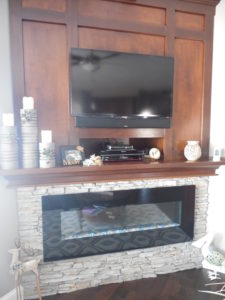 As you can see, the downstairs fireplace is all stone.  It also has wiring for a TV above the mantle, but we chose not to use it.  Tim decided to put one of his Ohio State pictures there.  At least it's big enough to cover up the hole!!
We also leave lights on the mantle all year.  It's probably crazy, but we love how it makes things cozier.  We have them on a timer, so there's no need to turn them on and off every day.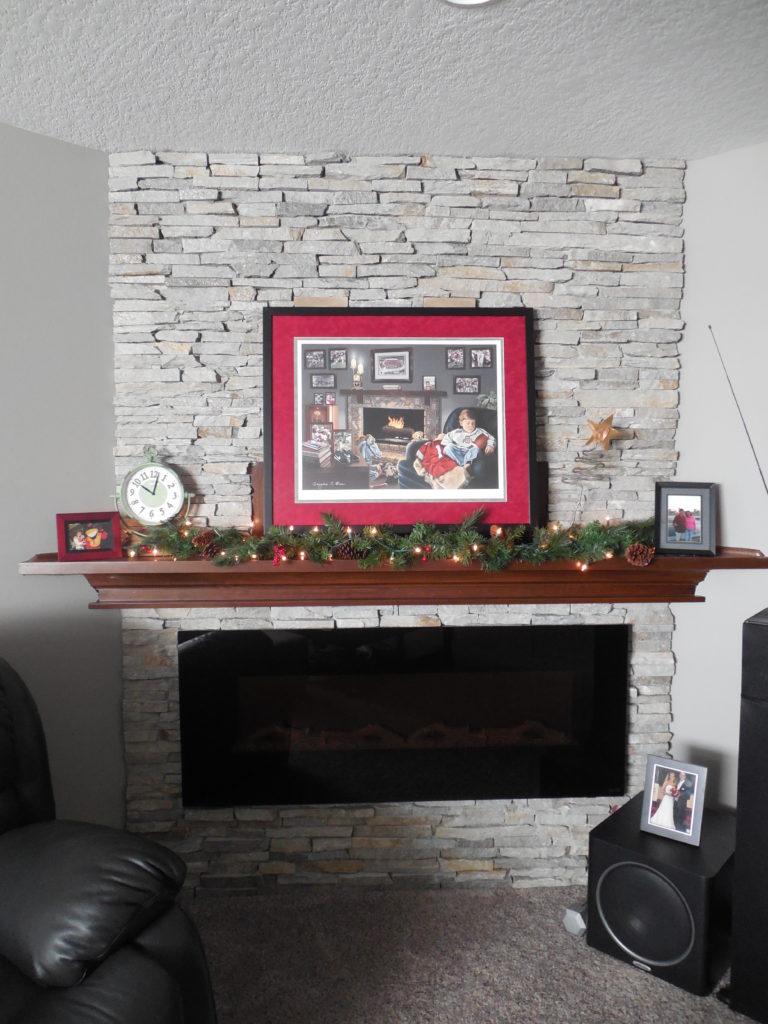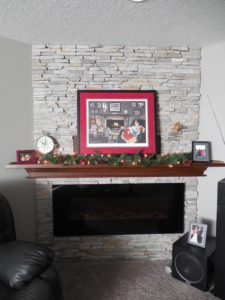 What I Love About My House – #5 – shower
I've been lucky enough to claim the master bathroom as mine.  We'll just say it's because Tim gets ready most mornings while I'm still in bed, so it's better if he uses the bathroom downstairs.  Plus, his closet is down there, so it's perfect!!  (More about the closet later.)  Honestly, it's so much better if we don't share a bathroom anyway, so what we have works perfectly.
A part of the master bath is a walk-in shower.  And it's large.  Maybe not as large as some, but large compared to what I'm used to.  It's tiled and even has a small built-in bench.  Having that bench is critical for shaving my legs!!
The only thing I don't like, is cleaning it after each shower.  It takes me longer to shower each time because I squeegie the walls, the floor, and the glass doors.  I spray Clean Shower throughout and then wipe down the glass doors.  I do this because it's so much easier to keep it clean that way.  It makes showering less enjoyable but I do like that it stays pretty clean.
This picture is also a victim of the bright sunshine.  (Maybe I should always take pictures on cloudy days?)
We have two small windows in the bathroom, one of which is in the shower.  I love the natural light and many nights, I even see moonlight.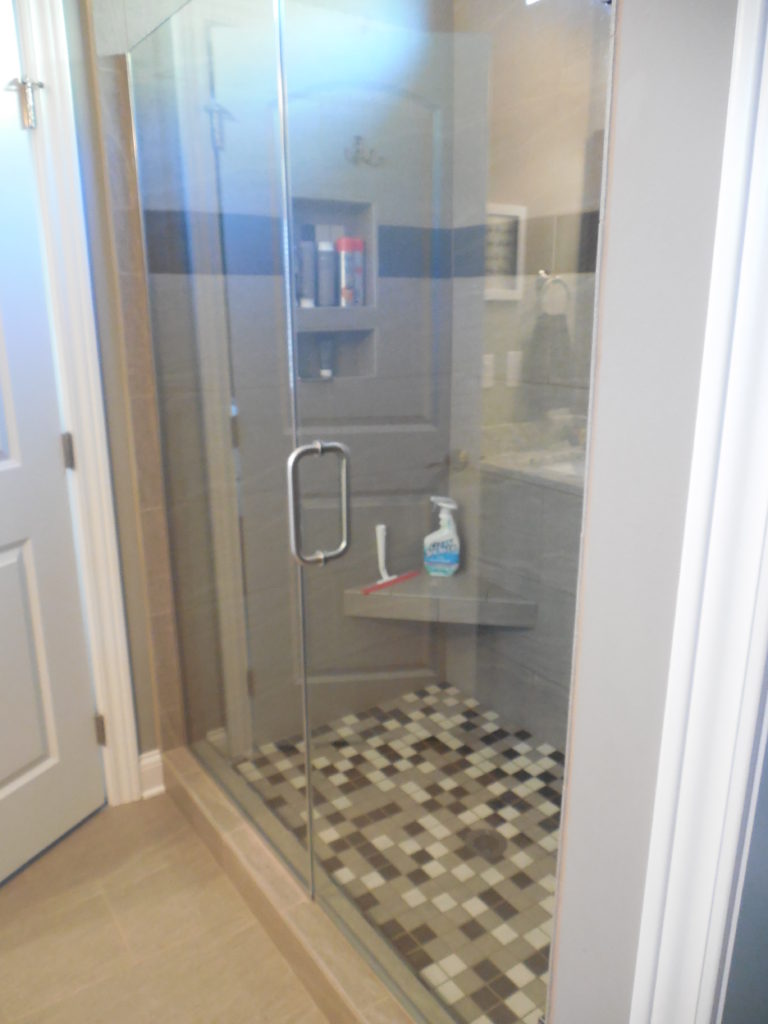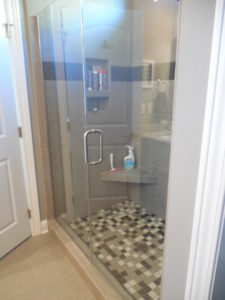 What I Love About My House – #4 – master closet
Along with claiming the master shower, I also claimed the master closet.  And this closet is more than a closet – it's a room!!  I know many of you have larger master closets, but again, this is more than what I'm used to.  I could walk into the closet in my last house, but not like this.  I can even put a relatively large chest of drawers in it.
I've pretty much filled it up so Tim uses the closet in the downstairs bedroom, which is close to his bathroom.  Now that I'm retired, I'm gradually reducing the amount of clothes I have, so who knows.  Maybe someday Tim and I can share it!!
Another thing I love is that it's accessible from the bathroom and the laundry room/drop zone.  I really like that I don't have to go through the bedroom to get to it, especially if Tim goes to bed before me.  I can get ready for bed without having to disturb him.
While I wish I had a bigger laundry room, I love its location.  I can sort laundry into piles in my closet and easily grab them for loading into the washer. I can also be in the kitchen or my sewing/office room and still hear when the washer and dryer are finished.
The negative – because the laundry room is small, I either use one of our bathrooms or a drying rack in the closet for things that can't go in the dryer.  I wish we could figure out how to make that work in the laundry room, but I guess if that's all I have to complain about, I'm doing OK!!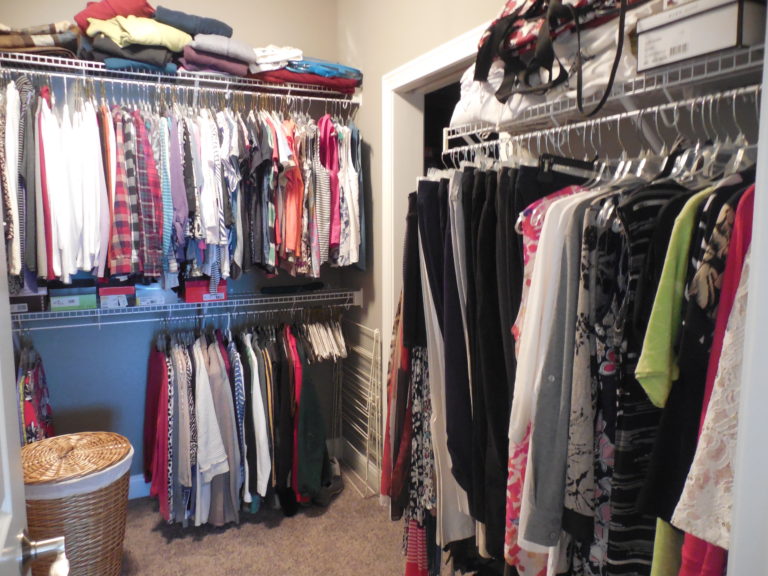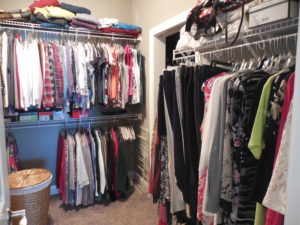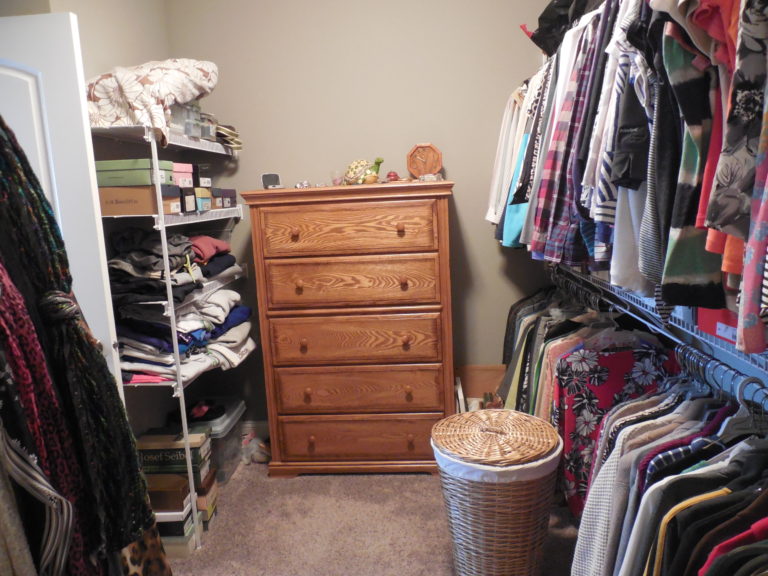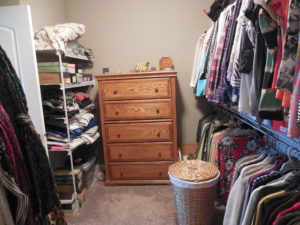 What I Love About My House – #3 – kitchen
My kitchen is nice and big and part of our upstairs living space.  I guess you'd describe it as "open concept".
Don't you get sick of hearing that on all the HGTV shows?  I am so tired of everyone saying they want open concept, granite countertops, stainless steel appliances and no carpet.  Tim and I may be the only ones in the world who prefer carpet over hardwood floors.  But our whole upstairs, except for the bedrooms and closet are hardwood.
The floor is beautiful, except when you scratch it with a chair or nick it when you drop something.  And ours is dark, which doesn't work that great with two white cats!!!
Sorry for the digression.  I just had to get that off my chest.
Back to the kitchen.  One thing I especially love is our large island.  I use it for all my dinner prep work and for mixing up cookies, etc.  We have to watch ourselves and make sure it doesn't become a place to dump stuff!!
The island is great for company.  It's perfect for a buffet style meal or for setting out drinks and appetizers.  I even use one of the stools and sit there with my iPad while I'm making dinner.
I also like that our kitchen has space.  There's tons of room between the island and the fridge, the stove, and the cabinets.  It never feels cramped.
And I LOVE the pantry.  It's handy and holds so much.  We have it full most of the time!!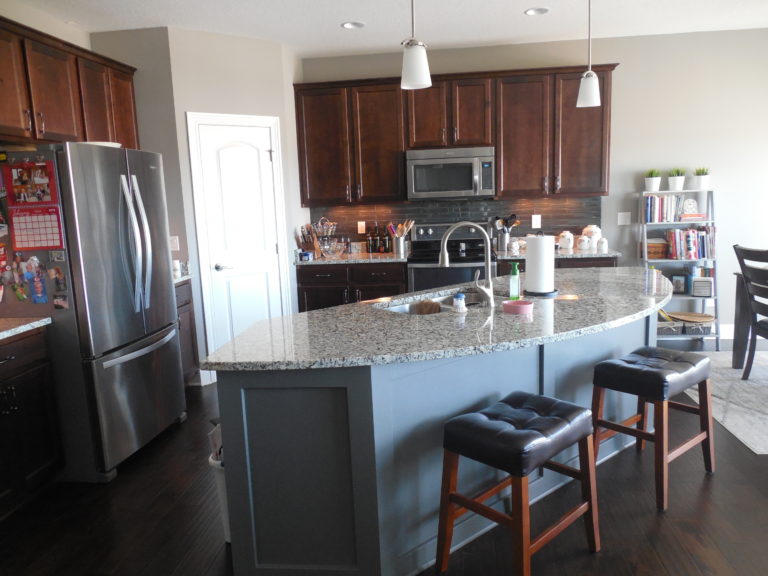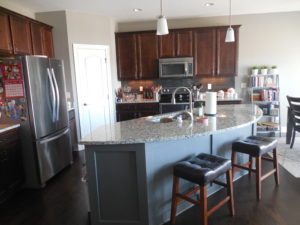 What I Love About My House – #2 – deck
I love being outside in the summer, especially with a good book.  When we were buying the house, it had a puny little 10×10 deck and we knew we'd regret it if we didn't ask to have it bigger.  So, not only did we double it in size, we added a roof over half of it.  It's my favorite place to be!!
We found a great table and chairs for the half under the roof, and use the rest for potted flowers.  During the summer, most of the day it's shady under the roof, so I can spend hours out there if I want to.
When we bought the house, there was nothing behind us, but we knew there would be a road.  The road went in a year after we moved in, and most would probably think it would be a bad thing.  But you know, I don't mind it at all.  In fact, it's kind of nice to sit on the deck and watch cars go by.  There's a lot of activity behind us, as they keep building more houses.  And we have a great open view of the sky.  I love watching the clouds, especially when a storm is moving in.
We also have great sidewalks, so we have runners, walkers, dog walkers going by all day.  We're set back from the road, so it's not annoying.  And we've planted trees that should provide shade and privacy in the long term.
I mentioned in a previous post that we put in new landscaping last year.  That's enhanced the look of our deck, especially from the street.  We also love watching the flowering bushes grow all around it.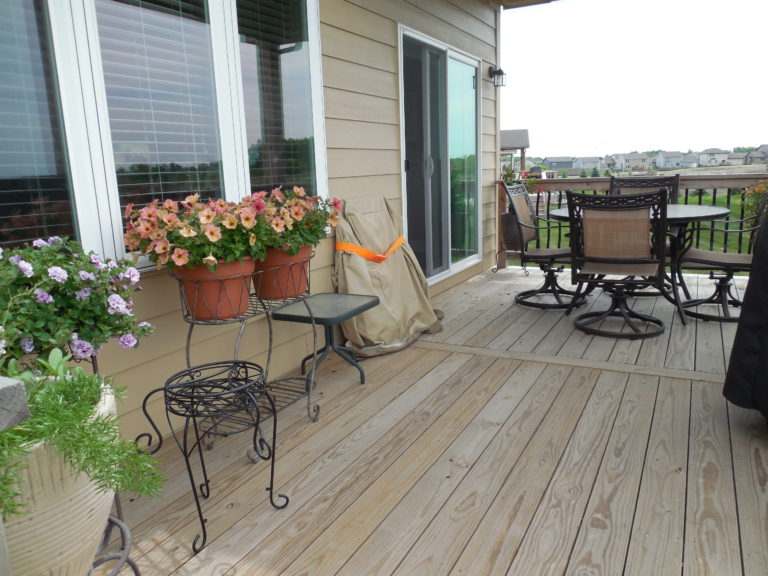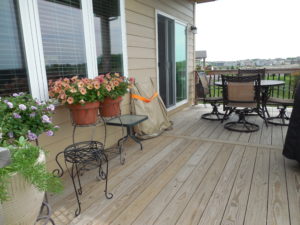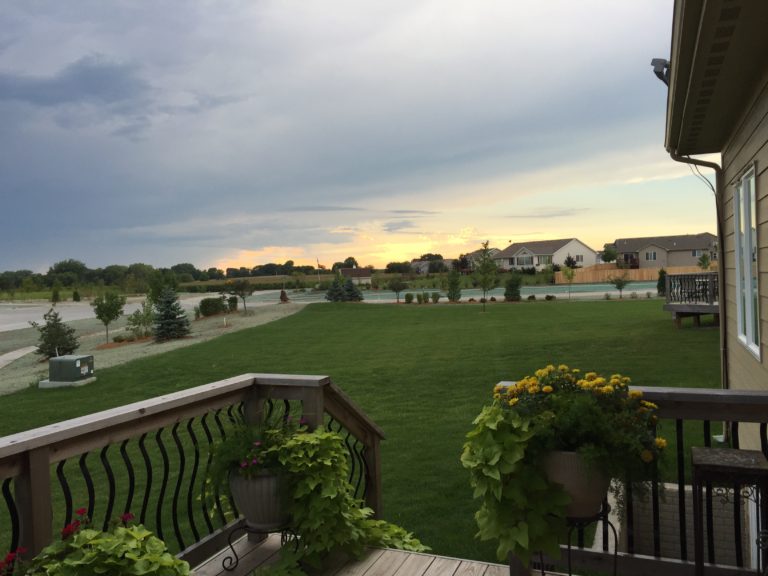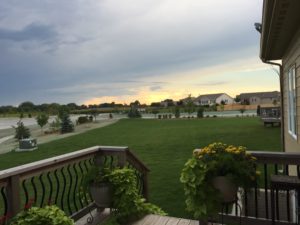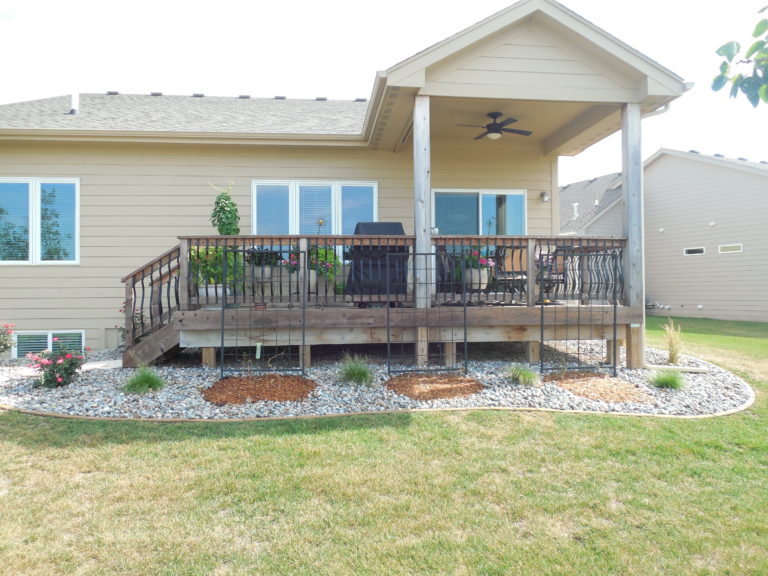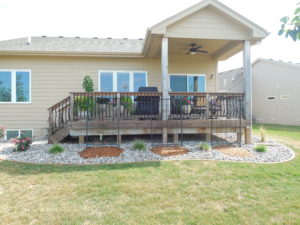 What I Love About My House – #1 – my room
When Tim and I moved in together, I told him I had to have space for "my stuff".  I needed it for sewing, other craft projects, and an office.  In my last house, I used two rooms for all of this!!
It's actually worked out nice to have my office combined with my sewing/crafting, as I use my laptop a lot for downloading and printing patterns, as well as making cards.  There's a lot of cute free clipart out there, which comes in handy when you're making cards for grandkids!!  And there are so many fonts these days, which can add a unique touch to cards and other things I make.
My room is the spare bedroom upstairs.  It's handy to work in here while I do laundry and I have a nice window looking out the front of the house.  I can fit most of what I need in here, but it's a little tight when I have my sewing machine, ironing board, and craft table all out.  I can't get into the drawers of the chest when my sewing machine cabinet is open all the way.
I still have a lot of things in bins stored downstairs, but I have what I use frequently up here.  In a future post, I'll show you my closet organization.  Tim helped me put together something I love because it's made getting to the things I need so much easier.
Most of the time, when Tim gets home from work, I'm either in here or sitting in my favorite reading chair.  Since I started this blog, I've been spending a LOT more time on my laptop!!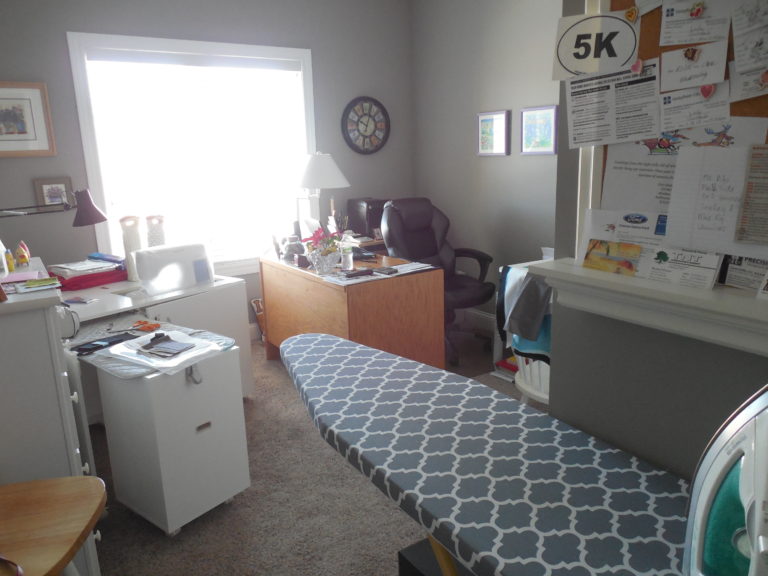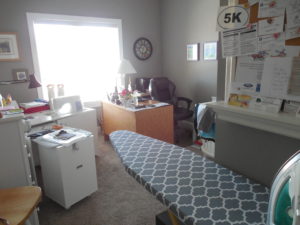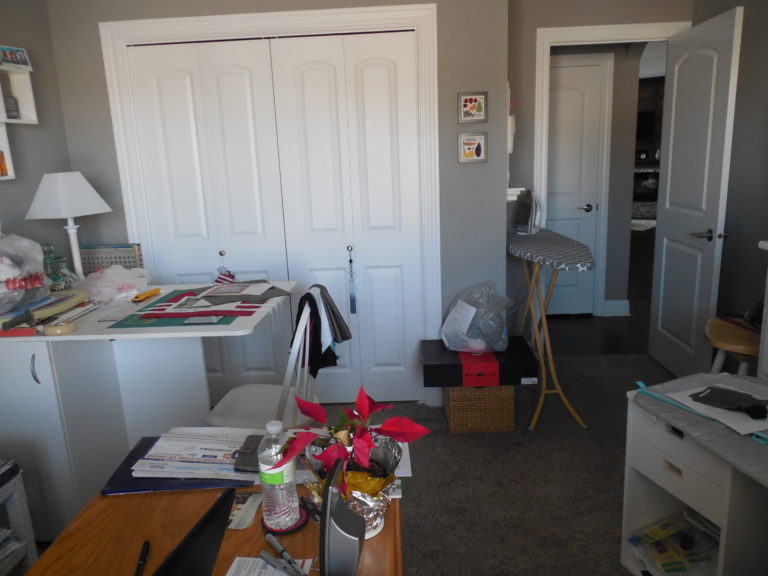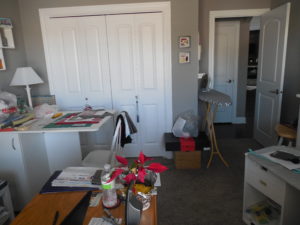 Well, those are the things I love about my house, and a few things I wish were different.  All in all, I love living here.  We have a great neighborhood for walking, great neighbors, and easy access to church, HyVee, Jordan Creek Mall, and many restaurants.  Our house may not be large, but it's perfect for us!!
Hey, I'm thinking about posting a recipe later in the week.  Let me know whether you'd like to see Penne and Chicken with Spiced Tomato Sauce or Chicken Pot Pie.  I guarantee you'll love both of them!!
I'd love to hear from you.