If you watch any HGTV at all, you know that open floor plans are what everyone wants. Walls are constantly being torn down to turn old kitchens into an extension of the living area. But is this style on the way out?
The appeal
I understand the appeal of an open floor plan. I have one myself. And I'm sure it appeals to me for many of the same reasons it appeals to others. (While not focused on the open floor plan, you might enjoy a post from last year "8 Things I Love About My House".)
I love how on the HGTV shows (do you think they tell them what to say?) the women are always concerned about being able to watch their kids while they work in the kitchen.
Does that mean our own mothers didn't care about that? How did I manage to grow up fine without being in my mother's sight 100% of the time? And are they really spending that much time in the kitchen?
The other most popular reason for wanting this type of floor plan is for "entertaining friends and family". These people must do a lot more entertaining than we do. Sure, we have family over a few times a year and I host my book club twice a year. Is that worth having this type of home?
I do like the way the open floor plan provides a lot of natural light. I love big windows and this way, I can almost feel like I'm in a sunroom even when I'm in my kitchen. The back of our house, which is where our living room/kitchen/dining room area is, faces the south so we get a lot of good light.
It is nice when we have family there and I can work in the kitchen and still feel like I'm part of the group. And I love it even when it's just me as I can watch TV from the kitchen or when I sit at the dining table.
The downsides
There have to be downsides, right? Why else would I ask the question?
For me, the biggest downside is the visibility of my kitchen. While I love my big island when we do entertain, it's also where my kitchen sink is. Unless I am able to do all the dishes before company arrives, they're going to be exposed to any of my dirty dishes that don't go in the dishwasher.
I hosted my book club last night. After everyone left, I loaded everything in the dishwasher that would fit and here's what was left. Not very appealing if anyone should drop by.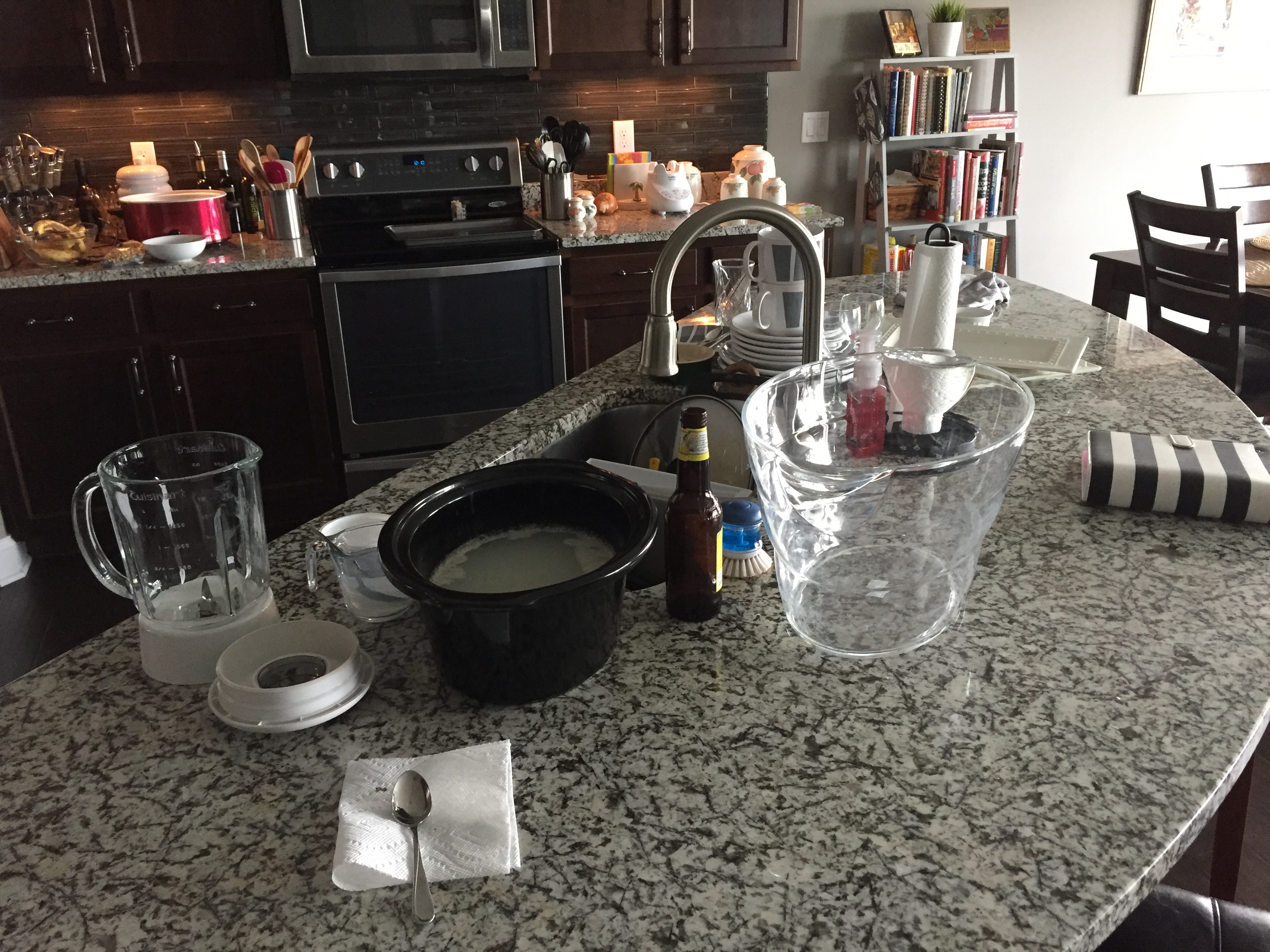 It's also easy for that same large island to become a dumping ground. I'm as guilty as anyone of leaving things on it – unopened mail, my planner, keys, miscellaneous papers, etc. It ends up being a limbo location for anything I don't know what to do with. I try to keep it uncluttered, but it always comes back. Maybe this isn't unique to an open floor plan?
For us, we also have the issue with flooring. I know I'm the exception here, but we like carpet in our living area. With the open floor plan and no real differentiation between the living room and kitchen, it's impossible to have different flooring. Maybe not impossible, but it wouldn't look right if we tried it. So we have hardwood floors on the entire upper level, except the bedrooms and bathrooms (where there's tile).
Not only do we have an open floor plan upstairs, but the stairs going down are wide open. This makes it impossible to shut off our finished basement area. It's beautiful and I love the look of it. However, it makes it difficult at times for one of us to be upstairs and the other down if we're both trying to watch TV or listen to music.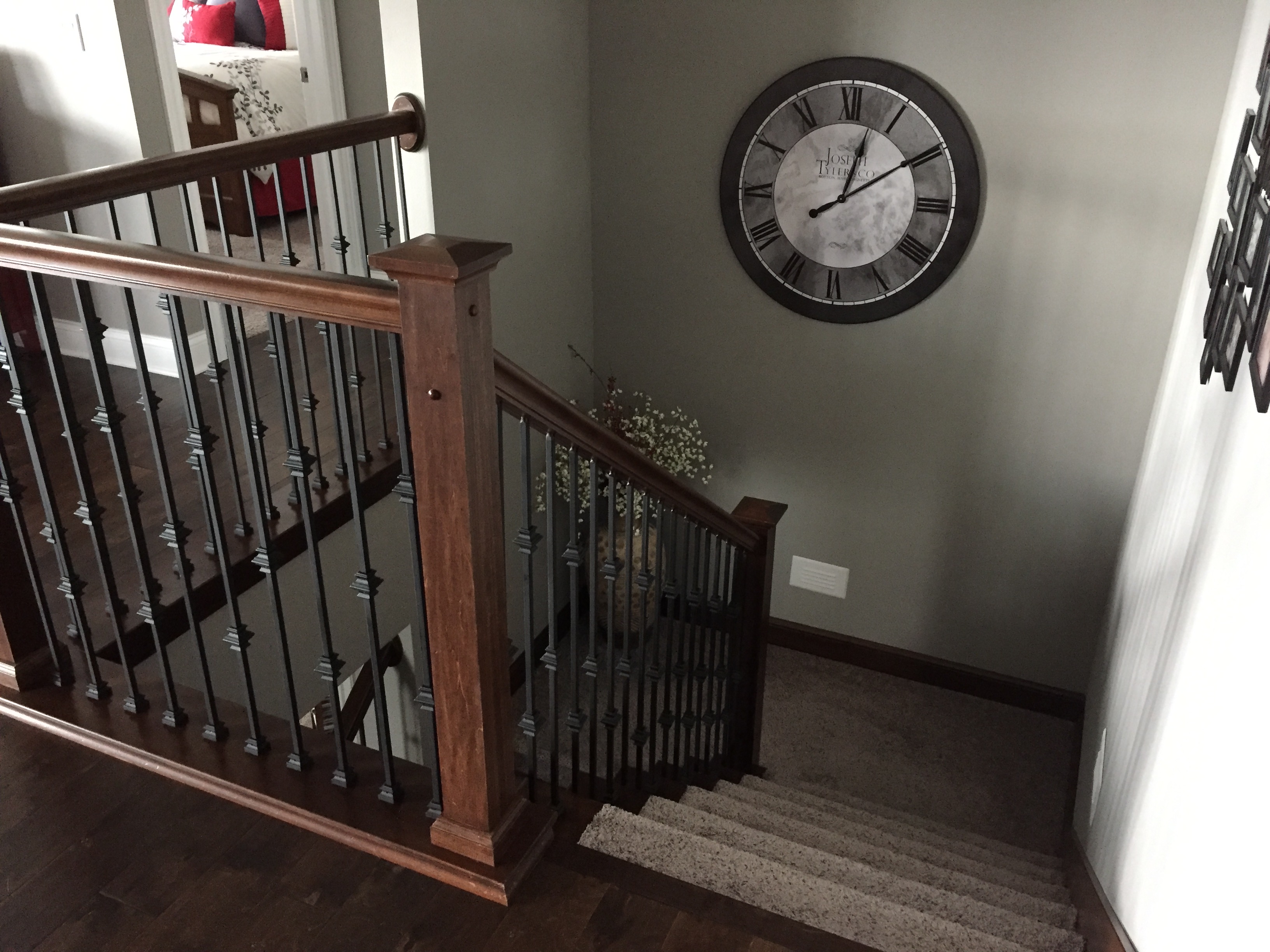 There's also not as much wall space when your living area is one big room. This can make it challenging to arrange furniture. It can also mean less storage in the kitchen area. For me, it means fewer options for hanging artwork.
What's the answer?
If you read about open floor plans, the consensus is they aren't going away, despite the drawbacks. I even learned that some houses are now being built with a second kitchen, a "mess kitchen", the one where all the dirty work is done. Doesn't that say something? Some view it as a transition back to closed off rooms.
Some attribute the popularity of "man caves" and "she sheds" to the fact open floor plans provide no privacy. Everyone needs their own space from time to time, which is especially important when there are several people living there.
I don't know. I don't see open floor plans going away anytime soon. I would hate to give up mine. Until the popular HGTV shows start promoting more closed options, I don't see it happening.
What do you think?