I bet you've heard a lot about sheet pan dinners lately. I feel like I see them everywhere – Food Network, Facebook, Pinterest. There's a reason they're so popular. Let me tell you about my version.
Sheet pan dinner motivation
I wrote a while ago about having no discipline when it comes to food. While we were on vacation, it became apparent, even to Tim, that we both needed to pay more attention to what we were eating. When a pair of Tim's shorts were tight, that's when we got serious. By the way – my shorts fit fine. 😉
As soon as we returned home, we laid out a loose plan – eat better dinners (plain food, no sauces, etc.) and stop snacking on bad things. This sheet pan dinner is a result of that.
Simple, healthy, and tasty
It is so easy and as the name implies, you only use one pan, which also means only one pan to wash afterwards. Love it!!
The real plus, though, is how good the food comes out. I've never been a sweet potato eater, but Tim says they are much better for us than white potatoes. I ate a couple of his sweet potato fries when we were in Florida and decided I might be able to give them a try.
I think I've become a sweet potato lover!! I never realized how much they live up to their name; they're so sweet. So far, I've only had them roasted or fried, so I'm not sure if I'd still like them cooked in other ways but I'll give them a try.
This is also a great time to find halibut, which we love. It's kind of pricey but worth it. That forces us to eat proper portions, I guess. Other kinds of fish would work as well. I know salmon would be great cooked this way.
I checked out several other recipes for each of these items (sweet potatoes, asparagus, halibut) and decided I could figure out how to make them my own way. Voila!! The birth of a new recipe. Well, probably not, because it's very basic and I'm sure it's something you could find elsewhere.
Make your own version
I've made this three times in the last two weeks, so that tells you how much we like it. And I like that it's so easy.
The third time, I made a spice substitution. Instead of using the Ammazza Suocera on the potatoes and asparagus, I used another blend from All Spice called No Salt Seasoning. Still good but lacking that spicy punch.
The second time I used broccoli in addition to the asparagus. We liked that too. Play around with various types of veggies, fish and even white potatoes. (I already know I'd love those.)
Just remember – the first time you make a different combination, you'll want to watch the time. Not everything cooks at the same pace, so timing is everything with this. Don't let that scare you from being creative!!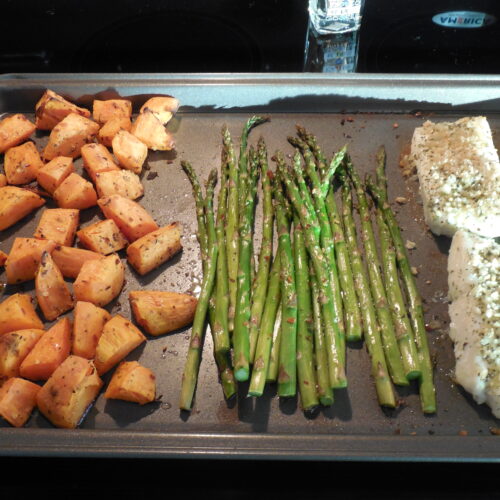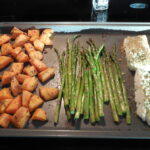 Sheet Pan Dinner
There's nothing easier than creating your whole meal on one sheet pan. And it's healthy too!!
Ingredients
2

medium

sweet potatoes

1/2

bunch

asparagus

2

6 oz. pieces

halibut

olive oil

spices

(see below for what I used)

panko bread crumbs

(Italian seasoned)
Instructions
Peel and cut the sweet potatoes into 1-inch chunks and put them in a bowl.

Pour olive oil over the potato chunks. Add seasoning to taste. For seasoning, I used Ammazza Suocera which is a blend of coarse sea salt, granulated garlic, cayenne crushed extra hot, parsley, basil, Mediterranean oregano, and marjoram. You can use whatever you like, but this adds a little punch. Just be careful; a little goes a long way.

Add the potato chunks to the sheet pan, covering about 1/3 of it.

Bake for 20 minutes and remove the pan from the oven. (The potatoes won't be done yet.) You might want to turn the potato chunks at this point, but it's not necessary.

Add asparagus to 1/3 of the pan, drizzle it with olive oil and use the same Ammazza Suocera spice blend. Again, use sparingly if you don't want it too spicy hot.

Drizzle the remainder of the sheet pan with olive oil and lay the fish down on it. Drizzle the top of the fish with olive oil and season with Italian Herbs for Fish (or whatever spice or blends you prefer) and the panko bread crumbs.

Bake another 15 minutes until the fish is flaky and the sweet potatoes are crispy on the outside and soft inside.
Recipe Notes
Feel free to substitute other types of fish and/or vegetables, as well as use your own spices.  You may have to adjust baking times depending on the types of fish or vegetables you choose.
The spices in this recipe are from AllSpice Culinarium and can be ordered online in various quantities or picked up at their store in Des Moines' East Village.
www.retiredintrovert.com