A week after Brutus died I finally took the afghan off the couch and picked up the mat we used under his food and water bowls. As I was doing so, I wondered to myself "am I too sentimental?". Because while I did pick them up, I haven't thrown them away. Moving them was only step one in my grieving process.
Then the bigger question came to mind, as it goes beyond this one experience. Are there other ways in which I'm sentimental, maybe more than I should be? What about you?
Sentimental is defined as "of or prompted by feelings of tenderness, sadness, or nostalgia." I can feel nostalgic when I hear certain music or around certain smells. Does that make me sentimental? I know it typically makes me smile because it conjures up good memories.
I'm feeling a little sentimental this week, as the W&S Open (tennis) tournament is taking place. Before and including 2015, a friend and I went to this tournament almost every year. It was a great way to see the pros up close because of the smaller environment. Watching on TV is OK, but it's not the same as being there. It doesn't help that Facebook is reminding me every day with pictures from the past.
Things vs. memories
I do consider myself sentimental but not obsessive about it. My house isn't overflowing with objects that remind me of certain things in my life. However, I do have a few of those things. Who doesn't?
We're told not to keep things in order to remember a loved one. Take a picture of whatever it is and then throw it away. I guess it takes up less space that way, but I think I'd rather have nothing than a picture.
I like to think I keep things that belonged to family members that still have a purpose, even if it's only as a decorative object. That way I either see it or use it frequently. I don't want something that I'll only hide away in a box.
I do keep things from my past. I have a couple of tubs in the basement that store these things. I don't think that sounds like a lot, do you? I also have pictures, probably even some that no longer have meaning but I can't throw them away. It just doesn't seem right to throw away wedding pictures, even though the marriage ended 35 years ago.
Several years ago, I finally threw away boxes of bowling trophies I'd accumulated in my youth. I never thought I'd do that, but I was tired of moving them around (in boxes) and decided "what's the point?". It will be enough to look at my scrapbook from that time and remember my bowling days.
What's OK?
Obviously, everyone has to do what works for them. I know some would say it's ridiculous for us to keep Mickey's and Brutus's ashes. But I love seeing them on the fireplace mantle, knowing they're still with us in a way. I'm sure no one will care about them when we're gone, and we've talked about burying them with us when we die.
When Tim and I moved in together, we both had to do some soul searching when deciding what we could keep. It was hard trying to choose which items "made the cut" for each of us. I had accumulated several art pieces that meant something to me because they were a part of creating the home I loved. But they simply didn't go with the decor of our new home.
After four years, I'm reaching the point where I'm ready to donate them so we can get them out from under our bed. I've enjoyed collecting new pieces that are right for us now. It just takes a little time to finally "let go" and embrace the new.
About six weeks before Brutus died, I bought this cute plaque. I don't have the heart to take it down yet, but I know eventually it will be gone. Again, I have to let the grieving process take its course.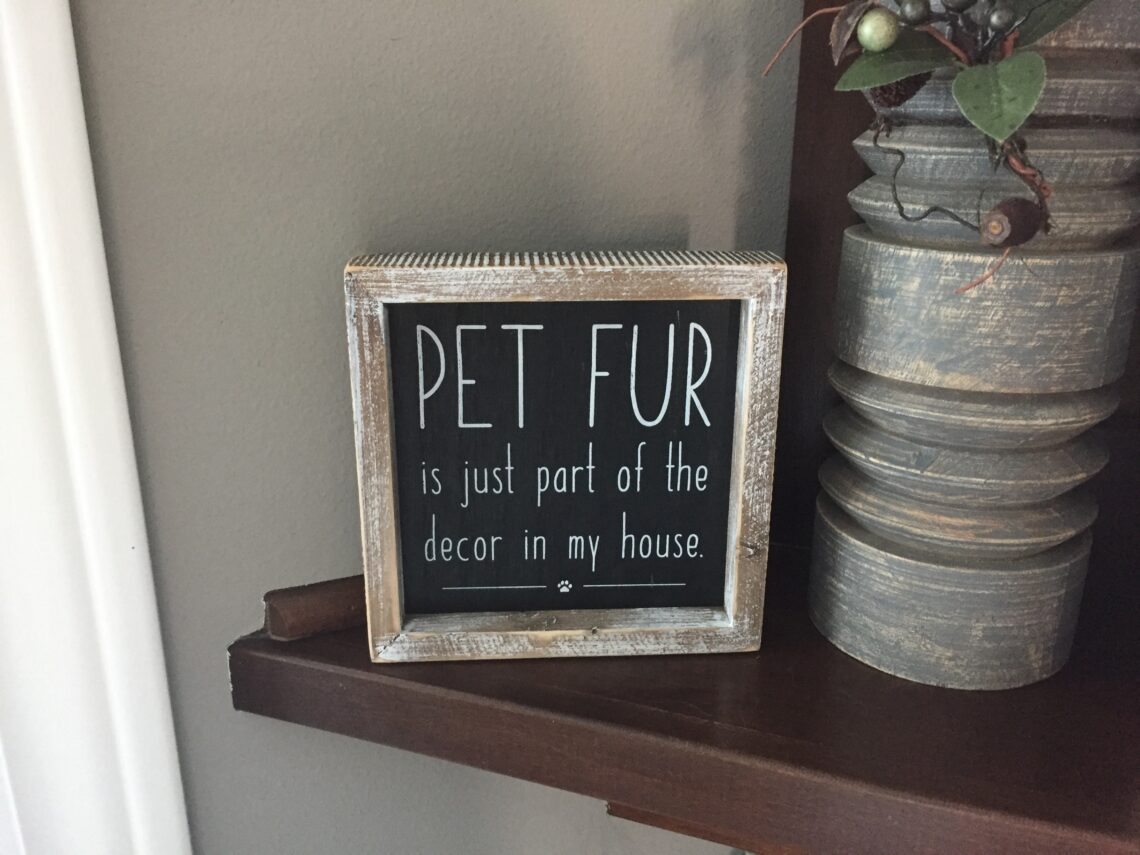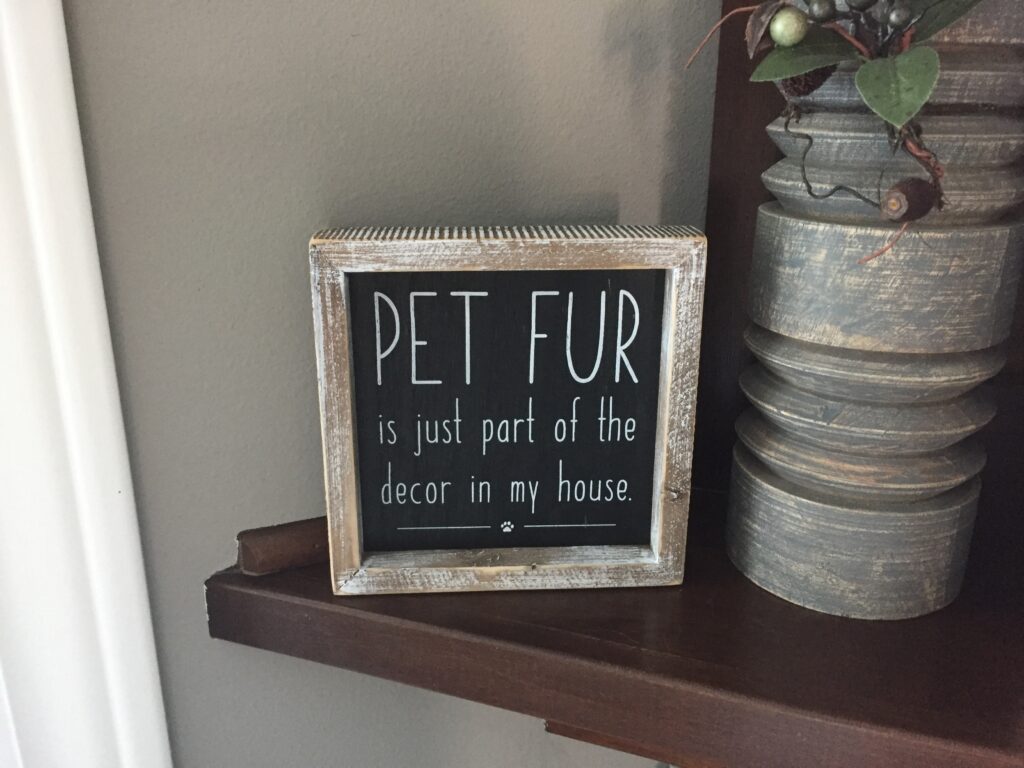 Will anyone care about my things?
Much like with Mickey's and Brutus's ashes, I'm pretty sure no one will care about my things. That may sound sad, but it's realistic. I treasure the things I have but they'll have no meaning to anyone else. My treasures will become someone else's junk. Maybe that's a good reminder not to keep too much?
As opposed to keeping things, my mom and dad are going through a "get rid of it" stage in their lives. My dad recently sold all of his guns, which were his pride and joy. It's made him sad even though he knows he won't use them again. He's given away what he could but he's realistic enough to know that no one else will love them as he has.
Every once in a while, we tackle one of those boxes downstairs. Baby steps.