Today is National Cupcake Day so of course I had to share a favorite cupcake recipe with you. I wouldn't call carrot cake a holiday treat, but it does seem to be a fall favorite. Isn't it funny how we only make some things certain times of the year?
Anyway, I served this to my book club in September when I hosted our meeting. Everybody loved them so I figured they were worth a share.
I have other good recipes for carrot cake (one I've had for years thanks to my friend Mary), so this may or may not be the best one ever. But these cupcakes are pretty darn good!!
They may not fit into your holiday baking plans, so save them for another occasion. They'd be great for Easter too.
One note: I typically buy shredded carrots and then run them through my mini food processor. It's so much faster than grating carrots. I also like the consistency of the carrots better, as this way you don't get big chunks of carrot in the cupcakes.
Shredded carrots – before

Shredded carrots – after
Another note: The original recipe indicated it made 20 cupcakes, not 24. For my book club, I didn't need 20 cupcakes, so I halved the recipe and made 10. However, the cups were really too full, making the cupcakes too high for my taste. That's why I've changed the recipe to indicate 24 cupcakes. You can mess around with it and see what works for you.
10 cupcakes – prior to baking

10 cupcakes – after baking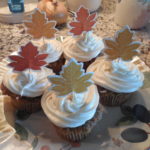 Carrot Cake Cupcakes
Who would think carrots could be in something sweet? Well, they definitely make these cupcakes good. And don't forget the cream cheese frosting.
Ingredients
Cupcakes
4

large

eggs

2

c.

sugar

1

c.

vegetable oil

(I typically use canola oil)

2

c.

all purpose flour

1

t.

baking powder

1

t.

baking soda

2

t.

ground cinnamon

1

t.

allspice

1/2

t.

salt

3

c.

lightly packed grated carrots
Cream Cheese Frosting
2

8 oz.

cream cheese

(at room temp)

1

c.

unsalted butter

(at room temp)

1

T.

vanilla extract

4

c.

powdered sugar
Instructions
Cupcakes
Preheat the oven to 325F. Line a muffin tin with cupcake wrappers.

In a large bowl, beat together the eggs, sugar and oil.

In a medium bowl, whisk together the flour, baking soda, baking powder, cinnamon, allspice and salt.

Gradually add the flour mixture to the egg mixture, beating just until combined.

Fill the cupcake wrappers 2/3 full with the batter.

Bake for 20-25 minutes or until a toothpick inserted comes out clean.

Remove the cupcakes from the oven and transfer them to a rack to cool completely.
Cream Cheese Frosting
In a large bowl, beat the cream cheese until smooth, then add the butter and vanilla extract. Beat until well combined.

Add the powdered sugar and beat until smooth and creamy.

If piping the frosting, cover with plastic wrap and refrigerate until you're ready to use it. Chilling helps firm it up.
Recipe Notes
Recipe from www.justataste.com
www.retiredintrovert.com