It's hard to believe we've been here now for three weeks. Our trip is half over. I don't actually think of it as a trip. I prefer to think of it as our home away from home for six weeks.
Given that, in many ways, our days are no different from those at home. The biggest difference is the sun and warmth. And that's not insignificant!! It's amazing how much better you feel when you aren't freezing to death!! And seeing green instead of the brown we see for six months in Iowa.
I also have been feeling much better with no more spells. I'm sleeping great, which I always seem to do here.
Our "normal" days
The days I consider normal while we're here include Tim running and me going to the pool. We're on Eastern time, which means going to bed later and getting up later. Guess that makes it easier when we go home. So, our mornings start out slow. But I love that.
I've been able to go to the pool so many more days than I could last year. After three weeks, I have a pretty decent tan. I limit myself to two hours at a time so I get brown without burning. Most days, I can't handle more than that anyway. Much like last year, there are gabby people at the pool. They mostly ignore me, which is fine, but their noise makes it challenging for me to read my book!! The pool area isn't big enough for me to separate myself from the crowd.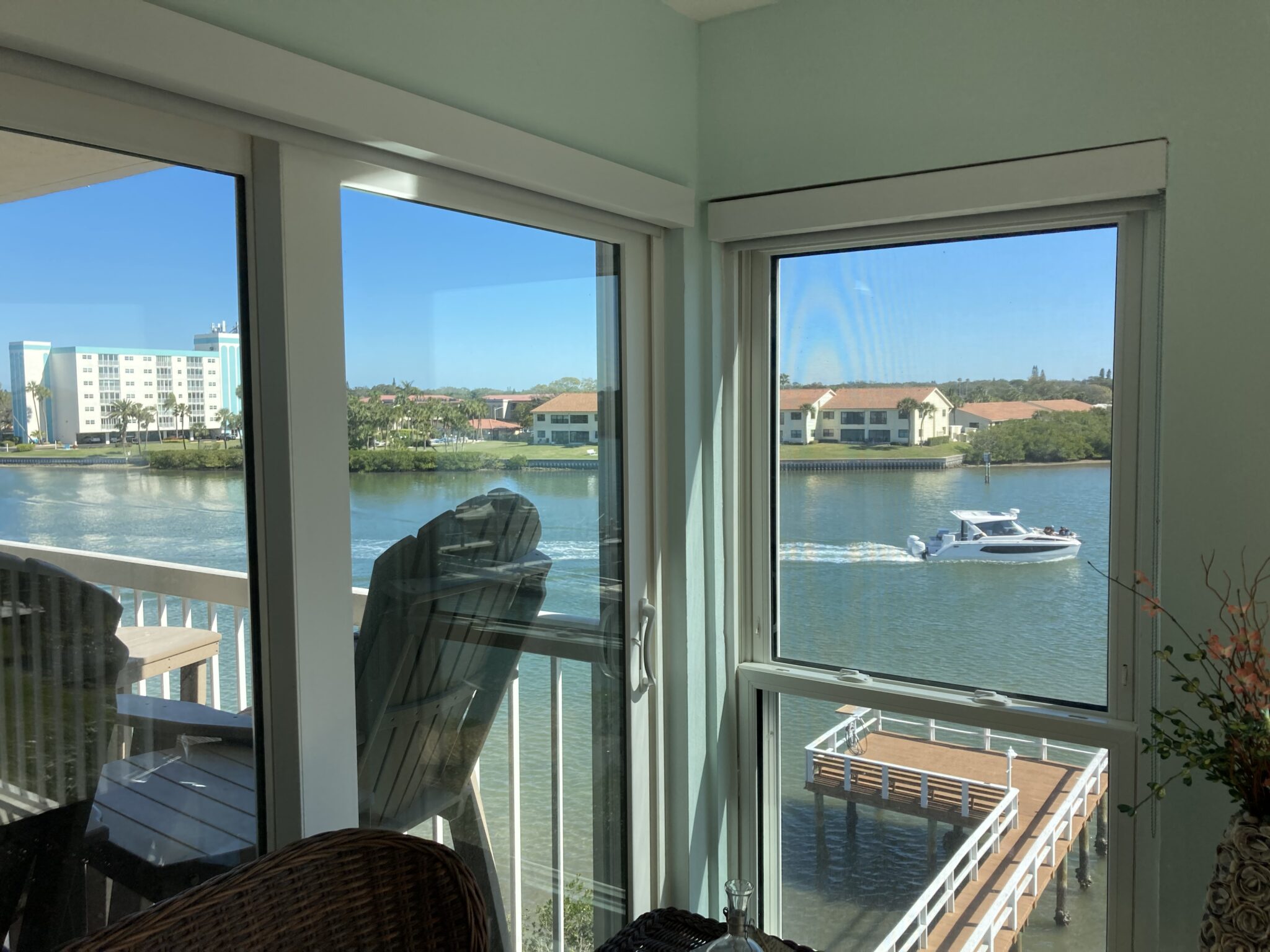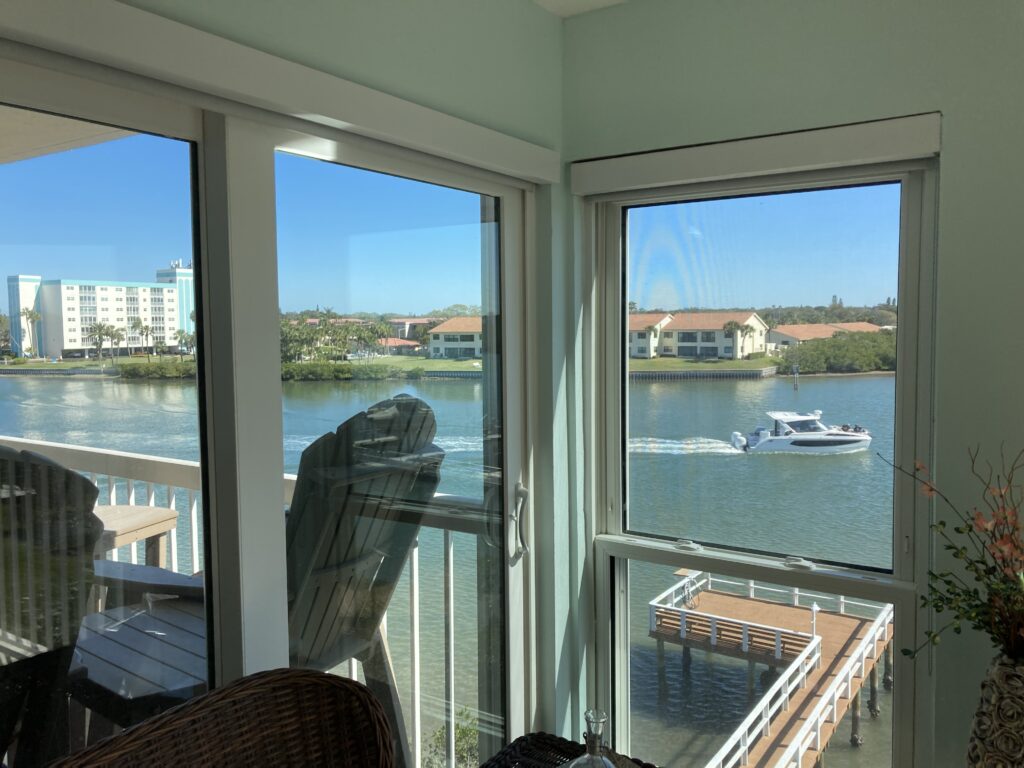 I've finished two books since we've been here. One of them I started before we left, but it was almost 900 pages, so I knew it would take me a while.
I've done something I don't normally do and that is read more than one book at a time. I prefer taking real books to the pool but I have some things to read on my iPad Kindle app. I save those for before-bed reading.
Not included in my total is a book written by a friend of mine that he asked me and others to read. It's not published yet so I didn't feel like I could include it in my count but I have finished it. I just need to provide him with my feedback.
Eating
Tim decided we were too slow last year getting to our favorite restaurants so we started out strong. We try to find new places to check out but we definitely have favorites that we like to eat at more than once. You'd think that would be easy when you're here for six weeks, but Tim's already plotting our eating plans for the last three weeks to make sure we don't miss anything.
We have also tried a few new places. Two were OK but one has become a favorite already. We have reservations for Valentine's day!! That will be our first repeat of the trip.
Last year, we discovered an Italian market and have been there twice. We've had lasagna, pizza, shepherd's pie, and stuffed shells. In the freezer are spaghetti and meatballs and manicotti. Great food and so easy to make. I know we'll be there at least once more.
Tonight for the Super Bowl, we're having chili. It's actually a little cooler today so it works perfectly.
Little trips
We're trying to fit in a few short trips. We wouldn't want to overdo it!!
In our second week, we made a trip to Disney Springs, which is part of Disney World. I can't believe how much that place has changed since I first started going to Disney World in 1996. It's added so many shopping and restaurant options that have nothing to do with Disney.
One thing we wanted to do while there was eat at Chicken Guy. It's owned by Guy Fieri and we watched a show last year on Food Network called Chance of a Lifetime in which people competed for the opportunity to run a franchise. We got there in time for lunch and didn't have any trouble getting served. We weren't sure how busy it might be. The food was good and we even talked about having dinner there that night. But we ended up leaving before dinner time.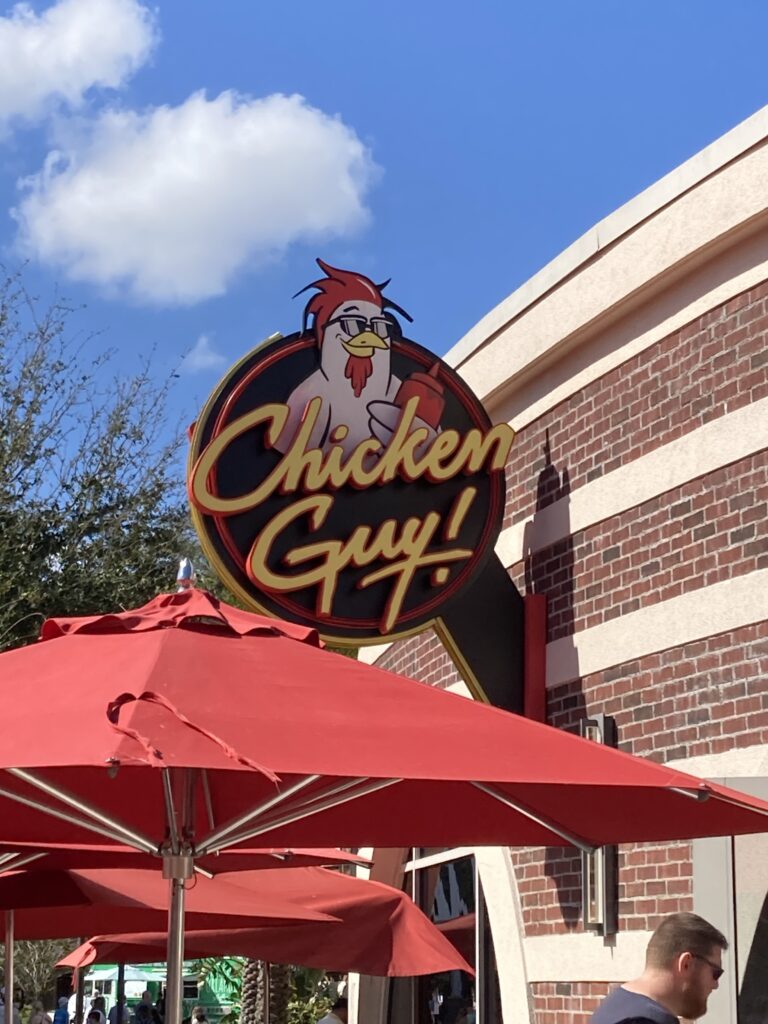 We also spent money at the Disney Days of Christmas store and I got another Disney watchband and a phone case. I can't forget having world-famous hot fudge sundaes at the Ghirardelli store. Yum!!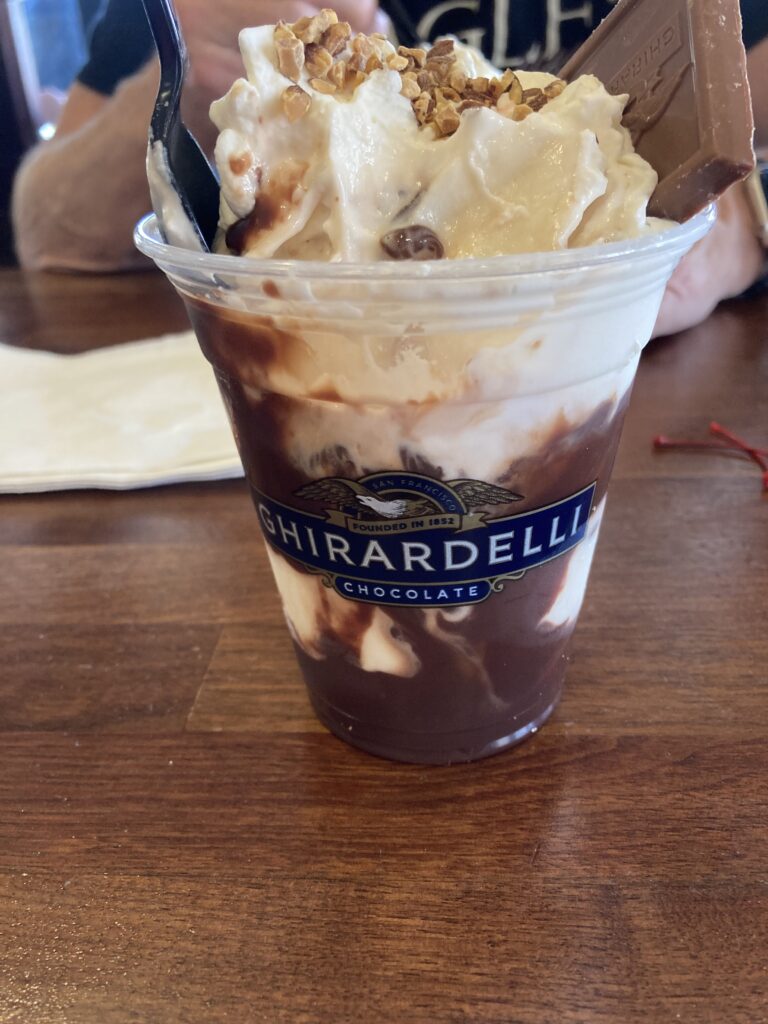 Shortly after I took the picture below, Tim left his phone on a bench. He discovered it was gone about ten minutes later while I made a bathroom stop. We retraced our steps and there was nothing when we got back to the bench. A worker was close by and he told us where to find lost and found, which was actually very close by. We headed there and I was not feeling good about it. But guess what! Someone had turned it in. Whew!! Good thing I took this picture before that happened. 🤨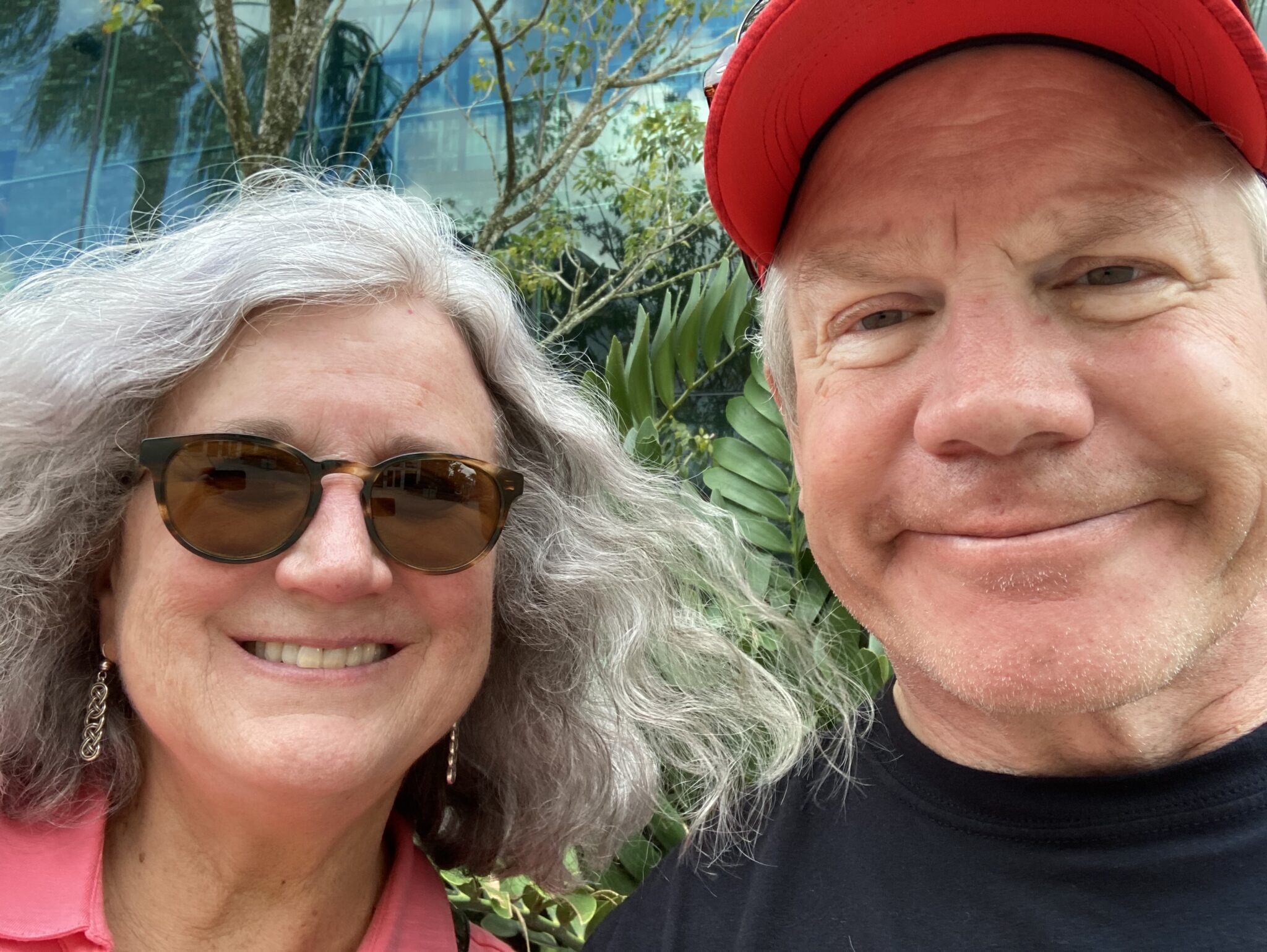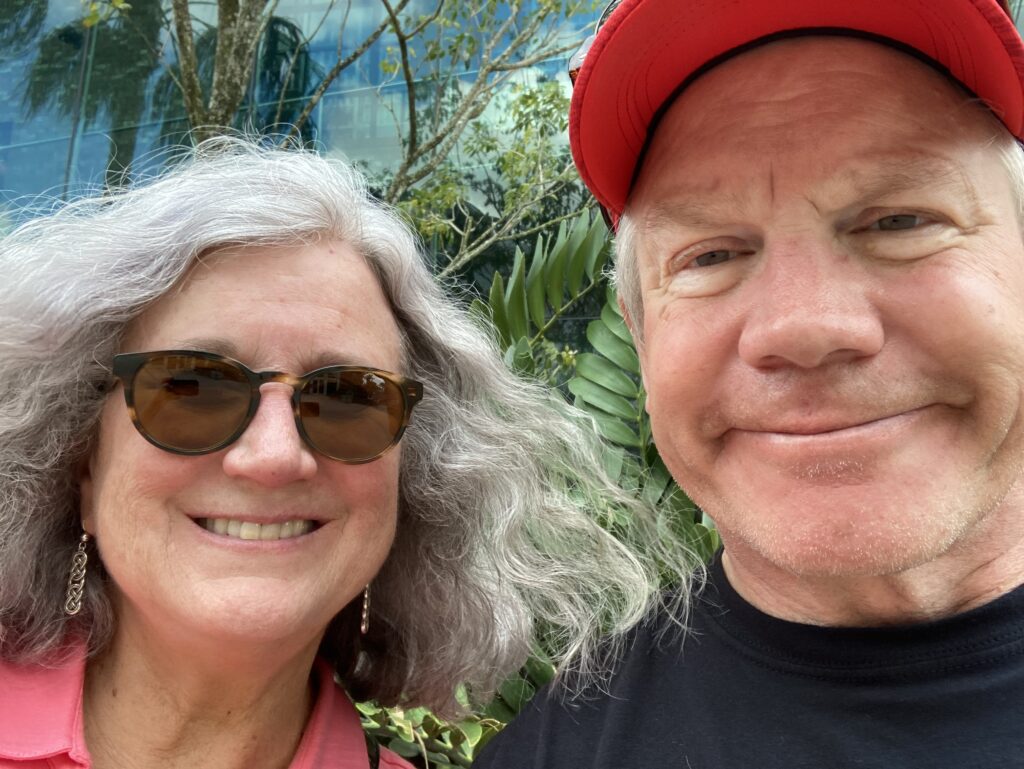 This past week, we went to the Florida Aquarium in Tampa. It's right by the Port of Tampa so we also saw a huge cruise ship. Fascinating. The aquarium was OK but not spectacular. But we enjoyed our time there.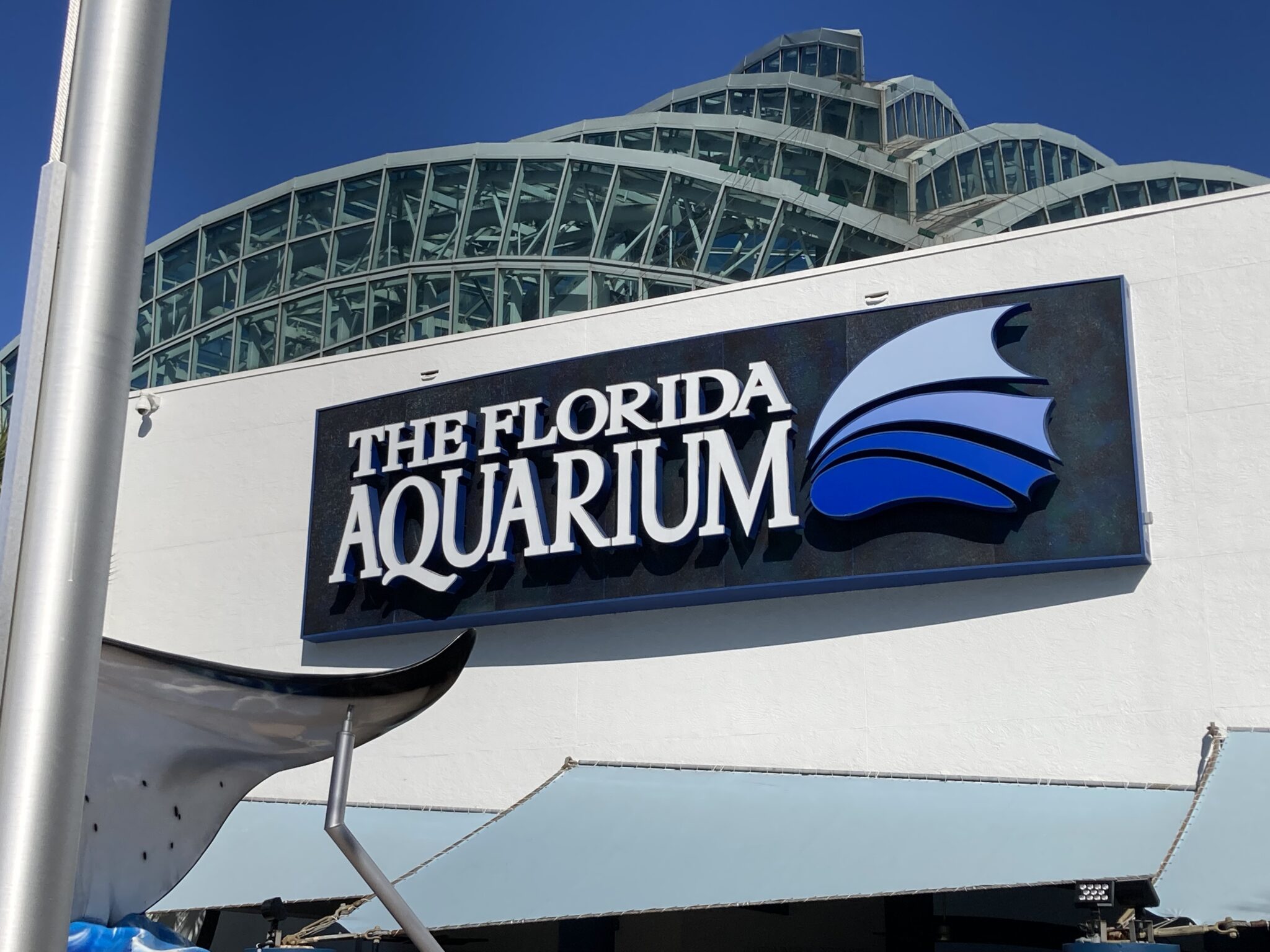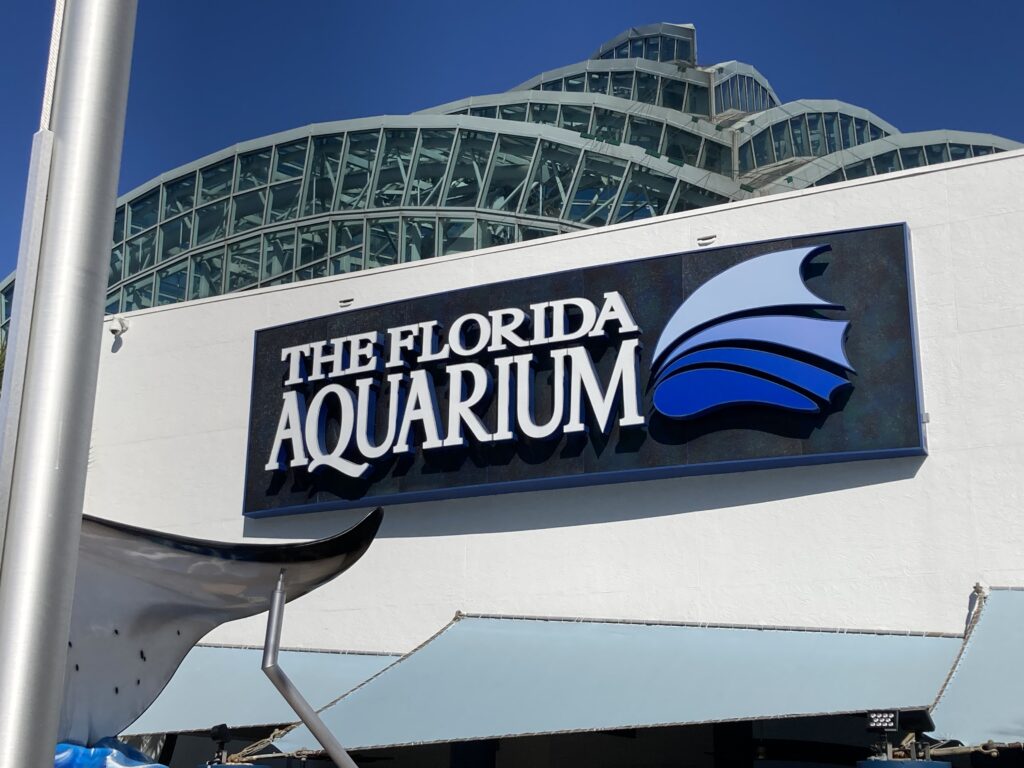 Of course, Tim had scoped out an ice cream store not far from there. If you haven't figured it out by now, we love ice cream!! It was a little tough to find but once we did, we were in for a treat. It's called the Hampton Chocolate Factory and they also sell candy. But the ice cream options are truly decadent. Only go there, however, if you're willing to spend money!!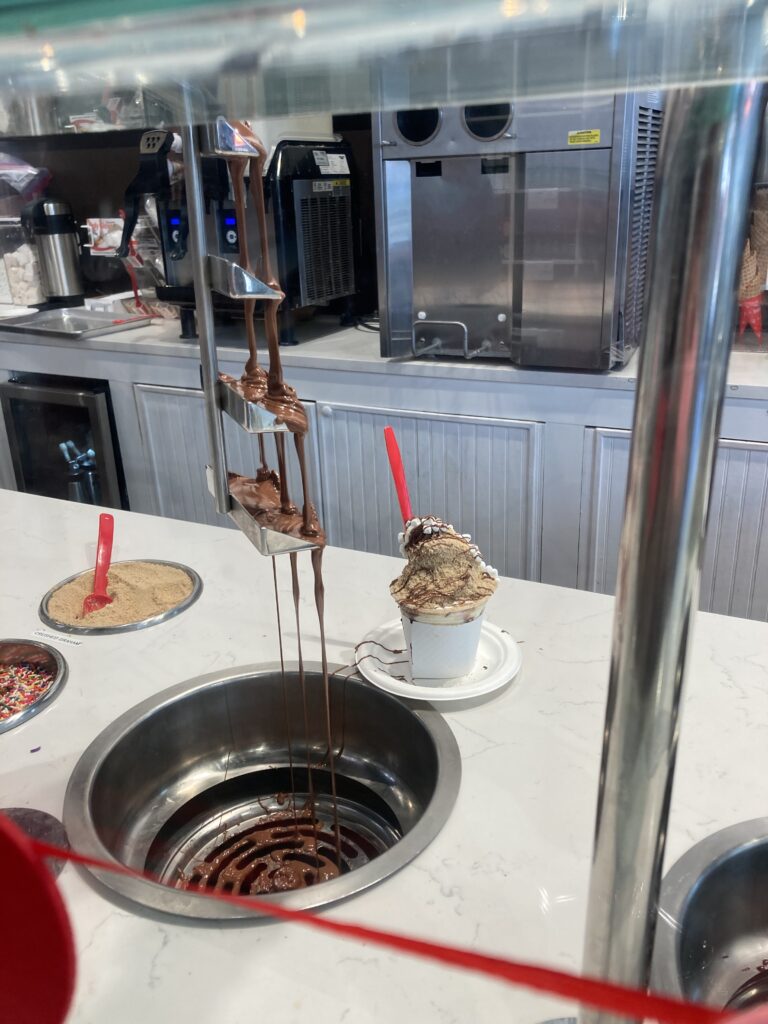 We also went to Bradenton last Sunday to have dinner with a friend of mine who moved down here last May. It was great to see her and her husband, as well as their townhome. We went to dinner at a local spot and enjoyed spending time with them. We took the scenic route to get there which always takes longer but especially on a Sunday. We also experienced our first drawbridge for the trip. A real Florida experience!!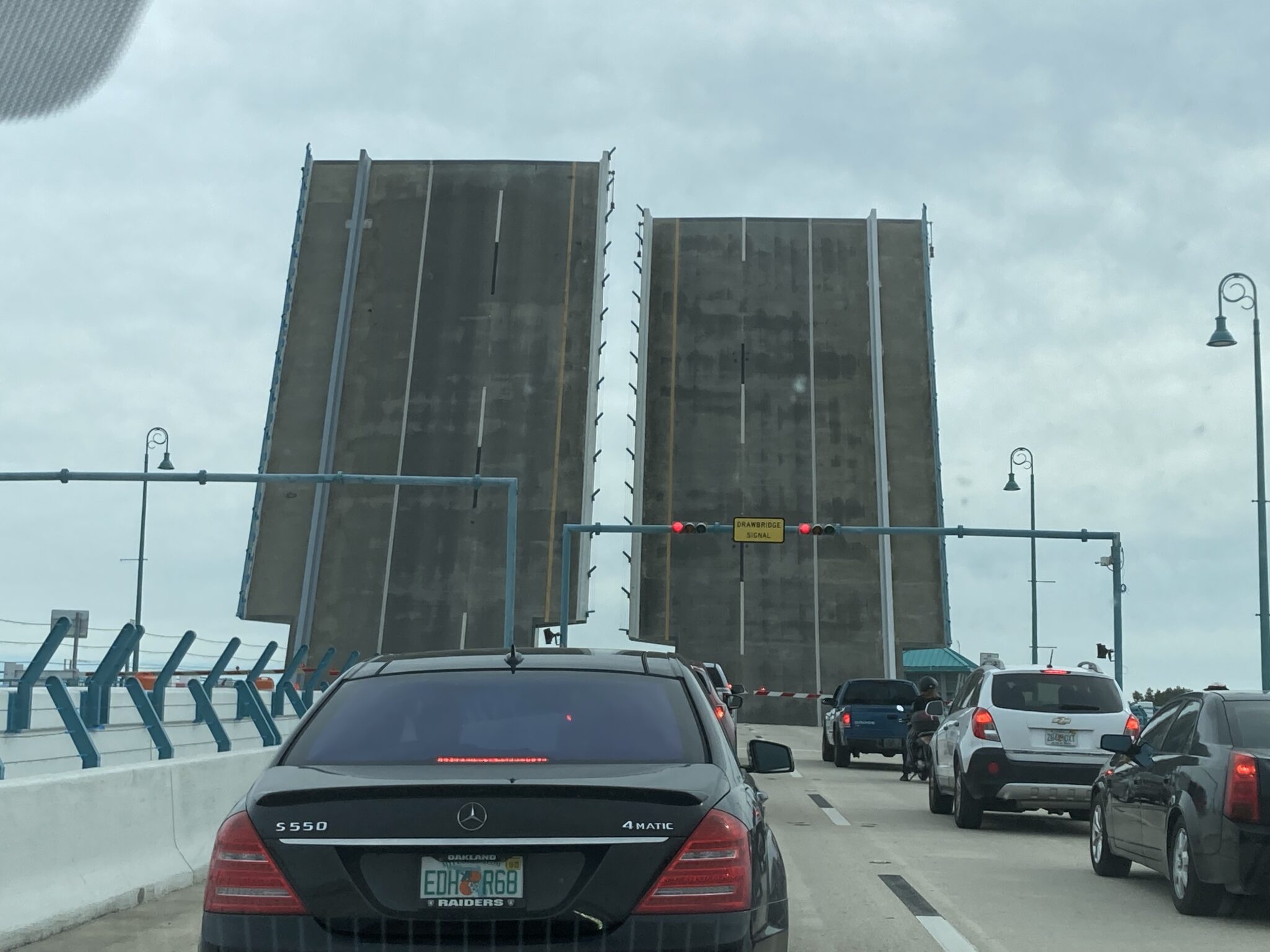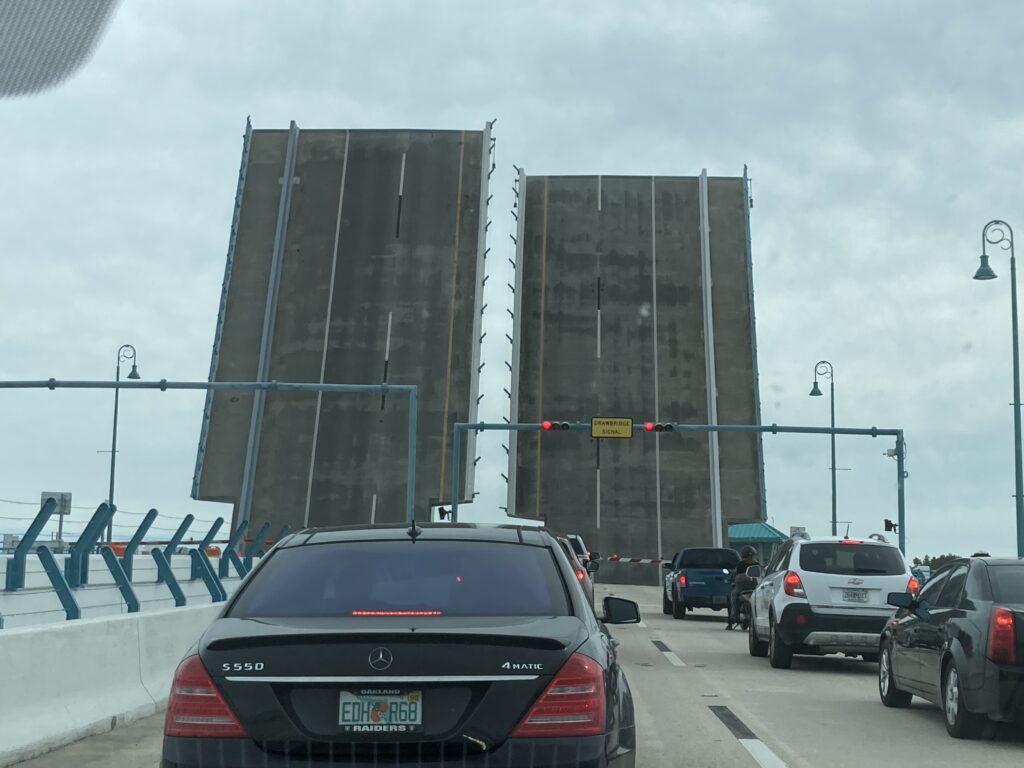 Miscellaneous things
A Tampa event that always happens while we're here is Gasparilla. There's a big parade downtown and last year, we watched it on TV. This year, we had our own little pirate parade on the intercoastal.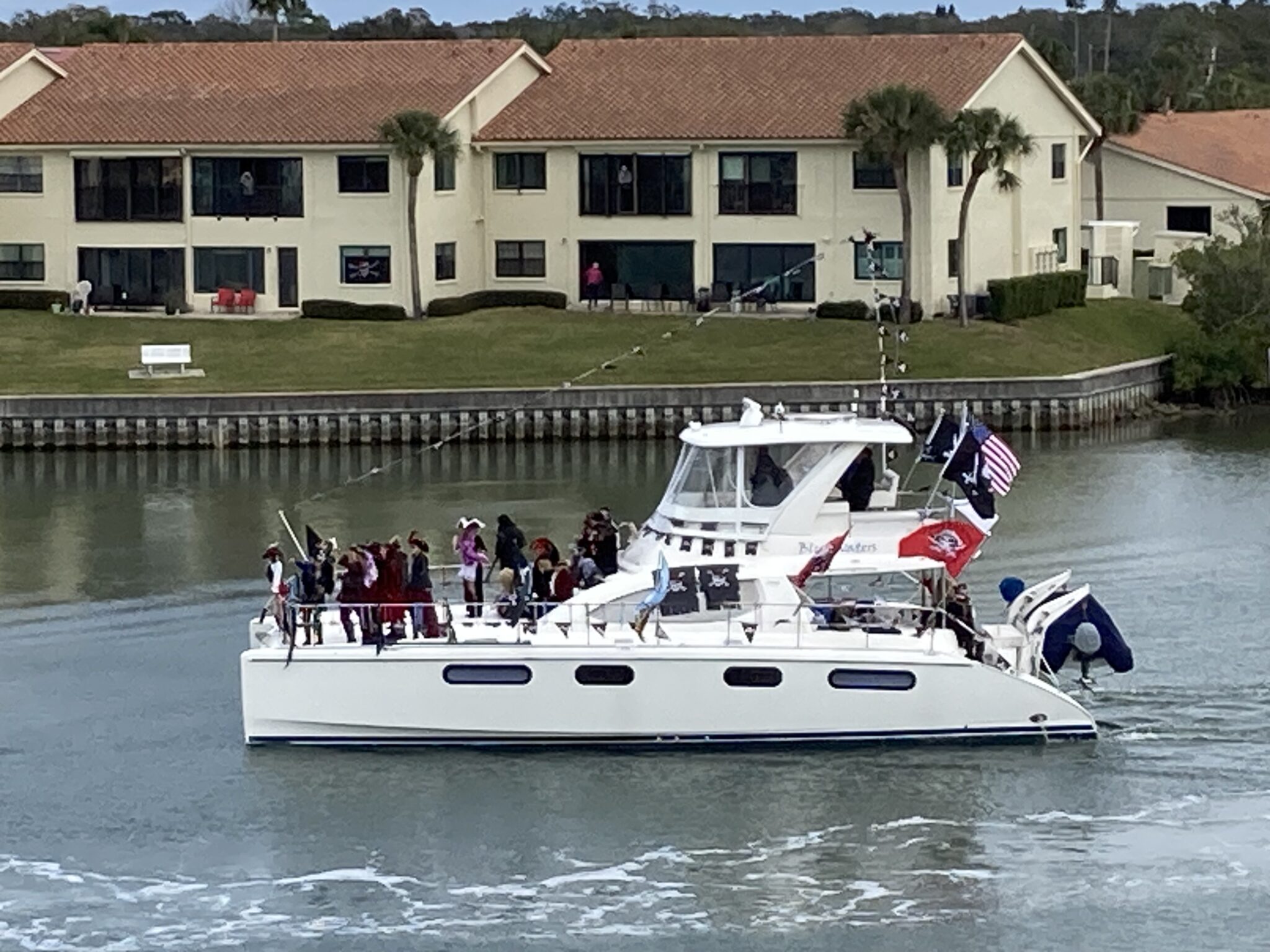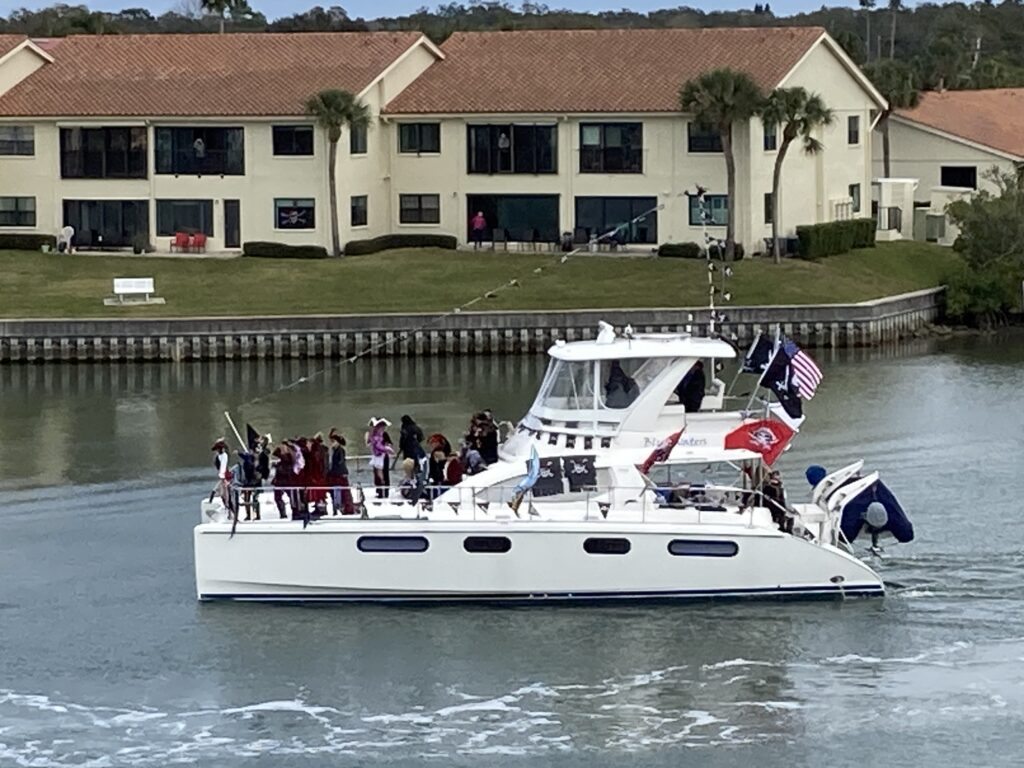 We've also kept busy with our projects. Even though I didn't get much knitting done on the drive down, I have been knitting since we've been here. I found some cute patterns for doll clothes that I'm making for my grand niece Sophie. I still have tons of yarn left so I may be making more pieces because they are so much fun!! Aren't they cute? Note: I've since added buttons to the two sweaters.
Tim finished his Lego stadium – PNC Park – and has started a new one. I've also made good progress on a cross-stitch project. It will also have beads in all those blank spots.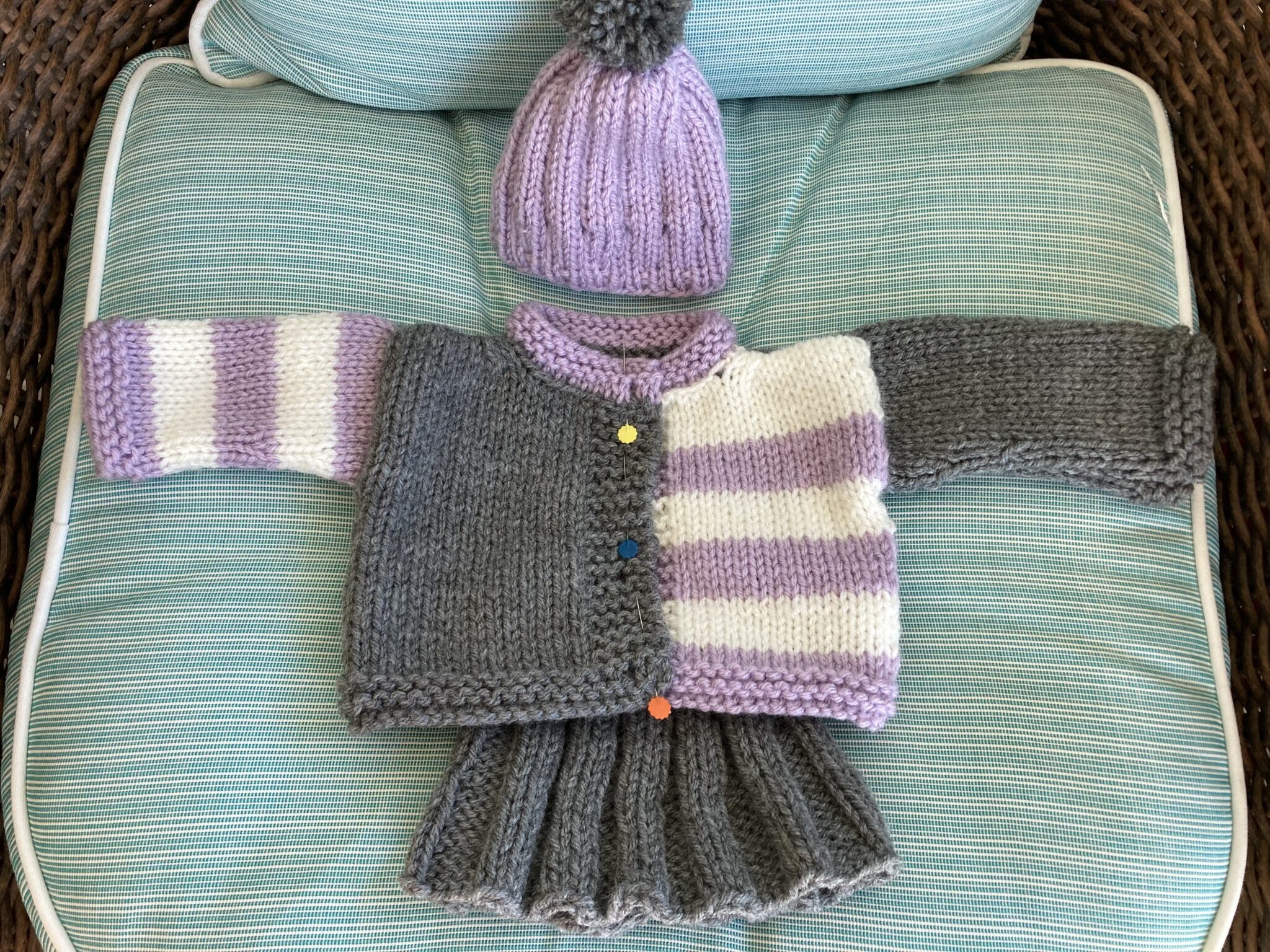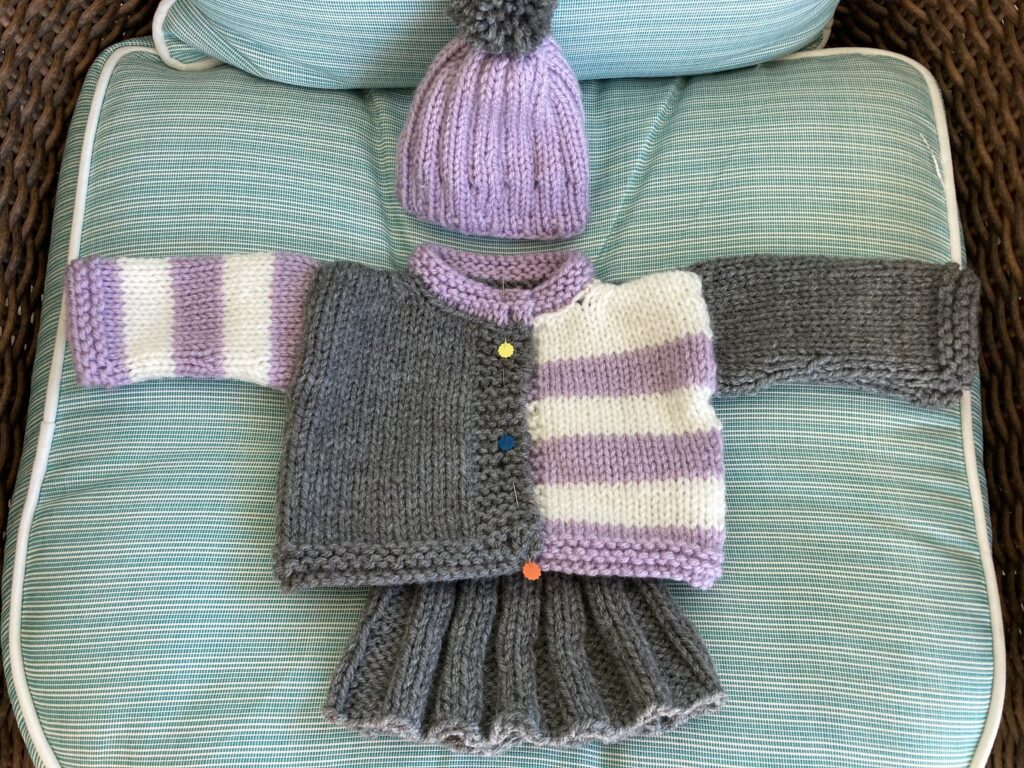 I have definitely decided I want to come back next year. The last two weeks have been the best and I can't imagine not being here. We looked at other condo options, mainly because of the bed size but we couldn't find anything nearly as nice as this place. So, we'll accept the negatives because there are so many positives.
On to more fun for our last three weeks!!