Today is mostly cloudy but the temperature is very pleasant and there's very little wind. I spent a good chunk of the afternoon sitting on our balcony, mostly reading but also watching the steady stream of boats going up and down the waterway. We have two weeks left and I need to enjoy every minute I can.
If the balcony had a reclining chair, I'm sure I could have dozed off. I love reading outside but it can make me a bit sleepy. The boats can get noisy at times, because we're right at a minimum wake spot, meaning boats at full speed have to slow down in front of us, or boats going the other way quickly speed up.
I see all types of boats, big and small, and even a few jet skis. I'd say about a quarter of the boats are pontoons filled with people. I imagine that's a typical Sunday in Florida.
To our south are million-dollar townhomes, with a dock full of boats. Funny, though, I never see anyone use those. It seems kind of sad that the people who can afford these nice boats rarely use them.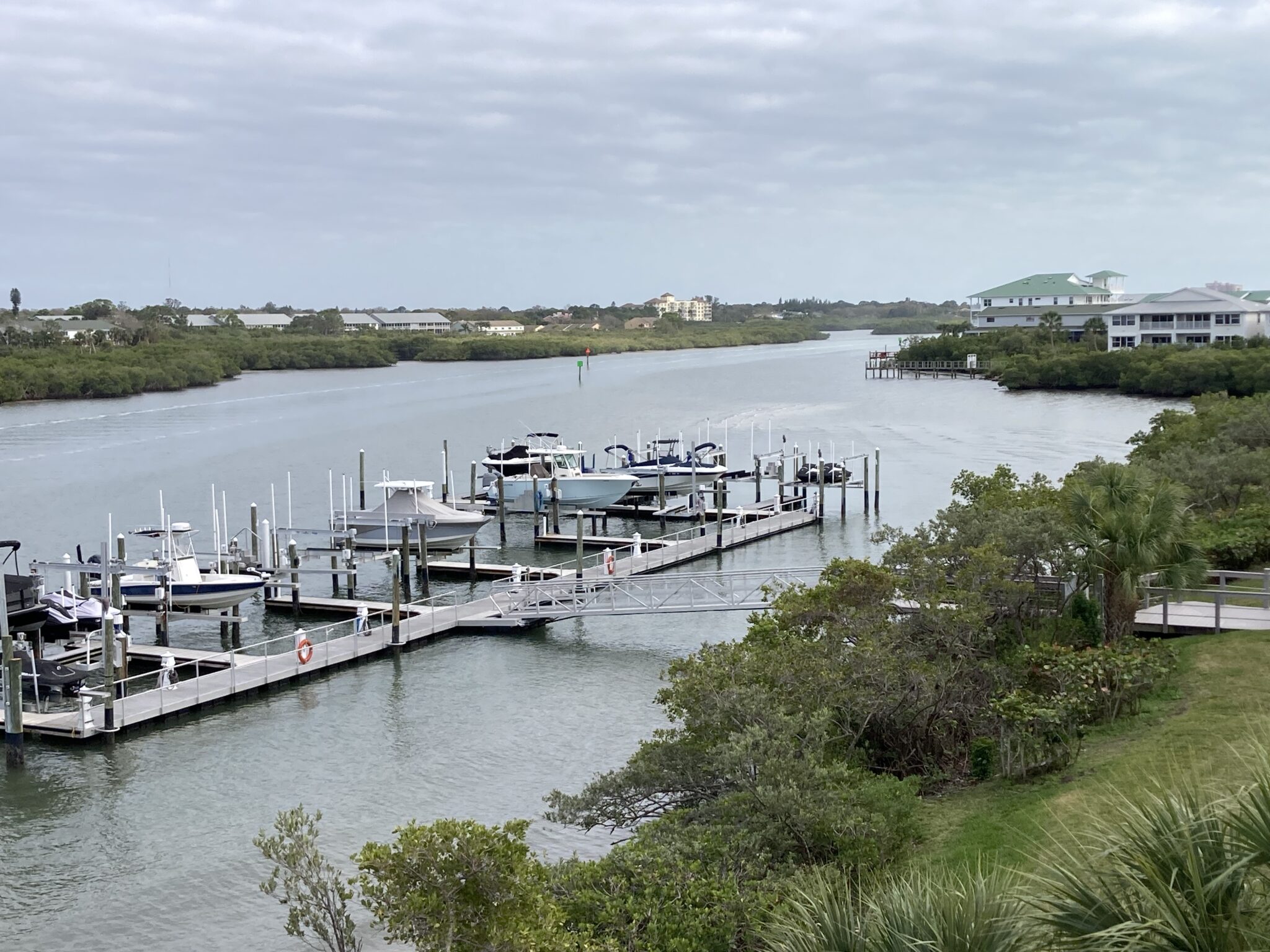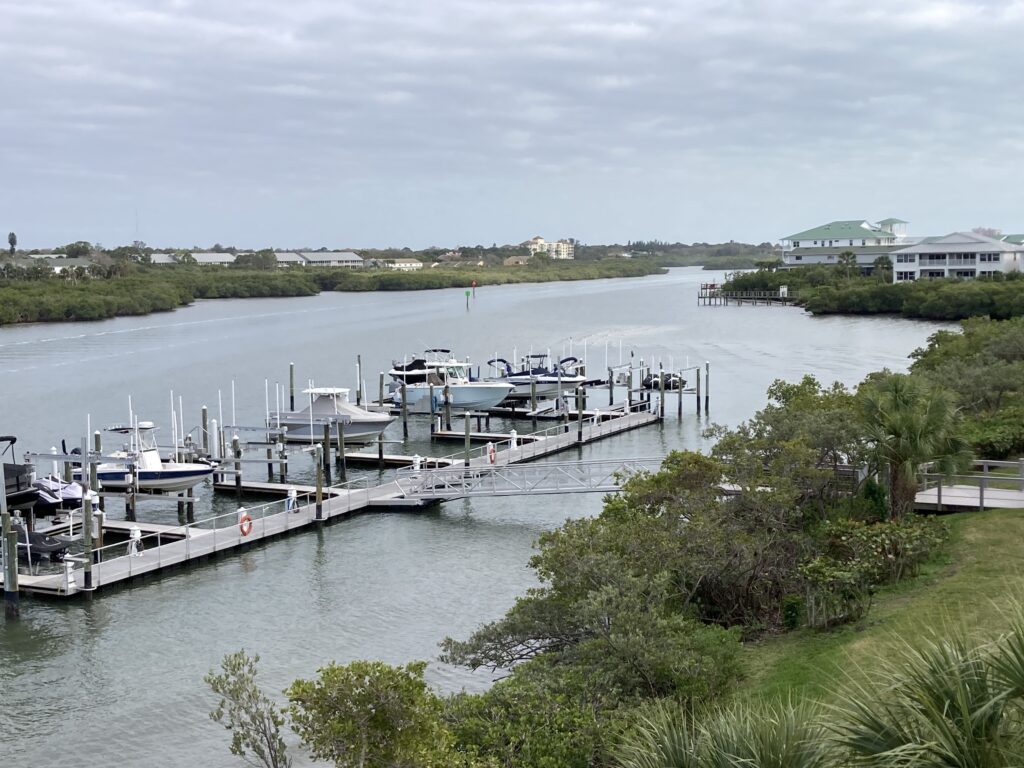 A great big boat just went by, creating a huge wake. It made a smaller boat crash through the waves. At times, there were so many boats it was almost like a parade.
I also saw a man catch a fish on our dock today. Tim's never had any luck down there and honestly, I'd say this is the first fish I've seen anyone catch.
Next year's plans
Earlier this week, only because I texted the owner of our condo asking about potential upgrades, we found out they weren't going to rent after April 2023. All along, I've assumed we had a sure thing and we'd stay here next year even without the king-sized bed. But now we definitely had to find something else!!
We searched VRBO, Booking.com, found Vacasa, looked at realty companies' websites, and found a few options. We don't want to leave this area. You'd think next year would be wide open but most people are like us and plan a year ahead. As usual, I also found one that appeared to be open but upon contacting the owner, was told it wasn't. This happens a lot on VRBO. (Read my post from four years ago when I described this frustrating process.) Once you find a place, it's usually easy to get it again year after year.
We found something in this same complex that looked really nice. It isn't on the water like we are now, but it's on the top floor and would have a great view. It looked very comfortable and updated and it has a king-sized bed!!
One thing we noticed while looking is how much prices are going up. This year, we paid 50% more than last year and next year, we'll be paying another 50% more. That's a big increase. When we finally decided to accept that, I started the booking process, only to find that our reservation would be non-refundable. Not acceptable. Too many things can happen in a year and that would be a lot of money to lose.
We had almost decided it made sense to save our money and not come next year. But after sleeping on it, Tim said he knew we'd both regret that decision. So, we started looking again. And we found something two buildings away from us.
I sent through the booking request and the owner replied quickly that our dates were indeed available. Her long-term renters had just canceled for next year. Luck was on our side this time!! We now have a place to stay next year and we don't have to worry about it.
We walked up the street and looked at it. It is on the water, like this one, but on the second floor with no elevator. That wouldn't normally be a problem except when moving in and out. We have a lot of stuff for six weeks!! But overall, it looks like a bright and cheery place.
Finding our favorites
While I love being here during strawberry season, there are some things we can't find here.
Don't people eat chip dip in Florida? Besides French Onion? That's all we could find.
We are so spoiled with our AE chip dips, in all kinds of flavors. We tried two different grocery stores and found very little dip, and what they did have, was always French Onion. I don't get it.
We also can't find Caffeine Free Diet Pepsi. We can find the Coke version but I prefer Pepsi. Maybe it's because we're in the south? I know Coke is preferred in the south. I don't drink a lot of it, but the supply I did bring from home is almost gone.
We bring an Amazon Fire Stick with us because we stream more and more shows. But we also have to use it to watch BTN (Big Ten Network). Tim did find it in the guide on the TV, but it has to be purchased separately. I guess no one cares about the Big Ten in Florida.
Projects and reading
I think I may have mentioned in my last post that I was doing something I don't usually do – read two books at the same time. It's actually going quite well. I have a pool book and a bedtime book.
Today, on the balcony, I read the pool book. It's one I found on top of the condo mailboxes earlier on this trip and feel the need to finish it before we leave so I can return it. I may also leave a couple of my books there like I did last year.
My current pool book is "my grandmother asked me to tell you she's sorry" by Fredrik Backman. I loved "A Man Called Ove" so I figured this book would be good too. And while I'm enjoying it, it's a little different. It's told by a seven, almost eight, year old girl and includes a lot of fantasy. But I think that's because it's told from her perspective and she had a very imaginative grandmother.
My bedtime book is for our next book club meeting and is called "the book that matters most". I had no idea what to expect and it's completely different from the other book I'm reading. I like it but the characters aren't always likable. I will finish it soon too.
Then I have another thick one to start, that can be read at the pool and at bedtime. It's a Wally Lamb book.
I've finished my knitting projects, finally adding buttons to the sweaters and I made another skirt. So now there are two complete outfits. Aren't they cute? To continue to use the yarn, I think I'm now going to make a scarf (or two or three. . ). Why not?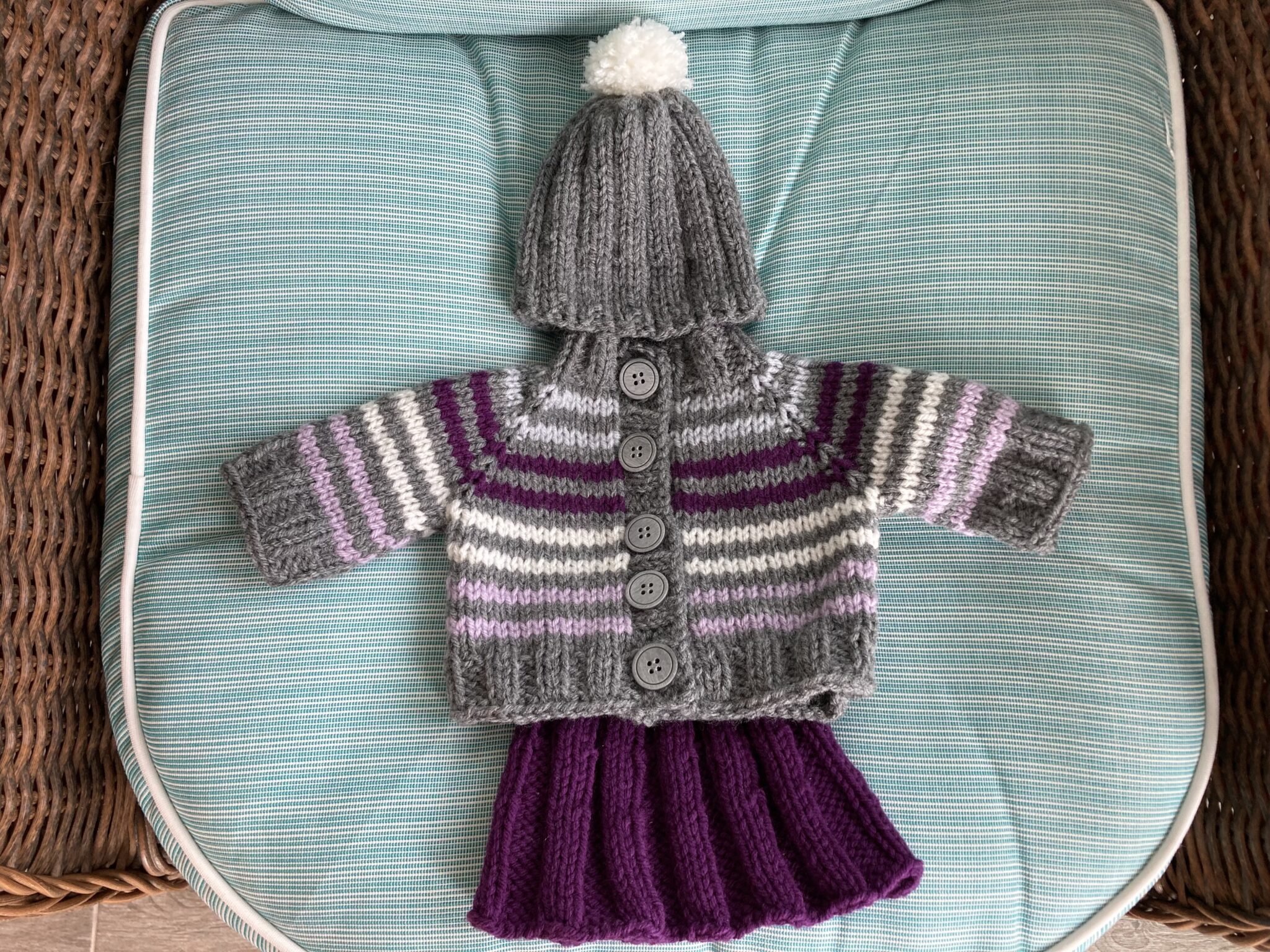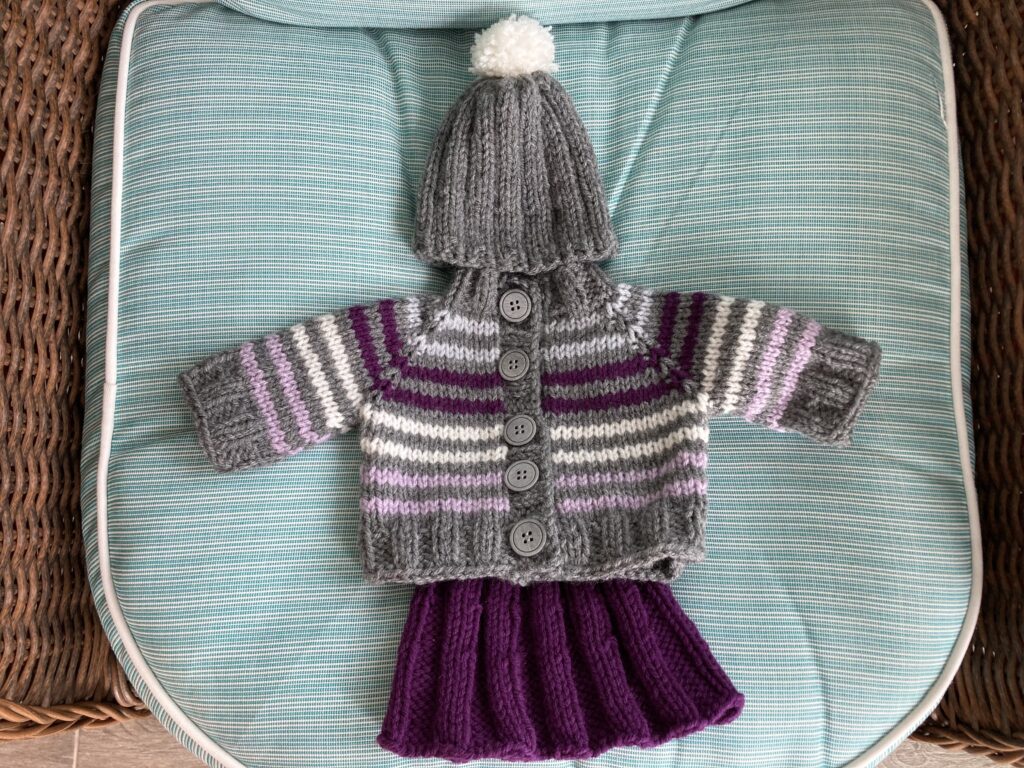 I've also finished the Dragonfly cross-stitch project except for the beads, which will be easier to do at home. I'm ready to start something new, probably tonight.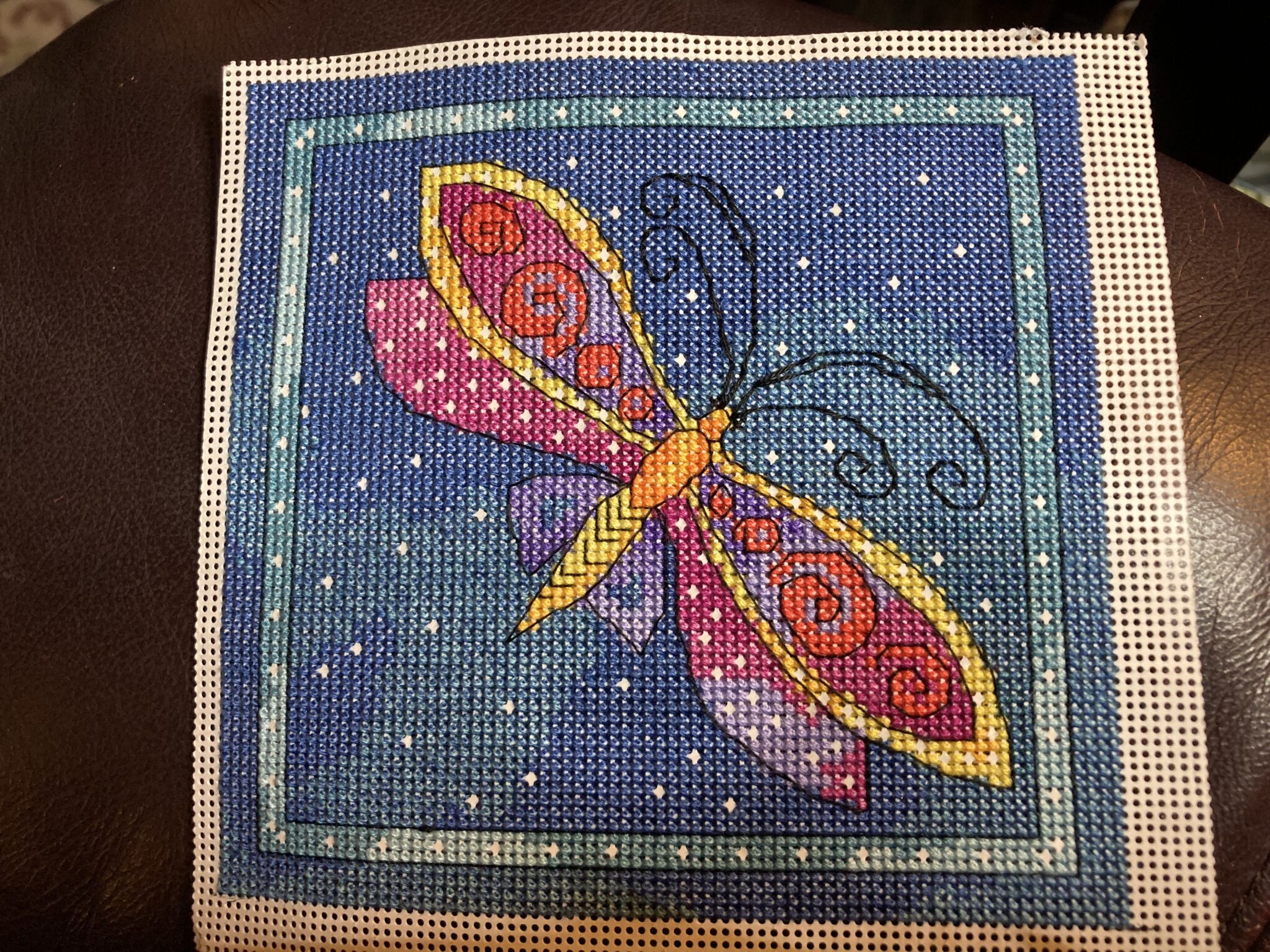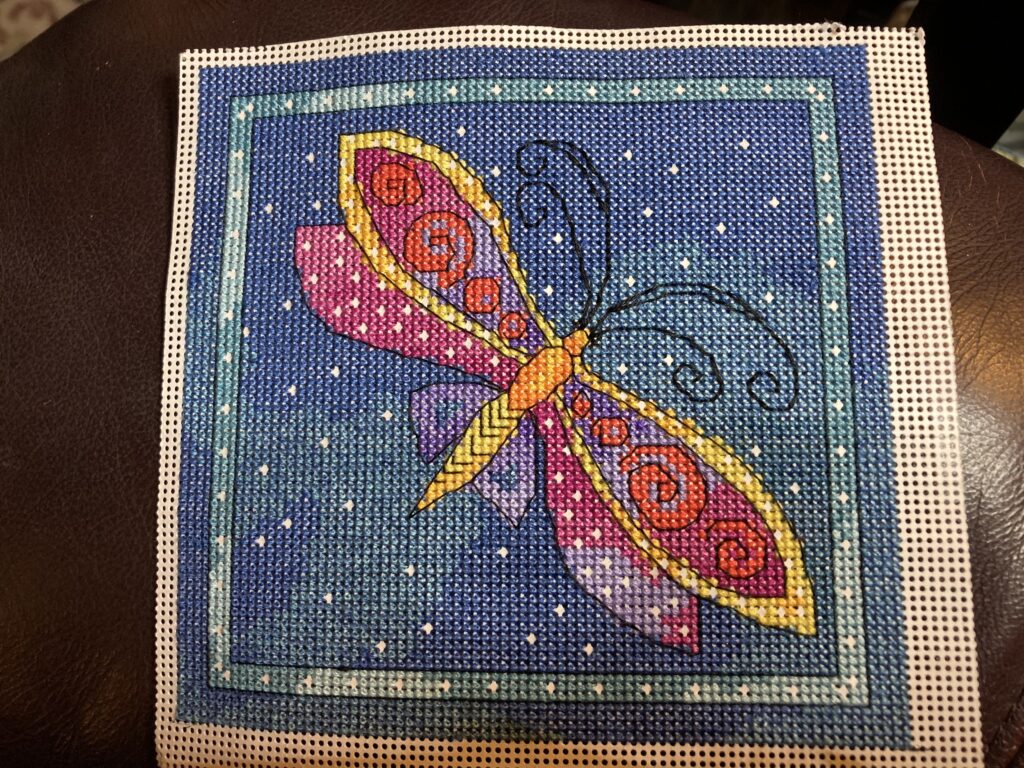 Spring Training
Our last week will be jam-packed with baseball. We originally had two games in our schedule but today, Tim added a third. It's always fun to go to the ballparks. The game Tim added is in Fort Meyers, so maybe we'll see some of the hurricane damage.
We also have reservations for the next two Wednesdays at two of our favorite restaurants. And there are others we need to fit in again. At least we now know we will be here again next year!!