We've been home for over three weeks, and it's been four weeks since I've felt the warm sunshine on my body. My tan is quickly fading. Coming home is bittersweet. I like being home. But I also like being in nicer weather.
Since we've been home, Iowa weather has not been great. During our first week back, we had two snowstorms, one being the biggest of the season. So much for easing into spring. As a friend said, we're going to experience all four seasons this week, and she was right.
I feel the need to wrap up our winter in Florida with some highlights that weren't included in my other posts.
Food
We tried eleven new restaurants this time. That's pretty good for us. Three were down south, as we visited friends, shopped at St. Armands, and went to a baseball game in Fort Myers. What would we do without the internet to help us find these places?
The rest were closer to home and all different types. I'd say three of them won't be on the list for next year, but mainly because there are too many good ones. We liked one of the new ones – CocoWood Grill – so much, we went there three times!! If you like lobster ravioli, theirs is THE best.
We also discovered a place called Chicken Salad Chick. Evidently, it's a chain and has been around since 2008 but not in this area very long. They serve over 12 flavors of chicken salad!! And you get a cookie with every order.
They're mainly in the south but seem to be making their way north. The closest locations to us are Peoria, Illinois, and Columbia, Missouri.
We had Candy Kitchen ice cream nine times!! We had gone down thinking we'd only go once a week, but clearly, we went more than that. It's just too good to pass up.
We also shopped a few times at Mazzaro's, an Italian market in St. Petersburg. We took home lasagna, manicotti, pizza, shepherd's pie, and single-serving desserts like Boston cream pie and German chocolate cake. Nice to have easy-to-fix meals when we don't want to go out.
Baseball
We scheduled our trip this year so we'd be there for the beginning of spring training. We planned to go to two games, but Tim decided at the last minute we should add one. So, on the first day of the season, we went to Fort Myers to see the Twins and Rays. It felt good to sit outside at a game, even though it was pretty warm.
We decided to eat dinner in Fort Myers and we picked a place downtown. We were able to observe some of the hurricane damage, but overall, it looked pretty good. The biggest thing we noticed was all the broken signs. We didn't drive close to the beach, so that could be why we didn't see more of the damage.
Our second game was in Bradenton – the Pittsburgh Pirates. And we wrapped things up with the Tigers in Lakeland. It was a lot to cram into our final week, but it worked out well. We had great seats for all the games and shade for two of them.
Weather
I can't say enough good things about the weather this year. So different from last year.
It was sunny and warm. Almost too warm. It was humid, too, which meant we had to turn on the air instead of enjoying the breeze through open windows. I did spend a fair amount of time on the balcony, watching the boats go up and down the intercoastal, which allowed me to enjoy the nice days.
I was able to get to the pool a lot. The pool isn't very big and it's situated between two buildings. This means there are times during the day when one side or the other doesn't get the sun. This can make it tough to find a chair. But I prefer going down early and only staying a couple of hours, so I did OK. The crowd definitely changed around the beginning of March, so it would seem many of the snowbirds leave at the end of February.
Here are pictures of my last day at the pool, when it was virtually empty. Loved it!!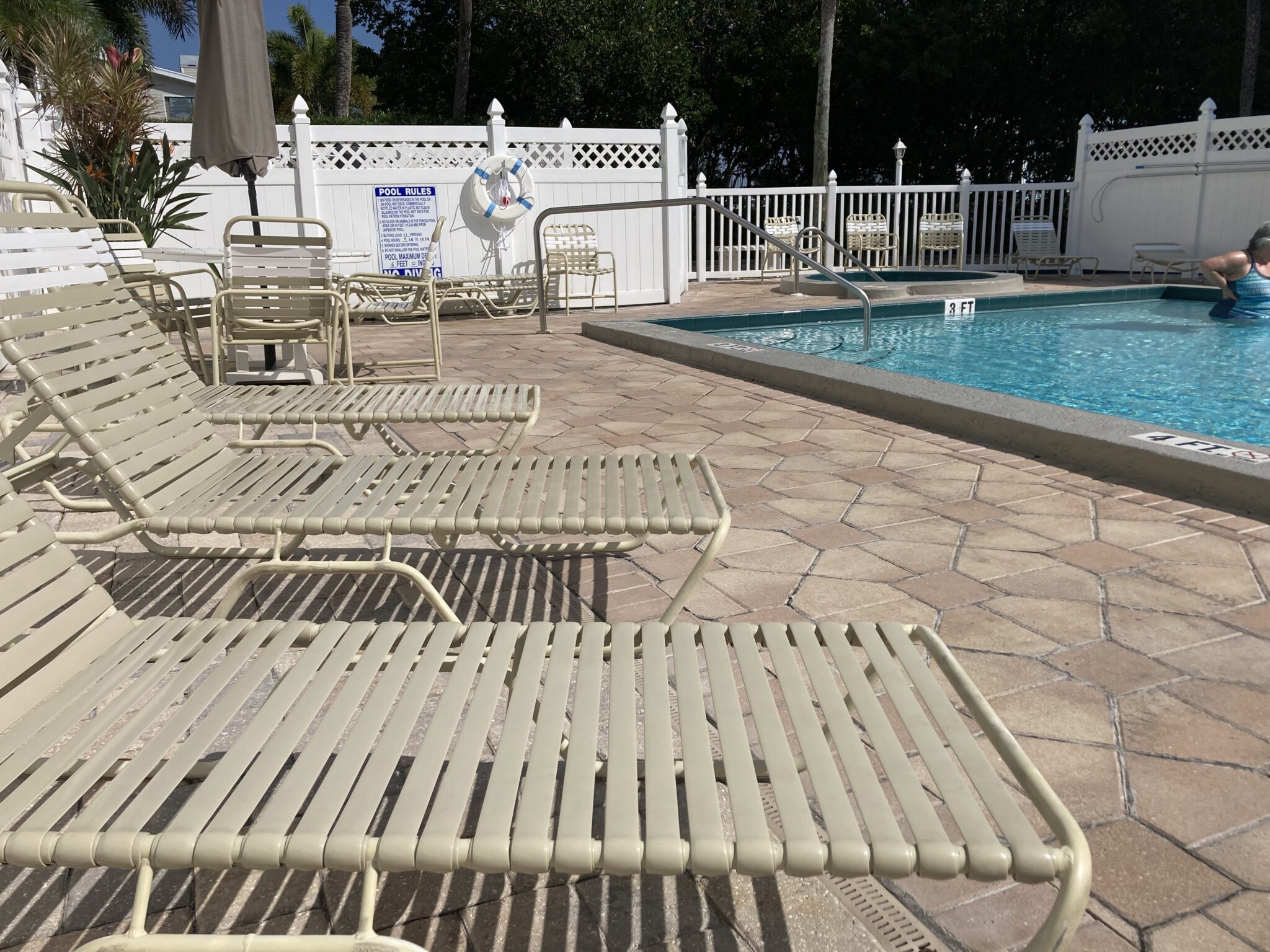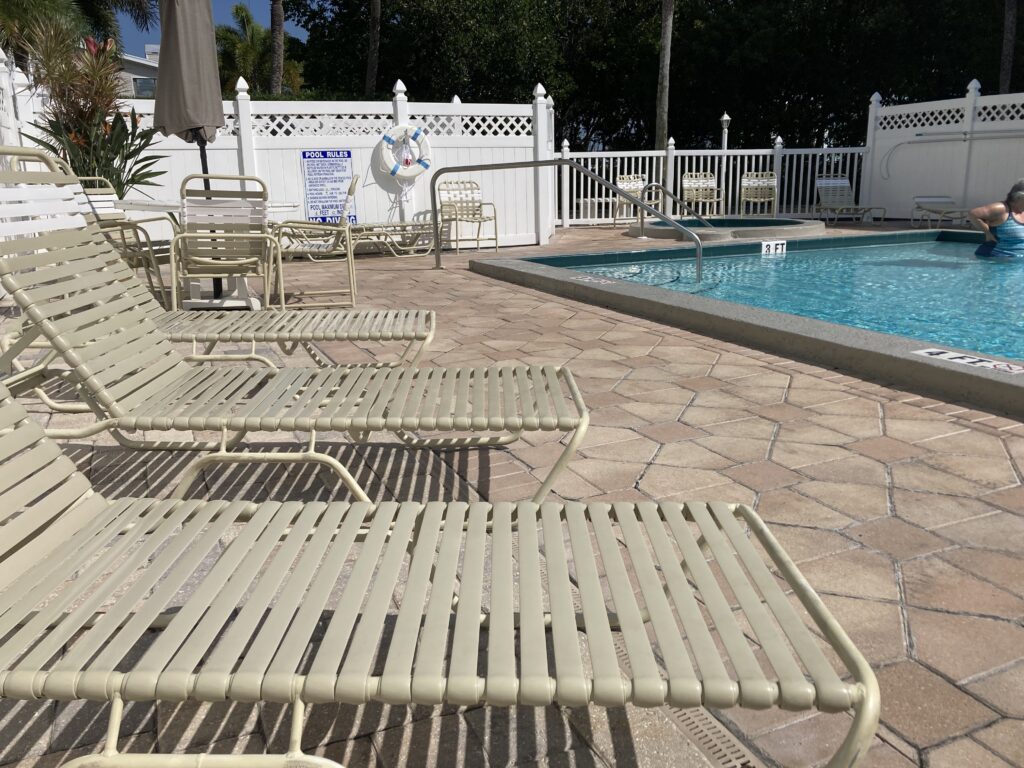 I didn't pack very well, thinking I'd need more long sleeve tops. I had plenty but hardly ever wore them. It did mean I had to wear my warm-weather tops a lot more. I guess that's why we have a washing machine!!
Toward the end of our six weeks, red tide became a problem. Tim saw a lot of dead fish along the beach and I seemed to cough more when I was at the pool. But it wasn't bad enough to ruin our stay.
Florida Aquarium
I've been going to Florida for over 30 years and this is the first time I've been to the Florida Aquarium in Tampa. It is also right by the Port of Tampa where large cruise ships dock. In fact, while we were there, people were arriving and boarding a ship.
The aquarium was OK, but I wasn't overly thrilled with it. It seemed kind of old and I know Tim thought we'd see dolphins and manatees, but we didn't. We saw a lot of the same fish over and over. I'm glad we went but I don't feel the need to go again.
Seeing Friends
I have a friend who moved to Bradenton last May after she retired. One Sunday, we drove down there for a visit and dinner. It was good to see her and her husband and experience a new restaurant. It was a great day for eating outside.
Another friend of ours came down for a week and the three of us spent an afternoon together, at the beach and then an early dinner in St. Pete Beach.
On the trip home, our first night was in Marietta, Georgia. I have a friend from college who lives in the area, so we decided to meet for dinner. Unfortunately, just as we were getting ready to go, I had a vertigo spell and we had to cancel. But we were able to meet the day next day for a late breakfast before we headed for Cincinnati. It had been almost 11 years since I'd seen her and her husband. We've already made plans to meet up again next year and maybe stay an extra day.
The trips down and back home
We changed our route this year so we could spend a night in Cincinnati and go to the Montgomery Inn for dinner. I wrote about that in this post. We thought we'd do the same thing on our way back, but unfortunately, our night there was on a Monday and they're closed on Mondays. We did find another BBQ place very close to our hotel and it was a pretty good substitute.
At a holiday party in December, friends were talking about a place called Buc-ee's. They said it was a crazy place, a truck stop but much more. And they were right. We stopped on our way down and were amazed at the place. There are only two in Georgia – one in the south and one in the north along I75. We thought we might stop again on the way home but decided not to. Now I can say I've been to Buc-ee's!!
On the drive, we saw a truck for On the Hook, which is a food truck specializing in fish and chips that we like to buy from. We never realized they were in business that far south. And when I checked their website, there was no indication they have a Georgia location. Hmmm.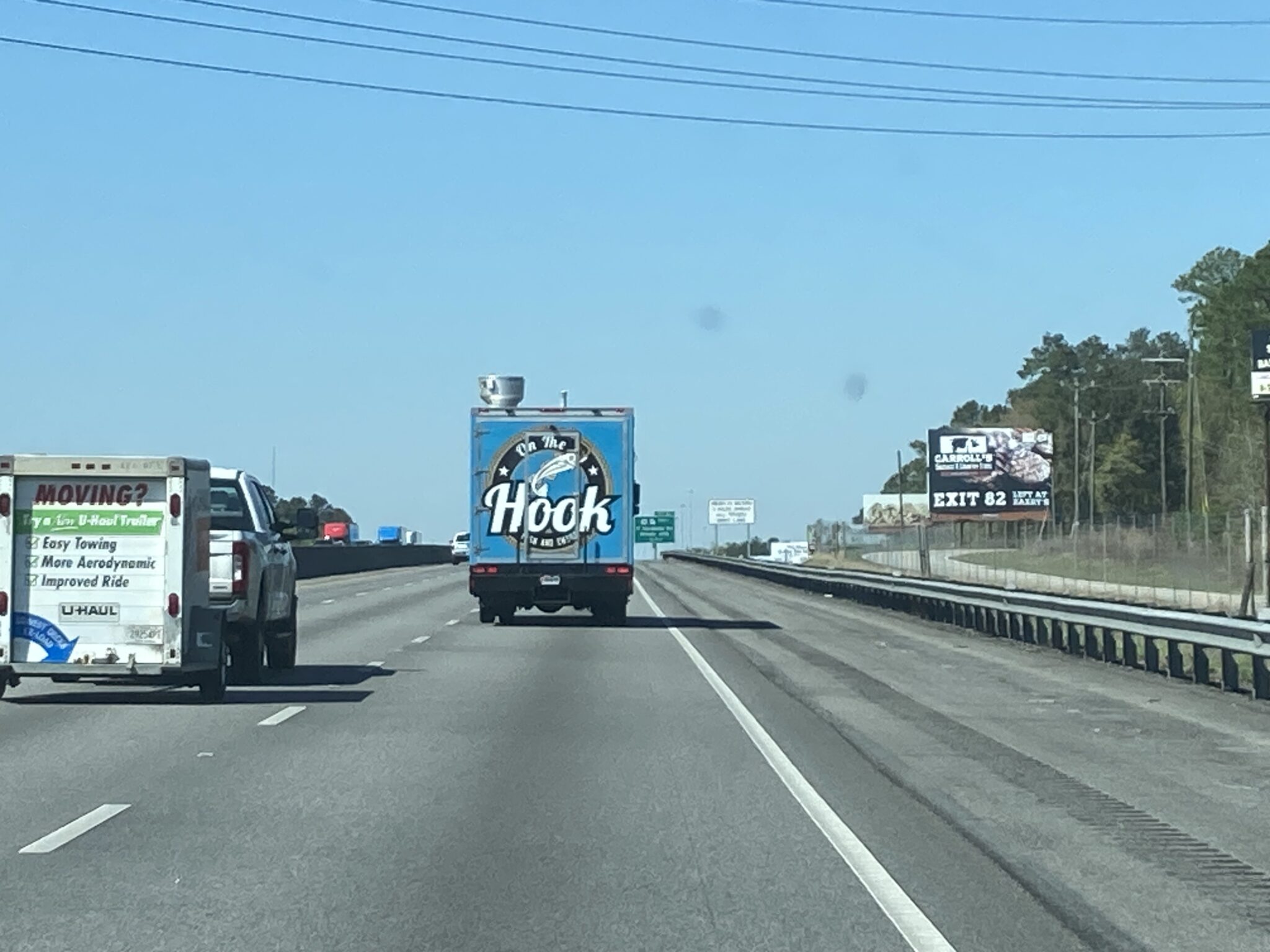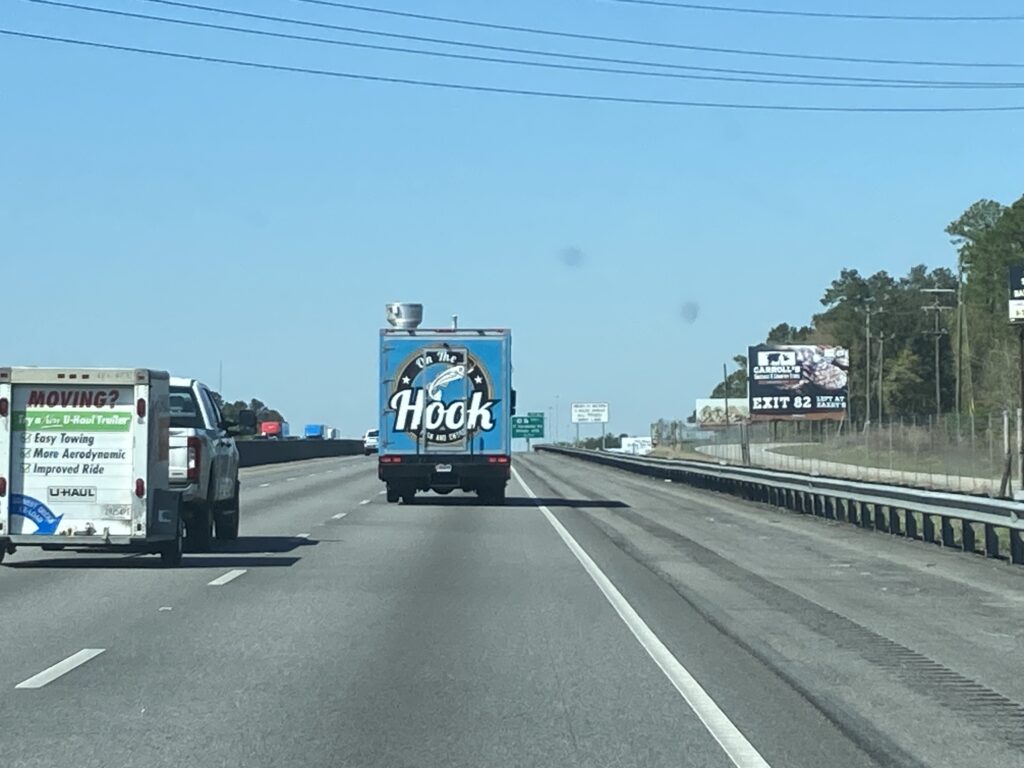 We've done a lot of long-distance driving over the last year and we've had very good luck. But about ten minutes west of Cincinnati as we headed for home, a dump truck in front of us threw back a large rock that hit our windshield. It was kind of scary. We even had little shards of glass on the dash. We made it home fine and it was repaired by Friday. See the featured image above for a picture.
Now we're back to real life and I've been feeling fine. I love being back in my studio but it's obviously taken me a while to get back to blogging. The break has not been intentional. I'll be back again soon.