If I'd been blogging a year ago, I would have written this post then. For those of you that are also my personal Facebook friends, you know that Tim and I embarked on the Iowa Tenderloin Trail last summer and into the fall. In fact, we've almost reached the one year mark of our finish.
Love of tenderloins
It all began because both Tim and I love breaded tenderloins. We had seen articles in the newspaper about who the Iowa Pork Producers named each year as the best tenderloin in the state. We started with Nick's on Army Post Road and then ventured farther out to Goldie's in Prairie City.
As we sat at the counter at Goldie's, eating our tenderloins and their delicious ice cream, we noticed a sign on the wall. It advertised the Iowa Tenderloin Trail, which consists of fourteen of the annual tenderloin winners. If you conquered the trail (visited at least ten of the fourteen within two years), you would get a t-shirt.
Well, we couldn't let that challenge pass us by, so we checked into it further online. Once there, we were able to download our "passports" so we could log our stops along the trail. (Little did we know, we could have asked for a passport at Goldie's, which was a nice shiny brochure. Our downloaded paper copies got a little worn after all the use.)
Starting on the trail
Once we got our passports, we realized we'd already been to two of the stops. Oh darn, we have to go back!!
We officially started on June 29. Our plan was to start with those close by and work our way into other areas of the state. So, we went to The Other Place, which was a surprise to us that it was even on the list.
One thing I wish we'd done was to jot down our assessment of each tenderloin after each meal, so I could do a more thorough job of writing this. And of course, when we were done, everyone asked us what our favorite was. Honestly, there wasn't a bad one in the bunch, so that made it difficult. Keep reading, though, and I'll let you know those Tim considered his Top Five.
It was so exciting getting our first stamps!!
Continuing on the trail
Tim's day off is Monday, so we tried to hit a place every week. The challenge was, not every place was open on Monday. So, we had to get to a few on Sunday, and even one on Saturday night because it wasn't open Sunday or Monday!!
Tim did a good job of mapping out each location, so we could decide each time how far we felt like traveling that day. Our longest trip was two hours but we had several that were an hour or longer. We made an adventure of it, oftentimes taking a different route home so we could enjoy the Iowa countryside and drive through towns neither of us had seen before.
Many of these places also served ice cream, so of course, we had to sample that as well. And Tim decided he'd have coleslaw as his side at each place, so he tasted a lot of different types. Again, we should have kept track in more detail, as he could also rank the coleslaws!!
Our trail schedule
OK, here's the list of where we went and when. As you'll see, we stopped after ten so we could get our t-shirts. But we did that mostly because the remaining four were just too far away. I wonder if anyone completed the trail as quickly as we did – three months!! 😮
The Other Place – we visited the Clive location (June 29)
Brick Street Market and Cafe in Bondurant (July 10)
Nick's – Army Post Road in Des Moines – they've since opened a location very near to us, which we've visited often (July 17)
The Lucky Pig Pub & Grill in Ogden – typical small town place, where all the locals check you out (July 24)
Goldie's Ice Cream Shoppe in Prairie City – based on the name, you wouldn't think this would be a great tenderloin place – make sure you leave room for the ice cream (August 7)
Belmond Drive-In in Belmond – this place also has ice cream and it's worth saving room for (August 13)
Gramma's Kitchen at the Walcott truck stop – technically, this one was the farthest away, but we combined it with a weekend trip to see the grandkids in the Quad Cities (August 20)
Larsen's Pub in Elk Horn – definitely a small town pub, not much seating and you could only pay with cash (August 26)
Three C's Diner in Corning – our experience started out poorly – the food was fine but the service wasn't great – we were pretty much overlooked until I asked why we weren't being waited on – after that, everything was great. I think they even gave us a special ice cream treat for free. They are also close to Johnny Carson's birthplace. (September 17)
Dairy Sweet in Dunlap – ice cream here too – yum (October 1)
We earned our t-shirts
Right after the Dairy Sweet, we sent in our completed passports and our shirts arrived shortly after. We took our picture for last year's Christmas card wearing them.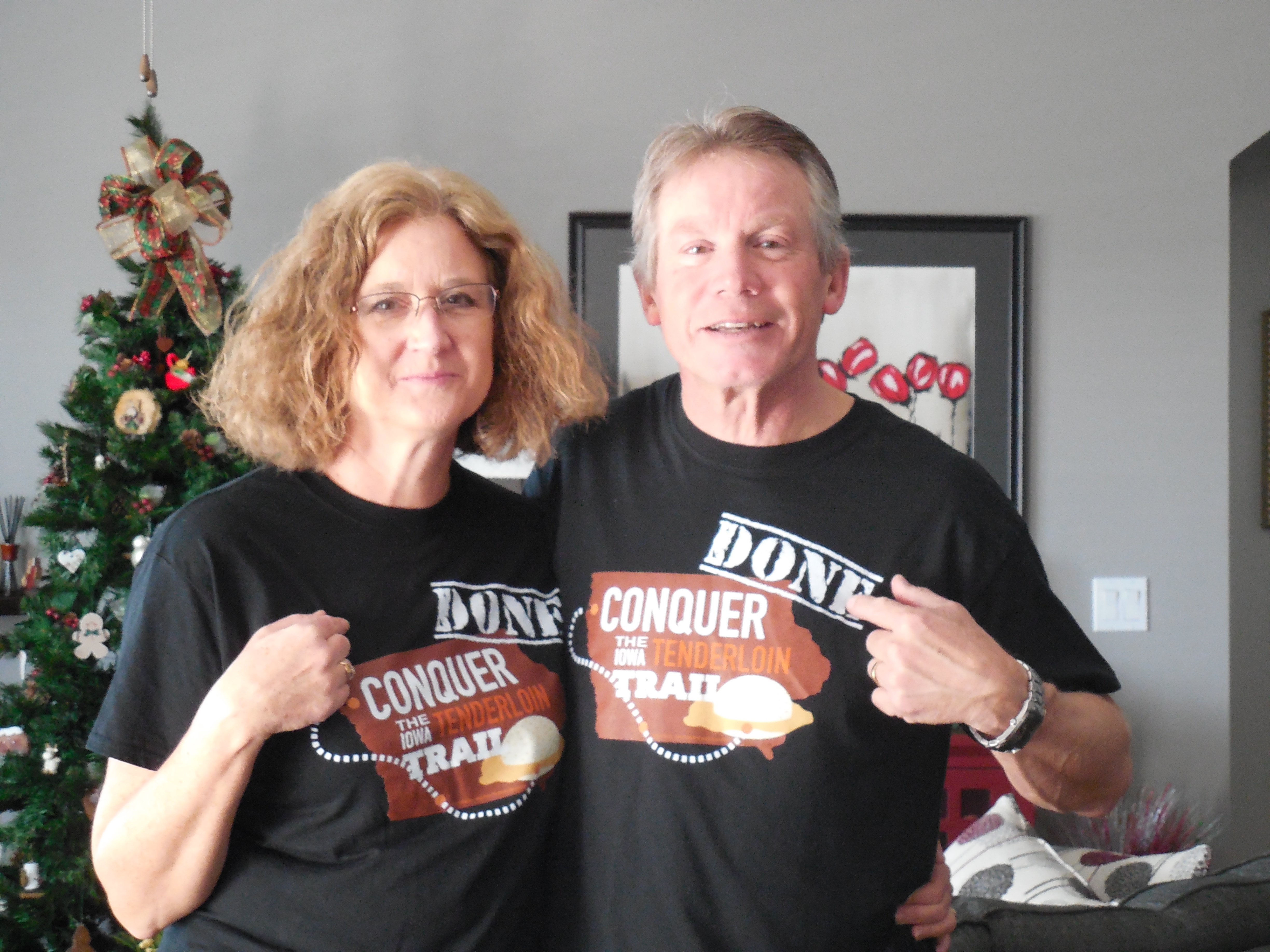 Tim's Top Five tenderloins
Don't ask me to explain why he chose these. As I mentioned, they were all good and even when we finished a year ago, it was difficult to remember what we liked about each place. We continue to eat at Nick's especially now that they have a location in West Glen. It's unfortunate that most of these are just too far away for us to regularly visit.
Larsen's Pub
Nick's
Belmond Drive-In
The Lucky Pig Pub and Grill
Three C's Diner
Belmond Drive-In

Goldie's

Gramma's Kitchen

Larsen's Pub

Three C's Diner

Dairy Sweet
We didn't start taking pictures until later in the summer, so we don't have one for every location.
Other places not on the trail
We've actually found other good tenderloins that either were winners but didn't make the list of fourteen or weren't a winner at all. These are all worth a try!!
Smokey D's in Des Moines – they are primarily known for their BBQ but they also serve a good tenderloin and they have the best french fries
Iowa Cafe in Mesa, Arizona – unfortunately, they recently closed
Smitty's in Des Moines – we actually tried them before any of the others and weren't impressed – I think it's because we went on a cold Saturday night when they were super busy. We've since gone back and discovered they have a good tenderloin!!
Grid Iron Grill in Webster City – this ended up being the 2017 winner so we had to go there, especially since I grew up in WC
Darrell's in Hamlin – the 2003 winner
Northside Cafe in Winterset – second place in 2017
Junction Grill & Bar in Wilton – we went there last year after an Iowa football game because it was halfway between Iowa City and the Quad Cities so Tim's daughter and the grandkids met us.
Smitty's

Iowa Cafe

Darrell's Place

Grid Iron Grill

Smokey D's

Junction Grill and Bar
I am also part of a Facebook Group – Pursuing Pork Tenderloin Sandwiches. Talk about overwhelming!! As of today, there are 23,020 members, and new ones are joining all the time. We might try a few mentioned here.
Do you like tenderloins? Do you like yours thin and larger than the bun or thicker?
I don't think we've truly found one yet that can compete with the tenderloin of my childhood – Bash's in Webster City. Maybe it's one of those memories that's become better than it actually was, but they're no longer there so I guess we'll never know. 😘