Several years ago, my friend Lori and I took a cooking class from a locally transplanted Italian. It was great fun and I don't know why we waited so long to do it again. Besides being an enjoyable two hours, we always learn a lot about Italy and of course, cooking Italian food!!
If you live in Iowa, you should consider taking one of these classes. They are with Cooking with Alessandra. She's located in the East Village in Des Moines and she lives above her class kitchen.
My mom asked me why I was taking a cooking class. Well, two reasons. First, there's always something to learn and second, it's fun!! So why not? And she always has THE best focaccia bread on the table while we're cooking. Yum!!
Getting started
It was one of those misty/rainy days we had so much of earlier this fall, but it was nice and cozy inside Alessandra's East Village kitchen. We arrived reasonably early, so we were able to land seats right up front.
She always begins by talking about Italy and the regions the food we're cooking is known for. We learned about rice and the only place in Italy it can be grown. And this isn't some dry lesson. She has a bubbly personality and makes everything as entertaining as it is interesting.
She talked about one of the spices we would be using – saffron – and where to find it and why it's so expensive. She even showed us pictures of the flowers (crocus) that produce the saffron.
Can you imagine the tedious work required to harvest the stigma of these flowers? No wonder it's the most expensive spice in the world!!!
She always provides her focaccia bread (I hope to take that class early in 2019) and wine. You can also bring your own wine if you like. Since this class was over lunch on a Friday, many did not drink wine. Some people actually had to go back to work!! (Sorry, Lori. 😪)
Making three risottos at the same time

It's always a lot of fun!!
Learning about risotto
The focus of this class was risotto. We made three different kinds – shrimp and leeks, saffron and roasted pine nuts, and cheese.
If you know anything about making risotto, you know it requires a lot of stirring. It takes 20 minutes to effectively make it. Alessandra says, if you order it in a restaurant and it comes to you faster than that, they aren't making it correctly.
I'm not going to provide a complete recipe.  My focus here is more on technique.  We cooked in three groups and she'd already prepared these ingredients, so it was difficult to find out the amount of each one.  Besides, you should take the class yourself!!
The most important part is the rice. You must use Arborio rice to achieve the creamy product that retains a slight bite to each grain. If you use regular long grain rice, you'll get a mushy, gummy mass. Who wants that?
The next essential ingredient is the broth or stock. She had homemade vegetable stock simmering on the stove for us to use. She obviously recommends homemade stock, but I think canned is good enough for my palette!! (And I actually made this last week for Tim and the canned broth worked out fine.)
Making the risotto
She started out by showing us the basics. In one tablespoon of butter, begin cooking 1/2 of an onion. When it's translucent, add the rice. Stir and coat with the butter. Add just enough of the simmering stock to cover the rice. Stir until the stock is mostly absorbed and it "kisses" (little bubbles appear). Keep repeating this until all the stock is absorbed and the mixture is creamy and a bit loose.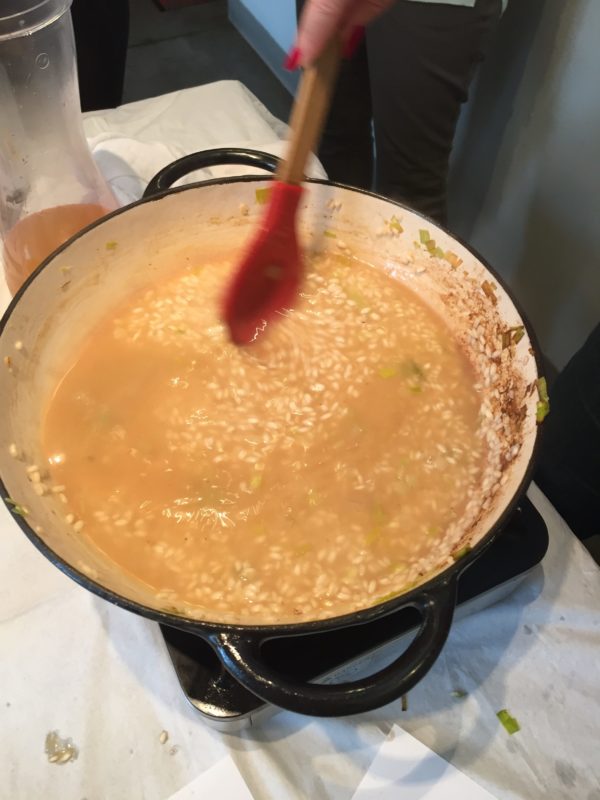 For the risotto our group made, before adding the rice we also cooked the leek and the shrimp with the onion. She also added a splash of white wine. This provides the risotto with more of those flavors than if we only added them at the end. Once the shrimp mixture was cooked, we removed it from the pan and then added the rice, and completed the other steps.
We took turns stirring, partly because it took a while but also because we could then check on what was happening with the two other pots. It's important to stir constantly or else the rice will stick to the pan. Don't worry if some sticks, as the additional broth will start to loosen it. (At home, I used a non-stick pan and had no problem with sticking.)
Lori's turn to stir while broth is added

My turn to stir for a while

Lori and Alessandra stirring and tasting
The final product
Once everyone had finished their version, we put all the pots on a table for viewing and serving. Of course, we had to eat what we'd made!! Lori and I preferred the one we made (shrimp and leeks) but they were all tasty.
The final products – three different risottos

And now we get to eat!!!
You can add lots of different things to your risotto and even use different liquids.  I once made a risotto using pinot noir wine.  It, of course, had a red color to it but I remember it tasted quite good.
Making it at home
I knew Tim would like the risotto we made, so I made it for him last week.  What's the point of taking the class if you don't try it at home? 
And I wasn't surprised that he said it was good!!  Here's the process in pictures.
Start by cooking onion in butter

Add shrimp and leeks to the pan with onion

Remove these ingredients before adding rice to pan

After cooking the onion, shrimp and leeks, add the rice

Risotto done – time to add the leeks and shrimp back to the pan

Time to eat!!

We tend to have a flexible dinner schedule during the week, so we buy this shrimp instead of fresh
I do encourage you to take one of Alessandra's classes.  You can find her online (see link above) and she's also on Facebook.  She just added a new bunch of classes, so check them out, find one (or more) and sign up fast.  Her classes fill up quickly!!