I don't remember where I heard about this, but I subscribe to a free (yes, it's absolutely free) newsletter called Introvert Insights. It's published monthly by Peter Vogt, who lives in Moorhead, Minnesota.
If you go here, you can read past issues as well as sign up to receive the paper version that comes in the mail. Wow, something I can hold and read!! Am I showing my age?
I'm bringing this up because the latest issue included an article about external stimulation. It points out that this stimulation is more than just people related. It reminded me of one of my previous posts – Information Overload.
Too much information?
The author Peter used his newspaper subscriptions as an example. I immediately thought of my magazine subscriptions. I don't have that many; I know I've had more in the past. But they pile up. I think I'm going to catch up, but recently I ended up throwing a bunch of past issues away without ever reading them.
It was amazing how that cleared my head. And I've already decided I won't renew a couple of them when it's time.
According to his article and research conducted by Hans Eysenck decades ago, introverts have a higher arousal level than extroverts. Therefore, it doesn't take much external stimulation to affect us.
The effects of external stimulation
How might it affect you? Anger and irritability, impatience and anxiety, maybe even resentment. You can feel physically and emotionally spent. Those of you who experience this understand, but many people don't. And maybe it's not even true for all introverts. After all, we each have our own tolerance levels.
There is some external stimulation you can do nothing about, like traffic. Well, maybe that means you avoid those times when you know traffic will be high. But there are external stimulants you can control.
Does clutter make you crazy? Clean it up. Just like my piles of magazines, getting rid of clutter can take a weight off your shoulders you didn't even realize was there. The only place I allow clutter is in my studio. And even there, I will reach a point where I can't do any more until I put things where they belong.
Vogt refers to these things as the "weeds in your life". As you find them, pull them. Easier said than done.
Things we don't think about
He even mentioned an external stimulant that was affecting his wife who's a kindergarten teacher. No, not the kids, but I'm sure that's one of them!! It's the fluorescent lights in her classroom. To help, she's started using only half of them.
Makes me wonder if this is why I prefer lamps instead of overhead lights.
Despite recognizing my information overload problem, I can't say I've done much to pull the weeds and alleviate it. At least not consciously. Whether it was planned or not, I find I'm spending less time on Facebook and Instagram.
All the posting and the liking can become tedious. Obviously, that's just me because there are people posting more than once a day, primarily those in my stitching communities. I'm more particular now about what I "like". And I don't post daily progress on my projects as some do. Does anyone really care?
But I still worry I might be missing something. I'd probably save money, however, as I seem to "find" things I can't live without. You should see the size of my wishlist on 123stitch.com!!!
What else?
If I think hard enough, I'm sure I can recognize other sources of stimulation. Do I need rainy days because too much sun affects me? Is it why I don't like being outside when it's windy? Even though I have a bad ear, why does loud music or TV bother me?
Is there something I don't realize that's affecting my sleep? Am I trying to do too many different types of projects? Too much multi-tasking or more accurately, multi-thinking??
What about you? Introvert or extrovert, do you feel the effects of too much external stimulation? How does it affect you? And what do you do about it?
Knit-along update
OK, I know this has nothing to be with external stimulation. Hmm, maybe it does? Anyway, I gave you a glimpse last week of week one's progress. I'm getting ready to start on week three today, so I thought I'd show you how it looks after week two. Oh, and I called it a shawl when it's technically a poncho.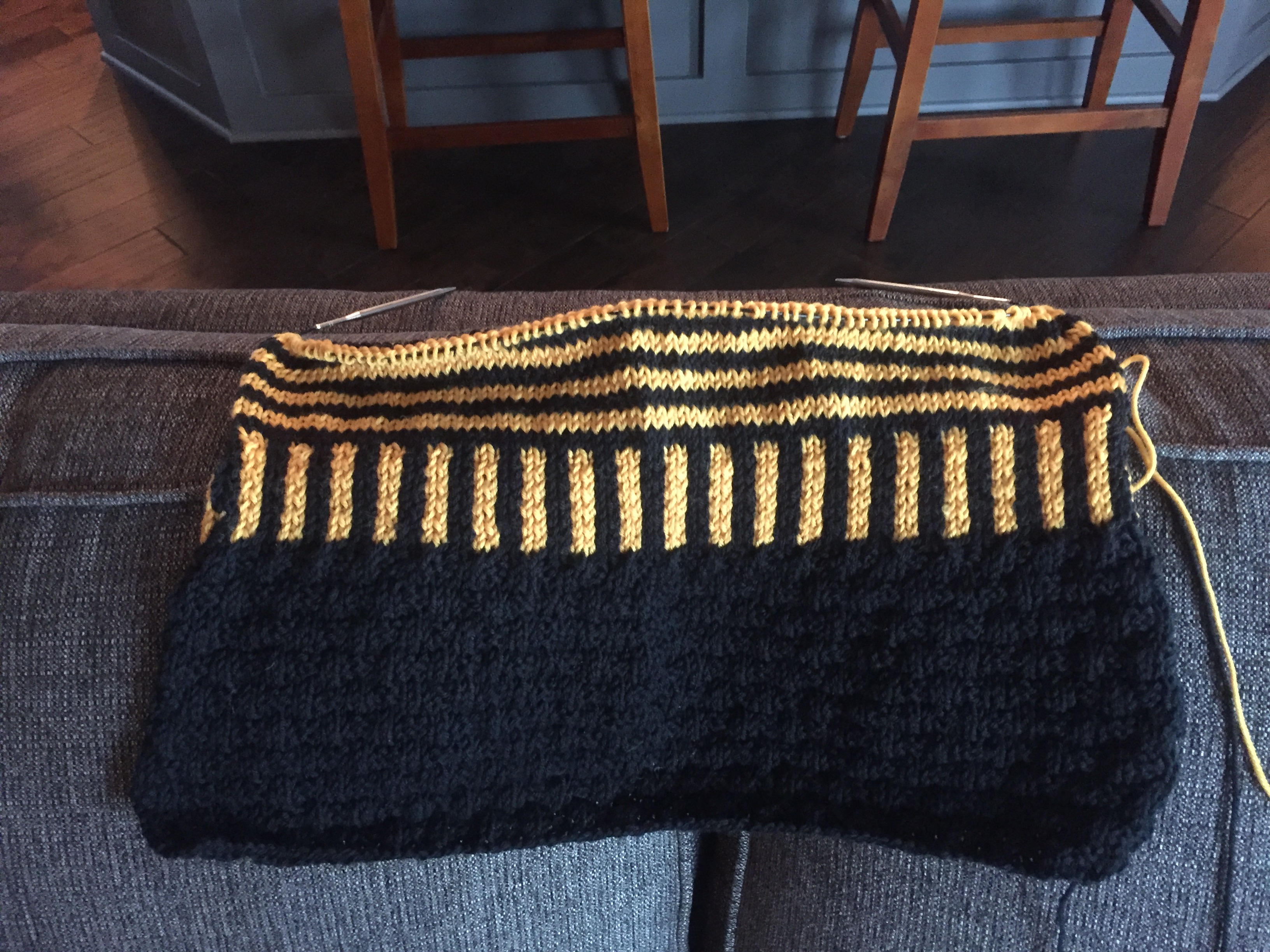 Note to self: don't start a new section while watching tennis. The pattern isn't hard at all, but I made so many mistakes and ripped out so much stitching. Arrrggg!! There's one little but very obvious mistake that I didn't fix and I'm choosing to call it my signature stitch. Yea, right!!
Today, I'm actually going to the shop for the tailgating. I have my dip ready to go. It will be fun to see what others are doing. I have no idea how many people will be there. A new adventure!! I'll probably share my experience with you later. 🧶🧶🧶