I've written earlier about my husband Tim and his worker's compensation woes and his planned bicep tendon surgery. It's all become overshadowed by my mom's injury and everything we've had to do since February 1. So, it's about time I gave you a Tim update.
His surgery
I talked about his need for surgery but not about the actual surgery itself. His injury occurred at work on November 1. With all the approvals, holidays, and finding a doctor who would see him, it was January 28 before he had his surgery.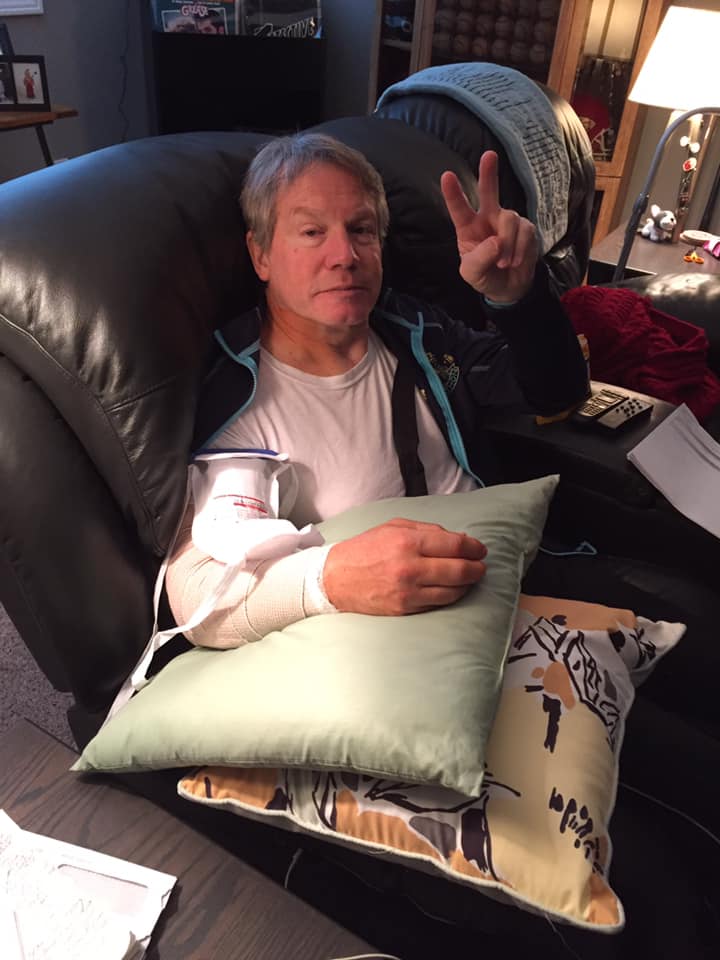 The surgery went well but unfortunately, I wasn't able to take very good care of him because it was right before my mom's fall. He couldn't drive for a month, so he was pretty much stuck at home. Hmmm. That sounds familiar. And this was pre-COVID!!
I actually kind of enjoyed being the driver during that month.
Two weeks after the surgery, he went back to have the dressing removed. We were both eager to see what it looked like. If you have a weak stomach, close your eyes and scroll fast!!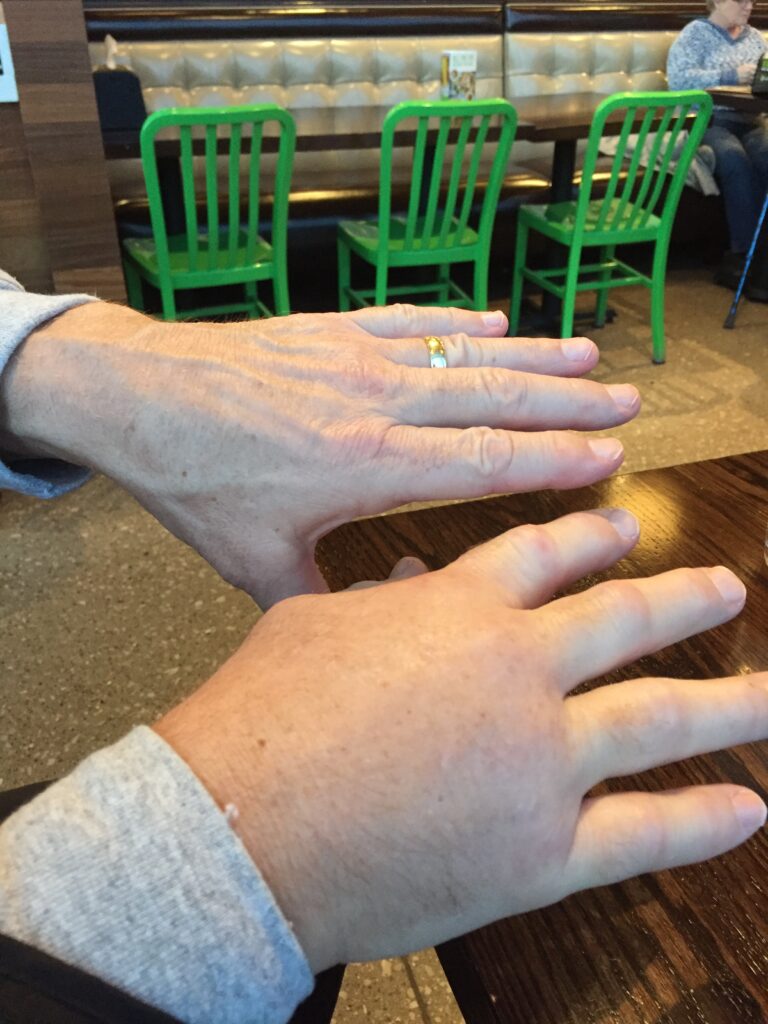 His recovery was estimated at 3-4 months, so you know it wasn't a minor surgery. He started physical therapy around the end of February, which consisted mainly of them getting his arm limbered up. No weight lifting of any kind. They even put needles in his shoulder to try to loosen his muscles. (It was never called acupuncture but it sure sounded like it.)
He went along with physical therapy three times a week during March, April, and May and finally started lifting small weights. Yes, he went during the height of the pandemic but they and he were very careful. This was also when my dad was here so we were taking our temperatures every day to ensure we were staying OK.
Back to work
Tim had a follow up appointment with his surgeon on May 11. All at once, he was cleared to go back to work on June 1. Whoa!! Even his physical therapist thought that was a little too soon. At first, it wasn't even with restrictions, but then the nurse that monitors Tim's worker's comp claim talked to the doctor and had a weight limit included.
With or without restrictions, it didn't really matter, as no one at the Post Office was going to monitor that. And I knew Tim would do his job and not balk at lifting any package.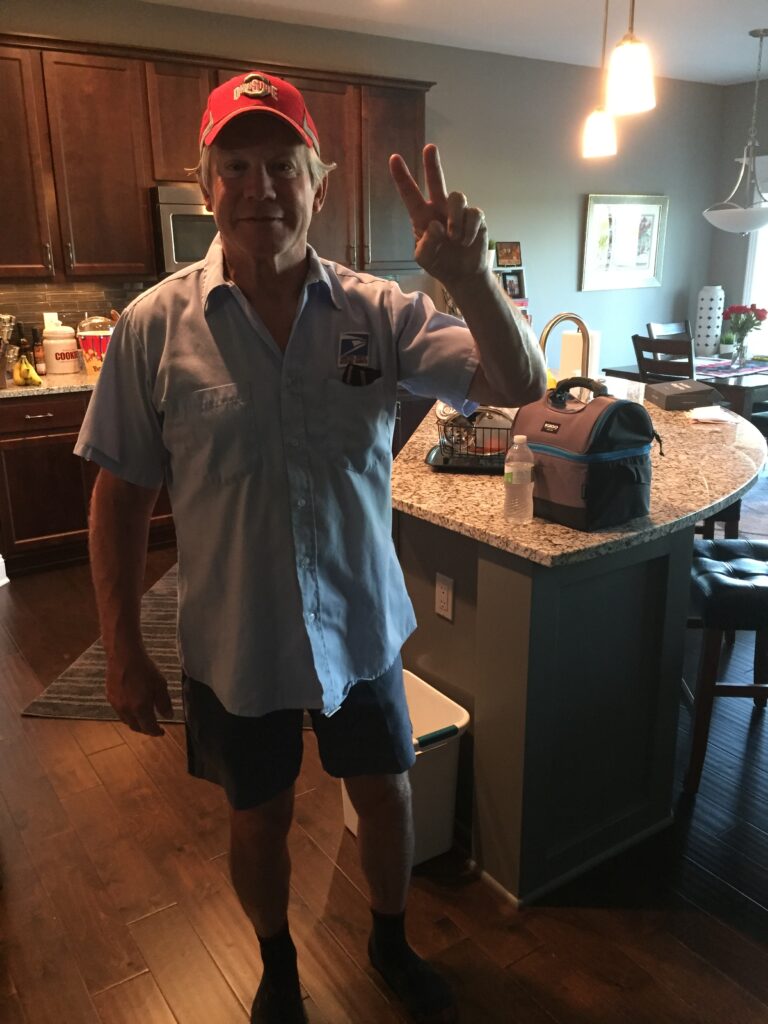 And now?
Well, you'd think things would be wonderful. He had a successful surgery and he's healing well. But. . . he started having terrible pains in his arm that felt like needles and electric shocks. It's affecting his hand and he's losing the feeling in his fingers.
We thought it must be a misplaced nerve that was getting pinched in his elbow. He tried all kinds of things – propping his arm on pillows in his recliner and in bed, switched chairs with me so he wouldn't put extra pressure on that arm, used the heating pad. You name it, he's tried it.
So, back to the surgeon to find out more.
First, he had a scan in late June. They don't usually tell you anything at the time of the scan but they did this time. It's not a problem with his elbow. He has severe carpal tunnel syndrome. He was trying to treat the wrong thing!!
And then, they decided to look at his other arm/wrist, and discovered that one is almost as bad!! My husband is falling apart!!
He hasn't been able to sleep for months as it flares up at night. He's up and down trying to get the tingling and numbness to go away. And the pain shoots up his arm as well. He's been sleeping in our guest room so he doesn't affect my sleep.
He finally saw his surgeon on July 6 but that was considered a workers'comp appointment and we'd already decided not to go that route this time. That meant he had to schedule another appointment and that was yesterday.
More surgery
Can you believe it? He has to have another surgery. Actually, we had already assumed that, and fortunately carpal tunnel is a much easier and faster healing procedure. He needs to get this done ASAP as we're concerned there could be permanent damage to his fingers.
He said when he was working with the nurse to schedule the surgery, she was surprised to see someone so excited about it. Well, if you'd been suffering like he has, why wouldn't you want to have it fixed? I just hope it does fix it and he can finally start sleeping again.
He'll be off 2-4 weeks and fortunately, has plenty of sick time. No more messing with workers' comp and all those endless approvals. Even if it costs us something this time, it's worth it. I don't think he could have handled it much longer.
So, August 4 is the next surgery. And then he can start seriously thinking about retirement.
Oh and that gnarly scar? It looks SO much better now. It's still a pretty big scar but it's better than what I thought it would eventually look like. Amazing what can happen in six months!!