The other day, my dental hygienist said "2020 was the fastest slow year ever". It may sound a little crazy but I know exactly what she meant. While the year's been tedious and lacking variety, it does seem like it went by fairly quickly. What 2020 was good for, at least for me, was reading and cross-stitching.
I decided I would share my 2020 challenge results in two parts, starting with books. This allows me to elaborate a little more on one challenge at a time. And, some of you may be more interested in one over the other anyway.
My reading goal for the year was 35 books and I made it. Just barely. I finished the last book at 11:30 PM on December 31. I'd already decided if I didn't finish by midnight, it would still be considered finished in 2020. But now I can be honest about it!!
If you want to remind yourself of what I read the first 2/3 of the year, here are those posts. My post titles aren't very original but it's tough coming up with something different each time!!
The last 1/3 of the year
Here's the listing of what I read, how long each took, and how I rated each one (on a scale of 1 to 5 stars).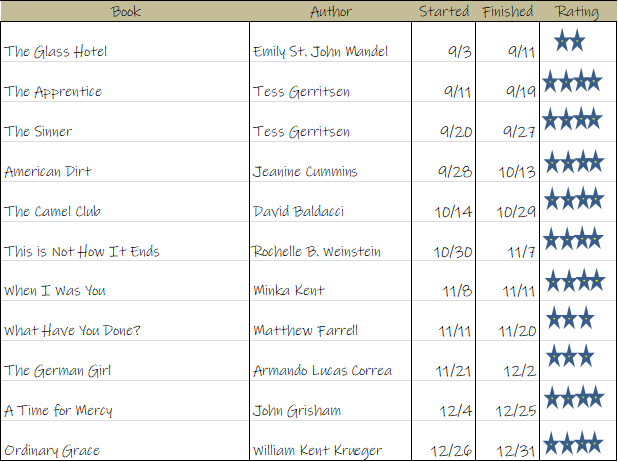 I promised I would provide a little more differentiation this time around. I pick books that I already think I'll enjoy, so I rarely have a low score. As you can see I liked most of the books I read, so it's not easy for you to compare those with four stars to each other. I hope I've done a better job with that this time.
Book club books
This isn't a knock on anyone in my book club, but generally, those books are my least favorites. We pick books that don't fall into the types of books I pick for myself. When it's my turn to pick, I even try to pick something I think the group would like as opposed to one of my favorites.
Since the beginning of September, my book club read four books. Technically, the last one is for January 2021 but I wanted to finish it before the end of 2020 so I'd meet my goal!!
I'd say, out of the four, my favorite was the one I picked – Ordinary Grace. It takes place in 1960s small town Minnesota and is told from the perspective of a thirteen year old boy, forty years after the fact. Being a child of the 60s, I enjoyed some of the historical references and what it was like to be a kid during that time. It deals with death, love, and a family's struggle.
I would not recommend either The Glass Hotel or The German Girl. The Glass Hotel was a challenge because it was tough to follow all the different storylines and understand how all the characters fit together. I was glad when I'd finished it.
The German Girl is a historical novel taking place during WWII. It's the story of a Jewish family in Germany and how their lives are affected by the Nazis. Their story involves fleeing to Cuba and other consequences. But then we're taken to another young girl's story, who we find out is the descendant of the "german girl" and how they eventually connect. It's much more involved than I'm explaining and I didn't like all the characters.
I gave American Dirt four stars, but I was teetering between three and four. I went with four because I learned a lot from it. For example, am I the only one who didn't know (before I read this book) that a coyote is someone who guides illegal aliens across the US border for money? There also appears to be a lot of controversy surrounding this book, primarily because the author is not Latina. It's a book from Oprah's reading list and despite that, I didn't hate it. Being on Oprah's list is usually the kiss of death for me.
New authors for me
As part of our Amazon Prime membership, I can download free Kindle books each month. I don't do this every month but I had selected a few and decided I'd give three of them a try. I chose these three books because they sounded like the kind of books I like and I wasn't wrong. I had never heard of the authors.
My favorite of the three was When I Was You by Minka Kent. I read this book in three days which is pretty quick for me and says a lot about how it pulled me in. It takes place in a fictional Iowa town near Sioux City. Come to find out, the author is an Iowa State graduate and still lives in Iowa. It's touted as a psychological thriller and leaves you wondering what's going on and how it will end. I plan to read more of her books.
My next favorite is This is Not How it Ends. This book is primarily about relationships and the challenges that go along with them. There's conflict and secrets that come to light. While it's somewhat of a romance, it's not even close to a Hallmark Channel story.
What Have You Done? is a thriller involving two brothers, one a detective and the other a forensic technician. The story is about the death of someone they both know and how they unravel the mystery behind her death, while also dealing with the tragedies of their past. While I only gave it three starts, I would recommend it.
The old faithful authors
I choose most of my books based on the author. I think I may have mentioned it, but I've also amassed quite a stash of books over the years because I'd always buy the books of these authors. So, as I did in 2019, I continued whittling away at this inventory of books.
How can you go wrong with John Grisham or David Baldacci? Both authors have had movies made from their books. And Tess Gerritsen's characters are behind the Rizzoli and Isles TV show.
John Grisham's book is his third about Jake Brigance, who we first met in A Time to Kill. I couldn't help but visualize Matthew McConaughey when I was reading this book. It was the usual Grisham legal thriller, but the ending definitely sets you up for another book in the future. I hope so anyway.
I like to read books in order and David Baldacci has so many different series of books, it's somewhat challenging. And, as I've checked my inventory, I've found I have already read some out of order, as well as accumulated later books without having the earlier ones. So, I'm trying to correct that and adding the books I need to read first in order to maintain this plan.
The Camel Club is the first in the Camel Club series but I didn't have it. I do have the second and third books, however, so I needed to start with this one. The Camel Club turns out to be a group of random older guys, who meet regularly to deal with the injustices of the world. Then they stumble onto a murder and try to avoid being killed themselves. I'm ready to read numbers two and three now!!
Fortunately, the two Tess Gerritsen books I read were the second and third in her Rizzoli and Isles series. While I had read the first one, The Surgeon, it was in 2005. So, if you'd like to get started on these books, start with the first one. At this point, you should be able to read them closer together!!
2021 Plans?
I've set my reading challenge to 36 books for 2021. I know, that's only one more than in 2020 but it's three books a month which sounds about right for me. I'm off to a good start, as I just started my third book for the month.
My plan for this year includes getting caught up on some of my old favorite authors – Stephen King, Jonathan Kellerman, John Sandford – but also a few new authors, again based on some downloaded Prime books. I got four books for Christmas and all but five on my list of 25 are already in my inventory. And I never know what my book club will bring.
Happy Reading!!