It's been a month since I participated in the 24 hours of cross stitch event. You might remember – I mentioned it in my first quarter reading and stitching update. We started stitching at 3:00 PM CDT on April 5 and finished at 3:00 PM CDT on April 6.
I thought I'd share a little bit of how my 24 hours went. Everyone did it differently and 24 hours straight was not required. In fact, two more of these marathon sessions are scheduled for June and August and the format is 24 hours over a 48 hour period.
It's a big deal
As I've become more entrenched in cross stitch social media, I've been astonished at how many people out there are cross stitch fanatics. Maybe I find it hard to believe because I have no cross stitching friends.
As part of this event, I joined a Facebook group specifically devoted to the 24 hours of cross stitch. There are currently 760 members!! I wish I'd noted how many there were a month ago because I know there have been many new members added since then. Let's just say – there are a lot of people doing this!!
Communications during the 24-hour timeframe were through the Facebook group as well as hashtag #24hoursofcrossstitchtake2 on Instagram. (It was called take 2 because the organizer had done this once before on her own.) If you'd like to learn more about this craziness, check it out.
I posted my progress every hour in both places, but it wasn't easy to see what others were doing. When you have that many people posting, there's too much to get through. Especially if you're trying to stitch.
We did make it somewhat simpler by creating photo albums in Facebook for each of us to post our pictures. This allows me to go back now and check out what people did without having to scroll through pages and pages.
My plan
My plan was to work on one project the whole time. I'd "pledged" to work 12-14 hours, knowing I would need a sleep break. And I wasn't the only one!! In fact, someone created the group #teamsleep for all of us that would be sleeping at least a few hours during the 24-hour timeframe. Evidently, #teamsleep was the inspiration for creating the 48-hour timeframe next time.
Others were starting a new project every hour or picking smaller projects hoping to start and finish several. I picked one that I knew I couldn't finish in 12-14 hours. Unlike many other cross stitchers, I tend to work on one project at a time. I am amazed when I hear how many WIPs (works in progress) some cross stitchers have. Maybe 35-50!!! I don't know how they have: enough fabric, enough floss, enough qsnaps, enough storage, enough money!!
I have an accumulation of patterns, floss, buttons and a little bit of fabric, but nothing compared to what some of them must have.
Here's the pattern I planned to stitch. It's another one of the Mill Hill Sticks kits which I absolutely love. I just can't afford to have Sticks frame all of them!! (I say that each time but then I can't resist. They're too beautiful.)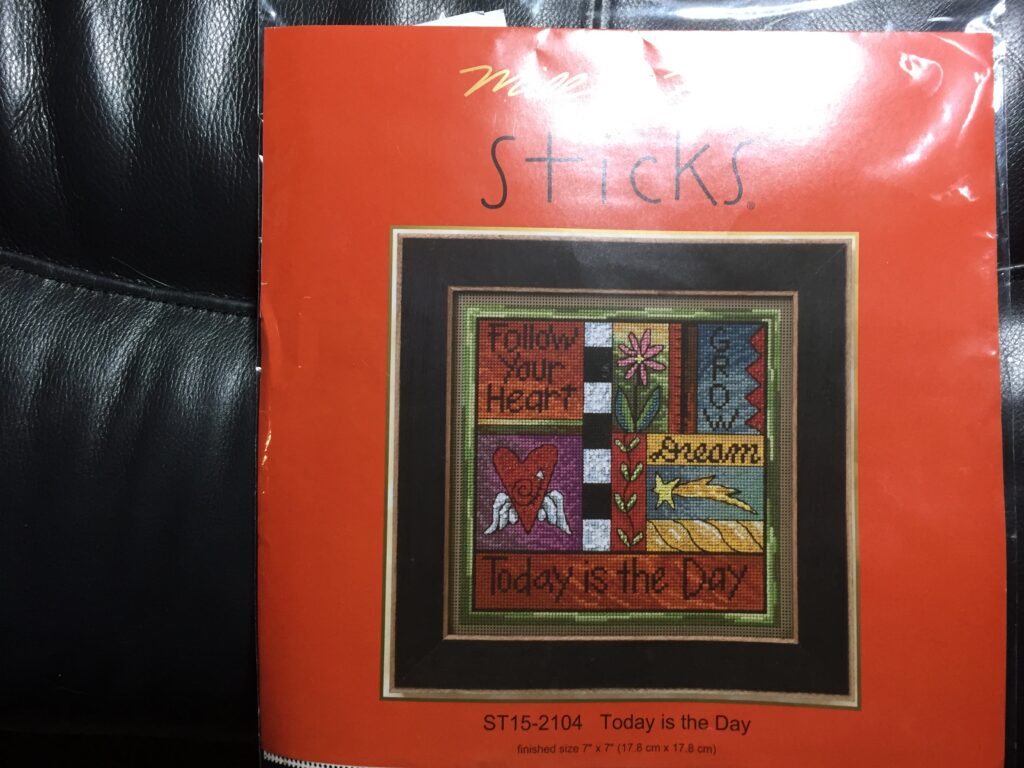 My results
Since this year I've started keeping track of how much time I spend on each project, I wanted an easy way to capture my time during these 24 hours. I, of course, made a spreadsheet to do that.
I stitched for 9 hours on Friday and almost 8 hours on Saturday. Friday night, I felt like I could go for hours. By the time 3:00 PM CDT rolled around on Saturday, I was dragging a little. Not sure how anyone could do this for 24 hours straight!!
I loved getting that much stitching time in, though. I typically only stitch at night, so it was fun to get to do daytime stitching too. And, I managed to watch the final two episodes of Grace and Frankie (current season) and both seasons of The Marvelous Mrs. Maisel. So it was a combination of binge stitching and binge watching!!
I won't bore you with all my hourly updates. You can check Instagram if you're interested. Here is my progress when I finished stitching on April 6. I haven't touched it since!!
I am actually pleased with my progress. There's still a lot to do but at least it looks like something, right?
What's next?
Right now, cross stitchers are participating in something called Stitch Maynia. As you can probably tell, it's organized around the month of May. As with the 24 hours of cross stitch, there are no rules. I chose not to participate. I decided it made more sense to observe this year since I'm such a newbie to all of this.
Not surprisingly, everyone is doing it differently. Some are like me and will be working on one project at a time. (They call that Monogomaynia. Cute, huh?) Others are starting a new project each day, or working on WIPs from last year. I think since I cross stitch almost every evening, I could technically say I'm participating in Maynia. We'll see if I want to jump in with both feet next year!!
There are even journals you can buy specifically devoted to Stitch Maynia. They provide a page for each project where you note the pattern, the fabric, the floss, dates stitched, and even a picture. I thought I was anal!! But I do kind of like this idea. 😁
It would be fun to have someone to cross stitch with. But then again, I do like being on my own schedule, watching what I want on TV, and not having to talk if I don't want to!! I am an introvert after all.
But seriously, if anyone in the Des Moines area is looking for a stitching partner (or group), let me know. It would be fun to share ideas and experiences. I've already learned so much just through the social media stitching community. (I'll share more of that in my second quarter challenges update.)
Oh, and why doesn't someone open a needlework store in Des Moines? It would make my life so much easier!! And undoubtedly, save me some money.
Then again, maybe not. It's even easier to buy when you see everything up close and personal. How do you think I accumulated my stash???