Tim and I love to go to concerts. But it seems like they always come in batches. Last year, we went to three concerts, all two weeks apart!! That's a little much, even when you love them. And it can get kind of expensive. 💲💲💲
These weren't our first concerts of this year, but it seemed like a good time to write about our experiences.
The Association
This one took us back in time. The Association Greatest Hits (released in 1968) was the first album I bought many years ago. And "Windy" was one of my very favorite songs, and still is.
We went into this not knowing what we'd get. These guys are old!! And we weren't sure how many of the original members there would be. While there were a few "new" guys (been with them 20 years), there was one original and one who joined one year later. (They formed the band in 1965.)
Not knowing what our experience would be, we chose not to purchase the most expensive seats. Our tickets were $31.50, which isn't much for a concert these days. But we were still able to get in the first row of the balcony (dead center even) at Hoyt Sherman Place in Des Moines.
A little history
As we were driving home, Tim did some googling and found out the following:
All of their hits were released between 1965 and 1972.
Over time, they've had 35 member changes, seven of whom are deceased. Can you believe that? Many of them came and went multiple times over the years.
They began as a "six-man band" but over the years, that number fluctuated.
Since 1980, they've toured as part of The Happy Together Tour or other package groups.
They only had three million seller songs – "Windy", "Cherish" and "Never My Love". That surprised me as I thought they had more hits.
The concert itself
The crowd was pretty much what you'd expect. A lot of old people like us!! And while they advertised there were still tickets for sale, the place seemed full.
The concert began with a video of their old clips. They were on the Ed Sullivan Show, Bandstand with Dick Clark, and the Smothers Brothers. That sure brought back memories!!
Their opening song was "Windy". A good choice, as they sounded very good and got things off to a good start. They played their other hits – "Never My Love", "Cherish", "Along Comes Mary", "Goodbye Columbus", and "Everything That Touches You".
But they also played a lot of oldies recorded by others. They did a medley of songs from the movie "The Big Chill". And they did a song written by Jules Alexander (a band member) about Dubuque called "Dubuque Blues". I couldn't understand all the words and the song was just OK.
I thought their best songs were "Windy" and "Along Comes Mary". They sounded the most like the original versions. The harmony seemed off on some of the other songs, at least to me. Not unexpectedly, they didn't move around much and they tried to be funny, which tended towards corny.
They ended with a shortened version of "Windy" after about an hour and 15 minutes of playing. How often do you get home from a concert before 9:00? 🤔
Overall, I'd say we got our $31.50 worth!! 👏👏
Fleetwood Mac
This concert was entirely different. First, it was in Wells Fargo Arena so a much larger venue. Second, their show was more of a production with a lot more light effects and videos.
Now, the crowd was somewhat similar to that at the Association concert, but there were more younger people in the crowd. Maybe that's because of their new band members – Neil Finn formerly of Crowded House and Mike Campbell who toured with Tom Petty, although they aren't young themselves.
A little history
Here are a few fun facts about Fleetwood Mac.
The group formed in London in 1967. John McVie didn't join the band until a little later, even though the band was named for him.
The band came to the United States in 1969.
Christine Perfect (later McVie) joined the band in 1970.
There was a lot of turmoil with the band in the early 70s that included drugs, alcohol, McVie marriage troubles, and even a fake Fleetwood Mac group.
Lindsey Buckingham and Stevie Nicks joined the band on New Year's Eve 1974, leading to mainstream success.
Shortly after the release of their album Mirage in 1982, Mick Fleetwood had filed for bankruptcy, Nicks was admitted to the Betty Ford Clinic for addiction problems and John McVie had suffered an addiction-related seizure.
The Buckingham/Nicks/McVie/McVie/Fleetwood line-up reunited in 1993 at the request of US President Bill Clinton for his first Inaugural Ball. His request for it to be performed at the Inauguration Ball was met with enthusiasm by the band, although this line-up had no intention of reuniting again.
Several member changes occurred over the years, with C. McVie, Nicks and Buckingham going in and out of the group.
The concert itself
We were seated in the third level, but still paid $99.50 for each ticket. The seats were generally OK, but unfortunately, we had a railing partially blocking our view of the stage, so we had to shift at times to see certain members of the band.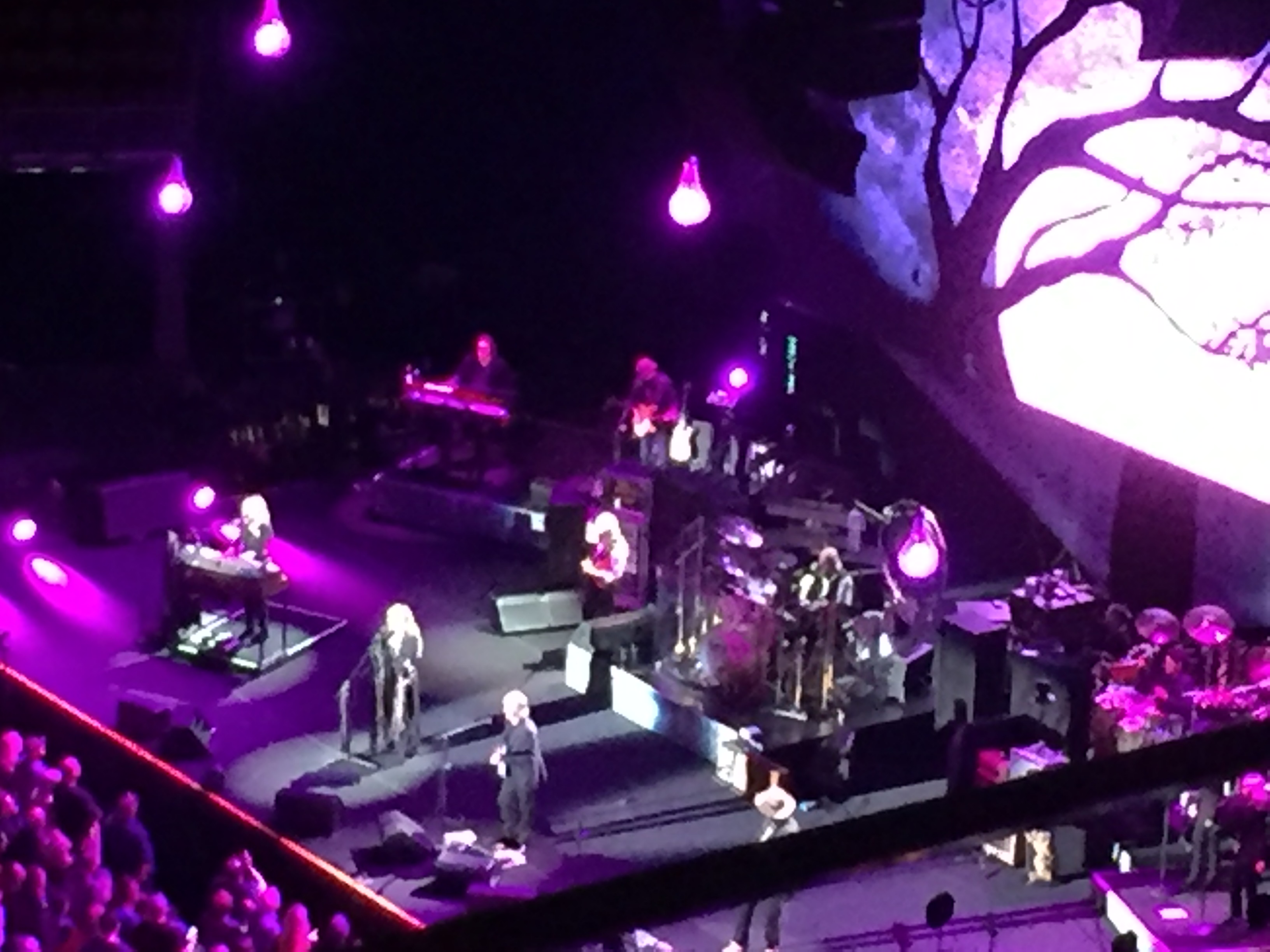 They sounded good. I've never been to a Fleetwood Mac concert before, so I can't compare this group to what they sounded like with Lindsey Buckingham. Most of their old songs sounded the same as always, although I noticed Stevie Nicks stuck to the lower notes when in the past, she would have gone higher.
They had no intermission and played for almost 2.5 hours. Towards the middle, however, Mick Fleetwood had an extended drum solo performance that gave the rest of the band a chance to rest. And I pretty much zoned out for a while. 😌
I especially liked their tribute to Tom Petty with Nicks singing "Free Falling" and videos of him in the background. They sang most of their bigger hits and we learned that Fleetwood Mac wrote the song "Black Magic Woman" even though Santana made it a hit.
I'd give this concert 👏👏👏. Some might give it more claps than I have, but while I enjoyed the concert, it wasn't as good as others I've been to.
Conclusion
I mentioned that the guys in the Association were old. Well, the members of Fleetwood Mac are up there too. Nicks, Fleetwood, and McVie's ages range from 70 – 75, so they're not spring chickens either.
Overall, I'm glad we went to both concerts.  It's good to get out and about and exposed to different things.  And while both bands started about the same time, they are so different in terms of staying power and popularity.
Now, ready for our next concert – Mannheim Steamroller – right before Christmas. Can't beat that. It's an annual tradition. 🎄🎄
Hey – before you leave, have you noticed my new rating system below? Take a second and rate the post. This will definitely help me understand what types of posts you like more than others. Thanks for following!!!