Are you starting to think the only things I make are muffins and cookies?  They seem to be the recipes I share the most.  It's just that these are the recipes I really fall in love with.
These banana muffins are the second of the three muffins I have made for the Goddesses.  (See the Blueberry Cinnamon-Burst Muffins recipe for the first one.) And I think maybe these are my favorite.  Probably because I love banana and chocolate together.
As you might remember, I'm all for a recipe that doesn't require a mixer or lots of extra bowls.  This is one of those.  It uses one large bowl and you mix everything by hand.  (For this reason, it's important that your butter is at room temperature.)  The only other dish you use is a pie plate for mashing the bananas.
I don't use paper baking cups.  Instead, I spray the muffin cups with cooking spray.  You just don't need the hassle of the paper cups.
The baking range in the recipe below is also kind of large.  That's because the original recipe calls for 20-25 minutes, but mine are sometimes done in 15 minutes.  It depends on your oven as well as how high your oven rack is.  So, please check them early the first time you make them.  Then you'll know how long you need to bake them.
Next time you have some bananas too ripe to eat, don't throw them away.  Make these muffins.  The recipe makes 18 and they freeze very well, so you'll have a yummy treat for days/weeks/months to come.  (Ours don't usually last more than a couple of weeks. 😍 )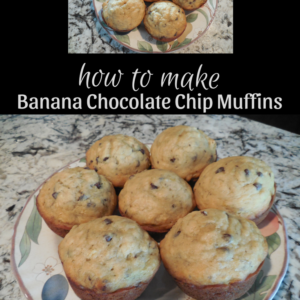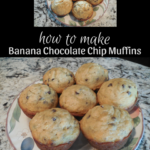 Banana Chocolate Chip Muffins
This is a tasty way to use bananas too ripe to eat. The combination of bananas with the mini chocolate chips is especially yummy. The bananas make them moist and the chips add just enough chocolate flavor.
Ingredients
3

large

ripe bananas

1/2

c.

butter, softened

1/2

c.

brown sugar, firmly packed

2

eggs

1/4

c.

milk

1

t.

vanilla

2

c.

all purpose flour

1

t.

baking powder

1

t.

baking soda

1/4

t.

salt

1/2

c.

mini chocolate chips
Instructions
Heat oven to 375º.

Spray 18 muffin cups with cooking spray.

Peel bananas and place in a pie plate. Mash them with a fork and set aside.

Place butter in a large bowl. Add brown sugar.

Beat with a wooden spoon until well mixed.

Add eggs to brown sugar mixture.

Add milk and vanilla.

Add bananas and mix well.

Add flour, baking powder, baking soda, and salt to banana mixture.

Stir with wooden spoon just until all dry ingredients are moistened.

Stir in the chocolate chips.

Spoon batter into muffin cups, until each cup is a little more than half full.

Bake muffins for 15-25 minutes, depending on your oven. They're done when a toothpick inserted into the center comes out clean.

Place pans on wire racks and let the muffins cool for 3 minutes.

Remove muffins from pans. (I usually cool them on a wire rack.)
Recipe Notes
These muffins freeze very well.  Thaw in the microwave for about 40 seconds.  They're especially yummy when they're warm and the chocolate is melty!!
Recipe by: The Pillsbury Doughboys Kids Cookbook
www.retiredintrovert.com